Netflix's Miniseries 'The Queen's Gambit' Is Getting People Into Chess
The series about an orphaned chess prodigy was a massive hit for Netflix.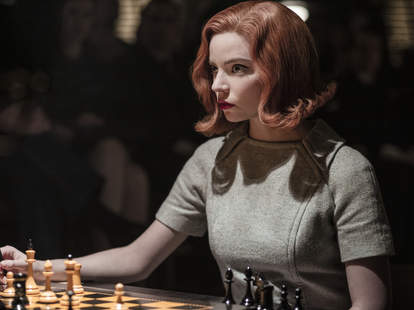 If you've logged onto Netflix at any point in the last month, you've likely seen actress Anya Taylor-Joy's striking eyes staring back at you. Since its debut on October 23, the critically acclaimed miniseries The Queen's Gambit, which follows the adventures of young chess prodigy Beth Harmon (Taylor-Joy) as she competes on the world stage and battles an addiction to tranquilizers, has been a constant on the streaming platform's Top 10 most-watched list, and it's the rare Netflix show that's also felt like a genuine word-of-mouth hit. But how popular was it exactly?
According to Netflix, which tends to keep a tight lid on viewership numbers until it decides to make a big splashy announcement after the release, The Queen's Gambit was watched by a "record-setting" 62 million households in its first 28 days, making it "Netflix's biggest scripted limited series to date."
That's not all. In a series of tweets, the streaming company went on to note that the show "made the Top 10 in 92 countries & ranked #1 in 63 countries," launched the Walter Tevis novel it's based on into the New York Times bestseller list, and even had an impact on Google searches for "How To Play Chess."
The show's popularity has also been a boon for the chess world as well. Recently, NPR reported that the show has also impacted chess board sales, which were already on the rise because of the pandemic. "Ever since The Queen's Gambit launched, our chess sales have increased triple digits," said Elizabeth LoVecchio, the vice-president of marketing at Spin Master, a large toy company that produces a variety of classic games.
Given the longevity of The Queen's Gambit in the Top 10, these numbers, and the accompanying rise in chess interest, shouldn't be too surprising. While the Scott Frank-directed miniseries hardly looked like a sure-fire hit—an adaptation of a novel from the '80s about a chess prodigy sounds like a potentially tough sell to viewers—it was clear soon after the show premiered that it was connecting with Netflix's global audience, developing into the rare slow-burn streaming success story. Expect awards attention next year to attract even more eyes to show—and perhaps sell a few more chess board in the process.
MORE: What to Watch After You've Finished The Queen's Gambit
Need help finding something to watch? Sign up here for our weekly Streamail newsletter to get streaming recommendations delivered straight to your inbox.