Should You Watch Ashton Kutcher's New Netflix Sitcom, 'The Ranch'?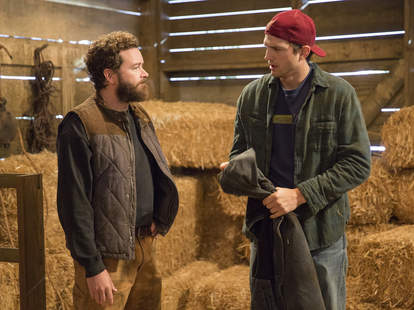 Netflix makes original content that's not exactly original. With nostalgia-bait like Fuller House, cult favorites like Wet Hot American Summer: First Day of Camp, and '80s revivals like Pee-wee's Big Holiday, the streaming giant now specializes in entertainment that recalls older, fondly remembered shows from your past if you squint at your dusty laptop screen hard enough.
Its latest sitcom,The Ranch, which debuts 10 episodes today, isn't technically a That '70s Show reunion, but it'll probably make you want to strap on the stupid helmet and call someone a dumbass. Created by Two and a Half Men veterans Don Reo and Jim Patterson, the show follows an aging wannabe football star (Ashton Kutcher) who returns home to live on a Colorado ranch with his smart-ass brother (Danny Masterson) and their old-fashioned crank of a father (Sam Elliott).
How similar is it to Kutcher and Masterson's old series? We created a guide to help you figure out if you should put in the long hours of work on this ranch.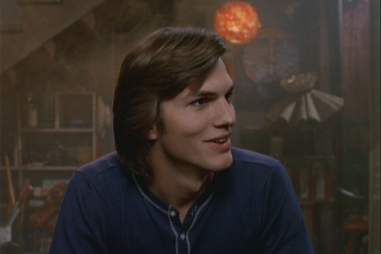 <strong>That '70s Show | </strong>FOX
Do you miss Kelso?
Then you should watch this show. It's been a wild 10 years for the Kutch ever since That '70s Show ended its run in 2006: he got divorced from Demi Moore, married Mila Kunis, starred in the bad Steve Jobs movie, wore brownface in a chip commercial, gave up tweeting, became a dad, replaced Charlie Sheen on Two and a Half Men, and appeared on Shark Tank. That's a lot for a guy who made his name delivering lines like, "Why cuddle when you can do it?"
The Ranch feels like an attempt to shed some of his "guy who keeps using the word 'disrupt' in interviews" aura and return to his Dude, Where's My Car? dreamboat roots. His Ranch character, Colt Bennett, is a washed-up athlete who chases girls, drinks beers, and doesn't know the meaning of words like "cavalcade." But, like Kelso, he's also a sweetheart, a dumb puppy you hope will stop wetting himself and running into the wall. The role fits Kutcher like a beat-up trucker hat.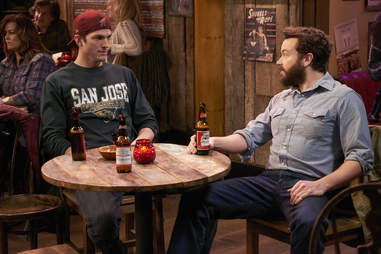 Greg Gayne/Netflix
Do you obsess over Hyde's facial hair?
Unless you've been closely following the career of DJ Mom Jeans or obsessively watching DVR'ed episodes of the canceled TBS comedy Men at Work, you may not know the exact status of Danny Masterson's beard. I'll fill you in: his beard is still bushy as hell. His character is named Rooster, and like Hyde, he loves being sarcastic, and... that's really about it! But Masterson is very good at playing the sardonic foil to Kutcher's goofball.
But let's stick to the important stuff: how does he keep that beard so fresh? The secret answer is... Scientology! Thetans do wonders for your follicles.
Do you enjoy burns?
Maybe you're the person who spends their free time editing together That '70s Show "burn" montages on YouTube. If you are, I salute you, and you should definitely watch this show, because you're going to be psyched, man. So many burns! In episode two, Kutcher tells Masterson, "You know, in eighth grade, I used your toothbrush on my balls." Classic burn, baby! Start editing together a new montage now, my dude!
Greg Gayne/Netflix
Do you like regional humor?
Growing up, I always appreciated that That '70s Show was set in Wisconsin, which wasn't too far away from where I lived (Illinois). At a time when it feels like most new comedies are set in LA, The Ranch is a refreshing breath of legalized weed-scented air. Are the scripts peppered with hyper-specific Colorado references that only mountain-dwellers will get? Not really. Does the whole thing feel like a cynical attempt to create a show for an underserved audience? Maybe. But there are some decent jokes about the Broncos. 
 
Do you laugh when dudes get punched in the nuts?
As Vinyl is to cocaine, this show is to people hitting each other in the balls. I don't actually remember if this was a big thing on That '70s Show, but it had to be at some point, right? They made 200 episodes.
Greg Gayne/Netflix
Do you have a thing for gruff authority figures?
Red Forman, the domineering patriarch played by Kurtwood Smith, was probably the best part about That '70s Show, and even though the writers chiseled him down into a catchphrase-spouting caricature of himself by the end of the show's run, he remains a fan favorite to this day.
If you loved Red, you'll probably enjoy Sam Elliott's Beau, a mustached hard-ass who says things like, "Global warming is a bunch of crap Al Gore made up to sell books to California," and "What the fuck is Netflix?" As in last year's indie comedy Grandma, Elliott grounds the comic antics in real emotion. He and Debra Winger, who plays his estranged wife, are responsible for the show's most poignant moments. And Elliott walks around in Walter White-style tighty-whities at one point, so there's that, too. 
 
Do you love laugh tracks?
[Gregarious laughter] You're in luck!
 
Do you dig stoner jokes?
The Ranch is more of a beer-and-whiskey show. Though they are on a farm, so it wouldn't surprise me if Season 2 has a weed-growing plot line. This is Colorado, after all. 
Do you rock out to Cheap Trick and Big Star?
If you're hoping to hear the jam-filled rock soundtrack of That '70s Show, you've come to the wrong Ashton Kutcher sitcom. Keeping with the show's attempts to appeal to the heartland, most of the musical references are to country stars like Florida Georgia Line, Shania Twain, and Brooks & Dunn. It's more Red State red meat. 
Fitting with the show's "everything old is new" style, the theme song is a cover of the country classic "Mammas Don't Let Your Babies Grow Up to Be Cowboys" by Shooter Jennings and Lukas Nelson, the sons of country legends Waylon Jennings and Willie Nelson, who covered the same song on a duet album back in 1978. Cowboy hats off to the music supervisor. 
 
Do you love slow-burn romances?
If your favorite part of That '70s Show was wondering if Eric and Donna would work out or Jackie and Kelso would get back together, The Ranch has you covered. Kutcher's quarterback has two potential romantic-sparring partners: Happy Endings' Elisha Cuthbert, as his high school flame who is now dating a nerd, and Kelli Goss (The Young and the Restless), as a much younger cowgirl whom Kutcher hooks up with early on in the show, then starts to fall for. There's lots of potential for tear-filled cliffhangers in the future. 
<strong>That '70s Show | </strong>FOX
Do you have dreams where Fez visits you and yells, "I said good day!" until you wake up covered in cold sweat?
I can't help you with that one, my friend.
 
Did you watch That '80s Show?
Check this one out. It sounds like you'll watch anything.
Sign up here for our daily Thrillist email, and get your fix of the best in food/drink/fun.
Dan Jackson is a staff writer at Thrillist Entertainment, and he always thought Donna's dad was a pretty good character, too. He's on Twitter: @danielvjackson.