Danny McBride Says 'The Righteous Gemstones' Season 1 Is Just the Beginning for These Awful People
The Righteous Gemstones, which aired its Season 1 finale on Sunday, is a series one could simply lump into the comedy category and be on their way. But the show, about the extremely wealthy televangelist Gemstone family -- patriarch Eli (John Goodman), eldest son Jesse (Danny McBride), middle daughter Judy (Edi Patterson), and youngest son Kelvin (Adam Devine) -- not only delves into the oddball details of these ultra-privileged mega-church preachers, it traverses the hilariously tragic underbelly of an often-misunderstood subset of American society.
Much like the previous projects Rough House Productions -- Danny McBride, Jody Hill and David Gordon Green's production company -- have brought to HBO, Gemstones dodges genre expectations at every narrative turn. The nine-episode first season follows Jesse Gemstone as he struggles to keep his family together while hunting down a mysterious group of criminals out to blackmail him with a lascivious video depicting him and his close group of pals partaking in piles of cocaine while enjoying the company of prostitutes. In Eastbound & Down, as well as Vice Principals, McBride created a story that followed two distinctly different underdog characters (baseballer Kenny Powers and North Jackson High's vice principal Neal Gamby, respectively) as they battled a barrage of obstacles to fulfill their watered-down dreams. The Righteous Gemstones flips that script, giving audiences an ensemble cast of characters that are seemingly drenched in privilege. It comes through in his ability to shift tonal gears from telling a story seeped laughs to plucking viewers' heartstrings in the same minute. As he explained to Thrillist over the phone, this all stems from a fanatic passion for curating his library of digital tunes.
"I used to, like, lose so much sleep and become obsessive about all the music I could fit onto my iPod," he explains. "I wanted there to be something that represented every type of music or any particular mood I could possibly be in. I wanted that on my iPod. So if I ever wanted to tap into a certain emotion, I always had access to it. And I think there are elements of that sort of desire with the stuff we do."
All one has to do is look back over the show's first season to see exactly what he's talking about. Whether it's the juggling act Eli struggles with in running the family business while the grief over the death of his wife, Aimee Leigh (Jennifer Nettles), still weighs heavily on his heart; Kelvin Gemstone's ongoing identity crisis, which culminates in a battle with protege Keefe's (Tony Cavalero) former gang of goth Satanists; Baby Billy's (Walton Goggins) greedy, vindictive mission to steal back the church spotlight in the wake of his sister's death; or Judy Gemstone's psychological trainwreck-of-a-meltdown, variety isn't just the spice of this story's life, it's the glue that brings it all together.
The Righteous Gemstones began its season feeling as if we'd just be getting another HBO series crowded with an ensemble cast of affluent characters doing horrible things. And while that certainly is partly the case here, the show ends up going through its own enlightenment of sorts, as the program's emotional underbelly is slowly revealed for all to see.
"I don't want the show to be kind of known for just one thing," McBride says. "I want the surprise of the tone to be part of what is sort of hard to put your finger on. Every episode, you have no idea what you're going to laugh at, or what's going to happen. Ultimately, at the end of the day, it's not even just about plot twists, but, just like, 'Whoa, I wasn't expecting to get emotion from that character.' Or, 'I wasn't expecting to see myself in this cliched sort of person.' And, I feel like, ultimately, it's because all this stuff is kind of poking the audience to just expand their level of empathy, to look at people around them just a little bit differently."
It's harder than ever to empathize with those whose values and beliefs don't necessarily line up with our own (war criminals not included). "The goal isn't to be a takedown of anything," McBride said at the Television Critics Association Summer Tour. "When Hollywood takes on religion, they make the mistake of lampooning one's beliefs.
"For us," he continued, "it's about lampooning hypocrites -- people who present themselves in one way, and act differently in another. I don't think that's something that's relevant [only] to the world of religion and televangelism but the world we live in: People who present themselves one way on social media and present themselves in another way."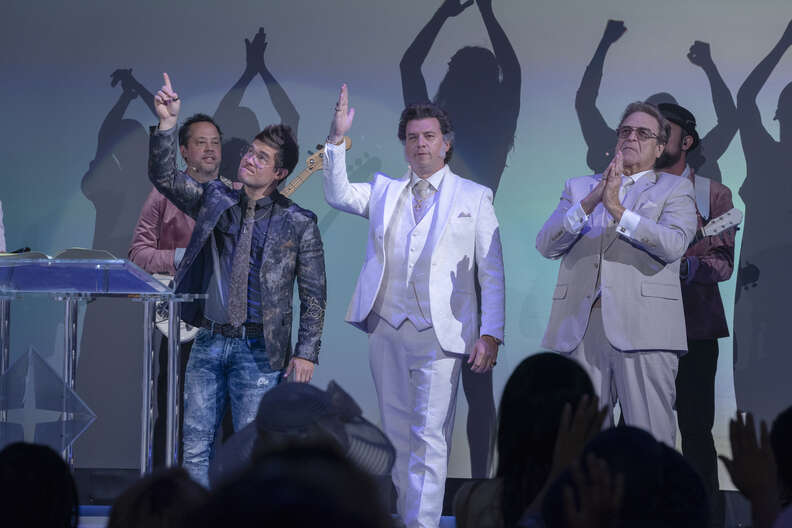 For Jesse, Judy, and Kelvin, their public personas are their bread-and-butter. But it's the insidious deeds and awful personality traits that come forward when they're not on stage, that brings to light a dichotomy of living in the limelight and milking the family business, and society's expectations (and money, of course), for all its worth. It's a double-edged sword and something McBride does his best to double down on in his work. At the very least, in this echo chamber social media-infused world, his hope with this fictional evangelical story, is to move the empathetic needle. Even if it's only a little bit.
"Everybody's human. And everybody is just trying to do the best they can," he says. "Some of us are obviously better at that than others. I think a lot of this stuff is about that. It's about being unexpected, and it's about bucking what is supposed to be accomplished in a genre, as well. In the first half of the series, I think we're really kind of setting up these characters and having fun with them. And it was our intention to just really hit home that these are relatable humans so you would just be that much more invested in the outcome of what they're up against."
Relatable humans? If we heard this quote right at the start of the show, we'd probably laugh in McBride's face. But the conflicts that arise, both within the family and between Jesse and his extortionists, end up painting a collection of damaged characters yearning for connection. After his estranged son Gideon (Skyler Gisondo) returns to the Gemstone compound from pursuing a stuntman career in Hollywood, with his colleague Scotty (Scott MacArthur) in tow, it's eventually revealed that they're the ones doing the blackmailing, adding a whole other dramatic component to the mix. As the season progresses, the dominos begin to fall -- and fast.
By the end of the first episode, titled "Is This the Man Who Made the Earth Tremble," a panicked Jesse runs down Scotty and his girlfriend with his Range Rover in an abandoned parking lot, attempting to quiet the blackmail threat. Kelvin and Judy were in the car, of course, immediately marking them as accomplices to the assault, with Gideon witnessing the whole thing unfold right before him as he hid in the back of the group's van. As other conflicts arose throughout the season, this attempted murder acted as an ongoing plotline.
But it's after the events of the penultimate episode, where Jesse comes clean to his wife Amber (Cassidy Freeman) regarding the extent of his less-than godly actions, prompting her to shoot him with a sniper rifle right in his butt, the eldest Gemstone sibling finally looks inward. With his marriage on its deathbed, and nowhere else to turn, the finale, titled "Better is the End of a Thing Than its Beginning," finds Jesse heading to Haiti to reunite with Gideon, who went to the country to provide humanitarian aid -- something, up until this point, the audience hardly thought Jesse Gemstone would have ever contemplated doing.
Ultimately, it comes back to the show's unexpected tonal shifts and the planned story trajectory for The Righteous Gemstones. Originally, McBride only wanted three seasons for Eastbound & Down. The Vice Principals story was constructed to just play out in two. But, according to the actor/writer, this time they have different plans for Gemstones, which had been renewed for a second season three weeks into its first.
"I just picture this show as something a little bit bigger and wilder and more epic in the sense that we're not calculating what the audience's final thoughts are about these characters yet," he explains. "We're just now introducing the audience to these characters. And, if I have my way, we'll be exploring these characters for a few years to come."
Does that mean Jesse and the rest of the Gemstone clan will end up seeing the light, so to speak? "I think at this point," McBride says, "redemption -- or no redemption -- isn't even part of what the equation is."