The Finale of 'The Righteous Gemstones' Was a Divine Ending to Season 1
In the moral universe of The Righteous Gemstones, HBO's transcendentally funny comedy about a rowdy family of televangelists, redemption comes in many forms. For Jesse, the mutton chop-sporting eldest son played by series creator Danny McBride, it means digging a shovel in the dirt with his son Gideon on a mission trip to Haiti; for Kelvin, the Justin Bieber-like youth minister played by Adam Devine, it means rescuing his troubled best friend from a sensory milk bath at a Satanic rave; for Judy, the outrageous wannabe music star played by Edi Patterson, it means returning to her dopey optometrist finance; for Uncle Baby Billy, the white-haired schemer played by Walton Goggins, it means getting struck by lightning. The Lord works in mysterious ways.
Like McBride's previous shows, Eastbound and Down and Vice Principals, The Righteous Gemstones knows how to find laughs in seemingly mundane, overlooked locations, staging moments of reckoning in barren strip-mall parking lots and drab chain restaurants. It's not a coincidence that the finale's best scene, where Judy delivered a monologue about her affair with an economics professor who "dressed like a casual beach man," was set at an Outback Steakhouse over a Bloomin' Onion. Along with his frequent collaborators David Gordon Green and Jody Hill, who directed the finale and portrays the gullible Levi on the show, McBride captures a version of American life as its actually lived, in all its wild desperation, punitive arrogance, and occasional splendor. At every turn, the first season, which ended with Sunday night's episode "Better Is the End of a Thing Than Its Beginning," made good on the promise made in the pilot episode: each of these often awful, vengeful individuals have souls worth saving.
Back in the first episode, the Gemstones were introduced in the middle of an argument, bickering as they baptized new believers in a malfunctioning wave pool in China. From the first insults, taunts, and eyerolls, it was apparent that Dr. Eli Gemstone (John Goodman) could no longer control his flock. If something was unclear in that first episode, it was why exactly the younger Gemstones, who had the great success and financial stability that often eludes McBride's more economically at-risk protagonists, would be quite so angry and so cruel to each other. Eastbound's Kenny Powers was a washed-up egomaniac chasing his glory days; Vice Principals' Neal Gamby was a thwarted authoritarian pursuing the scraps of power available to him. On the surface, Jesse and his siblings lived in relative comfort and prosperity.
Why are the Gemstones so fundamentally broken? Over the course of the season, particularly in the brilliant flashback episode "Interlude," McBride expanded the scope of the series and revealed that each character was still reeling from the loss of their mother Aimee-Leigh, the kind-hearted matriarch who held the family together. Played with startling humanity by real-life country singer Jennifer Nettles, she embodied the decency that all the other characters are capable of but rarely choose to act on. In its own vulgar, ridiculous way, The Righteous Gemstones slowly revealed itself to be a series about grieving and letting go.
So, it made sense that the season finale opened with Aimee-Leigh's death. As a bee buzzed around the hospital after she passes, Eli and his children immediately lost their shit, unable to control their destructive impulses to squash the bee. From there, the finale followed the fallout of the previous episode's Easter mass robbery and the subsequent disownment of the kids by Eli: Jesse, having blown up his marriage, continued to alienate his son while trying to make amends; Kelvin, sipping wine on the edge of his pool, spiraled into depression upon realizing he's "not Jesus" and might just be a normal guy; and Judy, spurned by Uncle "Baby" Billy, attempts to rebuild the relationship she destroyed by oversharing. Like the diabolically catchy song goes, they went on misbehavin'.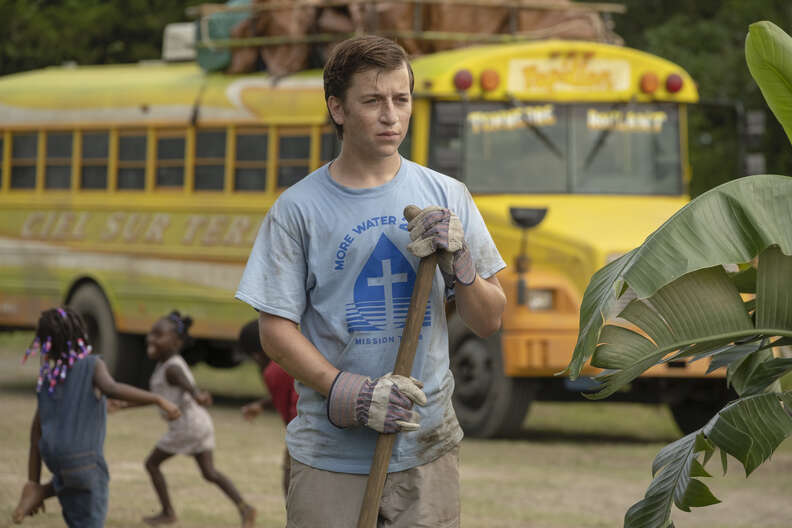 But they also showed signs of growth. The changes were incremental -- even after being struck by a lightning bolt, Baby Billy was back to working his next con as a roving minister in the final montage -- but they felt fought for, hard-won, and real. These weren't cheap, meaningless victories. The most compelling aspect of The Righteous Gemstones might be its reluctance to rub the viewer's nose in the apparent hypocrisy of its characters, who all sell a gussied-up version of themselves to their legions of followers in a megachurch setting that they don't quite measure up to. In its deployment of Bible quotes, its portrayal of Christian stagecraft, and its depiction of charity work, the show displays a genuine curiosity about the larger world it's trying to capture. As a writer, McBride can be brutal -- vicious, even -- but he's rarely condescending.
Heading into Season 2, which was confirmed by HBO back in September, it feels like that understanding of the Southern Christianity will inform the way the show continues to expand. Unlike Vice Principals, which was written and shot with the intention of ending after two seasons, The Righteous Gemstones was conceived as a show that could run for a long time. (Though it's a comedy, the show has the thematic heft and deep cast roster of other acclaimed HBO family dramas like The Sopranos, Six Feet Under, and Succession, its Sunday night companion.) Even if the first season felt like a contained narrative, it's hard to imagine McBride and the other writers struggling to find new stories to tell. In his closing sermon, Eli spoke of the value in "rooting for your enemy's salvation," a task that should prove challenging to even the most righteous Gemstone. Still, it'll be a pleasure to watch them fail.