Everything We Know About 'The Righteous Gemstones' Season 2
Pray for more of this HBO comedy from Danny McBride.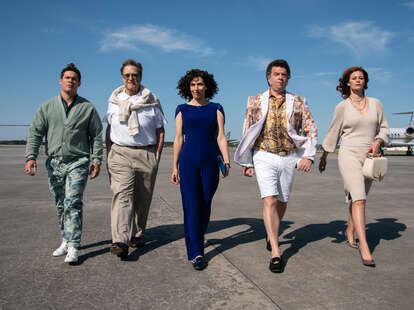 The Righteous Gemstones, HBO's irreverent comedy about a very reverent family, wrapped up its first season in fall 2019 with a bang. The series, which follows the (sometimes criminal) misadventures of a family at the head of a televangelist empire, shared a Sunday night slot on HBO with dark comedy Succession. From creator Danny McBride (Eastbound and Down, Vice Principals), The Righteous Gemstones was an immediate standout—and no, not just because of the immensely catchy "Misbehavin.'"
While the show's second season hasn't arrived yet, there's plenty to speculate about regarding the impending Righteous Gemstones Season 2. Here's what we know.
Has The Righteous Gemstones been renewed for Season 2?
Yes! HBO renewed the series for a second season three weeks into its first.
"I just picture this show as something a little bit bigger and wilder and more epic in the sense that we're not calculating what the audience's final thoughts are about these characters yet," series creator Danny McBride told Thrillist in the wake of the Season 1 finale. "We're just now introducing the audience to these characters. And, if I have my way, we'll be exploring these characters for a few years to come."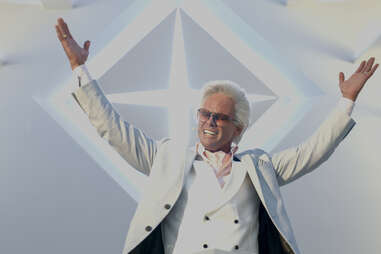 When will Season 2 premiere?
In November, HBO finally announced a return date for the Gemstone family: Season 2 will premiere on Sunday, January 9 at 10 pm EST with two back-to-back episodes. Hallelujah!
Given that Season 1 wrapped in October of 2019, it initially seemed like the show might return in Summer 2020. But the pandemic slowed down the production. In a Deadlinestory from March 2020, Righteous Gemstones was included on a list of shows, including Season 2 of HBO's Euphoria and the first season of HBO Max's The Flight Attendant starring Kaley Cuoco, that shut down production as the coronavirus continued to spread.
Rough House Pictures, McBride's production company founded with filmmakers David Gordon Green and Jody Hill, is based in Charleston, South Carolina, where The Righteous Gemstones primarily shoots. In an interview from June 2020, writer and performer Edi Patterson revealed that the show's second season was already written and they "shot for two days in South Carolina and had to shut down."
Eventually, production resumed in 2021. A March production start was confirmed by a March 25, 2021 post on the show's official Instagram account. (That post also indicated that David Gordon Green will be directing the first episode of the new season.) On April 16, the Instagram account posted a photo of the Gemstone family with the caption, "The Holy Spirit has touched down. Season 2 production of #TheRighteousGemstones continues."
Is there a trailer for The Righteous Gemstones Season 2?
Yes, you can view the official teaser for the show above. It was released on November 5, 2021, and it finds the Gemstones in fighting form, with John Goodman riding a roller coaster, Adam DeVine leading a group of evangelical muscle men, and McBride doing the jerk-off hand-motion at the end. There's also a quick glimpse of some new characters. It looks very funny.
Who will return for Season 2?
It's reasonable to expect all of the Gemstones to return for a second season, with series creator Danny McBride back in the center as Jesse Gemstone, the eldest son of the family. That means more of John Goodman as Eli, the patriarch, Adam Devine as Kelvin, the family baby and, therefore, the Gemstones' youth minster, and Edi Patterson as Judy, the middle child, as well. We'll also likely see the return of Tony Cavalero as Keefe Chambers, Kelvin's Satanist project, Tim Baltz as BJ, Judy's fiancee, Cassidy Freeman as Amber, Jesse's wife, Skyler Gisondo as Gideon, Jesse's oldest son, and Dermot Mulroney as rival pastor Reverend Seasons. With Walton Goggin's Uncle Baby Billy revived in the season finale, expect him to have plenty to atone for in the new season.
In an interview with the Hollywood Reporter, Patterson mentioned that when they started shooting the second season they were on huge sets. "Like a period piece set where the whole block had been changed into another city in another time," she said, indicating that the show will likely delve even further into the Gemstone family lore.
We'll also be seeing some new faces in Season 2, although there's no definite casting information as of yet. "We just started writing Season 2, but we're just excited to be able to dig deeper into this world and introduce you to some new characters," McBride told Entertainment Weekly in a Season 1 postmortem.
Are there any new cast members in The Righteous Gemstones Season 2?
The Righteous Gemstones is adding even more sheep to the flock this season. On May 13, it was announced that Jason Schwartzman, Eric Roberts, and Eric Andre will all be taking on recurring roles in the second season. Schwartzman, who starred in the HBO comedy Bored to Death and recently popped up in the fourth season of FX's Fargo, will play Thaniel, a character described as "a journalist working on a story about the ministries." Roberts will play Junior, described as a man who "grew up with [John Goodman's] Eli and suddenly re-enters his life." Finally, Andre will play the evocatively named Lyle Lissons, described as "a megachurch pastor from Texas who befriends Jesse and Amber." Honestly, all three actors feel like they will fit right in.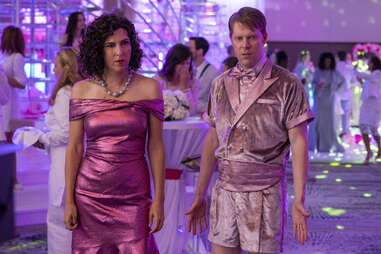 What's the plot of Season 2?
The season finale of The Righteous Gemstones didn't leave much begging for resolution in the second season. After finally getting the full picture on what his kids have been up to, Eli fires Jesse, Judy, and Kelvin from their posts in the church. Kelvin realized that he messed up with Keefe, who succumbed to his Satanic goth circle, and goes back to reunite with him; Judy bares her past for BJ; Jesse tries to save his marriage with Amber, who stipulates that the only way that she'll stay with him is if he manages to bring their son Gideon back from a mission to Haiti.
Jesse fails to convince Gideon to return with him, leading to his marriage falling apart and causing him to move out of his house by the end of the episode. This is Season 2's biggest change, aside from the fact that Baby Billy has now apparently seen the face of God (and the deceased Aimee-Leigh). Still, for the most part, everyone's Season 1 woes have reached some level of resolution. "That is how our plan is for these seasons," McBride told Entertainment Weekly. "Obviously, you continue the Gemstone story, but I like the idea of each of these seasons standing alone as their own work and story, so that you're not always baiting the audience with, 'What's next?' There is some level of giving people closure, and then starting again."
McBride assured Thrillist that things are far from over from one of HBO's most awful families. That being said, giving the Gemstone family a redemption arc isn't necessarily a priority. "I think at this point," McBride said, "redemption—or no redemption—isn't even part of what the equation is."