What the Creepy Girls From 'The Ring' Movies Look Like in Real Life
How do you get from a beautiful young woman to a sunken-eyed, pale-white ghost with enough coarse black hair to clog eight bathtub drains? Four hundred years of Japanese lore, that's how.
To visualize Kôji Suzuki's hit horror novel Ring, director Hideo Nakata reaped from his country's long heritage of kaidan ghost stories. Shizuko Yamamura, the girl on the videotape in 1998's Ringu, is a classic yūrei, a ghastly entity found across Japanese art dating back to the 14th century.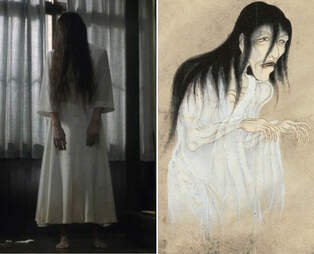 Shizuko in Ringu (1998) and Yūrei by Sawaki Sūshi (1737)

| Paramount Pictures/Public Domain
Dressed in white with hair down, reflecting the traditional burial look for deceased Japanese women, the yūrei was an ancient image that suited the fading VHS technology that would entomb Shizuko. Nakata combined the ethereal form with Hijikata Tatsumi's erratic butoh dance style, to create a J-Horror equivalent to Freddy Krueger or Jason Voorhees. When director Gore Verbinski brought the franchise stateside with 2002's The Ring, he kept the instantly recognizable, creepy look.
Less recognizable: the women behind the locks. Thanks to an elaborate wig, and in American versions, 10lbs of latex boils and grime, actresses who imbue Shizuko with haunting vengeance are rarely appreciated after the fact. Ghosts in movies: They're people too!
With the third American installment, Rings, hitting theaters this week, here's an introduction to the women behind Shizuko/Samara, free of the hairties that bind.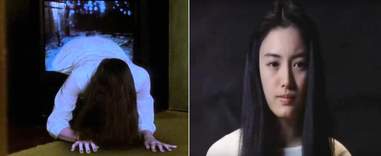 Rie Inō in Ringu, after and before her Sadako transformation

| Toho Company Ltd
Rie Inō as Sadako Yamamura in Ringu and Ringu 2
The first two Ringu movies are Inō's only film credits, but her impression on the series is everlasting. Nakata reportedly asked the kabuki theater actress to walk backwards in a jerky motion, which he then reversed in the final film, creating Sadako's bizarre movements. 
Chase as Samara in The Ring (2002); Daveigh Chase at an event in 2012

| Imeh Akpanudosen/Getty Images/Paramount Pictures
Daveigh Chase as Samara in The Ring
Chase, who also voiced "Lilo" in Disney's Lilo & Stitch, was 11 years old when she nabbed the role of The Ring remake's young ghost. Her work in the movie won her the 2003 MTV Movie Award for "Best Villain," beating out Daniel Day-Lewis in Gangs of New York.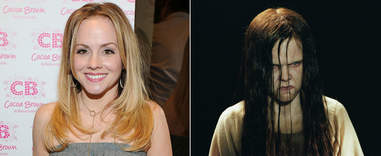 Kelly Stables at an event in 2016; Stables as Samara in The Ring Two (2005)

| Jerod Harris/Getty Images/Paramount Pictures
Kelly Stables as Samara in The Ring Two
Stables provided stunt work for Chase in the first American Ring movie. When the latter passed on returning to the role, Stables filled in for the acrobatic and resting shots of evil Samara. After shedding Samara's decaying skin, Stables continued to act, appearing as Melissa in Two and a Half Men and, most recently, Mary Anne on The CW's No Tomorrow.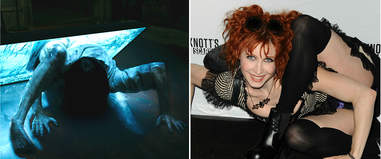 Morgan as Samara in Rings (2017); Bonnie Morgan at an event in 2015

| Jason LaVeris/Getty Images/Paramount Pictures
Bonnie Morgan as Samara in Rings
After lending her contortionist skills to The Ring Two's ceiling crawl sequence, Morgan returns to the franchise this year as the one-and-only Samara. Expect even more bending. Morgan can also be seen in Minority Report, The Last Witch Hunter, and the Season 8 episode of It's Always Sunny where the gang attends the McPoyle wedding.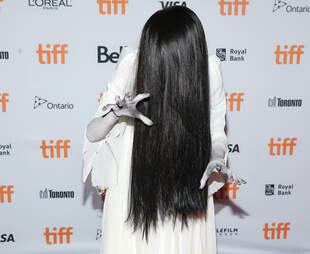 Elly Nanami at the Toronto Film Festival premiere of Sadako vs. Kayako

| J. Countess/Getty Images
Elly Nanami as Sadako Yamamura in Sadako vs. Kayako
Sadako returned to screens this year in the epic showdown Sadako vs. Kayako, which pits the Ring ghost against the supernatural star of The Grudge series. Despite the movie making a splash at the 2016 Toronto Film Festival, and being readily available on the horror-centric streaming service Shudder, there are no known photos of Elly Nanami out of her Sadako costume. Not even Shudder had an explanation for why we can't find a photo of Nanami in plain clothes. Is she an actual ghost? Hopefully we can do the actress justice in the future. For now, enjoy how she rolled onto the TIFF red carpet.
Sign up here for our daily Thrillist email, and get your fix of the best in food/drink/fun.
Matt Patches is Thrillist's Entertainment editor. He previously wrote for Grantland, Esquire.com, and Vulture. Find him on Twitter @misterpatches.