Tim Allen Wasn't a Big Fan of the Kids in 'The Santa Clause' Movies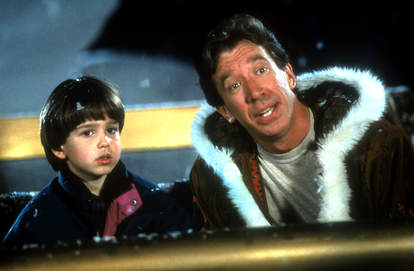 Walt Disney Pictures/Getty Images
December 1994 was a good time to be Tim Allen. His TV show Home Improvement owned the No. 1 ratings slot, his book Don't Stand Too Close to a Naked Man topped The New York Times best-seller list, and a Disney movie he had starred in was earning loads at the box office. That movie, The Santa Clause, would go on to net almost $150 million worldwide while becoming an instant Christmas classic, one that continues to be almost unavoidable during the holiday season. It's currently streaming on Netflix, and Freeform will air it on December 22 at 7:30pm, December 23 at 3pm, December 24 at 11:25pm, and December 25 at 4:45pm, as part of its 25 Days of Christmas.
In an interview with The New York Times, months after his moment on top, Allen called his pop culture dominance a "trifecta." "I'm really proud of that," he said. "That had never been done before, and it's going to be very difficult to repeat it." For Allen, The Santa Clause, in particular, was huge. It was his movie-star debut, and it would open the door for him to become a big-screen fixture. (The first Toy Story came the following year, and Galaxy Quest wasn't far off.)
The role also cemented his persona as a gruff-but-lovable father figure for kids growing up in the '90s. Many knew him as Tim "The Tool Man" Taylor. Now? He was freaking Santa. In fact, the child actors Allen worked with bought into his persona so much they thought he was the real Santa. Same with his daughter, and to this day, kids still tell him what they want for Christmas. Which is funny, because for Allen, filming The Santa Clause movies was definitely not a Jim & Andy situation.
"I don't like kids," Allen told fellow comedian Norm Macdonald recently. "Every time I did those Santa Clause movies, no matter how mean I was to the children on the set, they'd go, Ah-ha, I like you so much!" If Allen told them to get out of his trailer, or if he smoked cigarettes and pulled off his beard, they'd laugh and love him more. "The meaner you are to children... they're like cats," he quipped. "They kept coming back, and the director kept saying, you gotta stop swearing!"
Unfamiliar with The Santa Clause? It's that insane movie where Allen accidentally kills Santa by knocking him off a roof, then puts on the Santa suit, and, because of a punny "Santa clause," must become Santa. (Lesson: Don't touch other people's shit!) The premise was simple for kids, but Allen also carried an emotional hook for adults, playing a workaholic divorcee who wields sarcasm as his weapon of choice and struggles to maintain a healthy relationship with his son. Amid the Santa drama, which includes shocking physical transformations, Allen reconnects with his son while trying to convince his ex-wife that he's not some freak kidnapping their child. 
Though critics were mixed about the movie in general, many appreciated Allen's comedic stylings. "You'd have to be a mean ol' Grinch to level any serious complaints at The Santa Clause, a smoothly enjoyable comedy," wrote The Seattle Times. "It's easy to see why [Allen's] show is a ratings smash. There's an effortless quality to his humor, but it's also got a quietly urgent edge to it." The Washington Post also praised him, saying, "Aimed at kids, but written with parents in mind, The Santa Clause balances the sugar with the spice, which Allen sprinkles on just right." Even our critics think the former Home Improvement star brought "enough playful grunts, wry incredulity, and genuine cheer to the role to elevate this above kiddie movie schmaltz."
The movie's success spawned a trilogy. Disney rolled out The Santa Clause 2, in which Allen looked for a new Mrs. Claus, in 2002; and then in 2006, came The Escape Clause, which had Allen square off against Jack Frost (Martin Short!). As the saga continued, the stories became more fantastical, the sets got more involved, the number of children skyrocketed -- Disney had dozens of "900-year-old" kids populating the North Pole as elves -- and Allen channeled more Krusty the Clown.
Kids: "What do the elves eat?"
Allen: "Well, they probably eat reindeer, I think!"
Kids: "Why do you like milk and cookies?" 
Allen: "Because it takes the edge off the Jack and Coke."
But the best behind-the-scenes nugget of all? It comes from the beginning of The Santa Clause 2. The sequel kicks off with the camera soaring over the North Pole, diving into the workshop to find Allen's Santa manning a periscope in a control room, working with the elves to avoid the Air Force's detection. 
"Bruckheimer helped us set up this big [opening] shot; it was a great deal," Allen recalled for Macdonald. "There's four kids behind me, they're just in the background, but it's always -- I came from seven boys, two girls -- the big one and the little one pinching each other. So I go, Guys, guys, please, c'mon. And then they'd stop."
Not for long. The kids continued pinching and messing up the shot. By take 27, Allen was annoyed. "It's an opening where I do a blink at the camera," he said. "It gets right to here, two seconds from cut, and then the kid says, 'He pinched me again!' And I just went, 'FUCK!' The whole set went quiet. And you hear people saying, 'Santa just said fuck, Santa has just said fuck.' All these kids froze, and then they had a Disney guy going, He said 'fuch'; it's a Swedish word, meaning 'to take a break.'"
As you bundle up for The Santa Clause movies this year, give Macdonald's interview a spin. Listening to Allen's war stories and then seeing him take on the role of Scott Calvin is like re-watching this Saturday Night Live sketch knowing Leslie Jones was doing her best not to throw up live on air. It's a whole new world. 
Sign up here for our daily Thrillist email and subscribe here for our YouTube channel to get your fix of the best in food/drink/fun.
Sean Fitz-Gerald is a writer for Thrillist. Follow him @srkfitzgerald.