'The Shape of Water' Wants You to Be Sexually Attracted to Its Fish-Man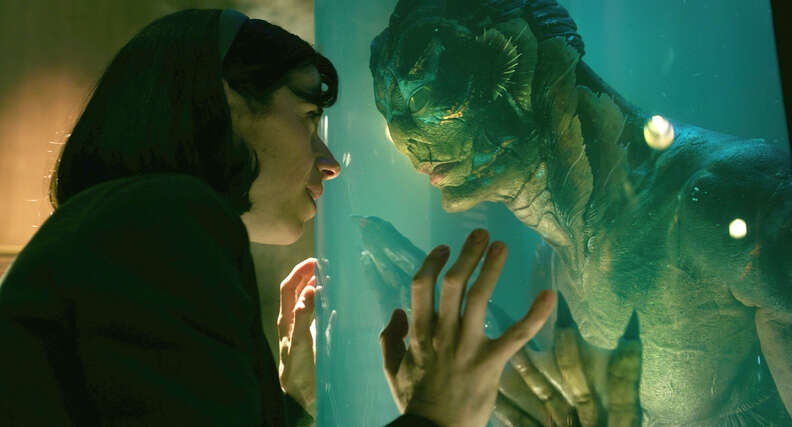 Fox Searchlight
Fox Searchlight
The amphibious creature at the heart of Guillermo del Toro's fantastical love story The Shape of Water was not imagined as a horrific beast, but an amphibian Adonis. Embodied by actor Doug Jones, the character is even, dare we say, sexy. This is all by design.
The film follows a mute woman named Elisa (Sally Hawkins) who falls in love with the aforementioned monster, dubbed "the Asset," while he's being held in a secretive government facility during the Cold War. It's a beautiful and moving film, one that reminds you of how love can take any form. The muscled design of the creature is key to the movie's emotional effectiveness. By the end, you care deeply about him -- and it's easy to understand Elisa sexual attraction to the zoological wonder.
"Guillermo was adamant that the creature was not a monster, but actually a handsome leading man," explains Mike Hill, who was tasked with building a sculptural version of the Asset in the initial design stages. "That was the initial design directive I got. I made some sketches of features I thought that would make a man mixed with a fish to look handsome: the big doe eyes, a strong jaw, the cleft chin. All the things are meant to make face heroic and handsome. I wanted to give him really kissable lips because the lady is meant to have a relationship with him. The first thing you do when you kiss someone is look at the lips and no one wants to kiss a big fish mouth. I gave him a pair of sensual lips and built the face out from there."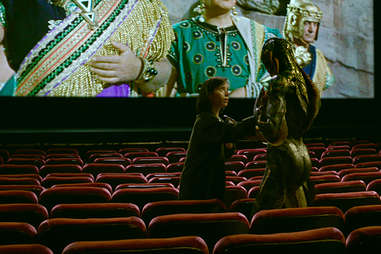 It took several weeks of constant sculpting and designing to ensure that the Asset had, well, a great asset. "The challenge was the butt of the creature," Hill says. "Guillermo wanted a really sexy ass on this thing. We would sculpt it, he would take pictures and send them to his family and friends and say, 'Is this a nice butt?' He was very adamant that the creature had to have a really nice body. We gave him a slim waist and broad shoulders -- a swimmer's build. He's a very debonair creature."
The team worked on the design for nearly nine months ahead of the film's production to ensure that every single detail was right for the story. "It was a very long process," Shane Mahan, project supervisor and make-up effects for the creature. "It was a lot of trial and error, and a lot of experimentation. The challenge was that he had to be a creature that the lead actress could fall in love with without making him look completely loveable or completely over the top with those attributes. It was about the right balance of what was fantastical and what was attractive and what was horrifying and what was alluring. That's a difficult combination of things going on."
Once production started Mahan, Hill and their team spent three hours per day putting Jones into the costume pieces and makeup elements created from the final creature design. It was important to Mahan to build a suit that would keep the assembly time as short as possible while hiding how the costume elements came together. New pieces and additions were created and built throughout shooting as well, which added to the complication. Jones shot his scenes with a layer of one-inch latex covering his entire body, including, sometimes, his eyes. For Dennis Bernardi, visual effects supervisor, having an actual actor embody the role was essential for making the creature work.

"We have the ability to control and change anything at any time, and what you see a lot is over-animation," Bernardi explains. "Guillermo called us out on that pretty early on and in our research we came to the same conclusion. Subtlety was important, especially for the tender moments. Guillermo wanted to make sure that we were employing the best of practical makeup effects with Shane and Mike, using one of the best performers and interpreters of creatures in Doug and employing digital effects to sweeten it up and complete it. If it was a situation where we did the creature all digitally, all the time as a digital character -- which was contemplated for about five minutes -- it would have been a mistake. Here you had Doug onset every day playing against Sally. The physicality of having both of them on camera at the same time was very important."
VFX, which took several months following production and 18 months total for the creature himself, became most essential with the Asset's eyes, which blink and move in a most disarming fashion. The team used Jones' actual performance as their inspiration for any added effects, particularly with the facial expressions. Every time you see the creature, he's been digitally affected in some way, though it appears seamless with the costume.
"The big goal for us became the tenderness and the soulfulness of the eyes," Bernardi says. "And the micro-expressions around the eyes and in the face that convey various emotions. We studied a lot of images of close-ups of actors in various dramatic moments and what we found was that the expressions are more subtle than one would think. You can convey a big emotional moment without a lot of expressions."
The final result is a monster who is a sexual, attractive being in his own specific way – much unlike the monstrous creatures we've seen on screen before.
"One of the things we talked about was Beauty and the Beast, where the Beast has to turn back into a handsome man to be acceptable. But no -- why can't she just fall for the Beast as he is and love him as he is? Guillermo hated the idea someone has to look beautiful and perfect to make a fairy tale. You can make a fairy tale where the lady is not a princess, she's just a janitor, and the man is half fish and half man." He adds, "There have been a lot of fish men done over time, but I think we succeeded in making the most handsome one."
Sign up here for our daily Thrillist email and subscribe here for our YouTube channel to get your fix of the best in food/drink/fun.
Emily Zemler is a freelance writer and journalist based in London. You can follow her on Twitter @emilyzemler.