'The Shape of Water' Is a Romance Between Woman and Merman That's Absolutely Gorgeous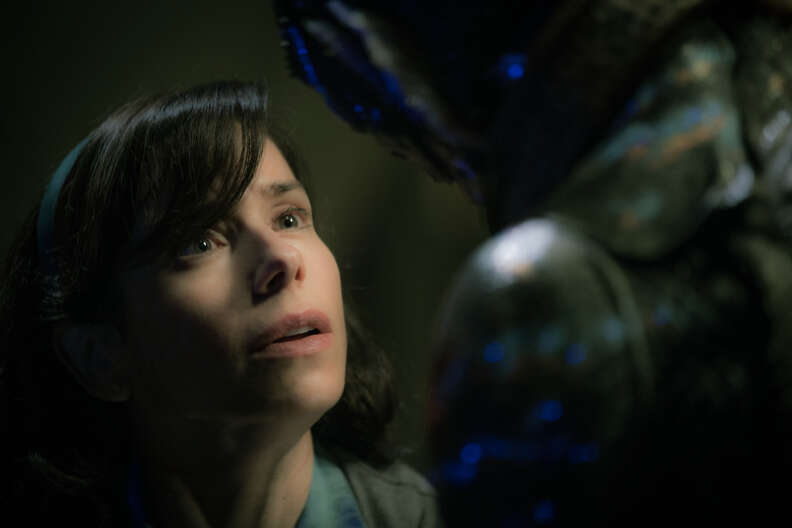 Fox Searchlight
Fox Searchlight
This post contains minor spoilers for The Shape of Water.
From the opening frames of Guillermo Del Toro's The Shape of Water it's evident we're in the hands of a magician. The camera swims through a gorgeous pre-war apartment submerged in water as Alexandre Desplat's dreamy music accompanies a poetic voice over from Richard Jenkins. Then Sally Hawkins, as the film's lead, Eliza, awakens and starts her day. There's an exaggerated, high-contrast look to the color that makes this world look like a Disney film come to life. It's not two minutes in that I'm thinking "I can't wait to take my 10 year-old niece to this movie."
Then, in the background and somewhat out of focus, you notice something: Is Sally Hawkins... masturbating in the tub?
That's why Del Toro, best known for Pacific Rim, Crimson Peak, and the two Hellboy movies, is a genius. This movie is basically E.T.: The Extra Terrestrial but with a sea monster who screws. (Suggested re-title: (W.)E.T.). And why the hell not? How many fables have we seen about magical creatures who make emotional connections? Shouldn't they have sexual urges, too? There's been so much written about the psychological implications underneath movies like King Kong, why not just get it out in the open?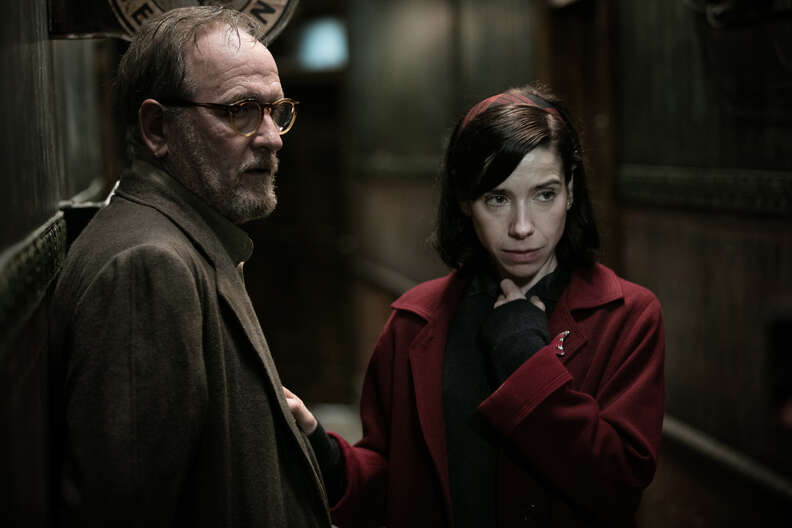 There's more than one magical creature in The Shape of Water. The obvious one is the captured beast (played by actor Doug Jones under tons of makeup and computer-graphic special effects) taken from somewhere in Latin America. There's officially no need to remake The Creature From The Black Lagoon -- nothing's going to top Del Toro and his team's merman design work here.
Then there's Eliza (Hawkins), a caring mute woman who grew up in an orphanage. Neck scars prevent her from speaking... and they look a little like gills. She lives above an old art deco movie theater (Toronto's Elgin where, in a weird twist, I happened to see this movie at its Toronto International Film Festival debut.) Next door is Giles, a commercial artist blacklisted for being gay. It's the heat of the cold war and Eliza works alongside Zelda (Octavia Spencer) as a cleaning lady at some kind of secret government facility.
Before too long, Eliza befriends the creature, under lock and key in the facility. There's also a Soviet spy (Michael Stuhlbarg) with orders to destroy the man-fish-thing before the Americans can learn from it, but he's a scientist first. Eventually he, Zelda and Giles all help Eliza rescue the creature before he can be hurt.
The head of security, played by Michael Shannon at his most repulsive , will stop at nothing to protect his job. Shannon's Colonel Strickland is certainly the villain (and he turns violent) but Del Toro first gets us to dislike him in an unusual way: he's selfish to his wife in bed. Sexuality is a current that makes the action of this otherworldly drama flow.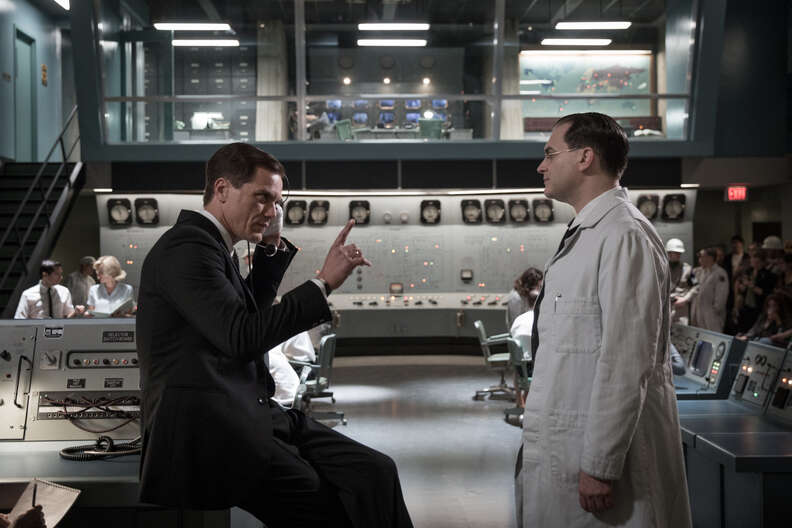 To get to the question you are asking: yes, Sally Hawkins (a human) and Doug Jones (a sea monster) get it on in this movie.
But it is handled tastefully. I don't even mean soft lighting, I mean a classic Hollywood fade-out. What we do dwell on in how these two who can't communicate in traditional methods fall richly in love. There's a fantasy sequence that I shall not spoil, but it is pure movie magic.
If you are that filmgoer who lists Eternal Sunshine of the Spotless Mind as your all-time favorite, you need to rush out and see this as quickly as you can. Everyone else should see it, too (even kids if they are mature), as it explores, in gorgeous visual ways, unimaginable depth of human feeling.
Sign up here for our daily Thrillist email and subscribe here for our YouTube channel to get your fix of the best in food/drink/fun.
Jordan Hoffman is a film critic and writer whose work appears in
The Guardian
,
Vanity Fair
, and Mashable. Follow him on Twitter @jhoffman.