'The Shape of Water' Fish-Man Actor Reveals How They Pulled Off the Movie's Sex Scene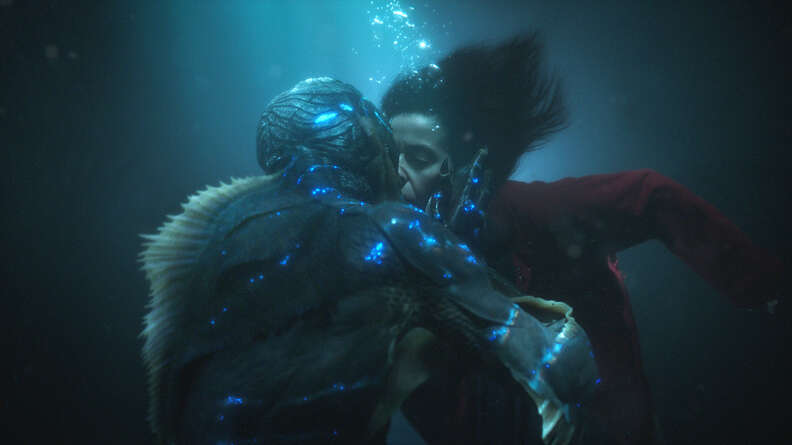 Fox Searchlight
Fox Searchlight
In January 2014, Doug Jones walked into Guillermo del Toro's office on the set of the gothic haunted house movie Crimson Peak to discuss a new story the filmmaker was developing: The Shape of Water. The two men had collaborated on six movies before, so it wasn't strange for the director to call him in for a creative bull session. Jones, a gifted actor and former contortionist with a lanky, 6'4" frame, served as a creature muse on projects like Mimic, Pan's Labyrinth, The Strain, and both of the Hellboy films, where he played the amphibious Abe Sapien. In his office, del Toro explained that his next movie would be a scaled back, more intimate film compared to his recent big-budget efforts. "Ah, we're returning to the Pan's Labyrinth days," Jones thought.
Then del Toro dropped a bomb. "I know you're a good Catholic boy and the creature has a love story to tell here," he told Jones. "That means seeing through to... a love-making scene."
Jones, a mild-mannered 57-year-old from Indiana who speaks in a soft, kind voice as he recounts this story over the phone, was taken aback. In most del Toro films, he plays the type of monsters one might discover in a nightmare, not a sexual fantasy. "What, are they gonna go at it doggy style?" he asked.
If you've seen Jones and Del Toro's The Shape of Water, which won Oscars for Best Picture and Best Director (among others), you know the answer to that question. (It's "No.") Instead, the sex scene between a mysterious fish-man of unknown origins (Jones) and Elisa (Sally Hawkins), a mute cleaning woman for a government testing facility, is one of the most tender, romantic, and surreal movie moments of the year. Del Toro's films have always combined the bizarre and the fantastic with the historical and the nitty-gritty details of life, so it only makes sense that his fish-man love story, which plays out in 1962 Baltimore against the anxieties of the Cold War, would include some sex. But it's hard to imagine anyone thought it would be this sexy.
"We did all the non-verbal things people do to fall in love," said Jones when asked about the film's slow-build approach. "That's all been building up to this unsupervised time together, so of course it's a love that can be consummated finally, which was new and different for me. [Del Toro] kept stressing to me, 'You're the romantic leading male of this movie.' And I kept thinking, 'In a fish suit?'"
Yes. In a fish suit. But not just any fish suit: The actual costume, which was built by the studio Legacy Effects, has a muscular, toned quality to it that helps sell the idea of the fish creature as a potential pin-up. (The movie feels destined to inspire some wild fan art.) In their early conversations, del Toro told Jones that he wanted the fish-man to be "regal" and that it should resemble his performance as the Silver Surfer in 2007's super-hero adventure Fantastic Four: Rise of the Silver Surfer. He also wanted a little bit of "matador" sprinkled in.
"With them, there's an athleticism that's graceful and really beautiful to watch," said Jones. "And sexy. Because they kinda lead with the pelvis. They do it fearlessly."
The more reserved Jones wasn't exactly fearless, but he knew how to prepare for the role. Before filming, Jones would explore his ideas about the character by renting out space in a dance studio with a full set of mirrors so he could walk back and forth, check himself out from different angles, and explore potentials for the fish-man's body language. How does a fish-man stand? How does he squat to the floor? How does he lean against a wall?
And how does he... fuck? While the film's big love scene is intimate, it's not gratuitous or salacious. You don't actually see the creature's penis, but Hawkins' character does wordlessly explain his anatomy to a friend in the movie, using her hands to mimic how the organ emerges from his body. The gesture doesn't look that different than some of the terrifying creatures in del Toro's vampire thriller Blade II.
But the scene itself has a warmth and sweetness to it that Jones is quick to attribute to his co-star Sally Hawkins. "I can't imagine doing that now with anyone else but her," he says. "She is magical. The minute the camera rolls, the entire crew goes away and you're just standing there with her and you're isolated in this real moment that's happening in front of you. I was so blessed to be invited into that moment."
The two had never met before the movie, but they became quick friends during the film's three-week rehearsal period. While they were learning to choreograph the movie's big dance sequence, which mimics the buoyancy of Fred Astaire and Ginger Rogers films, Jones says they would giggle about things to each other, cry together, share secrets and insecurities, and create a type of emotional vulnerability that would serve them well during the actual shooting process. There are many technical challenges to a performance like the one Jones gives -- for example, he had to sit for three hours of makeup every day, which he describes as "mercifully short" -- but its success hinges on selling the emotional connection to the audience.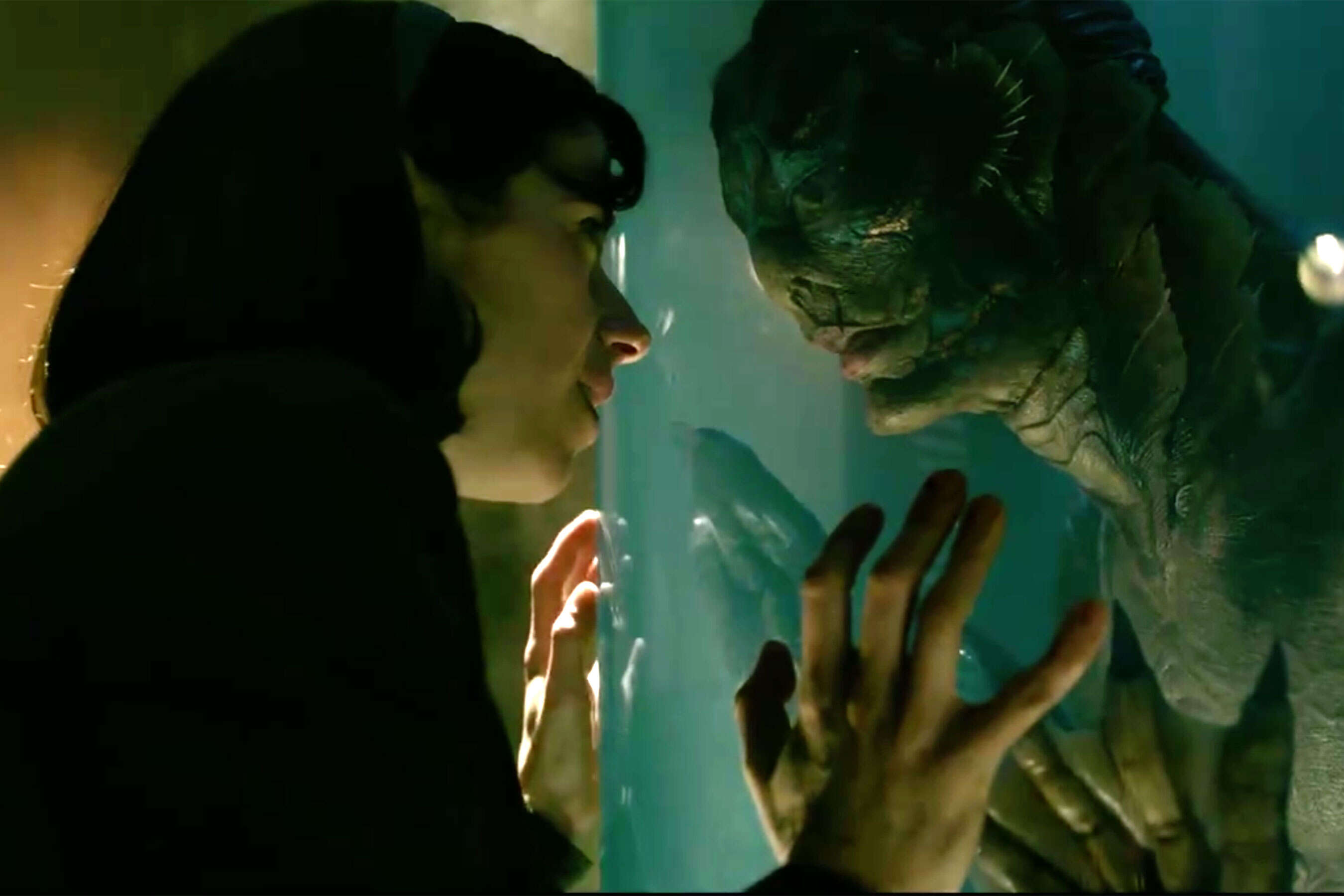 When it came time to actually shoot the film's love scene, Jones says the two had developed a delicate rapport. "Between takes, you would often see us petting each other's faces and holding hands," he says. "We held hands a lot. Just to remind each other, 'I'm here and you're here. This is comfortable. This is right.' We would say to each other, 'I love you.' 'No, I love you more.' 'But you can't love me more because I love you more.'"
It might sound strange, but that gentle intimacy imbues the film with compassion. Unlike Michael Shannon's villain Richard Strickland, who has cruel and unpleasant sex with his wife in the film, the love-making between Elisa and the fish-man is sensitive and kind. Sweet, even. As Hawkins's character filling her apartment with water so the two can float together in her bathroom, the movie takes on a poetic quality that's completely informed by the performances. The two actors entwined, one a human and one a fish-man, remains the film's most striking, evocative image.
"We would stay standing in that embrace because it felt protective and right," says Jones. "It was a beautiful thing to film."
Sign up here for our daily Thrillist email and subscribe here for our YouTube channel to get your fix of the best in food/drink/fun.