The Wildest Things You Didn't Know You Could Do in 'The Sims' Games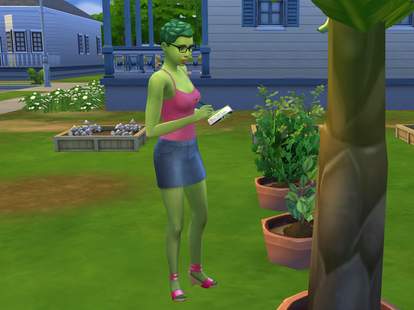 Keeping myself entertained and distracted from eating all of the snacks in my kitchen during these stressful times brought me back to my days of being a teenager, where i would sit for hours in my room playing scenario after scenario on The Sims 2, wondering if the chili con carne the Sim version of myself was eating was actually tasty. While I normally keep my Sims pretty tame, I have days where I want to experience the chaotic energy only virtual outlets can channel. In my 12-year Sims obsession, I've had enough run-ins with the Grim Reaper (sometimes accidentally, other times on purpose), Sims abducted by aliens, and multiple failed relationships with my hopelessly romantic Sims to bring you some of the wild discoveries I found in the game along the way. Here are 10 off-the-wall things you should try with your Sims that will absolutely spice up your in-game experience. 
My Sim brings a new meaning to green thumb.

| Electronic Arts
Transform into a PlantSim
Available in: The Sims 2: Seasons, The Sims 3: University Life, The Sims 4: Cool Kitchen Stuff, and The Sims 4
Gardening is a great skill for any Sim to have. It allows them to be resourceful and keeps them out of the way when your other Sims are ordering their fourth delivery pizza of the day. But some Sims take it to the extreme -- the PlantSims, that is. These special Sims were originally introduced in a PlantSim Challenge in The Sims 4, but the feature still exists today. Your Sim will need to reach level 10 of the gardening skill to purchase the rare seed packets that produce the fruits you need. It might be wise to take on a lucrative job or use the "motherlode" cheat code to get some cash since each rare seed packet costs 1,000 Simoleons and not every packet contains multiple magic beans. Also purchase the "Magic PlantSim Stump" and put all 6 magic beans into it when you've collected them all. Care for the tree that grows by watering it and voila! You can then enter the tree and eat the forbidden fruit to turn your sim into a PlantSim. 
Travel to worlds unknown
Available in: The Sims 3: Seasons and The Sims 4: Get to Work
In Sim World, there's no doubt that alien lifeforms exist outside of Earth. Put your Sims' on the Scientist career track so they can visit planets outside of their own. Once they reach level 10 in their career, they will need to build the Electroflux Wormhole Generator and either upgrade it or combine it with a rocket in order to travel to eerie, alien-filled Planet Sixam. 
No grilled cheeses were harmed in the making of this grilled cheese master Sim.

| Electronic Arts
Become a grilled cheese master
Available in: The Sims 2: Nightlife, The Sims 2: FreeTime, and The Sims 4
The Sims 4 has many aspirations to choose from for your beloved Sim, but not all of them are available when you first begin playing. The grilled cheese is one of the special aspirations that only becomes unlocked after successfully cooking and eating multiple grilled cheese sandwiches, or to be specific, three single-serve grilled cheese sandwiches. The catch? You have to cook and eat all three sandwiches in a row. Or, if you're short on time, feel free to whip up a group serving of sandwiches, but make sure to eat two single-serve ones right after.
To complete the aspiration, you'll need to do a couple of tasks, like casually discuss grilled cheese sandwiches with different Sims, eat grilled cheese in space, and talk to the Grim Reaper about your love of grilled cheese sandwiches. Once you've unlocked the grilled cheese aspiration, you'll be rewarded with the ability to create paintings of grilled cheese sandwiches.
Raise a herd of gnome babies
Available in: The Sims 3
Remember Mysterious Mr. Gnome, the odd lawn decoration you randomly put on your lawn in The Sims 3? You can create babies using the little guy now. Just place two of these statues beside each other and eventually you'll see a third Gnome appear. The little Gnome will even go through the same stages of life a Sim does: infancy, toddler, childhood, teenagehood, adulthood and, of course, an end with a dramatic tombstone. 
My Sims want to retire at Sylvan Glade.

| Electronic Arts
Explore a secret wonderland
Available in: The Sims 4
Just when you think you've seen all of Willow Creek in The Sims 4, you stumble upon Sylvan Glade. This secret lot has a vast pond with rare fish swimming through it, including the treefish. You can only access Sylvan Glade through the twisted Sylvan Tree in Foundry Cove, near the small Crick Cabana lot. "View" the tree a few times, water it, talk to it, become one with the tree, basically, and you'll soon see the secret opening appear. Then, you can explore the secret world to your heart's desire. Oh, and no worries if you're a vampire; the dim light in Sylvan Glade won't affect you. 
Collect all the postcards from your favorite pen pal 
Available in: The Sims 4
Snail mail is useful sometimes, especially when it's a postcard from your Sim pen pal. To get your very own Internet pen pal, request one on your Sim's desktop and wait for one to reply. After a little back-and-forth between you and your new buddy, you should see the option to "Ask for Postcard." There are 14 collectable postcards for you to proudly display on your wall, or buy the postcard corkboard and tack them on there. 
One Sim's trash is another Sim's garden.

| Electronic Arts
Help the environment by littering
Available in: The Sims 4
Turn your yard into an automatic compost plot by leaving your trash on the ground. Seriously: Leave it there long enough and it'll turn into a green little "trash plant." Your Sims may be a bit uncomfortable with the pile of trash laying out and bringing down the property value, but these plants can be harvested to produce a "trash fruit." These fruits are safe for your Sims to eat and they won't make them sick. But just because the plant is made of trash doesn't mean it can go without being cared for. Water it as you would flowers in your garden or else it will die and there will be no more trash fruit for you. 
Be the leader of a secret club
Available in: The Sims 4: Get Together
So maybe your Sim wasn't the captain of the football team in the Discover University expansion pack, but they can be the leader of their own secret club now. In The Sims 4: Get Together, you can make a club for up to eight Sims based on their personalities, style, interests, and behaviors. As the leader, you'll get your very own crown over your plumbob (the green crystal above your Sim's head). You can restrict access to your club by age, marital status, financial status, and more. The activities you choose for your club will be done by every member at your club hangout, most of which are in Windenburg. 
Sims who wander find secret entrances.

| Electronic Arts
Use your Sim's strength to get to Forgotten Grotto
Available in: The Sims 4
Being a Sim isn't just sitting on the couch eating chips and watching rom-coms all day. Real strenuous activity is involved when you want to unlock a hidden lot. Similar to Sylvan Glade, Forgotten Grotto can only be accessed under certain conditions. In this case, you'll need level 10 handiness to break open and enter an abandoned mine entrance hidden in Oasis Springs. Find it behind Desert Bloom Park and follow the text instructions on your screen to visit the grotto.
Follow the path of Supreme Villain
Available in: The Sims 4
For Sims who find following the rules to be cliché, The Sims 4 has the perfect career track to start in: secret agent. Your Sim will of course start out pretty safe and innocent on this track, but once you reach level 8, your Sim will have the option to branch into the life of a Supreme Villain. 
Need help finding something to watch? Sign up here for our weekly Streamail newsletter to get streaming recommendations delivered straight to your inbox.