Religious Clues on 'The Sinner' Add a New Twist to the Murder Mystery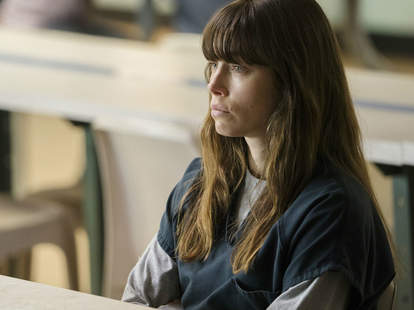 This post contains spoilers for the second episode of The Sinner, and the episode before it.
"What makes you think I want my life back?"
As we enter the second episode of USA's late-summer surprise, The Sinner, that Cora Tannetti (Jessica Biel) suppresses a dark side, perhaps even an evil side. During childhood, presented in flashbacks, her strict, religious mother would tell her that the most innocuous things -- even accepting chocolate from her aunt -- is subject to God's wrath. The trouble is, now she's committed an actual crime, witnessed by a good 20-30 people in broad daylight on a public beach, and after a guilty plea, Detective Ambrose (Bill Pullman) has forced her to come up with a reason why.
But doing so means recounting a past she's so desperate to hide, and possibly painting herself as the victim of a larger wrongdoing. Being a victim is so much easier for people to digest than a cold-blooded killer.
Whether the murder of Frankie Belmont (Eric Todd) was justified or not becomes the question on Ambrose's mind as he feverishly attempts to determine a motive. According to Cora, it may have been. After much prodding, she finally divulges to Ambrose that she knew Frankie -- except he told her his name was J.D., not Frankie. She met him at a bar 4th of July weekend in 2012. He gave her some pills. They went back to his place and hooked up. Two weeks later she discovered she was pregnant.
USA

She makes it a point to tell Ambrose that she couldn't consider an abortion because she was raised Catholic. She tried to confront Frankie about it….the next thing she recalls is waking up with a fractured hip and a concussion. She asks Ambrose, "What kind of God kills your baby and lets you live?" When she was on the beach and heard Frankie playing the same song he played on loop the night they hooked up, Big Black Delta's "Huggin & Kissin," she just "snapped." While she's telling this story, we see distorted flashbacks of this era in her life. We're led to believe that the murder was in retaliation, that she stopped her abuser from hurting someone else.
Does the reason matter? Cora says it doesn't when her husband Mason (Christopher Abbott) visits her in jail and asks whether she really knew Frankie (as it turns out, he knows J.D., who drives the same truck she described that Frankie had). Maybe he wants to negate the question of motive entirely, or to diverge from the common perception that every crime must have a reason. Whichever it is, Cora's need to avoid questions and accept her fate is troubling to everyone, particularly her husband who's increasingly bewildered by her reticence.
USA
It doesn't help that Cora's story just doesn't check out. She previously said that her parents were dead, but they're alive and well. (Sidebar: why haven't we seen them yet?) When Ambrose talks to Leah Belmont (Teri Wyble), who was with Frankie when he was killed, she reveals that he told her that something "was wrong" with a woman he dated and that it had changed him. Frankie's dad tells Ambrose that his son wasn't even living in the state at the time Cora allegedly met him. Further, Ambrose questions the bartender where Cora said she met Frankie, who recognizes Cora her the photo... but not Frankie. She says that the man Cora was with was blonde (Frankie had dark hair). Who is this blonde guy? Has everything Cora been saying about her relationship with Frankie been a total lie?
The short answer to the latter question is: likely. But let's get back to these childhood flashbacks for a moment. The series has relied heavily on these interwoven vignettes (even the later ones detailing Cora and Mason's early relationship) to perhaps tell us something that the dialogue hasn't always been forthright about. We know Cora's younger sister Phoebe was ill since birth, but we don't know the cause (Well, her mother says that after Cora was born, she sucked all the life out of her and made it hard for Phoebe. But, that can't be it). Later we see Cora praying for Phoebe when they're both a few years older and Phoebe is on a respirator. Another flashback shows Cora being forced to bury the chocolate her aunt gave her and ask God for forgiveness for accepting it.
USA
The most telling moment in the episode, however, is a flashback in which Cora walks up to Phoebe's bed where she was lying, looks her in the eye, and apologizes because her sins have somehow caused Phoebe's condition.We see her go outside to where she buried the chocolate and take a big, defiant bite out of it. It's seems so innocent, but the context we now have on Cora and her mother's relationship (and even who Cora has become today) makes it such an icy scene to watch.
Cut to present day with Cora being interrogated by an increasingly frustrated Ambrose who's just trying to get to the real truth here. He asks once again "Why did you kill him?" to which she responds "I don't know," which only infuriates him more. The episode reaching its climax when Ambrose begins playing "Huggin & Kissin" to get her to talk, turning up the volume when he sees her get visibly upset. Like a trigger, she screams "I'm going to kill you!" and lunges at Ambrose, punching him seven times in the chest -- the same number of times she stabbed Frankie.
We can't be certain of the exact connection here, but we know, and Ambrose knows, that this means something. But who's going to come up with the answers? Ambrose who's trying to take the case to trial or Mason who has a personal investment?
Sign up here for our daily Thrillist email and subscribe here for our YouTube channel to get your fix of the best in food/drink/fun.
Candice Frederick is an award-winning journalist and editor (Essence Magazine), founder of Reel Talk Online, podcaster, and freelance TV and film critic. She also serves as a pop culture panelist on the ABC News Digital show, "Real Live." You can find her on Twitter or Facebook.