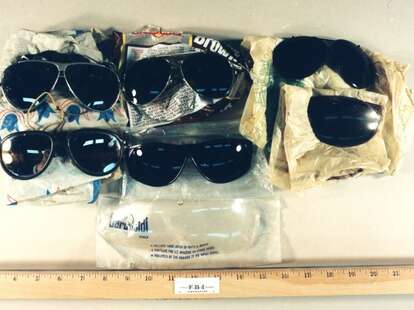 Because if there's one thing that fanatics love it's stuff that was owned by other, even crazier fanatics, the government's holding an online auction of Ted Kaczynski's personal effects (with proceeds to go to his victims), meaning you can get your hands on everything from his tools to his shoes, which probably weren't used for running considering his water didn't even do that. Check out some of the notable items up for grabs:
The iconic gray hoodie and aviator disguise, the wearing of which would make you extremely sketchy
The old-school L3 Smith-Corona portable typewriter he used to compose most of the UNABOM docs
His bachelor's diploma from Harvard, plus MA/PhD diplomas from Michigan, saving Tim Biakabutuka from being the school's biggest bomb
A handwritten "rough draft" of the infamous UNABOM manifesto
20 personal diaries
Non-fiction works including The Ancient Engineers, and The Technological Society, as well as an extensive collection of fiction, aka, his 20 personal diaries
A Silvertone watch, protective eyeglasses, and a mini Sony radio, because nothing says "Neo-Luddite" like products from a $77 billion electronics company
If you're seriously considering anything, know that successful bidders'll be responsible for picking up items from their secure location, and must process documents with the US Marshals...wait, Wesley Snipes is in control of this stuff? Now that's crazy.