The Alcoholic Revelations From a 'Vanderpump Rules' Cast Bar Crawl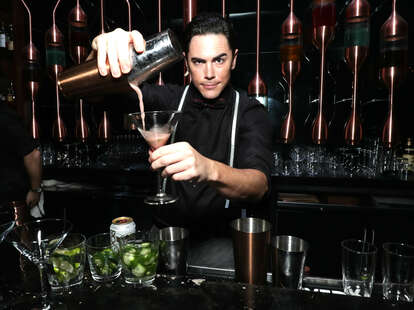 Bravo
Bravo
A reality show about the scandalous, off-hour lives of the waitstaff at SUR, the West Hollywood restaurant owned by Real Housewives of Beverly Hills graduate Lisa Vanderpump, occasionally needs to prove the skills of its waitstaff. Which is how I wound up on Bravo's official "Vandercrawl" bar crawl, a raucous event commemorating the fifth season of Vanderpump Rules where the cast served drinks, snapped selfies, and spoke honestly about drunken debauchery. This is what I saw and heard.
At the Kola House in Manhattan's Meatpacking District, Tom Sandoval mixed drinks in glow-in-the-dark suspenders that made it incredibly difficult to take a good video of him for a Snapchat Story. He pre-made 500 Hot Pinks, the signature cocktail for that stop on the boozy three-hour tour, and swears he served every single one, adding that it was way more fun than his usual shift because someone else was running the tabs.
Since the staff is now a huge draw for fans, the Vanderpump cast members say that the tourists are plentiful at SUR. "It's like Disney World," Sandoval says, adding a sentiment echoed by several of his colleagues: that they seem to draw a disproportionate number of Australians, for some reason.
"They're either very polite and fun and friendly or they're a nightmare," Katie Maloney says of her experience serving bar crawlers. "They can't get it together, they don't know what they want. There are a bunch of people throwing up on the table. It happens probably more often than you'd think. It happens a lot."
Kristen Doute, who was actually fired from SUR in Season 3 but remains on the show by dint of will, says that because of her past in the service industry, she tries to be nicer to waitstaff when she's really fucked up.
When asked about her worst bar crawl story, Doute says, "I wish I had one, but I probably don't remember. It's like a blackout night. That's the beauty of a bar crawl. The point is to be crawling by the end of the night, right?" Kristen's hangover cure is a time-honored one: Just keep drinking.
"I'm at my prime, the best version of myself, when I'm drunk," says Stassi Schroeder. When I ask about her plan for this evening she says, "I'm not gonna black out, but I'm gonna get close. You think I'm kidding and I'm not."
Schroeder says that her biggest problem is what she chooses to drink while filming. "Wine makes me cuckoo, which is why I'm crazy on camera," she admits. "I think it's civilized and I'm not going to get that fucked up and then I'm sobbing and my eyelashes are down here."
Drinking can take a toll on a body, especially ones that needs to be toned and ready for the cameras, so Scheana Shay recently switched her go-to order to vodka and tequila shots. "Once I switched to that, my stomach got tighter and flatter. I used to drink beer, wine, Fireball, Champagne. Anything with sugar I loved it and now I have a sip of something like that and it's like ew."
"Promise you won't personally judge me?" Tom Schwartz pleads as he reveals his weakness for Jaegermeister shots. The problem is, when he runs into fans they always want to buy him shots. "I can't say no to shots," he says. "When people want to buy me shots you have to say no eventually. After seven or eight shots... that's absurd, but I want to be nice."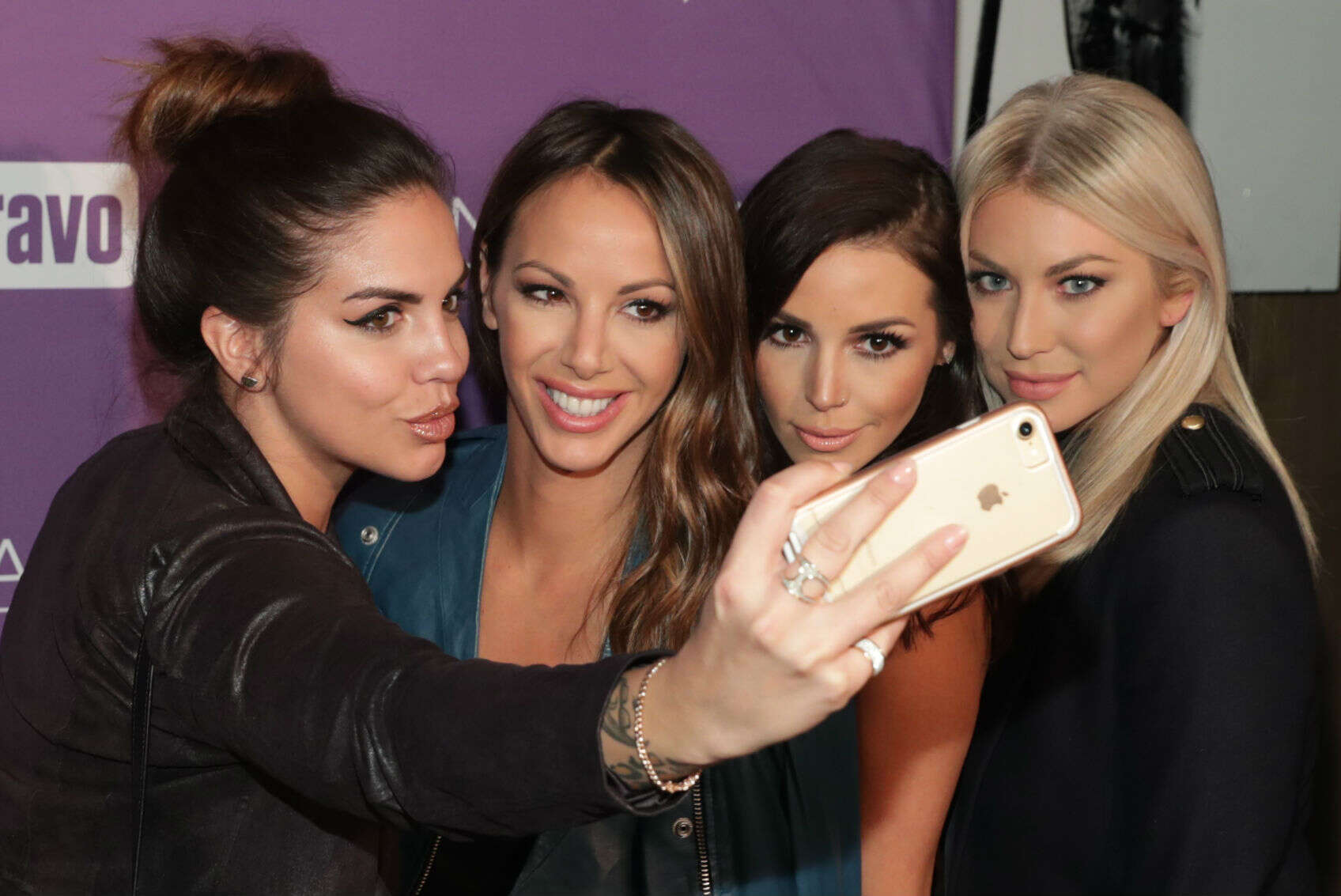 Sandoval tells me later in the night, after his "shift," that people asking for selfies when he's working gets really annoying really fast. During the first two seasons of the show, he used to work seven-hour shifts on Friday, Saturday, and Sunday. He would call Sunday his "grumpy day," because by then he was so sick of people asking him to stop muddling the complicated cocktails so they could snap a picture with him.
But selfies is what we're here for tonight, and the crew, known for their shouting matches and romantic foibles, is incredibly approachable. Hunky scrapper Jax Taylor apologizes to a very comely blonde fan (whose iPhone case lights up like a beauty mirror for the best ego-centric photos) -- his face is currently a little bit immobile thanks to a recent round of Botox.
Shay tells me that she always tries to look "Kendall Jenner camera-ready" thanks to the onslaught of photo requests, a vague declaration that will make total sense to anyone with a decent knowledge of social media platforms.
The craziest scene of the night is on the cobblestones of 15th St that separate Kola House from the Tippler. The sidewalk hosts throngs of Vanderpump Rules devotees (mostly women, a smatter of gay men, and a handful of very confused boyfriends) who start to shriek and pull out their phones as the cast emerges to travel from one bar to the next. Three of the NYPD's finest and several private security guards are needed as women start to gather with glee, asking for photos. One publicist later describes the ferocity of the crowd as if they had seen Brangelina post-divorce.
Schwartz and his wife Maloney try to stay game while getting to safety. Several women run up alongside them and snap their selfies, with cameras at a sloppy angle, on the fly -- the Instagram equivalent of a drive-by. It's hard to remember, when that is happening, that these people are just service professionals working for tips. Or they were at one time. What their day jobs might be, and whether or not they can quit them, is immaterial. The cast of Vanderpump Rules is bigger than the bar. They're bigger than three bars. They're as popular as getting sloshed itself.
Vanderpump Rules airs on Monday nights at 9/8C on Bravo.
Sign up here for our daily Thrillist email, and get your fix of the best in food/drink/fun.