How a Seasick Jennifer Coolidge Gave the Funniest TV Performance of the Year in 'The White Lotus'
Coolidge forces a bunch of strangers to attend a very uncomfortable boat ceremony in the HBO series.
Jennifer Coolidge did not want to film on a boat. In the third episode of Mike White's brilliant new HBO limited seriesThe White Lotus, which chronicles the spoiled patrons and overworked staff members at a luxurious Hawaiian resort, Coolidge's character, a lonely alcoholic named Tanya McQuoid, boards a yacht to scatter her mother's ashes. She's joined by her new friend, the hotel spa manager (Natasha Rothwell), and an attractive couple on their honeymoon, Rachel and Shane Patton (Alexandra Daddario and Jake Lacy), who think they are about to have a romantic dinner at sea when Tanya launches into a impassioned and awkward wail of a eulogy that's one of the most painful and funny things you'll see on television this year.
"I told Mike that I didn't want to shoot that scene, or maybe we could fake the water, but we couldn't do it on the sea because I get so deathly ill. And he said, 'You know we're not doing that, Jennifer. You're going to have to face your fears and you're going to get sick if you have to, but we'll take care of you. Wear that wrist thing, you'll be fine,'" she remembers. "Cut to just about the entire cast watching me barf into a bucket. There was no place to go on this boat. This boat was so small. It wasn't like I could go off to the ladies room. I had to throw up in front of everybody for an extended period of time. I've never felt so vulnerable."
Maybe it was exactly because of the circumstances that Tanya's unabashed vulnerability makes the scene so astounding. When it comes time to spread the ashes, she gives a brutally honest assessment of her "poor" mother, who had no "maternal instincts or skills," was a "nymphomaniac," had "borderline personality disorder," and was "cruel." It all culminates in the moment when Tanya is unable to open the box of ashes, forcing Shane, pissed off but also bemused, to step in. Unable to finish tossing the remains in the ocean, Tanya lets out a guttural noise. "When she's yelling 'mother,' it's not really a scream, it's like this weird child lost at a grocery store calling out in this hollow, weird way," Jake Lacy says. "That in itself is wonderful. It's so off kilter and broken in a really great way."
Luckily, Coolidge knew White prior to being thrust onto the horrendously cramped boat. She explains they were longtime friends who had both acted together in the movie Gentlemen Broncos and had traveled together. White invited Coolidge on a safari in Africa, which she suspects inspired The White Lotus' analysis of privilege on vacation. "We're both obsessed with animals and worried about them and everything," she says. "It was the ultimate gift to be on the Serengeti. But Mike is fascinated with people, but rich people, he has such a knack for writing them."
If you talk to Lacy, most of Coolidge's dialogue was written by White, but knowing that she is a master improviser from her work in the Christopher Guest films, for instance, she was encouraged to go off script. Only, Coolidge was so sick she doesn't remember those moments.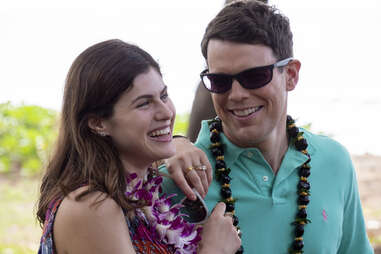 For those who weren't dealing with vomit, the experience was gorgeous. "We had this beautiful antique boat that production had chartered going out into the bay," Lacy says. "The absurd majesty of the moment is that the whales are also mating and breaching at the same time. So constantly, through the entirety of the days we were on the boat, in between boats people were pointing and watching whales come and disappear. Just surreal."
Alexandra Daddario only mentions Coolidge's sickness after I bring it up—she wanted to respect her co-star's privacy—but acknowledges it made for a dichotomous situation. "I was bouncing around like, 'Isn't that great? The whales!' I had to temper my excitement to be on the boat because I felt bad because Jennifer was so ill," Daddario says. "She's so funny even when she has horrible seasickness. She's just amazing."
Lacy and Daddario were in awe of the actress, a comedic genius best known for her wildly quotable turns in Legally Blonde and American Pie. "Being trapped on a boat with Jennifer Coolidge for several days was a true honor," Daddario says. Coolidge was so funny that Lacy had trouble keeping his composure. "Alex is a consummate professional, so she was very good at maintaining, essentially. I was too enamored with what was going on," he says. "There's a handful of times where I'm looking at my shoes or pinching my leg to keep myself focused."
Even if he was just trying to not burst out laughing, it was Lacy's reactions that fueled Coolidge. "I don't know if it was the actor Jake feeling bad for Jennifer Coolidge, feeling sad for me, but it was this great moment where he looked kind of sad for me, and I thought, what a genius acting choice that was," Coolidge says. "I thought his character and his character's disgust for who I was was funny." Lacy plays Shane, an aggrieved rich kid who feels like he is consistently being poorly treated, with a perpetual sneer that worked its way into Coolidge's psyche. "You really take on the other characters' feelings, and when someone as slick looking as Jake has that look of disgust when he is looking into your eyes, you aren't even acting," she says. "They do your job for you."