Everything We Know About 'The White Lotus' Season 2
Yes, there will be more, but not it won't be at the Hawaiian resort from Season 1.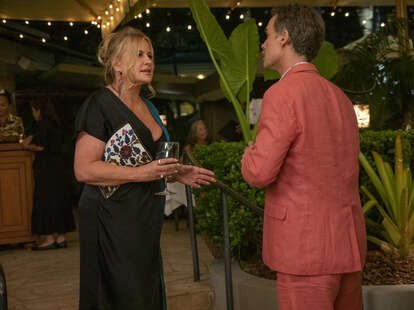 The Mossbachers (except Quinn), Tanya McQuoid, and the Pattons have all left the resort, but The White Lotus is continuing. Yes, even though the popular HBO limited series written and directed by Mike White ended with a near perfect Season 1 finale, there's more of the show on the horizon. Will any of your favorite terrible people return? Where will it take place? Let's answer those questions and more.
Will there be a Season 2 of The White Lotus?
Yes. HBO announced that the show will be back before the first season's finale. However, there's a catch. First of all, HBO is deeming it a "second installment" rather than a second season. That's because The White Lotus is taking on the form of an anthology series. The next season will be written by series creator Mike White again, but it won't take place at the Hawaiian location of The White Lotus, it will take place at one of the other resorts owned by the same company, just in a different destination. According to the press release: "The next chapter of The White Lotus leaves Hawaii behind and follows a different group of vacationers as they jet to another White Lotus property and settle in temporarily amongst its inhabitants." White had previously suggested in an interview with TVLine that it could be "The White Lotus: San Tropez or something."
So, where will The White Lotus Season 2 take place?
Sicily, according to the slate from the first episode back. Ciao, Season 2!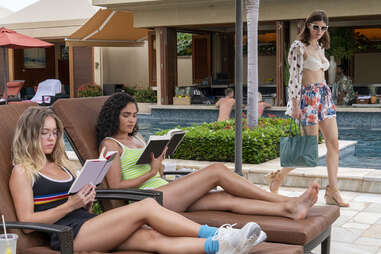 Will any of the Season 1 cast of The White Lotus be back?
Yes! Jennifer Coolidge is officially returning. Even before the news was official there was Twitter speculation that maybe The White Lotus: Round II could follow Coolidge's Tanya McQuoid to Aspen, where she and her new boyfriend were headed during the finale. The new episodes obviously won't be a direct serialization of what came before, but White has suggested that it's not without reason to hope for the return of one of the nightmare people from Season 1. "I don't think you can credibly have [all the Season 1 guests] on the same vacation again," he told TVLine. "But maybe it could be a Marvel universe type thing, where some of them would come back."
Who are the new cast members in The White Lotus?
The first new cast member announced was The Sopranos veteran Michael Imperioli, who, according to Deadline, will be playing: "Dominic Di Grasso, a man traveling with his elderly father and recent college-graduate son." Turns out that elderly father will be portrayed by none other than Oscar winner F. Murray Abraham, while Albie DiMarco will play the son. Another guest includes Aubrey Plaza, who is said to be playing a woman named Harper Spiller who is on vacation with her husband and his friends. In February 2022, The Hollywood Reporter announced her hubby, named Ethan, will be portrayed by Will Sharpe, and their friends, Cameron and Daphne Babcock, are being played Theo James and The Bold Type fan favorite Meghann Fahy. It's also been announced that Haley Lu Richardson will be "Portia," a pregnant woman on a trip with her boss, and Tom Hollander is Quentin, a Brit at the White Lotus with his friends and his nephew. Leo Woodall will be Jack, a so-called "magnetic guest." Even though the details are scarce, you can already sense the tension.
When will The White Lotus Season 2 premiere?
Right now, it's unclear when The White Lotus Season 2 will premiere, but it has started shooting, as of February 2022. It's possible we could see more White Lotus by late 2022, but right now, that's just speculation. We'll be updating this post as more information is released.