Everything We Know About 'The Witcher' Season 2
Toss a coin to your favorite Netflix monster hunter.
Whether you were a gamer, a book reader, or simply a lover of convoluted high fantasy television, chances are you, along with apparently 76 million other people (according to Netflix's mighty suspicious new ratings report), deeply enjoyed the first season of The Witcher, the streaming service's first big-budget fantasy series. Based on the Polish book series by Andrzej Sapkowski, which inspired three video games of increasing quality, Netflix's The Witcher starred Henry Cavill as Geralt of Rivia, a traveling monster hunter who spends his days just trying to make a living in a scary, bizarre world. Relatable. Eight episodes of something like this is simply not enough to slake our thirst for burly armed creature beheadings and intricate magical politics, so for those of you searching the four winds for any hint of more, we've got you covered. 
Has The Witcher been renewed for Season 2?
Yes! The show was actually renewed before the first season even aired in December 2019, which is a pretty good sign. Showrunner Lauren Schmidt Hissrich will return to helm the second season, which also rules because it's not every day we get to see high-budget fantasy TV directed by women! 
I'm dusting off my lute and quill,
I have some news, some mead to spill:
After all the months we've been apart
It's time for production to restart.
The Witcher and his bard – who's flawless,
Will reunite on set 17 August.

— The Witcher (@witchernetflix) June 22, 2020
When is Season 2 coming?
Netflix started filming Season 2 in London early this year, with a planned release sometime in 2021. However, like pretty much every other show and movie out there, production has been delayed because of the coronavirus -- one new member of the cast, Kristofer Hivju, actually tested positive. The Witcher had to shut down production in March, but, luckily, the show's official Twitter account announced (in character as a certain fan favorite bard) that they will officially start back up again on August 17. 
To pass the time in quarantine, all the extremely bored members of the cast and crew had been tagging each other in the "Great Witcher Bake Off," forcing their costars to bake bread or cake and post it online. It all started with the show's casting director Sophie Holland, who posted a brag on her Twitter of her delicious looking bread and tagged new cast member Paul Bullion, who kicked it up a notch with some cinnamon rolls in response and a video of the process that is honestly sick. There's a sword involved. 
Next, Paul Bullion, who plays the King of the Elves, tapped himself in with an incredible beef Wellington, Jeremy Crawford responded with a dwarven apple pie and an axe (he plays dwarf warrior Yarpen Zigrin), Adele Oni (Zerrikanian warrior Téa) made chili-chocolate bites with a sword, and it kept going from there. Last weekend, Joey Batey, who plays the bard Jaskier, made a YouTube channel and uploaded an extremely chaotic video wherein he "tries" to bake a cake. You did your best.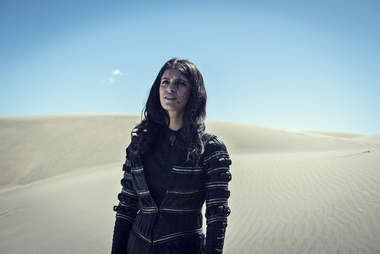 Netflix
Who will be in it?
We can expect everyone alive at the end of Season 1 to be back -- this includes Henry Cavill; Anya Chalotra, who plays the sorceress Yennefer; and Freya Allan, who plays Ciri. Oh, and Geralt's bard buddy Jaskier (Joey Batey), of "Toss a Coin to Your Witcher" fame, will return as well, hopefully with more bangers to share with the world. 
Aside from the core cast, a bunch of secondary humans and sorcerers will return as well, including Lars Mikkelsen as the scheming warlock Stregobor and MyAnna Buring as head sorceress Tissaia. Also returning are Tom Canton as the elf Filavandrel, Lilly Cooper as Murta, Jeremy Crawford as dragon hunter Yarpen Zigrin, Eamon Farren as the terrifying black knight Cahir, Mahesh Jadu as Vilgefortz, Terence Maynard as Artorius, Mimi Ndiweni as Fringilla Vigo, Royce Pierreson as Istredd, Wilson Radjou-Pujalte as Dara, Anna Shaffer as the sorceress Triss Merigold, and Therica Wilson Read as Sabrina.
But that's not all: the new members of the cast have been announced, and you may recognize one very, very familiar face. Kristofer Hivju, who played the wildling Tormund Giantsbane in Game of Thrones, is arriving on the Continent, and will be playing a character named Nivellen, whose story in the books is modeled after the fairytale of Beauty and the Beast. Killing Eve fans will be thrilled to see Kim Bodnia appear in the new season as well, as Vesemir, a fellow witcher and mentor to Geralt. We'll also be seeing Yasen Atour as Coen, Agnes Bjorn as Vereena, Paul Bullion (Billy Kitchen on Peaky Blinders) as Lambert, Thue Ersted Rasmussen as Eskel, Aisha Fabienne Ross as Lydia, and newcomer Mecia Simson as Francesca.
Probably not. The first season of the show was based on the first two books in the Witcher series, The Last Wish and Sword of Destiny, which are actually not in the main series, but collections of short stories that show the characters' backstories. Elements from these books were taken to adapt the show, but now that [SPOILER ALERT] Geralt and Ciri have finally found each other, it's likely that the show may start hewing closer to the main series. 
Which book(s) will Season 2 be based on?
Netflix hasn't announced as much, but with all the characters having converged by the end of the first season, it's likely that Season 2 will draw from the next book, which is Blood of Elves -- officially the first book in The Witcher Saga. You can almost think of Season 1 as a kind of prequel series, while in Season 2 we'll finally get the ball rolling on what is up with Ciri and her powerful screams. 
How many times will Geralt say "Hmm"? 
The rumors are true, a new Witcher story is in the works! The anime film, The Witcher: Nightmare of the Wolf, will take us back to a new threat facing the Continent. Brought to you by the Witcher team @LHissrich and @BeauDeMayo, and Studio Mir the studio behind Legend of Korra.

— NX (@NXOnNetflix) January 22, 2020
Is there anything else Witcher-related out there so that I don't go nuts waiting for 2021? 
There will be! Netflix also announced that it has commissioned a Witcher anime film from Schmidt Hissrich and show writer Beau DeMayo, with animation from Studio Mir, the Korean studio that worked on The Legend of Korra and Voltron: Legendary Defender. We don't know what it will be about, though, or whether the show's main cast will voice any of the characters, but if any fantasy series is suited to the anime treatment, it's The Witcher. 
There's also been a steady stream of Witcher content popping up on Netflix's YouTube channel for the past few months, from Joey Batey reading passages from the Witcher books to Henry Cavill talking about all of his swords. It's like they know all we want is more Witcher. 
Need help finding something to watch? Sign up here for our weekly Streamail newsletter to get streaming recommendations delivered straight to your inbox.
Emma Stefansky is a staff entertainment writer at Thrillist. Follow her on Twitter @stefabsky.