How 'The Women of Brewster Place' Revolutionized the Depiction of Black Women on TV
It was only recently that I realized The Women of Brewster Place has been a staple of my dreams for years, appearing whenever I feel a sense of nostalgia for when I was hungry to understand what it means to be a black woman. Every black film and show I watched growing up was a clue, decoding the mystery for me. I knew how to be a black girl -- I understood my hair and skin and the way the world saw me -- but womanhood felt more complex and intimidating. Sometimes men would address me as a woman, which puzzled me. When did it start? What does it look like? How would I know? I tried to use the films I watched on BET late at night as my glossary. Boomerang, Love & Basketball, and Two Can Play That Game were always in rotation, but those stories were of the well-off, the slender, the happy. I had a melancholy streak that made me doubtful womanhood as shiny as that would be accessible to me.
Then one night, when I was around 12 years old and my little brother was asleep, I caught The Women of Brewster Place. It looked grainy and worn, photographed in harsh light that only enhanced the wailing, scratching melancholy of the performances. As Mattie Michael, Oprah Winfrey is quiet, world-weary and heartbreaking. I could see a lifetime of disappointment in Mattie's eyes -- even in flashbacks where she is young, her skin gleaming with the elasticity of youth and a confident body open to love. Mattie was the closest approximation of a black everywoman, yearning for something more but believing the world has nothing else to give her.
The Women of Brewster Place is a collection of intertwining narratives of love, pain, confusion, resilience and, ultimately, catharsis, all within the tenement neighborhood of Brewster Place. The homes are modest and often run down. There's a large brick wall that blocks off the area from the rest of the city. It feels like a hopeless place at the end of the world.
The miniseries, which aired on ABC in 1989, is based on the 1982 novel by Gloria Naylor and adapted to the small screen by writer Karen Hall (Judging Amy) and director Donna Deitch (Desert Hearts), and was produced by Oprah Winfrey through Harpo Productions. It is a showcase of ordinary women trying to overcome poverty, adversity, and loneliness, the kind of working-class story that tends to only appear on television in a comedy format, and hadn't been told with an all-black cast since the '70s. The Cosby Show had dominated the '80s, popularizing a narrative of black prosperity that became a television staple, while stories of hardship were sidelined.
All-black dramas have always struggled to remain on the air, perhaps in part because they tend to center black women. The first series of its kind to see any kind of success was Soul Food, the Showtime series and spinoff of the 1997 film of the same name that ran from 2000 to 2004. A decade later, Shonda Rhimes was able to give black women a foothold into drama with the more diverse casts of Scandal and How to Get Away With Murder. But it wasn't until the launching of the Oprah Winfrey Network (OWN) that all-black dramas like Queen Sugar and Greenleaf were given the space and budget to thrive.
But in the late '80s, black women had The Women of Brewster Place to tell our more dramatic stories on the small screen. There, talented black actresses who previously could only stretch their acting muscles in the theater were able to make their mark on a wider, younger, economically diverse audience. The cast of The Women of Brewster Place is a who's who of entertainment history's most gifted black actresses: Mary Alice, Cicely Tyson, Barbara Montgomery, Lynn Whitfield, Olivia Cole, Lonette McKee, Paula Kelly, alongside more recognizable talents like Jackée Harry, Robin Givens, and of course, Oprah. Those who can only think of Oprah as a larger-than-life media presence are quick to forget how she often forgoes glamour to give humane, measured performances that hold a mirror to society and remind us how black women are viewed and treated. Her earthy honesty is the glue that holds the physically and emotionally diverse cast together.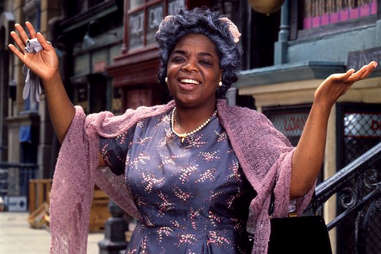 The strength of the series lies in its ability to portray black women in the margins, the kind who only tend to show up in the backgrounds of stories about black men. An obvious standout is Lynn Whitfield who gives a devastating performance as a woman whose husband considers her more of a stumbling block than a person. She nearly kills herself as a result of the heartbreak of his departure and the accidental death of her first child, but miraculously finds peace in the end. Also noteworthy is Jackée Harry as Etta Mae, a beautiful woman with a promiscuous past looking to settle down after living an exciting life. An unfulfilling tryst with the local preacher exposes the way men, even men of God, have trouble seeing past their biases to fully love a woman who is seen by the world as used up.
The Women of Brewster Place often works as an empathy guide, showing us ways to better understand each other, even within our own marginalized groups. Still, its storytelling is also a product of its time. One troubling narrative depicts a caricature of the most misunderstood women in American society: a single black mother on welfare with many children. Cora Lee (Phyllis Yvonne Stickney) is shown to be a woman that keeps having children out of loneliness, but immediately resents them once they grow beyond infancy. Kiswana (Robin Givens), a politically aware young black woman of means who has recently been disinherited for dropping out of college, is always in conflict with Cora Lee, criticizing her parenting and quality of life.
This cultural clash is important to depict, and it continues to be topical now, but the way that it plays out in the miniseries only scrapes the surface of the issue. Though the series takes place in the '60s, the idea of women on welfare being selfish, uneducated, and unfit for motherhood has been around forever, becoming a mainstream stereotype with Reagan popularizing the derogatory term "welfare queen" during his initial electoral campaign in the late '70s. The optics of a wealthy woman teaching a poor woman how to appreciate her children is troubling, and the series doesn't really do enough to ground Kiswana by its end. (1974's Claudine is a much richer exploration of a single black mother on financial assistance.)
A storyline that manages to overcome the limited runtime of the series without sacrificing complexity is also the most known in regards to television history: It depicts the first lesbian relationship between two black women on television. In the wake of 1985's The Color Purple, an adaptation of Alice Walker's seminal 1982 novel that only teases at a lesbian relationship that spans years in the book, The Women of Brewster Place is a daring depiction of queer black women than its predecessor. The series approaches a lesbian relationship head-on, calling it exactly what it is and portraying it with an adult intimacy bolstered by natural performances.
Lorraine (Lonette McKee) and Theresa (Paula Kelly) are a lesbian couple that move to Brewster Place to have more privacy than they had in wealthier, more prominent neighborhoods. They both work a long ways away from Brewster Place so that no one in their professional life has access to their home life. Lorraine is the more openly volatile of the couple, desperately wanting to get along with the straight people around her and be "normal." In contrast, Theresa has given up on aspirational normality and wants to be a full part of the local gay community. They butt heads as Lorraine's internalized homophobia threatens to break the foundation of their relationship. To make matters worse, their neighbor Miss Sophie (Olivia Cole) outs them to the entire neighborhood, leading to a shunning that culminates in an act of devastating violence, which births a rebellion, allowing the women to stand together in righteous anger.
The Women of Brewster Place is a thoughtful meditation on solidarity and the way that oppression can make us tear ourselves apart, but empathy and shared goals can bring us back together. All of the women in Brewster Place want respect, love, and safety. And in the end, they learn how unity can be a temporary safe haven from the cruelness of the world.
In a macro sense, television programs like The Women of Brewster Place provided black women with a safe haven from a Hollywood system that did not value their stories. Women in media, like Oprah, during the '80s and '90s saw a need that even black male directors seemed to ignore: Black women working and growing as artists, being at the center of thoughtful, well-made stories. By adapting pre-existing novels by black women, these films encouraged people to seek out black female literary work and recognize their importance in the larger entertainment canon.
In the era of streaming, we would do better to remember the importance of continued, curated circulation of media -- especially titles that showcased the work of marginalized communities. They are the first to become forgotten by time. I bought The Women of Brewster Place on DVD so that I can always have it with me, but as we move further into the future, fewer of us have devices to play physical media. After dark, BET used to function as a black response to Turner Classic Movies, shining a light on black classics ignored by the white mainstream media. But as it and networks like it have moved their focus to creating original content, preserving the past has become less marketable and thus less accessible. The new black film streaming service Brown Sugar seems to be the last frontier for this sort of content. But with every media company racing to release their own streaming hub and the staying power of niche services becomes more and more precarious, it's difficult to guarantee that it will stick around. We need more vested efforts in preserving our media before cultural amnesia creates even more gaps in black cinematic history.