We Have So Many Questions About What's Happening on 'The Young Pope'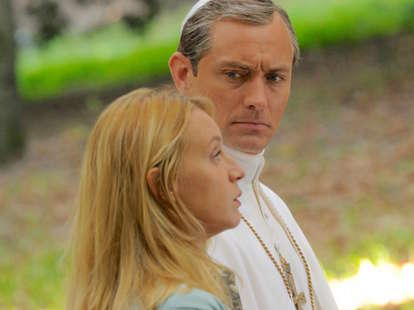 "Do you rejoice in your beauty?" asks Lenny Belardo, the smirking pontiff played by Jude Law on HBO's gloriously opulent The Young Pope. When he says the line in the series' fourth episode, which aired last night, he's speaking to Esther, a crestfallen woman struggling through a crisis of faith, but he could also be posing the same question to the show's admirers, critics, and confused agnostics.
Are you rejoicing in the beauty of The Young Pope? You should be. Over two weeks and four episodes, this puzzling and provocative series from Italian filmmaker Paolo Sorrentino (Youth, The Great Beauty) has established itself as this year's most singular (and completely crazy) show. Even Tom Hardy's grumbling on FX's Taboo can't hold a grimy candle to The Young Pope's confounding excess. Don't understand why Lenny would say he prayed so hard he nearly shit his pants? That's OK. Thrown off by shots of nuns playing soccer in slow motion? Don't worry. Scared of the kangaroo? Rejoice in the beauty!
As we approach the halfway point of this tantalizing papal melodrama, it's worth taking stock of some of the larger unanswered questions the show has introduced. Here are just a few of the burning questions you should be rejoicing in.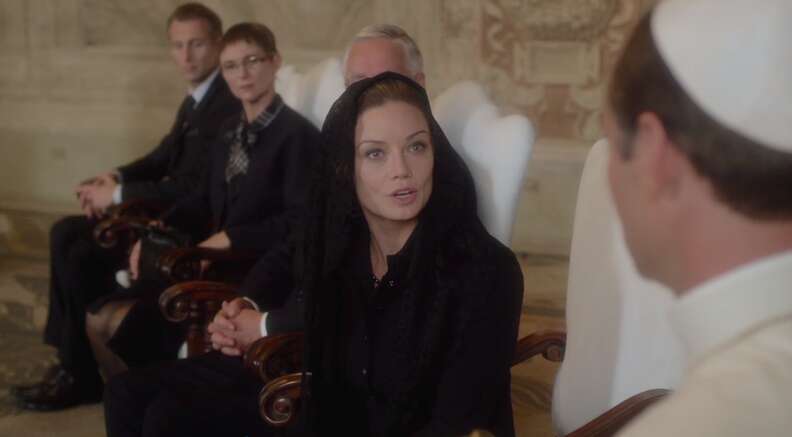 What the hell was up with that Greenland stuff?
When The Young Pope was first announced, you probably didn't think, I can't wait for that Greenland episode! No shots at the residents of the giant island, but I just didn't expect that discussing the loaded history of Catholicism in the ice-covered territory would be one of Pope Pius XII's biggest geopolitical points of contention. I, for one, can't remember a piece of media with this much of an interest in the country since 1994's D2: The Mighty Ducks, in which Emilio Estevez's youth hockey coach discovered the ironic distinction that Iceland is covered in green and Greenland is, in fact, covered in ice. Similarly, Lenny observes that God could be under all the ice. Who really knows?
One thing is clear: Lenny's interest in Greenland extends beyond its chilly surface. He seems particularly curious about the prime minister of Greenland (Carolina Carlsson), whom he entertains with blustering lectures, rock music, and offhand comments like, "I know I'm incredibly handsome -- but let's please try to forget about that." His interest in her scans as flirtatious, though it's possible she was only making him think about Esther, the other woman he spends much of the episode wandering the grounds of the Vatican with.
After Sunday night's episode, which was plotted like a political thriller and dealt with the fallout of Lenny's shadowy speech and Sister Mary's rather Trump-like press conference, Episode 4 pumped the brakes a bit on the prescient power dynamics and dove a bit deeper into Lenny's fractured psyche. When we saw the image of the woman dancing at the end of the episode with text about Greenland at the bottom of the screen, it felt like we were seeing a vision of peace and comfort. It was the type of melancholy, soulful ending that shows like The Sopranos and Mad Men often excelled at: a moment of contentment just outside the grasp of the show's troubled lead.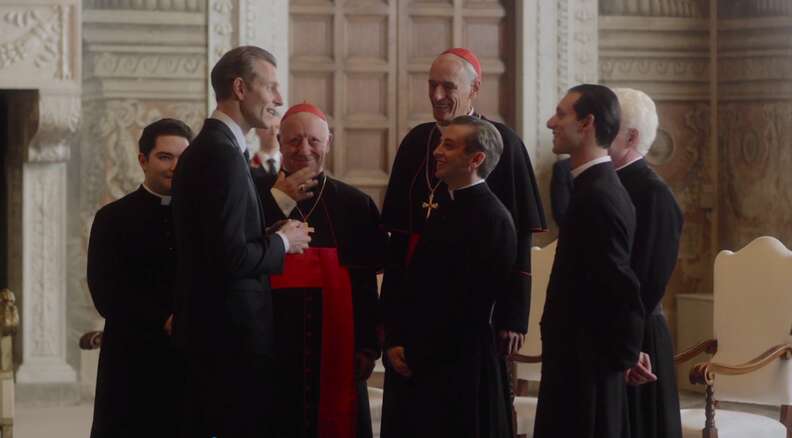 How important is the Kurtwell case?
The Kurtwell case has been mentioned in passing in previous episodes, but last night finally gave us a sense of what this shady matter might pertain to. Archbishop Kurtwell has been accused of child sexual abuse and throughout the episode Cardinal Angelo puts pressure on Lenny to appoint someone to oversee the matter. In one of the episode's more disturbing moments, Lenny suggests that he might use the case as a chance to expand the Church's expulsion of gay priests, an action that disturbs the more liberal Cardinal Angelo.
Again, the show's willingness to paint Lenny as a genuine reactionary is admirable. It would be easier from a dramatic (and political) perspective for Sorrentino to give us the Woke Pope we saw in the dream sequence in the first episode, a figure who seeks to subvert and undermine the traditionally stodgy institution of the Catholic Church. Instead, Lenny is something more disturbing: a driven and unknowable political cypher. What does that mean for the Kurtwell case? I suppose we'll find out in the next six episodes.
Do miracles exist in the world of The Young Pope?
This is a tricky one. Episode 4 opens with a scene that feels like it could have been a creepy teaser to an X-Files episode. A man gets off a horse in a field and is surrounded by bedridden, sick, and crippled men and women calling out for his help. It's clear that he's overwhelmed by their demands. He looks on the beleaguered with fear in his eyes and yells, "Enough!" This guy is clearly having a rough day.
Later, we watch this same man, a gentle shepherd named Tonino Pettola, get interviewed on an Italian newsmagazine show. He's apparently been having visions after getting the stigmata and having a vision of the Virgin Mary. Now he wants to help the needy; the host of the TV show says, "That's beautiful." He then states that if the religious leaders in Rome continue to call him a fraud, he'll be forced to found his own church, and we see Lenny smoking a cig and presumably watching this all play out because apparently even the pope takes some time to watch TV every day.
Is The Young Pope a supernatural show? It's a tough question. At some point, most pieces of secular religious art reach an impasse where they either have to put up or shut up when it comes to the question of the divine. Clearly, Sorrentino seems more interested in absurd grace notes like cardinals watching soccer matches on their MacBooks than larger theological matters, but the presence of Tonino and his stigmata suggests we'll need to find out if miracles, visions, and, on an even greater scale, God himself exists in the moral universe of this show. It can't all be Cherry Coke Zeros.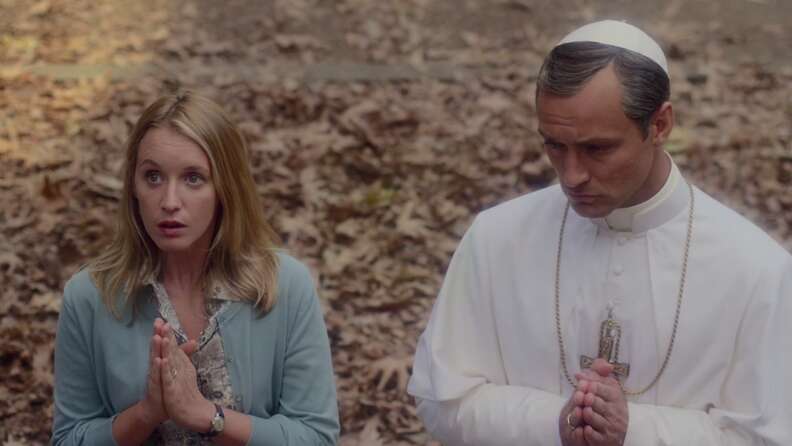 Does Lenny love Esther? Is he even capable of love?
Many of the most psychologically revealing scenes about Lenny have involved his relationships with his two parental figures: Sister Mary played by Diane Keaton and Cardinal Michael Spencer played by James Cromwell. Both remain two of the only people who Lenny feels like he can be emotionally honest around and both are capable of pushing against some of his more petulant instincts, though Episode 3 did end with Spencer dutifully kissing the ring. His relationship with Esther (Swimming Pool's Ludivine Sagnier), the kind-hearted roller-skating enthusiast, is something new.
At the beginning of the episode, Esther is recruited by Cardinal Angelo to seduce Lenny, a task he forces her to do by threatening to reveal the affair she's been having with another priest. The ensuing scenes between Esther and Lenny in this episode are some of the simplest, most dramatically pleasing examinations of faith that this show has given us so far. After three episodes that show Lenny at his worst, lashing out at his enemies and old mentors, it was nice to see our hero attempt to use his holy powers for good, praying for Esther to be given the baby she so desires while clearly struggling with his own temptations. The cutting between white sweatsuit-clad Lenny in the garden and Esther having sex with her husband was hands-down some of the best editing and direction on this sumptuously mounted series.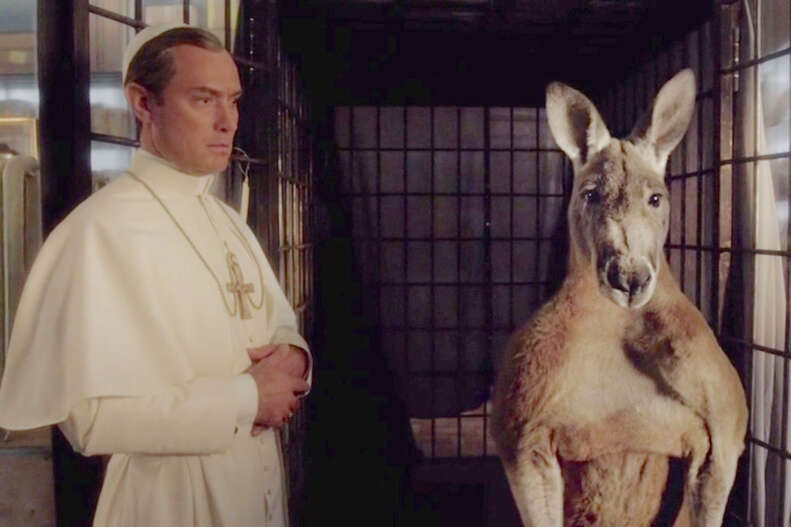 How's the pope's kangaroo doing?
This is clearly the most important question. One of the best things about The Young Pope is that it's so packed with head-scratching sequences, bizarre images, and unexplained occurrences, that some of the show's most WTF moments get forgotten by the end of an episode. For example, I kinda forgot Episode 2 showed us Lenny taming a kangaroo with pope magic, and shame on me. I will not sin like that again.
Episode 4 featured the return of The Young Kangaroo, who Lenny confronted in the garden. Wild animals are something of a prestige TV cliché at this point -- Tony Soprano and his ducks remain the gold standard -- but the kangaroo is just too funny to hate on. Even Sorrentino agreed in a recent interview with IndieWire. "It's funny; it makes you laugh when men start meeting atypical animals, exotic animals," he says. "Also because uncommon animals, not cats and dogs, but kangaroos or giraffes, they put you in front of the mystery of yourself."
Listen to Sorrentino: Rejoice in the mystery. Rejoice in the beauty, the snoring nuns, and the kangaroo. Rejoice in The Young Pope. He won't be around forever.
Sign up here for our daily Thrillist email, and get your fix of the best in food/drink/fun.
Dan Jackson is a staff writer at Thrillist Entertainment and he's ready for
The Young Kangaroo
spinoff. He's on Twitter @danielvjackson.