These one-of-a-kind clocks are made from old bike parts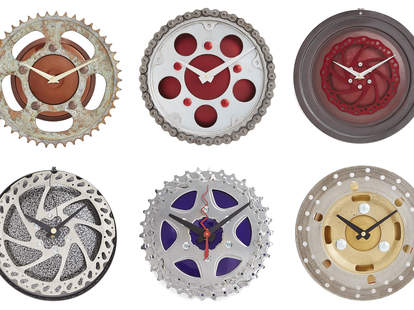 Owning one-of-a-kind home decor in the Age of Ikea is rare. While it'll be a few years before you can find (and/or afford) that perfect antique Chesterfield sofa, we're stocking a limited number of unique, handmade timekeepers by reCycle so you can start your collection of future heirlooms today.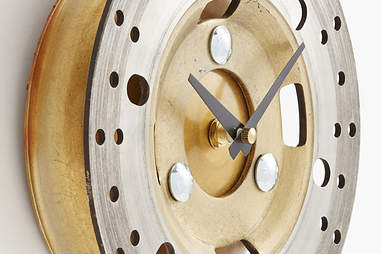 Golden Eye Clock - $99
ReCycle clocks are made by artist and motorcycle safety instructor Michole Madden, who spends her days hunting for scrap metal and old bike parts at motorcycle shops, then hits up thrift shops for vintage clock backings and watch hands. After some major cleaning, she lays out her findings and pieces together clocks by hand, one by one, until the old bike parts spin their wheels again.
"I try lots of different combinations until the right parts meet each other."
With clocks this unique -- we're talkin' gritty or polished, vibrant or subdued -- there's bound to be something for everyone. But our stock is ultra-limited and since each clock is a one-off, you won't find any of them anywhere else. So shop swiftly.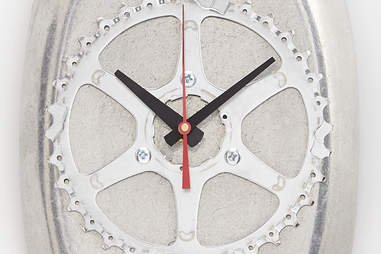 A single bike sprocket makes a big statement when it's this pared-down and polished.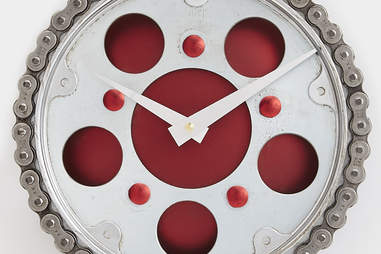 Like that flashy vintage Velocette you've always wanted, but for your wall.
Days go by in a flash when your clock has this much horsepower.
You know what doesn't grind our gears? The look of this clock.
Most things are better off without rust. This is not one of those things.
Black and silver with a star-tipped secondhand = major 1950s Harley vibes.