These Tri-State Music Festivals Are Worth the Road Trip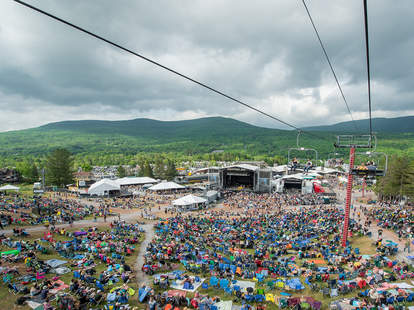 While NYC music festivals are fun and convenient, they come with hot and crowded subway rides, out-of-town friends crashing on your couch, and all-around exhaustion. That's why it's time to trade in your Metrocard for an E-ZPass and turn one of these tri-state music events into an exciting weekend getaway. They might be a little farther away, but getting there is half the fun. We've rounded up some of the best fests happening this summer and every stop you need to hit along the road.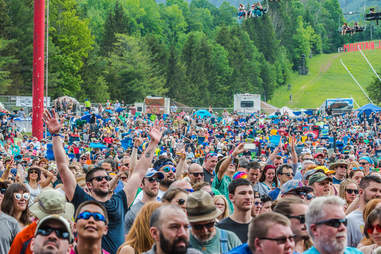 Mountain Jam
MOUNTAIN JAM
Hunter, NY
June 15-17
Returning for its 14th year, Mountain Jam is a three-day festival held about three hours north of Manhattan at the scenic Catskills' Hunter Mountain ski resort. Over 40 acts are presented across three stages and this year's lineup features Jack Johnson, Sturgill Simpson, The War on Drugs, Father John Misty, and tons more. If that's not enticing enough, the fact that you get to spend a weekend in the pristine Catskill mountains should do it. General admission and VIP tickets run $210 and $635, respectively, but campground access can be purchased for just $30-35 more -- an ideal way to experience the Catskills' beauty. Of course, if you're not the camping kind, this tri-state tourist destination has plenty of Airbnb options. On your way up, stop off in Saugerties to do some sightseeing; in addition to the town's Colonial architecture, the Saugerties Lighthouse has been standing since 1869 and is a landmark of the region.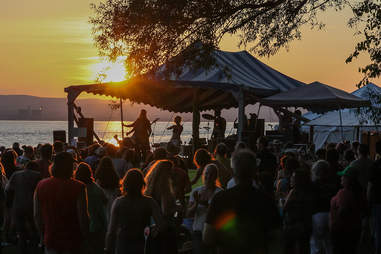 Econosmith.com
CLEARWATER'S GREAT HUDSON RIVER REVIVAL
Croton-on-Hudson, NY
June 16-17
It'll only take you an hour and 15 minutes to get from NYC to Clearwater's Great Hudson River Revival at Croton Point Park. That is, of course, if you don't give in to temptation and stop a billion times along the way. On your way to see the headlining acts (Wilco's Jeff Tweedy, Ani DiFranco, and They Might Be Giants, among others), you'll drive right past the New York Botanical Garden and Bronx Zoo. And we certainly wouldn't recommend against stopping by the historic Kykuit in Sleepy Hollow. The former estate of John D. Rockefeller houses his private collection of art (think Pablo Picasso and Henry Moore), and the cavernous Coach Barn displays old automobiles and horse-drawn carriages. At that point you're only 20 minutes from the festival, which was inspired by Pete Seeger's desire to clean up the Hudson River over 40 years ago. Tickets start at $60 and go up to $270, but it's all about the cause here. According to the festival's website, all proceeds go directly to support environmental research, education, and advocacy efforts to help preserve and protect the Hudson River and its surrounding areas.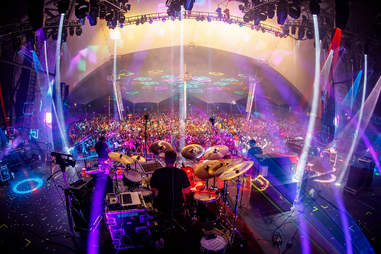 Jesse Faatz
CAMP BISCO
Scranton, PA
July 12-14
If you're a die-hard fan of jam band The Disco Biscuits, you likely already make this annual pilgrimage to Scranton, PA. If not, you'll likely want to attend after learning the deets. Held at the picturesque Montage Mountain -- a ski resort and, get this: water park -- Camp Bisco gets fans up close with the Biscuits. The headlining band plays six sets of live electronic/trance rock throughout the three days and this year they're backed by Bassnectar, Excision, Tipper, Bonobo, Lotus, DJ Jazzy Jeff, Ghostface Killah, and tons more. On this trip you'll drive straight through Tannersville, NY, where Mama's Boy Burgers will be waiting to refuel you with lunch. This vibrant roadside eatery serves up patties, dogs, and shakes -- with a side of quaint Catskills backdrop. Only when you're full can you continue on to Camp Bisco. We suggest buying a ticket with camping access ($209.50), since it's part of the festival experience.
GREAT SOUTH BAY MUSIC FESTIVAL
Patchogue, NY
July 12-15
This Long Island music festival is the perfect excuse for a weekend trip this summer. Held just an hour and a half from NYC in Shorefront Park, this year's Great South Bay Music Festival is not only headlined by must-see acts (The Front Bottoms, Sublime with Rome, and Umphrey's McGee, to name a few), but it's just a stone's throw away from some of New York's best beaches. We're talking 30 minutes from Robert Moses, 45 from Jones Beach -- you'd be crazy not to turn this into a getaway (especially since this fest is family-friendly). A four-day GA ticket will run you just $143 plus fees, while single-day tickets range in the $30s (depending on the day), and kids under 10 can attend for free (remember to pack some hearing protection for their superhuman ear drums). Is that the sound of you loading up the car, we hear?
VANS WARPED TOUR
Multiple Locations
For over two decades, Vans Warped Tour has been the pop punk/rock event of the summer. Donning checkered slip-on sneakers and mostly black attire, teens would gather all over the US to hear their favorite acts shred. This year, the fest is celebrating its final cross-country tour and you'd better believe the black eyeliner's gonna run. The tour hits several different stops on the east coast including Camden, NJ on July 13 (BB&T Pavilion), Hartford, CT July 15 (Xfinity Theatre), and Wantagh, NY on July 28 (Northwell Health at Jones Beach Ampitheatre) -- which means it's all about location, location, location (since the lineup doesn't vary much). This year headliners include 3OH!3, Bowling For Soup, Every Time I Die, The Maine, Mayday Parade, Reel Big Fish, Simple Plan, and more -- which should transport you right back to high school when you and your friends would just get in the car and go. All you need are some tickets ($45) and to figure out who's in your carpool and you're halfway to Warped Tour.
Dave Burbank
GRASSROOTS FESTIVAL
Trumansburg, NY
July 19-22
Started in Trumansburg, NY in 1991, this music and dance festival has remained a staple of the region since. Though it'll take about a four-hour drive along I-80 W and I-80 N to get to the Finger Lakes GrassRoots Festival of Music & Dance, the area -- a famed east coast vacation spot -- is worth the drive. (It's just an awesome coincidence that there's a sweet music fest there every summer.) Grab tickets in advance ($125 each) so you can get to planning the rest of your weekend getaway full of outdoor adventure. From the fest (held at the Trumansburg Fairgrounds), Taughannock Falls State Park is just a five-minute drive. Here you can camp, sunbathe, and swim in waterfalls after a long day of dancing. This year's performers include of a mix of bluegrass, Americana, reggae, jam bands, and more such as Patty Griffin, Toots and the Maytals, and The Wood Brothers.
BILLBOARD HOT 100 FESTIVAL
Wantagh, NY
August 18-19
For its fourth year, the Billboard Hot 100 Festival is returning to Jones Beach Theater with performances by some chart-topping artists. This Long Island fest is easily accessible, starting at $80 for two days and clocking in at just an hour-long drive from Manhattan. That means if you plan your weekend right, you can pack in even more than seeing DJ Snake, Future, Rae Sremmurd, Kehlani, Lil Xan, and others. For example, stop off about halfway at Flushing Meadows Corona Park. (Yes, where they shot Men in Black.) The iconic NY park houses The Mets' Citi Field if you want to catch them playing against the Phillies on your way there or back. If that's more time than you can spare, the Queens Wildlife Center zoo is phenomenal, the Panorama and other remnants of the World's Fair are gorgeous, and the Aquatic Center pool is a welcome relief from the heat. Travelers who are only heading to one day of the Festival would be wise to stop here Saturday evening and savor the diverse feast that is Queens Night Market's last event of the summer. And though it's a popular spot, parking is plentiful and it'll likely be less crowded than a music fest.
CAYUGA SOUND
Ithaca, NY
Sept 21-22
While four hours might seem a like a long way to drive for a music festival, Cayuga Sound is well worth it. That's because this event is far more than a festival to its curators, popular rock band X Ambassadors; it's a love letter to their hometown of Ithaca, NY, and a thank you to the people in it. Having just started last year, Cayuga Sound is back in 2018 and boasting an experience twice the size of its first go around. Acts include X Ambassadors, Young the Giant, Matt & Kim, Sofi Tukker, Talib Kweli, plus more, and a portion of proceeds (two-day passes are just $99.50) will benefit nonprofits in the area. If that's not reason enough, on your way to the scenic Cayuga Lake, you'll drive through the Pocono Mountains in Pennsylvania. Leave yourself an afternoon to explore Bushkill Falls (the Niagara of PA), or keep driving to Binghamton, NY for a bite to eat before the festival.
With all these fests taking place right in your backyard, you have no excuse not to attend. All that's left to do is grab your tickets, fill up the gas tank, and remember to say "Excuse me" as you push your way to the front row.