These Unlikely Celebrity Friendships Will Make You Smile
Real friends are rare and worth celebrating -- like the real-life friendship between musician Dr. Don Shirley and bouncer Tony Lip that defied the segregation of the 1960s Deep South and their own different upbringings. To celebrate that friendship, which inspired the movie
Green Book
, we've partnered with Universal Pictures in toasting today's celebrities who found friendship from different walks of life. When you're done reading, grab a friend and make a plan to enjoy
Green Book
together at the theater this Thanksgiving.
Between social media, gossip sites, and your aunt's bi-weekly phone check-ins, it feels like we know every last detail about our favorite celebs. But there are still some surprises hidden out there, especially when it comes to who is hanging with who. Sure, we all love to see Patrick Stewart and Ian McKellen's Shakespearean adventures beautifying the world, but the real news is the other random famous pals out there. Just picture these duos brunching together, singing karaoke together, taking goofy selfies trying on floppy hats together...
TONY BENNETT & LADY GAGA
Yes, one wore tuxedos, and the other wore meat, but a 60-year age difference didn't stop these two musicians from hitting it off immediately. Proudly declaring herself the humble student, Gaga and Bennett cut a whole album together the way you and your friends might plan a night at the karaoke bar. The recordings turned out a bit better than yours, though.
SERENA WILLIAMS & KIM KARDASHIAN
The greatest athlete of all time and the most focused personal-brand maven ever seem like they might both be too busy to ever hang out, but even all-time champions need to chill occasionally. Their friendship isn't just based on mutual drive, either. Before she was quite so famous, Kardashian was organizing and cleaning out the homes of many famous clients, KonMari-style. The two hit it off and stayed tight even as both of their stars rose. Their friendship is now going on over 15 years.
HELEN MIRREN & RUSSELL BRAND
Dame Helen Mirren is known for her talent and poise. Comedian and general madman Russell Brand… isn't. Their friendship is described by Brand himself as an "intellectual tangle of emotions between a dame and a vagabond." Still, an affinity between these two, who met on the set of the remake of the movie Arthur, isn't as strange as their age differences and life stations might be. Both are iconoclastic, no-nonsense types who call out hypocrisy wherever they see it. So it's a bit of a match, even if the usually hyper-charming Brand admitted to being painfully shy when meeting the acting legend. And just to make this story even weirder, she broke the ice by telling Russell Brand to stop being so respectful.
JAY-Z AND BEYONCÉ & GWYNETH PALTROW AND CHRIS MARTIN
This one's a double. Shyness was never a problem for the next batch of friends, who met at a charity ball and immediately hit it off. Still, Jay-Z and Paltrow aren't the two celebs most expected to swap BFF bracelets. The most pragmatic man in hip-hop is self-made, and the publisher of America's flightiest "wellness" publication was born to Hollywood nobility. So yes, it's an odd pairing, but the two power couples probably commiserate on how hard it is to be married to a constantly touring musician. And since they've both got more awards and money than the rest of the country combined, they're bound to have fun wherever they go. The four-way friendship even seems to have endured the actress and Coldplay frontman's "conscious uncoupling," bucking the odds a second time.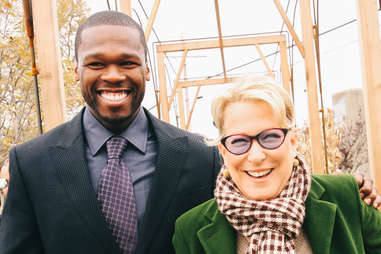 50 CENT & BETTE MIDLER
Jay-Z isn't the only rapper striking up unusual friendships across the entertainment world. 50 Cent and Bette Midler exist in the same artistic world, but their preferred genres couldn't be further apart. That hasn't stopped the petite chanteuse and the tall rapper from forming an unlikely bond after meeting over their mutual work for the New York Restoration Project. Perhaps it's their mutual focus on their own individually successful production companies that keeps them connected.
AND OF COURSE, SNOOP & MARTHA
By now it's obvious that your best bet to get your dope demo tape in front of a superstar rapper is to be a blonde businesswoman. Doggystyle artist Snoop Dogg and domestic goddess Martha Stewart hit it off when he made a guest appearance on her show to talk mashed potatoes in 2008. The two have been the paparazzi's favorite odd couple ever since. They haven't released an album or a line of stoneware yet though, so their friendship clearly has room to grow.
KRIS JENNER & JENNIFER LAWRENCE
A lot of us dream about befriending our favorite screen stars, but that dream can come true if you're Jennifer Lawrence. The action star has idolized celebrity mom Kris Jenner for as long as she can remember -- or at least as long as Keeping Up With the Kardashians has been around. Unlike most celebrity Kardashian relationships, this one blossomed slowly: first Instagram buddies, then a surprise cake, then a lot of texting. Finally, as Lawrence tells it, a debaucherous evening turned dramatic, with Lawrence half-naked in Jenner's closet, and "it was everything I could've ever dreamed of."
RIHANNA & JIM PARSONS
Rihanna's known for belting her tunes, speaking her mind, and always looking stylish. Jim Parsons is famous for playing the exact opposite of all that. But the singer and icon of female strength has become inseparable pals with Big Bang Theory goofball Jim Parsons. The pair met after they both lended their voices to the 2015 animated film Home and it turns out, they make each other laugh, which is really all most of us are looking for in a friend, right?
LIN-MANUEL MIRANDA & "WEIRD" AL YANKOVIC
Laughter's also the driving force between the pairing we're all rooting for. One reshaped Broadway forever with a single play he created, composed, and embodied. The other is best known for high-speed polkas and satirical songs about food. But there's no child of the '80s who didn't bop out to "Eat It," so when Miranda met his childhood hero to talk about a musical, he confesses he "had no chill." Thankfully the friendship blossomed into a full-on musical collaboration between two dudes who both reimagine the narrative in song. Now they make beautiful music together.
MEGHAN MCCAIN & MICHAEL IAN BLACK
This celeb pairing is so close, they wrote a book and toured the country together. Meghan McCain is a conservative political analyst and Michael Ian Black is a liberal comic and those groups are more often swapping Twitter barbs than digits, but these two found some common ground. Their book America, You Sexy Bitch: A Love Letter to Freedom is all about finding places to come together and they were determined to make it a work of nonfiction. Maybe they'll inspire the rest of us to reach across the aisle to our own family and friends...