These Unshakable Actors Took on Hollywood... And Won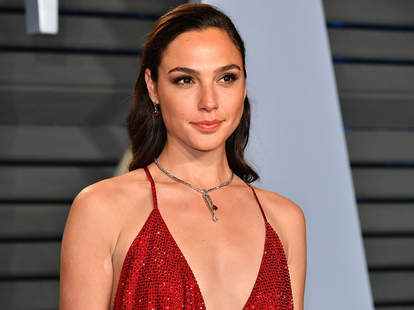 Celebrity news used to be the fun gossip for people trying to escape the real world, yet every day now a new scandal feeds us a little dose of hopelessness before breakfast. It's exhausting. Here's the thing: It's not representative. For every terrible entertainment story, there is someone who found strength to speak up, who took a stand, and whose brave actions made a real difference -- both for themselves and their contemporaries. These stories can nourish us, and there are many.
For example, part of celebrating your identity is acknowledging who you are and examining what privileges you might have. Amandla Stenberg (who identifies as nonbinary and goes by they/them pronouns) recently shared that they were in the running for the role of Shuri in Black Panther. While most actors would have jumped at the opportunity to be part of a film many predicted would make colossal strides, Stenberg chose not to take it. The biracial actor acknowledged their own "light privilege," and determined that this would be a role better suited for a darker-skinned actor to play someone from an East African nation that has been culturally insulated for its entire existence.
The part eventually went to actress Letitia Wright who became the film's breakout darling for her enthusiastic portrayal of Shuri's unrivaled scientific badassery. Stenberg's conscious, thoughtful choice is an inspiration and an example of how to utilize one's privilege to lift up others -- hopefully one that teaches and inspires others to carefully examine their influence and impact in the future.
Advertisement
Courtesy of Bai
Bai brings flavor to your taste buds without compromise. And now Bai's celebrating musicians who make magic happen in your earbuds -- without compromise. Here are the stories of three artists who always stay true to themselves and refuse to sacrifice.
Other times saying "No" to the industry means saying "Yes" to yourself. Throughout most of cinematic history, actors and actresses were encouraged to change their name, especially if their birth names were "too ethnic," which is how actors like Ramón Antonio Gerard Estevez ended up changing their names to something like Martin Sheen. When Cuban-American actor Andy Garcia started out in the industry, he found that actors with Hispanic surnames would often be stereotyped into a small margin of roles, limiting how much work they could get. He was told repeatedly by agents, managers, casting directors: Change your name. But Garcia felt that changing his name would cause him to lose some of his essence, so he resisted. He began booking parts that were irrelevant to the actor's heritage, or playing a different ethnicity entirely, letting his work speak for itself. Today Garcia has a decades-long streak of prolific acting, with 93 credits to his name, appearing on big screens and small. Simply by remaining true to himself, he paved the way for many young actors who followed to hold onto themselves and their heritages.
Jason Merritt / Getty
Hollywood doesn't only have a history of discrimination and racism, it also has a long history of sexism. This is especially apparent when we look at the pay disparity between actors and actresses, but of late, the actresses are fighting back. Emmy Rossum has co-starred in the hit ensemble show Shameless since 2011. When she started, she understood she'd be paid less than her Oscar-nominated co-star William H. Macy. But as the series progressed, Rossum took on a greater role in the series, even directing episodes. In 2017, as the character who centers the show, she demanded to be treated as an equal in all areas, especially when it came to pay. Her older co-star backed her up and because she took that stand, she was given a salary commensurate with Macy's.
Unfortunately, racism and sexism have also bled together in the entertainment industry. A commonly uttered statistic is that for every dollar a man makes, a woman makes 80 cents, but that only refers to white women. For black women, it's much worse. For every dollar a man is earning, black women are statistically making 63 cents, and it doesn't matter how famous you are. Octavia Spencer and Jessica Chastain were both slated to co-star in a 2018 holiday comedy film. During a panel at Sundance, discussing equal pay, Spencer raised the issue of the extreme pay disparity for black women. Chastain took notice and approached the producers about tying their deals together, mandating that the two women be paid equally for the upcoming film. It worked. Spencer tweeted, "I am making 5x my salary bc Jessica stood with me. I don't know what or if it cost her anything as far as her rate, I just know she stood with me, and am eternally grateful."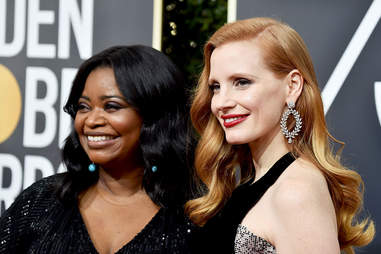 Frazer Harrison / Getty
The misogyny and sexism found in the entertainment industry has repeatedly manifested in another insidious ways. In the wake of the #MeToo movement, women have come forward about the abuse they encountered with many men. One of the men outed for harassment was director Brett Ratner, whose accusers included Olivia Munn, Ellen Page, and Natasha Henstridge in this horrifying LA Times article.
Unfortunately, these women's accounts were not enough to impede Ratner's career. He was still scheduled to direct the sequel to Wonder Woman; but Gal Gadot -- despite being a relatively new arrival -- refused to reprise the titular role under Ratner. Since her balanced performance of Wonder Woman had been a titanic part of the film's success, Warner Brothers was compelled to oust Ratner. Gambling her newfound star power paid off big time, and good thing -- it would have been egregious if an icon of female empowerment was helmed by someone with a litany of accusations lodged against him by women. Gadot scored a win -- and she didn't even have to use the lasso.
The #MeToo movement is not contained to cis-women, it's encouraged all those who have faced harassment to give voice to their experiences. Actor Anthony Rapp alleges that at just 14 years old, future two-time Academy Award winner Kevin Spacey, then 26, made a sexual advance towards him. On the advice of a lawyer, Rapp says, he declined to pursue a case, so he remained silent about the assault for over 30 years.
For that entire duration, Spacey's career and cherished standing in Hollywood overshadowed Rapp's story. The younger actor knew he would be met with disbelief if he went public, but eventually he was inspired to break his silence. More than a dozen other accusers emerged to allege similar behavior, turning this David vs. Goliath story into an army vs. Goliath. Spacey was quickly removed from the starring role in the series House of Cards and was even removed in post-production from the film he'd appeared in, All The Money In The World. One brave stand can change everything, no matter how remote it seems.
Justin Sullivan / Getty
While #MeToo has brought to light many sexual abusers, it gained the most attention in exposing the ongoing condemnation of film producer Harvey Weinstein. Over 20 years ago, a lawyer (herself a woman) advised actress Rose McGowan not to confront producer Harvey Weinstein for a ghastly assault. But she warned collaborators he was a "predator" even as it seemed to get her blacklisted and kill her development deal. McGowan persisted, and was joined by Ashley Judd. The two women, sharing their stories in 2017, inspired many more victims to come forward and speak out.
The result? One of Hollywood's most powerful men is an outcast under scrutiny for possible criminal charges and his company is bankrupt. Moreover, his accusers, who have found their careers affected, are back in the spotlight and given the chance to tell their stories. It can't undo what was done, but it can bring some closure, as when Mira Sorvino found confirmation of Weinstein's retaliatory behavior.
The wave of #MeToo finally made people take notice of their stories, and believe them. These women knew that standing up could mean the end of their careers, but they refused to be cowed. Their strength has inspired people in many industries to stand up in the face of their attacker's threats and say, #MeToo -- and also, no more.