The 'This Is Us' Super Bowl Episode Finally Revealed How Jack Died
For two seasons, we've known that This Is Us patriarch Jack Pearson (Milo Ventimiglia) would die, and now we finally know exactly how it happened.
The NBC series follows Jack and his family -- wife Rebecca (Mandy Moore) and children Kate (Chrissy Metz), Kevin (Justin Hartley), and Randall (Sterling K. Brown) -- through the highs and lows of their lives in the past and present, every episode following a themed but non-linear structure. The show is famous for making its audience weep, but this week's post-Super Bowl episode was the mother of all cry-fests. According to creator Dan Fogelman, the aptly named "Super Bowl Sunday" would be "inarguably our saddest episode." He wasn't lying.
As promised, the episode picked up where the last one left off, with the Pearson home ablaze after Jack accidentally left a faulty crockpot on high. After helping Rebecca, Kate, and Randall escape (Kevin wasn't home), Jack went back into the house to save Kate's puppy. It looked like that was going to be it for Jack, but then he emerges from the front door with the dog and a bag full of family heirlooms. It was a clever subversion of expectations, and brought some temporarily relief. Bu then the audience is reminded, in present time, that he did indeed die that night, and so began a painstaking waiting game. What would be the thing to kill him, if it not the fire?
In the end, it was still the fire. At the hospital, Jack's burns were tended and the doctor (played by guest star Bill Irwin) warned him that he'd need to take it slow because of how much smoke he inhaled. Rebecca, relieved that her husband was alive but stressed about the loss of her house, stepped into the lobby to make a few calls and get Jack a snack. But behind her, the doctors rushed to Jack's room, signaling something went wrong. Moments later, the doctor finds Rebecca and tells her that Jack suffered a fatal "widow maker" heart attack as a result of the smoke in his lungs.
Super Bowl Sunday is a day of sadness -- and celebration -- for the Pearsons
This Is Us has a thing with anniversaries and traditions. The Pearson children and Jack all share a birthday, and Jack's obsession with the Super Bowl -- it was his favorite day of the year, according to Randall -- ironically sealed his fate, as he died on Super Bowl Sunday. To memorialize their patriarch, the remaining Pearsons each carry out their own tradition. Rebecca makes Jack's favorite food (lasagna) and watches the game alone, Randall throws giant Super Bowl parties with his family, Kate watches a tape of her singing that her father saved from the fire, and Kevin… well, Kevin used to get blackout wasted and have sex with models, but, as a recovering alcoholic, tries to find new ways to cope. That ends up being a trip to "dad's tree," which he visits and reflects on their relationship and his failures as a son.
Each family member gets a monologue about what Jack meant to them individually, and how they hope to carry forward his legacy. Kate still blames herself -- if Jack hadn't gone back to rescue her dog, he might have lived -- but is finding solace with boyfriend Toby, who reminds her of her dad. Randall tells his daughter Tess that he strives to live up to his Jack's excellence as a father, and knows he can because he loves her so much. And Rebecca looks for signs of Jack's humor in what should be a mopey day -- and does in the form of Kevin, who confesses over the phone that he might be at the wrong tree.
It's clear that the Pearsons will never fully recover from Jack's death, and that he still informs every piece of their life. But though all of them have let his death hold them back in the past, they're all working toward their greatest goal: to make him proud.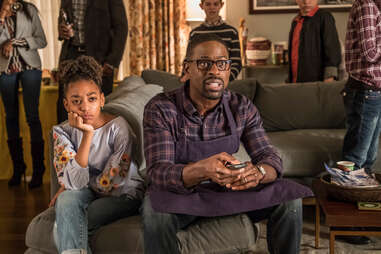 There was another twist in the episode
Jack's death wasn't the only big moment of "Super Bowl Sunday." We were also treated to a classic This Is Us twist. Throughout the episode, we see a side story of a young foster boy about to be matched with a family. We assume Randall, Beth, and the girls are the family in question, until we see that it's a white family -- and an aged Randall walks in afterwards. What we're actually seeing is the future. A grown up Tess is the boy's social worker, a touching trajectory for the girl who had earlier confessed she was worried her dad was trying to replace her with a foster kid. To know that she turned her father's message about his own great dad into a career is a touching moment, and shows how Jack lives on in his grandkids.
Will Jack return?
Yes, he's dead, but fear not: Milo Ventimiglia is here to stay. He shows up in the preview for next week, and according to an interview with Entertainment Weekly back in January, he'll still be a major part of the show going forward: "I'm not going away from the show, Jack is still around. There is still so much story to mine in this world of This Is Us," Ventimiglia told the magazine.
That's good news for fans still recovering from the emotional trauma of "Super Bowl Sunday." Jack Pearson gave his life to save his family, and luckily we'll have even more stories about what happened before that point.
Sign up here for our daily Thrillist email and subscribe here for our YouTube channel to get your fix of the best in food/drink/fun.
Lindsey Romain is a writer and editor living in Chicago. She covers politics for
Teen Vogue
and has also appeared in
Vulture
, Birth.Movies.Death, and more. Follow her on Twitter @lindseyromain.