The Best Movies We Saw at the 2017 Toronto International Film Festival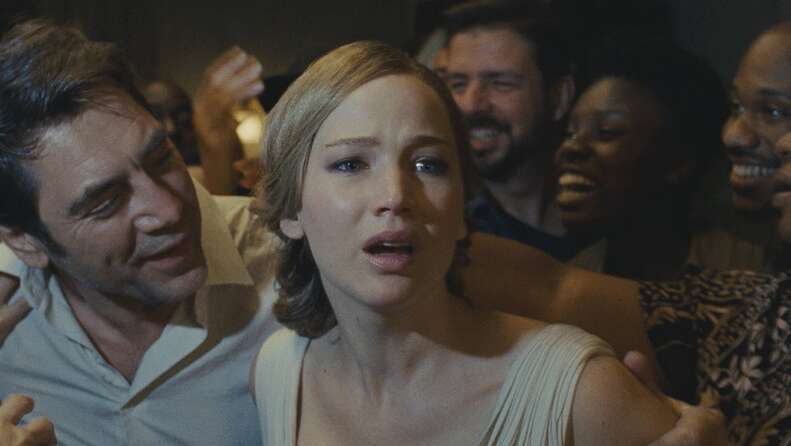 Toronto, Ontario: the birthplace of Drake, sprinkling bacon bits on a street corner hot dog, and the starting line of every year's Oscar race.
The Toronto International Film Festival is where awards chatter begins, and this year is no different. We're gobbling it up like everyone else, and while we can't see every movie (there are approximately 18 million movies that play during the fest), we're keeping track of our personal favorites. There are almost too many movies to see, including smaller more esoteric titles as well as surefire hits, which is why the Scheduling Fates have prevented us from checking out the much hyped Gary Oldman's Winston Churchill biopic Darkest Hour and 1990s tabloid nostalgia joint I, Tonya.
But of what we have seen, here's what you need to know about.
13. The Upside
Cast: Kevin Hart, Bryan Cranston, Nicole Kidman
Director: Neil Burger (Limitless)
Why it's great: Kevin Hart and Bryan Cranston are national treasures. They're sorcerers when it comes to two guys just zinging back and forth and, as this remake of the runaway French smash The Intouchables proves, they can take middling sit-com material and make it a must-watch movie. The premise is corny (a quadriplegic and his streetwise aide teach one another how to live, truly live!), but maybe sometimes a movie sticks to a formula for a reason: they usually work.
12. Papillon
Cast: Charlie Hunnam, Rami Malek
Director: Michael Noer
Why it's great: What's better than one prison break? Two prison breaks! In deadly locations, too. Papillon is a remake of a '70s classic with Steve McQueen and Dustin Hoffman, and while it may not have the same degree of star power it goes in extra on the action. Set in a cruel penal colony in 1930s French Guiana, Hunnam is the (rather ripped) physical embodiment of the spirit of will. He will never stop fighting for his freedom, even if it means months in darkness in solitary confinement. (Note to self: don't ever get framed for murder.) This isn't the deepest movie ever made, but as an adventure yarn it's quite entertaining.
11. Let The Corpses Tan
Cast: Elina Löwensohn and a bunch of screaming French people
Directors: Hélène Cattet and Bruno Forzani (Amer)
Why it's great: An armored car robbery goes completely off the rails in this wildly hallucinatory and almost incomprehensible love letter to spaghetti Westerns directed by these festival favorites. Grainy footage, splashes of color, weirdo S&M imagery, and lots and lots of gunfire make up the sensory onslaught. There are shots more beautiful and eerie in this film than anything else you're going to see outside of an art gallery, and even a few laughs. Just when the movie threatens to get into a narrative rhythm, it mockingly jumps around in time (with interrupting title cards), almost daring you to get annoyed. Also, a naked woman painted in gold tied to a wooden X who urinates Champagne. This is some hardcore arthouse cinema, but also exactly the type of thing you need to see when you come to a festival.
Watch the trailer.
10. Chappaquiddick
Cast: Jason Clarke, Ed Helms, Bruce Dern
Directors: John Curran (Tracks)
Why it's great: Senator Edward M. Kennedy died a hero of American liberalism and a so-called "Lion of the Senate." You can thank some rather crafty damage control for letting him get there. Some would argue that his career should have ended in 1969 when a car crash and cover-up occurred on a secluded New England island, resulting in the death of a brilliant young woman -- and it happened just as Apollo 11 was landing on the moon. That feat, presented in this fiction film as the final act of President John F. Kennedy, is just one of the many mindblowing facts in this rumination on guilt, privilege, and family pressures. It's impossible to watch this and not reflect on what has and has not changed in American political life today.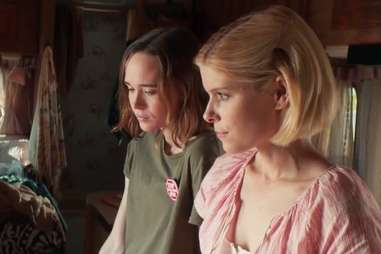 9. My Days of Mercy
Cast: Ellen Page, Kate Mara, Amy Seimetz
Director: Tali Shalom Ezer (Princess)
Why it's great: It's a bit of a weird premise, but it lends itself to some rich emotional scenes: My Days of Mercy is about an unexpected love affair between Ellen Page and Kate Mara, who meet cute outside a prison right before an execution. Weirder still, Page is a hippie-ish anti-capital punishment protestor and Mara (and her very proper family) are advocates of what they call victims' rights. But thanks to the performances, you end up rooting for this pair, as well as the legal battle Page and her older sister (Amy Seimetz) are fighting to get their father off death row. (Yeah, he's convicted of killing their mother. Long story.)
8. Disobedience
Cast: Rachel Weisz, Rachel McAdams, Alessandro Nivola
Director: Sebastián Lelio (Gloria)
Why it's great: Rachel Weisz is an artist living in New York who returns to North London when her father, an orthodox Rabbi, has died. At first this movie seems like another clash between tradition and modernity, until some secrets get uncovered. Importantly, everyone is ultimately a good person in this story, which is why their struggles are so upsetting. How can you be on every character's side if it means someone is going to end up getting hurt? Additionally, if you thought Blue Is The Warmest Color pushed the envelope for a lesbian sex scene, well, let's just say some novel things happen to that envelope in this one.
7. Downsizing
Cast: Matt Damon, Kristen Wiig, Udo Keir
Director: Alexander Payne (Sideways)
Why it's great:Matt Damon shrinking to five inches is just the beginning of this strange, allegorical sci-fi film that deals in economics, environmentalism, heartbreak, and beauty. What's amazing is how quickly you buy that, yes, this is the way society would react if technology existed to shrink everyone's bodies and (allegedly) their problems. Some have complained that the film is directionless, but its messiness is reflective of true life! Its depiction of society as a literal microcosm is hilarious and well observed, right down to the Tony Roma's Ribs.
Watch the trailer.
6. Jim & Andy: The Great Beyond -- The Story of Jim Carrey and Andy Kaufman With a Very Special, Contractually Obligated Mention of Tony Clifton
Cast: Jim Carrey, Andy Kaufman, Jerry Lawler
Director: Chris Smith (American Movie)
Why it's great: In 1998, Jim Carrey, one of the biggest box office draws, got the gig to play Andy Kaufman in Milos Forman's biopic Man on the Moon. But he'd tell you he never came to set. He was so committed to the role that he only appeared in character -- either the impish comic Kaufman or his chaos-inducing alter ego Tony Clifton. He also brought a documentary crew, and now, nearly 20 years later, we're seeing that footage. And man, he was such a jerk. But also funny. The archival stuff is juxtaposed with a current interview with a sagacious, bearded Carrey who is either still putting us on or has gone full California guru and thinks starring in movies like The Mask has religious and metaphysical significance.
5. Foxtrot
Cast: Lior Ashkenazi
Director: Samuel Maoz (Lebanon)
Why it's great: An exquisitely crafted drama about grieving parents and the armed forces' dehumanization process. But also a little bit funny! Two Israeli parents are told their soldier son has died in the line of duty, and after a day of mental torture they learn -- whoopsie! -- this was a mistake. (It's a different soldier with the same name who has died.) This starts a chain reaction of fate, but not before some craftily shot sequences at the Middle East's most lonely and photogenic checkpoint. A very original film.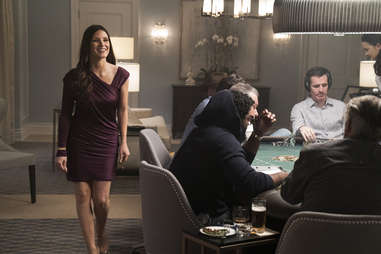 4. Molly's Game
Cast: Jessica Chastain, Michael Cera, Chris O'Dowd
Director: Aaron Sorkin
Why it's great: Two hours and ten straight minutes of pure Sorkin showboating, and if you like that kind of tune this is a glorious symphony. Based on the real-life tale of the Hollywood/New York "poker princess" who hosted high-stakes games for celebrities, the true star of this movie is Sorkin (directing for the first time) strutting around as the smartest guy in the room through his alluringly dressed mouthpiece, Jessica Chastain. There's a lot of psychological mumbo jumbo toward the end, but the truth is that everything is so damned clever and moves at such a clip you'll forgive the heavyhanded stuff.
3. Ex Libris: New York Public Library
Cast: The Citizens of New York City, Richard Dawkins
Director: Frederick Wiseman (In Jackson Heights)
Why it's great: 87-year-old Frederick Wiseman has five decades of documentaries under his belt, all of them about specific institutions. He's dug deep on hospitals, public housing, universities, museums, and even Madison Square Garden. At three hours and 17 minutes, this is in part a collection of short films dropping in on all the lectures and events that happen at the branches of the New York Public Library each day, but strung together, along with numerous boardroom and planning meetings, a community tapestry begins to emerge, as well as a utopian vision of learning that might still be within our grasp.
Watch the trailer.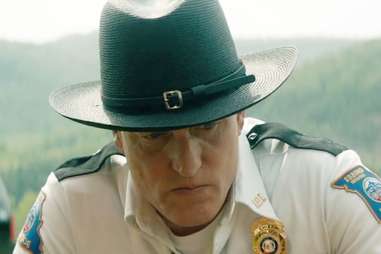 2. Three Billboards Outside Ebbing, Missouri
Cast: Frances McDormand, Sam Rockwell, Woody Harrelson, Peter Dinklage
Director: Martin McDonagh (In Bruges)
Why it's great: The pen of Irish playwright-turned-filmmaker and the mouth of Frances McDormand are a match made in (a very testy) heaven. McDormand is on the warpath against the police department in her small town, as they've not yet made an arrest in the murder of her daughter. This sounds bleak, and it certainly is emotional, but this is actually the funniest movie of the festival. McDormand's verbal tirades inspired breakout applause, but Harrelson and Rockwell are just as impressive in the ways their characters grow. Rockwell is truly one of cinema's great dumb guys, and Harrelson exudes a sort of weary kindness. This is a tremendous film, and one to see with an audience that can pick up on humor hiding in the background of tragedy.
Watch the trailer.
1. mother!
Cast: Jennifer Lawrence, Javier Bardem, Michelle Pfeiffer
Director: Darren Aronofsky (Black Swan)
Why it's great: It's a horror film, a celebrity satire, and, most importantly, a summation of all known religions in one hyperactive, surreal two hour film. Jennifer Lawrence is an artist's muse, homemaker and representative of Mother Earth to a Godly poet Javier Bardem. Their happy world gets interrupted by a couple (Ed Harris and Michelle Pfeiffer) in ways that eerily mirror stories we may remember from Sunday school. mother!, a prequel/sequel/remake of Aronofsky's Noah, is one of the weirdest and audacious films of recent years, and one that people either love or hate. We choose love!
Watch the trailer.
Sign up here for our daily Thrillist email and subscribe here for our YouTube channel to get your fix of the best in food/drink/fun.
Jordan Hoffman is a film critic and writer whose work appears in
The Guardian
,
Vanity Fair
, and Mashable. Follow him on Twitter @jhoffman.