The Best Movies at the 2018 Toronto International Film Festival
Bradley Cooper and Lady Gaga in <em>A Star Is Born</em>

| Warner Bros. Pictures
Bradley Cooper and Lady Gaga in <em>A Star Is Born</em>

| Warner Bros. Pictures
For film lovers, fall is the best time of year. A series of festivals timed just as the weather is getting a little chilly herald the coming of cinematic delights that just might wind up on our list of the Best Movies of 2018. Of all of these gatherings, the Toronto International Film Festival is arguably the most populist -- guaranteed to satisfy fans of blockbusters as well as those who seek out the best in foreign and indie titles. Sure, there are plenty of prestige picks, but also Michael Myers is stalking in the corner waiting to slash.
So, yes, this year's TIFF, as it's called, hosted the world premiere of Halloween, the new sequel to John Carpenter's classic featuring Jamie Lee Curtis' Laurie Strode as a badass grandma. But leaving the Midnight Madness section, you could find the North American debuts of two Oscar front-runners: the Bradley Cooper-Lady Gaga romance A Star Is Born and (the already controversial) Neil Armstrong biopic First Man, which stars Ryan Gosling. Other highlights: Widows, in which Viola Davis kicks ass as the wife of a criminal who takes matters into her own hands; the Jonah Hill-directed skateboarding-teens movie Mid90s; films by auteurs Alfonso Cuarón and Barry Jenkins; and flashy turns from Timothée Chalamet and Nicole Kidman.
We'll were on the scene for all of that and more. Take note of what you should (and shouldn't) see.
24. Life Itself
Cast: Olivia Wilde, Oscar Isaac, Annette Bening, Antonio Banderas
Director: Dan Fogelman
Why it's worth seeing: Oof. It's not. This Is Us creator Fogelman translates his schtick to the big screen in this schlockfest full of twists that are engineered to wring tears from your eyes. Remember the pilot of This Is Us? Think that, but ramped up to 11, with a new surprise trauma every 20 minutes or so. It begins -- after a brief misdirect with a voiceover from Samuel L. Jackson -- with Oscar Isaac's character, Will, telling the story of his romance with Olivia Wilde's Alice to his therapist, played by Annette Bening. But, as some heavy-handed dialogue insists, we're not supposed to believe everything he's saying. (It's not, however, that he's a serial killer/stalker, despite what his intense affection for his beloved might imply.) The plot jerks around until we're ultimately in Spain hearing about the denizens of an olive farm owned by Antonio Banderas. In a not-so-shocking turn of events everything is interconnected and the power of love is the strongest force in the world. It's so manipulative, you feel like you were physically shaken.
23. The Predator
Cast: Olivia Munn, Boyd Holbrook, Trevante Rhodes, Keegan-Michael Key, Jacob Tremblay
Director: Shane Black
Why it's worth seeing: The alien life form at the center of the now 31-year-old Predator movie franchise is supposed to be terrifying, what with its refined hunting mechanisms designed to kill humans for sport. But it's also always registered as an incredibly silly beast, its humanoid gait secretly giving away that, yup, that's a dude in a suit. So Shane Black -- known for his alternately brutal and funny scripts for the first two Lethal Weapon movies and 1993's Last Action Hero, and for writing and directing 2005's Kiss Kiss Bang Bang and 2016's The Nice Guys -- would seem the perfect fit to bring the Predator franchise into the modern age, given his penchant for graphic violence and for making fun of how ridiculous it all is. (And he even appeared in the original Predator way back in 1987.) His effort, which opened up TIFF's Midnight Madness section, half fulfills that promise. It also comes with some baggage: The morning before its debut, The Los Angeles Times reported that Fox cut a scene featuring a friend of Black's who also happens to be a registered sex offender. That went unremarked on at the screening here in Toronto. There are certainly some inspired moments, like tiny Jacob Tremblay walking around in a real live Predator mask for Halloween, and a hefty dose of winking humor delivered by a talented cast. But the final action sequence is a jumbled mess, and the creature's legacy remains firmly in shlock territory.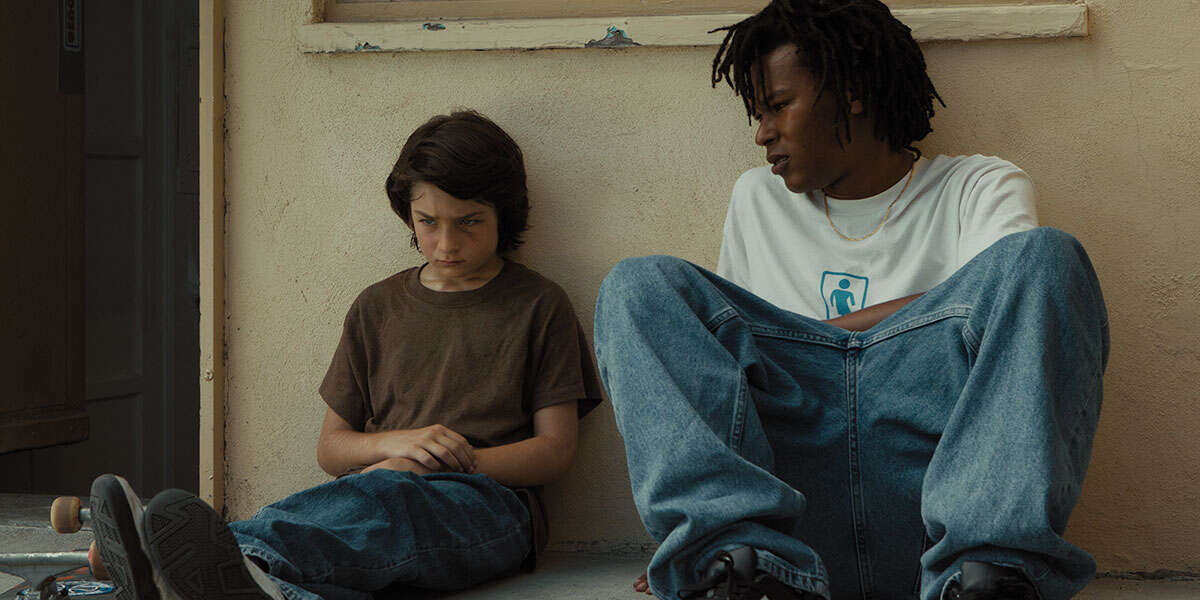 22. Mid90s
Cast: Sunny Suljic, Lucas Hedges, Na-kel Smith, Katherine Waterston
Director: Jonah Hill
Why it's worth seeing: The crowd at Toronto's Ryerson theater was certainly pumped for Jonah Hill's directorial debut, but the overly slight movie about a group of skater kids in Los Angeles left a sour taste in my mouth. That's not to say Hill doesn't have promise as a filmmaker. He certainly does, and Mid90s is stylishly executed, with shades of Richard Linklater and Larry Clark. But the movie has a toxic "boys will be boys" attitude that it can't overcome. Stevie (Suljic) -- a 13-year-old with a young mother (Waterston) and a terrorizing older brother (Hedges) -- starts hanging out with a group of older teens at a skate shop in Los Angeles. He quickly becomes part of their crew thanks to his willingness to get into just about anything. (Despite his lack of skating skills, he tries to attempt a trick that leaves him with a head injury.) The '90s setting seems to give Hill the license to have his actors carelessly throw around outdated language, and, despite the darker turns the plot takes, there's a congratulatory vibe that rewards these dudes for the destruction they cause.
21. Hold The Dark
Cast: Jeffrey Wright, Riley Keough, Alexander Skarsgård, James Badge Dale
Director: Jeremy Saulnier
Why it's worth seeing: Director Jeremy Saulnier's adaptation of the novel of the same name is all about atmosphere, and he masterfully creates the chilly (in more ways than one) environs of small town Alaska in this thriller. As for what actually happens in this film? Who the fuck knows. Truly, the plot is such a jumble that even the mood can't make up for it. Wright plays a wolf researcher who goes to Keelut, said tiny locale, at the request of Medora (Riley Keough), a woman who has recently lost her child (she says) to a wolf. His job is to hunt down and kill said creature, but he is soon sent down a much stranger path. Alas, ultimately, the movie -- which includes a too-long sequence of a massacre by gunfire -- is a lot of sound and fury signifying zilch.
20. Outlaw King
Cast: Chris Pine, Aaron Taylor-Johnson, Florence Pugh
Director: David Mackenzie
Why it's worth seeing: Maybe it's saying something that the biggest buzz out of TIFF's opening night film was centered around the fact that there is a brief glimpse of full frontal nudity from one of the handsome Hollywood Chrises. We kid, but yes there was a lot of chatter over the fact that Pine bares all in this Netflix film, a gritty, muddy, and sometimes wildly over-the-top epic from Hell or High Water director David Mackenzie. Sort of a historical follow-up to Braveheart, it tells the violent tale of Robert the Bruce (Pine), a noble Scotsman who rebelled against his English overlords. Despite Pine's dedicated performance, the biggest hamper to Outlaw King's success is that it fails to dig beneath Robert's persistent, stoic surface, leaving the intense battle scenes devoid of passion. Meanwhile, Aaron Taylor-Johnson, as Robert's compatriot James Douglas, and Billy Howle, as his enemy the Prince of Wales, overcompensate with entertaining but excessively boisterous performances that invariably elicit giggles.
19. Assassination Nation
Cast: Odessa Young, Hari Nef, Suki Waterhouse, Joel McHale
Director: Sam Levinson
Why it's worth seeing: Assassination Nation is sort of like what would happen if a woke Instagram account came to life and got really really violent. Primed to age as well as raw chicken left outside of the fridge -- it even starts with trigger warnings -- this tale of social media gone wrong is a nasty 2018 time capsule. Telegraphing exactly what's going to happen, Levinson sets his town in modern day Salem, where everything goes haywire once the residents' cell phones start getting hacked. The townspeople head quickly into hysteria, and our heroine Lily (Odessa Young) and her four girlfriends are at the center of their ire. The sexy provocations of the first half of the film turn upsetting as the young women's bodies are targeted. Levinson does have an eye for horror and one sequence that watches a home invasion from the outside is stylish and chilling. Still, for all of its flaws, boils down to a shrug of a final punchline that is maybe worth the price of admission.
18. The Land of Steady Habits
Cast: Ben Mendelsohn, Edie Falco, Elizabeth Marvel, Connie Britton
Director: Nicole Holofcener
Why it's worth seeing: How much white Connecticut ennui can you take? If you can handle a lot you may have more luck with Holofcener's adaptation of the novel by Ted Thompson than I did. Mendelsohn is typically excellent but in mopey form as a man in the midst of a crisis that has led him to retire from his finance job, split from his wife, and take up recreational drug use with the troubled son of family friends. But this is a too-familiar story of rich people problems and male inadequacy that feels redundant in 2018.
17. Boy Erased
Cast: Lucas Hedges, Nicole Kidman, Russell Crowe, Joel Edgerton
Director: Joel Edgerton
Why it's worth seeing: Edgerton, best known as an actor, directs this take on Garrad Conley's memoir about his time at a gay conversion camp. While there are impressive performances threaded throughout it comes off as both too mild and too slight. Hedges is the on-screen version of Garrad, who is sent to ex-gay ministry Love In Action after he is outed (and admits that he has feelings for men) to his parents (Kidman and Crowe). Edgerton tracks how Garrad slowly becomes disillusioned with the treatment he endures, seeing it for how inhumane it really is. Still, while Boy Erased is thoughtful, it's not particularly deep. It almost seems to speed through Garrad's time in Love In Action, brushing past the stories of the other young people there. But perhaps the most frustrating thing is how Edgerton and his cinematographer Eduard Grau shoot it in almost constant shadows, to the point it is hard to make out expressions. It's an aesthetic choice, yes, but the muddiness obscures what the film has going for it.
16. Destroyer
Cast: Nicole Kidman, Sebastian Stan, Tatiana Maslany
Director: Karyn Kusama
Why it's worth seeing: Despite its careful plotting, something doesn't fully click in this stripped-down Los Angeles noir, starring Kidman as a weathered detective with stuff to work through. She's Erin Bell, who, years after leaving undercover work, starts investigating the gang in which she used to be embedded to track down its leader (Toby Kebbell). As she follows leads -- and bashes in heads -- the film flashes back to her younger days alongside her colleague and lover Chris (Stan). Erin's vengeful search isn't entirely on behalf of the law, and Kusama teases out her not-so-innocent past without fully filling out her main character. Even once we learn Bell's full motivations, she's still frustratingly hard to pin down. A side plot involving her teenage daughter is tedious and fails to illuminate. And, though Kidman's physical transformation has gotten a lot of attention, most of the makeup and wig work looks downright silly.
15. Green Book
Cast: Viggo Mortensen, Mahershala Ali, Linda Cardellini
Director: Peter Farrelly
Why it's worth seeing: A Peter Farrelly movie about race in the deep South during the early 1960s sounds like some kind of joke. Farrelly, of course, is one half of the Farrelly Brothers, the dudes responsible for gross-out comedies like Dumb and Dumber and There's Something About Mary -- which is to say they are not necessarily known for being arbiters of taste. So Green Book did not have a lot of buzz going into its premiere at TIFF, and yet by the end of the festival it was being talked about as a potential Oscar player. And, sure enough, I am here to report that Green Book is not the disaster it sounds like. Farrelly found a way to make a movie with laugh-out-loud moments that isn't completely devoid of nuance, even if it is generally a broad and mostly rosy take on its difficult subject matter. Mortensen plays Tony Vallelonga a.k.a. Tony Lip, the real life father of co-writer Nick Vallelonga. He's a bouncer at the Copacabana who is in a financial rut when the famous nightclub closes for renovations. He takes a gig driving pianist Don Shirley to his gigs throughout the segregated South. What unfolds is a flip on Driving Miss Daisy with a hint of My Cousin Vinny -- Mortensen seems to be doing what is close to a Joe Pesci impression. Tony is crass and makes prejudicial assumptions; Don is torn between the white circles he is operates in given his status as a performer, and a sense of alienation from the black community. The many modes Farrelly is working in coalesce mainly because of how talented Mortensen and Ali are.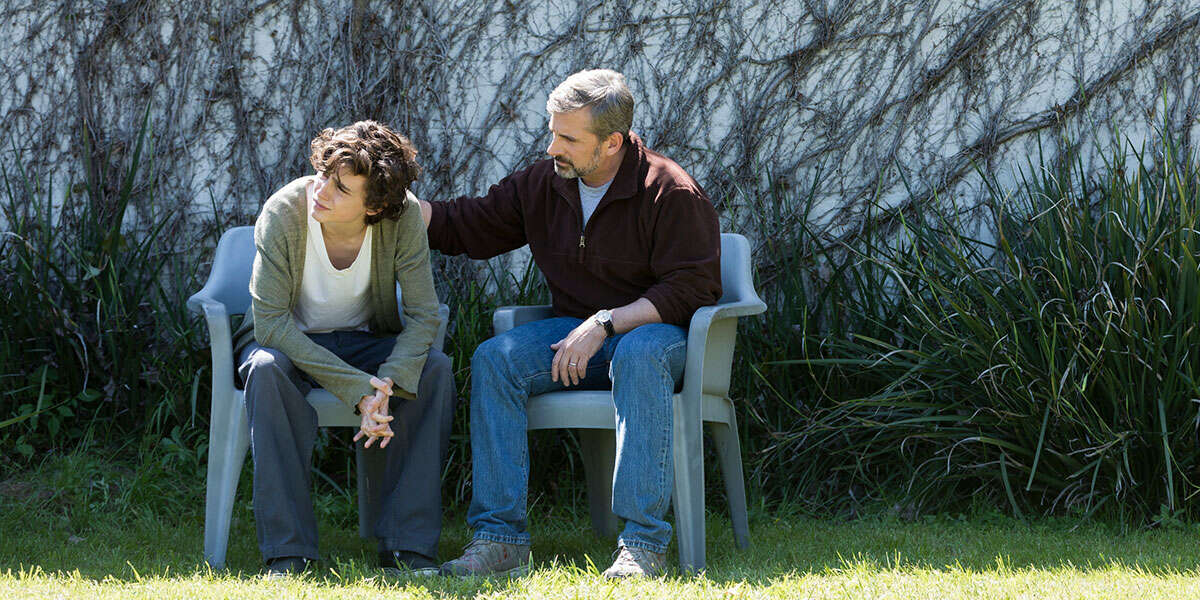 14. Beautiful Boy
Cast: Timothée Chalamet, Steve Carell, Maura Tierney, Amy Ryan
Director: Felix Van Groeningen
Why it's worth seeing: The trailer for Amazon's movie -- based on twin memoirs from father and son David and Nic Sheff's memoirs about the latter's addiction to meth -- bills it as a full-on tearjerker. That's not what Beautiful Boy actually is. Instead, it's a stark, occasionally exhausting picture of the cyclical nature of the disease and the numbing toll it takes on an addict's family. This has the potential to leave the audience cold, but there's something admirable about how straightforward it is, even as it jumps around in time. Chalamet never leans into tropes of the genre, presenting no easy answers for Nic's problems. Meanwhile, Carell's anguish is palpable.
13. Halloween
Cast: Jamie Lee Curtis, Judy Greer, Andi Matichak, Nick Castle
Director: David Gordon Green
Why it's worth seeing: The Halloween sequel -- which follows up the original -- is a bloody, sometimes funny trip back to Haddonfield that makes you cheer for quintessential scream queen Laurie Strode (Curtis). The crowd at TIFF ate this one up at its midnight premiere, which opened with a live appearance from Michael Myers himself -- or rather, a dude in a Michael Myers costume. It's not quite as artful as John Carpenter's 1978 classic, but it features some amusing inversions of familiar tropes.
12. Climax
Cast: Sofia Boutella, Giselle Palmer, Thea Carla Schott, Souheila Yacoub
Director: Gaspar Noé
Why it's worth seeing: You absolutely need to see the two magnificent choreographic sequences on the front end of Noé's crazy dancers-get-fucked-up-on-LSD movie, but he loses some of that exhilarating energy as the movie descends into drugged-up madness. A group of performers convene at a spooky, remote location in France. They are there to rehearse for a tour that will take them to the U.S. They're beautiful, talented, and horny. Then someone spikes the sangria, and shit goes down. The long-take dance numbers are incredible to behold -- especially the second, which is all shot from overhead -- and the initial moments as the dancers slip into deliriousness are intriguingly tense. But Noé loses tension as his cast flails around.
11. First Man
Cast: Ryan Gosling, Claire Foy, Jason Clarke, Kyle Chandler
Director: Damien Chazelle
Why it's worth seeing: Damien Chazelle returned to TIFF after La La Land with this Neil Armstrong biopic that's a technical wonder and especially impressive when viewed, as I did, on an all-consuming IMAX screen. (Universal shuttled critics out to Toronto's Cinesphere for the premiere.) Chazelle -- with the aid of a shaky camera -- manages to capture the claustrophobia of space travel, all culminating in a gobsmacking recreation of Armstrong's historic step onto the moon that beautifully conveys its magnificence and isolation. (And, by the way, there is a shot of the American flag planted on its surface.) But where First Man stumbles is, well, when it comes to the man. The movie makes a convincing case that Armstrong was suited to his job not just for his engineering skills, but also because of how he buried his emotions. There's certainly value in exploring this repression -- and his latent trauma over the deaths of his young daughter and colleagues -- but Gosling's performance is so aloof that it's hard to remain invested.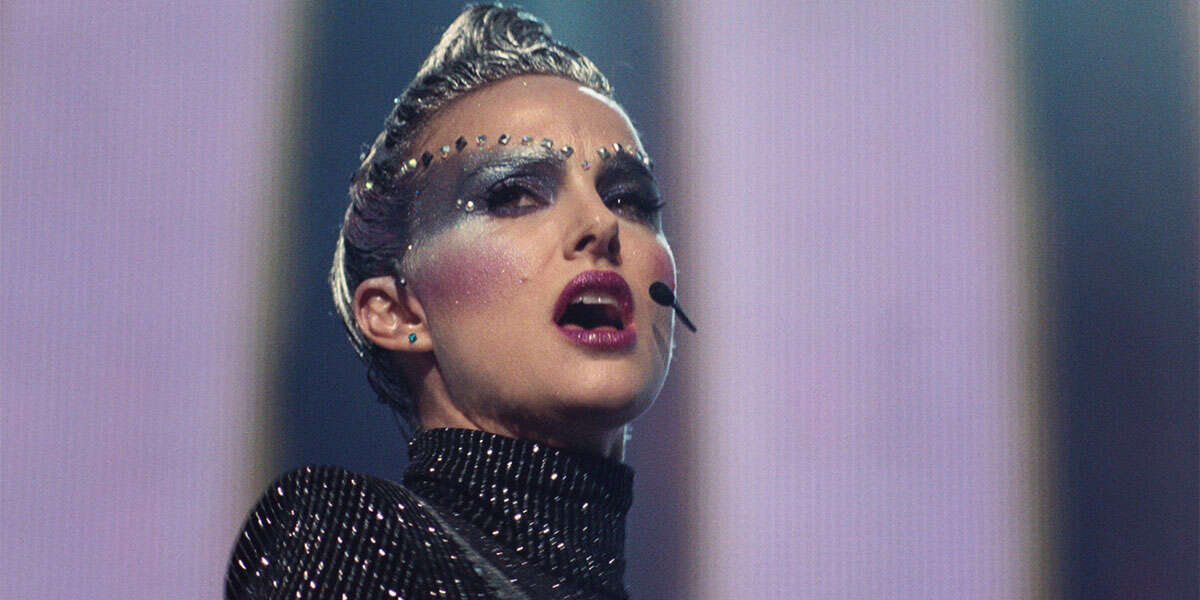 10. Vox Lux
Cast: Natalie Portman, Jude Law, Raffey Cassidy
Director: Brady Corbet
Why it's worth seeing: If you're anything like me, your first reaction upon leaving Brady Corbet's pop-star portrait will probably be: What the hell? What the hell is this movie trying to say? What the hell was that Natalie Portman accent? What the hell was with the shocking violence? But for as mind-boggling as it is, Vox Lux is also totally captivating. Told with aid from some Willem Dafoe voiceover and taking place in segmented fragments, it checks in on the life of global celebrity Celeste. When Celeste was a girl (played by Cassidy), she was injured in a horrific massacre that Corbet documents in graphic fashion. In the aftermath, she writes a song with her sister that gets national attention, putting her on the road to fame. Eventually we cut to the 31-year-old Celeste, now played by Portman, who's turned from determined young woman into a hot mess, bellowing in a thick Staten Island accent. This odd trip -- sort of about the numbing effects of pop music -- features music by Sia, and the effect of it is like reading a trashy tabloid in an arthouse theater. You feel sickened, but can't look away.
9. The Sisters Brothers
Cast: Joaquin Phoenix, John C. Reilly, Riz Ahmed, Jake Gyllenhaal
Director: Jacques Audiard
Why it's worth seeing: What looks from the outset like a slapstick western about two hitmen tracking their marks across hostile terrain ends up being something much more special in this adaptation of a novel by Patrick DeWitt. Phoenix and Reilly are oddly but perfectly matched as the titular bickering siblings, Charlie and Eli. Charlie has grown comfortable with the savage violence that rules their lives; Eli, the more sensitive of the two is growing weary. Meanwhile, their target, Ahmed's Hermann Kermit Warm develops an unlikely friendship with Gyllenhaal's John Morris as they bond over the prospect of an ideal society. What results is entertaining, but also deeply thoughtful, as it considers loyalty, greed, and what it really means to pursue the American dream. I didn't go into this movie expecting to be struck by its sweetness, but I left it marveling at how it exposed vulnerability in a quintessentially masculine genre.
8. Her Smell
Cast: Elisabeth Moss, Dan Stevens, Agyness Deyn, Gayle Rankin
Director: Alex Ross Perry
Why it's worth seeing: There were a lot of films at TIFF this year about tragic musicians, but Alex Ross Perry's Her Smell is the only one with a distinctly funky and appealing riot grrrl stench. Moss -- who has worked with Perry before -- is Becky Something, a character worlds away from her best known roles on Mad Men and The Handmaid's Tale. Perry opens on Becky raising hell, and though he doesn't film her using much, she's clearly trashed. Her state, influenced by some bullshit spirituality, is a threat to everyone around her, including her bandmates, her ex, and her young daughter. There's an air of poetry to Becky's mania -- a theatrical profundity, if you will, to her cruel rantings. And, all the while, Keegan DeWitt's score keeps a sense of menace at play. Her Smell unfolds in distinct chapters, and lands some years later where Becky has found something resembling redemption. The pace drags a little at times, but Moss's live wire work keeps it humming with uncertainty. And the original music rocks.

7. Burning
Cast: Steven Yeun, Ah-In Yoo, Jong-seo Jeon
Director: Chang-dong Lee
Why it's worth seeing: As our Cannes correspondent Jordan Hoffman wrote, it's not easy to explain Burning, a South Korean drama based on a Haruki Murakami short story. It starts out looking like a love story between Haemi (Jeon) and Jongsu (Yoo), two old acquaintances who run into each other one day. But it elegantly and chillingly morphs into something more mysterious and harder to pigeonhole. Haemi leaves on a trip where she meets Ben (The Walking Dead's Steven Yeun). He's sexy and rich. Still, there's something off about him, which gets clarified, to an extent, as Jongsu is driven deeper into obsessive behaviors. It's a lengthy ride you just have to take, but you won't be disappointed when you do.
6. The Old Man & the Gun
Cast: Robert Redford, Sissy Spacek, Casey Affleck, Danny Glover, Tom Waits
Director: David Lowery
Why it's worth seeing: Robert Redford is a handsome man. Of course you know this. But you'll be reminded just how dreamy he is -- even in his advanced age -- in David Lowery's The Old Man & the Gun. Redford has said that this is probably his last film, which is a sad but fitting declaration, because Lowery essentially made a mash note to the actor, casting him in a role that evokes the wily spirit he embodied in films like The Sting and Butch Cassidy and the Sundance Kid. Redford is Forrest Tucker, a charming, elderly bank robber who commits his crimes for the love of the chase. (Tucker's real story was documented by the New Yorker's David Grann.) He's full of charisma that wins over the woman he woos (Spacek) and even the detective tracking him (Affleck). Go see it to tip your hat to one of the greatest movie stars of all time.
5. If Beale Street Could Talk
Cast: KiKi Layne, Stephan James, Regina King, Colman Domingo
Director: Barry Jenkins
Why it's worth seeing: Barry Jenkins had a high bar to clear with this film, given that it's his follow up to Moonlight, the 2016 Oscar winner largely regarded as a 21st Century masterpiece. But Jenkins' extreme talent is not to be underestimated, and his adaptation of James Baldwin's novel comes pretty close to the magic of its predecessor. Jenkins keeps the structure of the book, leaving the narration in the hands of Tish, played here by the entrancing newcomer Layne. Jumping back and forth in time it charts her romance with her longtime friend, Fonny (Stephan James), which is interrupted when a racist cop arrests Fonny for a rape he didn't commit. No one captures the intensity of people's emotions -- without the use of any dialogue at all -- the way Jenkins does, and the moments between the lovers are glorious. Even when he leaves the cocoon of love they create for one another, Jenkins takes his time with the scenes. In one -- between Fonny and his friend Daniel (Brian Tyree Henry) -- he moves the camera back and forth between the men as Daniel describes his own wrongful imprisonment. It's a film about how unjust America is, and about what survives in the face of that injustice.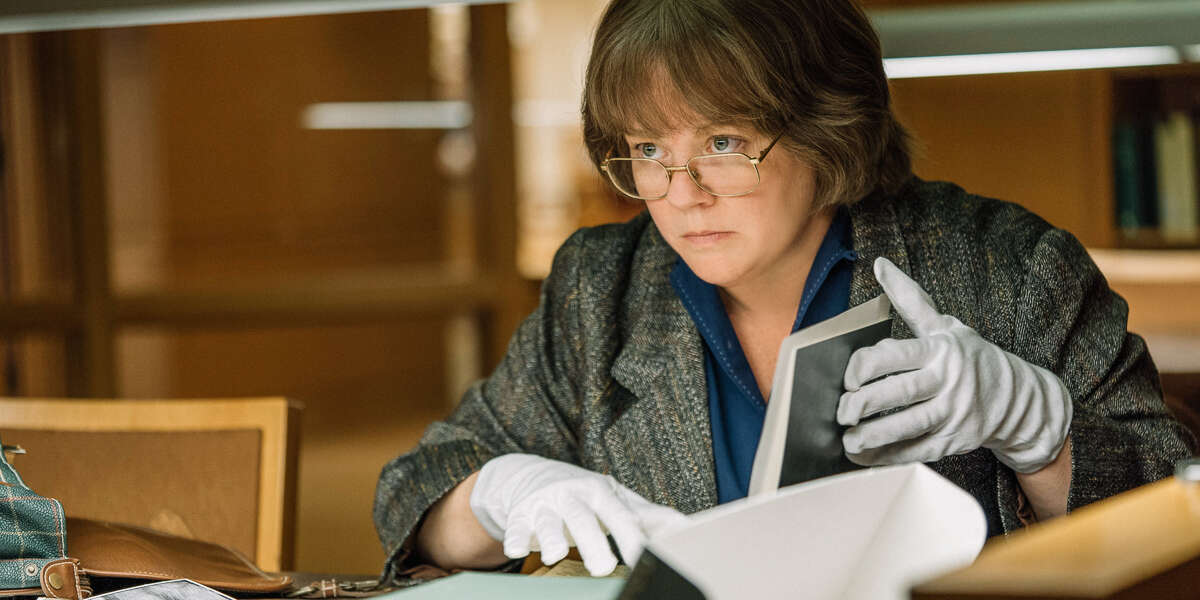 4. Can You Ever Forgive Me?
Cast: Melissa McCarthy, Richard E. Grant, Dolly Wells
Director: Marielle Heller
Why it's worth seeing: Marielle Heller's take on literary forger Lee Israel both glamorizes a literary New York that has almost all but faded away and calls bullshit on it. It's not overly cynical, but it burns like a glass of scotch, the likes of which Lee pours down her gullet over the course of the film. McCarthy is this denizen of the Upper West Side, a bitter biographer, who, when we meet her in 1991, isn't able to sell her work. She lives in a rancid apartment with her cat, and drinks alone at gay bar where she encounters an old acquaintance, Jack Hock (the marvelous Grant). One day when researching Fanny Brice she stumbles upon a letter from the famous vaudevillian. She goes to sell it, but upon learning that she can get more money for correspondence with spicier content, she starts faking the words of the greats. Her talent as a writer had always been to capture the true nature of her subjects, and now she has the chance to speak as Dorothy Parker and Noël Coward. She relishes it, enlisting Jack in her scheme. It's such a pleasure to see McCarthy in this role -- especially after dreck like The Happytime Murders. She's hilarious, as usual, and never sacrifices Israel's nastiness for likability, even as she makes you feel for her.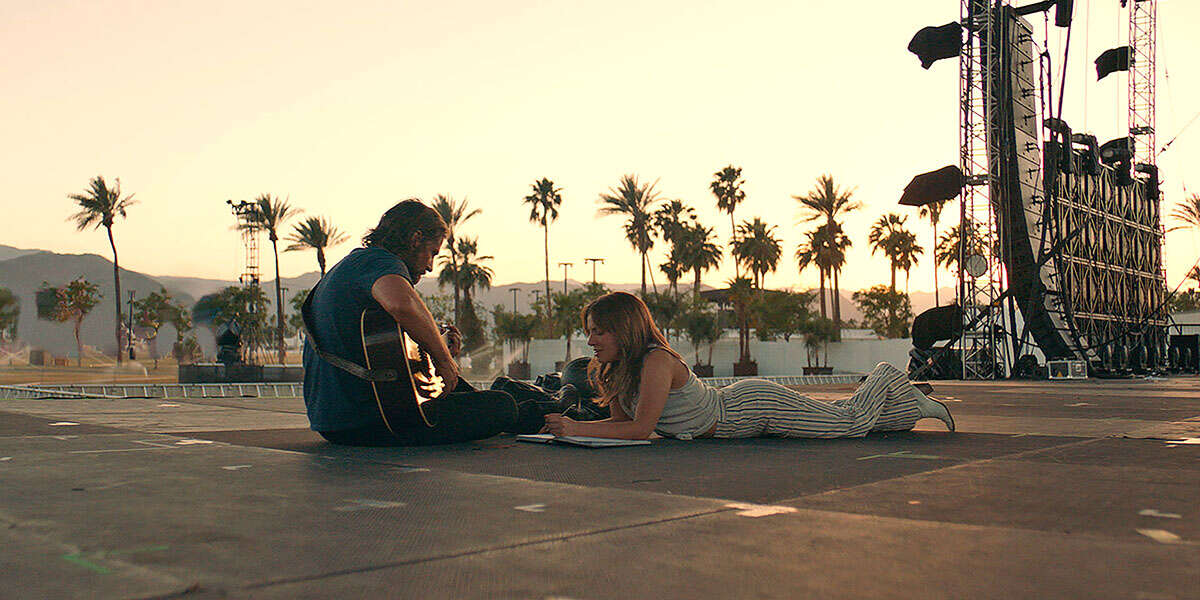 3. A Star Is Born
Cast: Lady Gaga, Bradley Cooper, Sam Elliott, Andrew Dice Clay
Director: Bradley Cooper
I smartly didn't wear eye makeup to the early morning screening of Bradley Cooper's rendition of A Star Is Born, co-starring Lady Gaga. This is the fourth version of this movie, so the plot is familiar: An alcoholic musician, Cooper's Jackson Maine, falls for a talented woman, Gaga's Ally. As she enters the limelight, he self destructs. Tears -- whether for Judy, Barbra, or now Gaga -- inevitably ensue. But, remarkably, Cooper refreshes this old story with incredible music, deeply felt performances, and a serious portrait of an addict.
The first part of this film is utterly intoxicating. Jack, drunk and in search of anywhere to get booze, ends up at a drag bar, where Ally, in pasted on eyebrows, sings Edith Piaf's "La Vie en Rose." They bond over the course of a night and end up developing a song in the glow of a supermarket parking lot. Jack persuades her to meet him at a concert, where he pulls her on stage and magic happens. For as infused with the buzz of new love as it is, Cooper's vision and performance is also unsentimental, at least when it comes to Jack's vices. Jack's alcoholism isn't pretty, and it's always present, even in his and Ally's most intimate moments.
A Star Is Born flails a little as Ally starts her rise to pop stardom. Cooper somewhat shortchanges her transformation, and takes a couple of unnecessary detours. But Gaga never loses Ally, even as she starts a little bit more like, well, Lady Gaga. She ends up on an exquisite note of sorrow. Oh, and I would be remiss not to mention the soundtrack, which has hooks galore; one song, "Shallow," is up there with Gaga's best.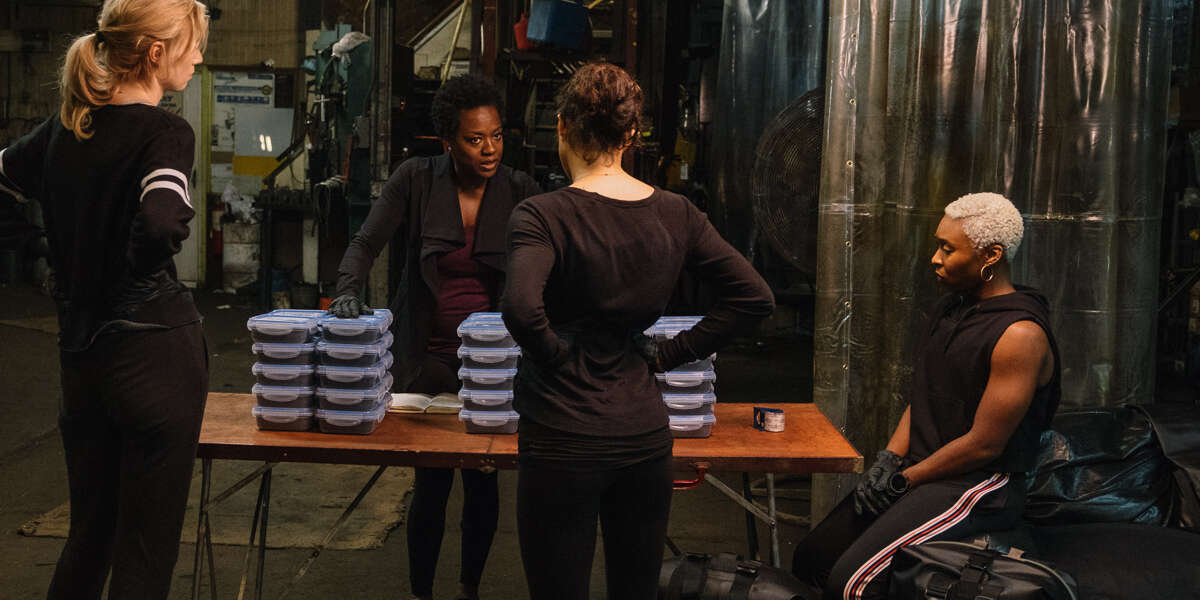 2. Widows
Cast: Viola Davis, Michelle Rodriguez, Elizabeth Debicki, Cynthia Erivo, Daniel Kaluuya, Colin Farrell, Brian Tyree Henry
Director: Steve McQueen
Why it's worth seeing: The 12 Years A Slave director enlisted the best cast of the year for this thrilling adaptation of a British television series. The simple log line is that a woman (Viola Davis) must lead a group of widows in a heist after their husbands are killed in a job gone wrong. But what's on screen is so much more complicated than that. Co-written by McQueen and Gone Girl author Gillian Flynn, Widows is about political machinations in the city of Chicago, race, and uneasy alliances between women. McQueen composes his images deliberately and strikingly, so they're infused with peril and significance.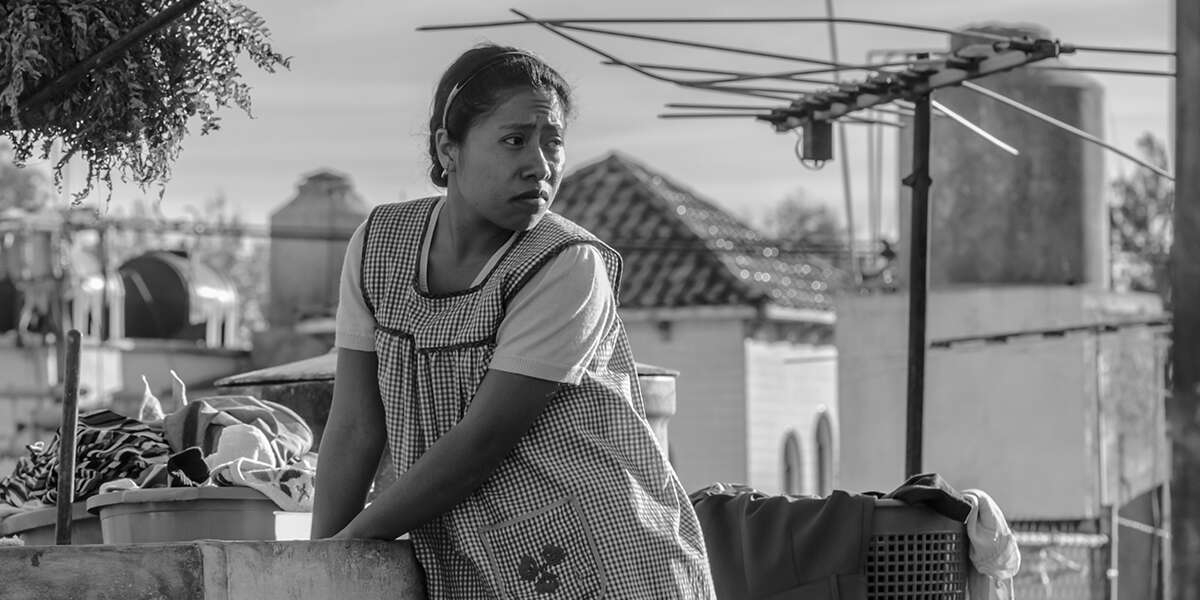 1. Roma
Cast: Yalitza Aparicio, Marina de Tavira, Nancy García García
Director: Alfonso Cuarón
Why it's worth seeing: Netflix has a rocky track record when it comes to original movies. Not that it hasn't released some good ones -- like last year's Mudbound, for instance -- but the streaming service has never reached the level of filmmaking achievement as it does with Roma, a gorgeous piece from one of the greatest directors working today. Cuarón's last film was the anxiety-inducing space epic with an intimate core Gravity. Here he's decidedly more Earthbound, but still infuses his black and white film with a quality that makes this incredibly personal creation feel towering. Just take the opening moments, a vision of water sloshing against pavement that seems as vast as the sea. Culled from memories of his own childhood, he directs the film from the perspective of Cleo (incredible first-time actress Aparicio), who works alongside Adela (García), for an upper middle class family. The household where Cleo does chores and cares for children is essentially a recreation of the one in which Cuarón grew up, but this less about his perspective than it is about hers. He follows her entirely, and she's the prism through which we understand the class structure and political turmoil of 1971 Mexico. Cuarón doesn't load the film with exposition for an American audience. Dialogue is in both Spanish and Mixtec, the dialect Cleo and Adela speak to one another, and there is no explanation of why student protesters are being massacred. But the immersiveness makes Roma an experience that is as potent as you'll find on any screen.
Sign up here for our daily Thrillist email and subscribe here for our YouTube channel to get your fix of the best in food/drink/fun.