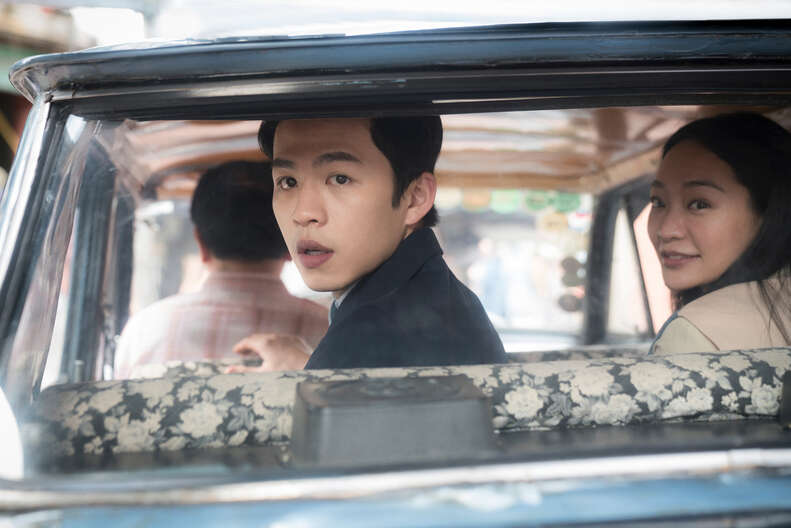 Netflix
Netflix
How 'Master of None' Creator Alan Yang Researched His Own Family for Netflix's 'Tigertail'
The director talks his new film.
To make his debut feature Tigertail, Master of None co-creator Alan Yang wanted to draw out stories and anecdotes from his family members, specifically his dad. But he didn't want to go "full O.J.: Made in America," he jokes. As in, he didn't want to treat his research like a journalistic endeavor. He wasn't making a deep-dive investigative documentary on his lineage. Instead, what he ended up with was a film that, in just over 90 minutes, traverses decades to tell the story of Pin-Jui, a character loosely modeled on Yang's own father and played by three different actors over the course of the movie. Tigertail can easily be described as sweeping, a visually beautiful and tonally somber piece that moves between countries and time periods even in its relatively short running time.
Yang is best known for his work in comedy. Before Master of None, he worked for years on Parks and Recreation, and his most recent endeavor was the wacky and existential Forever with Maya Rudolph and Fred Armisen. But Tigertail is a departure. It's a drama through and through, about familial duty, the immigrant experience, and an aging man grappling with his past. The movie begins with Pin-Jui as a child in Taiwan, forced to live with his grandparents while his mother finds work. The narrative follows him as he leaves behind a woman he loves for a future in New York in a passionless marriage. Ultimately, we find him as an older patriarch (Tzi Ma) shut off from his daughter (Christine Ko), herself in a period of transition. Its themes of disconnect between generations are reminiscent of Yang's Emmy-winning Master of None episode, "Parents," but Tigertail is more expansive in intent. I spoke to Yang about how he researched his own dad to bring the movie to life.
Thrillist: When did you start thinking about this as a film?
Yang: I've always wanted to write and direct a movie. It just was a matter of finding the right idea and the one I was passionate enough about. I had written a couple scripts and none of them were really up to snuff. I just didn't care enough, frankly. So when I started this one, it just felt different pretty early on. I was so motivated to write it that I had this sprawling, huge 200-something page script that kind of covered tons and tons of different characters' perspectives and spanned decades and generations and all of that. And then, from there, it was whittling it down, figuring out what the real heart of the story was.
What I ended up settling on was the father's journey because that was just so compelling and so rich and so complicated. There was never really any question for me about whether this was the right story. It just always felt right. That's intertwined with how much it means to me personally, and how emotionally I was affected by even just asking my parents about the movie, doing the research, and then, of course, going to Taiwan with my dad. It was always a natural fit for me.
What was the research process like in terms of talking to your family?
Yang: I tried to do it pretty naturally. I didn't make it super official and act like a journalist because that would be weird with my parents. I didn't take a recorder out and make it really scary and official. It was more like I let them know pretty early on I was thinking about making this movie, and I was in the process of brainstorming, writing it. Then I would gently ask them questions, sometimes via text, sometimes in person, sometimes via email. Just a mix and getting sort of dribs and drabs out, because if I were to make it super formal and sit down and just grill them, I don't think that would have yielded the best results. At the same time, I wanted to get stories and I wanted to get anecdotes and how they felt and various bigger picture things as well. But I wanted to leave space for imagination, and I didn't want this to be a one-to-one or just a simple recounting of their lives. So I didn't go full O.J.: Made in America level of detail. It's not it's not a 15-hour documentary series. It's a 90 some-odd minute movie with, frankly, a lot of creative license. I took a lot of liberties with the story and made creative leaps to, I hope, help enhance the emotional effect of a story and not necessarily adhere to the letter of the facts.
Was there anything that particularly surprised you that then made its way into the film?
Yang: One of the most surprising things to me was what ended up being the entire beginning of the movie, which is that my dad went and left his mom at very young age because she couldn't provide for him. In real life, he had two brothers, and so she already had two kids. His father passed away when he was very young -- he was a year old -- so his mother couldn't take care of him. She temporarily gave him up because everyone in the village told her that she simply couldn't take care of three kids and didn't have the ability. He went to live with relatives in the rural part of Taiwan. He told me the story about how there was a certain political situation going on in Taiwan and soldiers would come around and look for you. He told me about hiding in a grain bin. I was super blown away by that. I'd never heard that story before. And it just seemed to me like a perfect beginning of the movie because it was emblematic of the fact that he was so far from home. He wasn't seeing his family and he missed his mother. That seemed like a perfect segue into the beginning of the film, where he's not only missing his mother, but he's chastised for expressing his emotions about missing his mother. That's really the takeaway from that opening scene. That's really what stays with the character throughout the rest of his life up until the final frame.
The idea of not really knowing your parents is something you also explored in the "Parents" episode of Master of None. Were you already working on Tigertail when you and Aziz Ansari were writing that episode?
Yang: It was a little bit after we wrote that episode, but I was definitely working on Master when I was working on this movie. I was writing it while we were doing Season 2 of that show. So that gives you an idea of how long I've been working on the script and figuring out, honing it, and fine-tuning it, and just kind of getting into shape. So yeah, it was after Season 1, but it was during season two as well.
Was there anything in writing that episode that made you want to explore these themes further?
Yang: I think so. It really scratched an itch for me, which is that I'd never done anything that even verged on being that personal, and that episode ended up being really meaningful for me. I can watch it now and be like, "Oh, that is really relevant to me." And not only is it relevant to me, but I often say if you're writing about experiences that are incredibly personal to you, and are incredibly meaningful, and really affecting in your own life, there's a decent chance that someone else is going through the same stuff and when they watch it, they'll relate no matter who they are. When I say the same stuff, I don't mean, literally exactly the same stuff. Although in some cases, that's the case with other Asian American people. It can be the sort of emotional analog in your life, whether that's your parents or a different loved one in your life.
What were your cinematic influences?
Yang: I definitely looked at some Asian cinema and particularly some Taiwanese cinema. The kind of tone of the storytelling and the emotional timbre of the movie was inspired by Edward Yang and Hou Hsiao-hsien, who did movies like Yi Yi and A City of Sadness, [respectively]. Obviously, Wong Kar-wai visually, especially with the colors and the camerawork, and some of the costuming of the early scenes. That's just the highest compliment you can be paid as a director, like Wong Kar-wai and [cinematographer Christopher Doyle]. I wish! I wish I were close. It's not just Asian cinema. It's not just the Asian canon. I was actually going back and looking at some of the first references I was pulling. There were some of Terrence Malick's Tree of Life. There were some of Louis Malle's The Lovers. There are some frames that I just stole, frankly, and put them in [the movie]. It was a long process, and I had the luxury of taking my time and not shooting it right away, so I was kind of pulling these references. At some point, I think I'm gonna do a social post showing some of the frames that I stole. But not all of them!
What was your trip to Taiwan with your dad like?
Yang: I felt like I came away from that trip and I had the beginning of the end of the movie. I might have even had a draft at that point. Who knows? I can't remember the exact timeline. But it certainly wasn't a shootable draft, and it wasn't something that was ready to be made. The purpose of the trip wasn't research. It was actually to visit Taiwan since I hadn't gone in over 20 years, and obviously to spend time with my dad. It was a happy byproduct that it made me rethink the movie and made me rethink what it was about, it made me rethink a lot of things. And part of that was just seeing the look on my dad's face and trying to empathize, and feeling how he felt as he walked around in the streets of his hometown in his home country and thinking about how much he enjoyed speaking Taiwanese with the cab drivers. That's something he's not able to do in America very often. And the understanding that I don't think he necessarily regrets coming to America, I think it's provided him and his family with an extraordinarily prosperous life, but, you know, at the same time, he's never going to live in his home anymore. He's never gonna live in the country where he grew up, and he's going to miss those sights and sounds and smells and all the people he loved there. All of that started working its way into the movie more. It was an indelible experience for me.
What research went into creating those early scenes of Pin-Jui as a young adult? How did you find the record by Yao Su Yong?
Yang: That's really a combination of the research that we did, as well as some flights of fancy and some imagination as well. The song in particular is based on research I did, I just looked up popular music from that era. I wanted to find a song that symbolized where Pin-Jui was in his life at a time, which is a feeling of youth and passion and energy, which is kind of the energy that song, and then at the same time, a juxtaposition of Eastern and Western influences. So you have this very Western rock beat and an instrumentation representing his dreams of going to America and his love of American pop culture. And at the same time, you have a female singer who's singing in Mandarin, which obviously represents where he lives at the time and how he's torn between worlds. That was the song. Even from the trailer alone, so many people have asked about it. I think there's something about it that's really catchy and, I don't know, it just feels like it represents that entire section of the movie. And as far as the look too: I wanted those sections of the movie to be a little bit heightened and beautiful and dreamlike and cinematic, representing how he sees his past. That may not be a literal representation of what actually happened, but it's certainly how he sees it. In some ways, those memories seem more alive than his actual real life.
What made you want to condense that 200 page draft?
Yang: It just started feeling the most pure to me when we made the movie leaner and meaner. By no means does it feel like a slight film, I think. The final form we ended on, in my opinion, and of course, it's all subjective, I think we have the feeling of kind of an epic story and a grand scale and a scope because, obviously, it traverses generations and continents. But in addition to that, I hope, it doesn't feel like a slog. A lot of movies that are paced this way, and take their time, and don't hold the audience's hand through everything are like four hours long -- I'm not naming names. But I didn't necessarily want that either. I wanted it to, if possible, feel real and lived in and epic, but also feel compelling and tight as a movie. I tried to thread that needle. I think it's a movie that you can recommend to your friend and not be like, "Hey, it's this five and a half hour art film, block out your whole day, prepare a meal during the middle." No, you can watch this on a Friday night and tell your family to watch it and it's 90 minutes. You can call them afterwards and talk about it because it feels like a regular movie. It doesn't feel like, "Oh man, this is homework," and I really didn't want that.
Your dad did the voiceover for the beginning and the end?
Yang: It was a struggle negotiating with his agent, but we got his rate to a manageable level and it didn't blow out the budget of the film.
Was he excited about doing that? Was it something you had to convince him to do?
Yang: He is never visibly excited. He's pretty much not visibly excited about anything. But I will say I did it with him, and it was kind of a flyer for me. It was kind of an experiment. I knew I wanted the feeling of someone a little bit omniscient and detached, but also a little bit haunting for these voiceover pieces. It just occurred to me that a non-actor might be the right choice for it. Then I just started thinking about my dad's own voice. His voice has kind of a lower register, and I know how he speaks Mandarin with it with obviously a Taiwanese accent. I just gave it a chance. And as soon as we cut it in, I knew it worked. Our editor Daniel Haworth called me as soon as he cut it in and said, "You know I don't speak Mandarin but I just feel like this is working." I watched it, and was like, it's perfect. It starts playing over black and it just puts you immediately into this little boy's state of mind, and what he is missing, which is human connection, and how much he misses his mother. As far as the experience personally with my dad, I couldn't really get a read on it. I I texted him later and said, "Hey, that was great. You did a great job, and thank you so much for doing it and taking the time out of your day." I'll always remember this text, he just said, "You know, it was one of the best moments of my year, probably the best moment. I got to go do voiceover for a movie directed by my son. It's unbelievable. This is so enjoyable." I was like, that's great. He didn't mind it when I was giving him voice notes, apparently.
One of my favorite moments in the film is the Facebook conversation between Pin-Jui and Yuan, his former lover. It's such an accurate depiction of the way older people communicate online, and Tzi Ma's performance is so wonderful. What was the thinking behind those moments?
Yang: I was so torn because I'm kind of averse to showing technology in the movie because so much of it feels so timeless. And Facebook seems so like of our time. But the more I thought about it, the more I was like, you know, that's how older people connect. I was like, can they be writing letters? That just seems fake. Like, there's no way that would happen. So yeah, Facebook seemed like absolutely the most real version of this. And so we tried to shoot it in a sort of restrained, realistic way. It's one of my favorite sections as well, coupled with the scene where he reunites with Yuan. Because he gets to finally display some of what we've seen in his past. He gets to play that and he gets to play that sort of energy. Tzi was the ultimate choice for this role because he's put in the work, he has the experience, he has the chops, and he's getting to play a lead. He's getting to play a character who plays a broad range of emotions and carries the storytelling on his face. So much of the movie is coming back to him and him thinking back. You can look at a still image of Tzi and think about, boy, this guy has seen some stuff, you know? It's just that simple. Sometimes you don't need to overthink things it's about someone's actual visage and what it evokes in you. He was a pleasure to work with and I couldn't be happier that he gets to be starring in this film.
What was it like shooting those final scenes in Taiwan?
Yang: That's one of my favorite parts of the movie, and that's the part that always gets me is the final montage. Not to spoil too much about the movie, but one of the most meaningful things about the movie was that Christine's mom in Taiwan came to set for that last scene. And I remember giving her my headset because there were limited headsets. So for one of the takes, I gave the headset to Christine's mom. She told Christine afterwards she had never really seen her act in person, and she was like, you're a real actress and this is incredible. That was what I remember about shooting that scene.
Need help finding something to watch? Sign up here for our weekly Streamail newsletter to get streaming recommendations delivered straight to your inbox.