Timothée Chalamet Lost the Best Actor Oscar, But He Totally Deserved to Win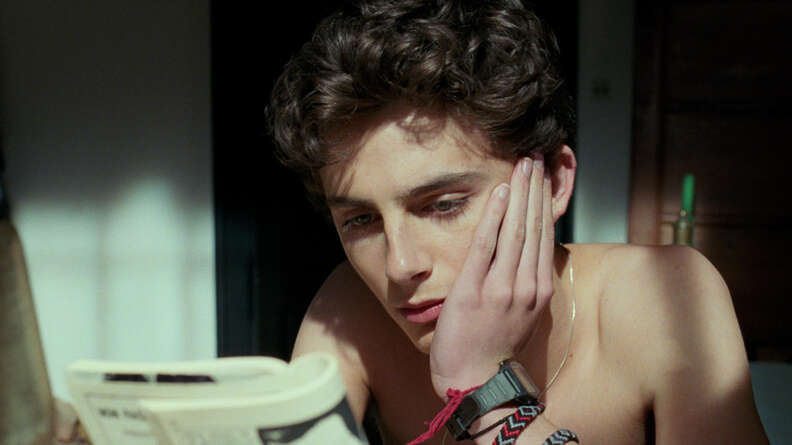 On January 22, 2017, 2,400 Sundance Film Festival attendees took to their feet to gift then-21-year-old Timothée Chalamet a deafening ovation. They had just witnessed his soon-to-be-breakout role in Luca Guadagnino's Call Me By Your Name, and specifically, those last few seconds, as his character Ellio stares into a roaring fire, contemplating the idea of his lover Oliver (Armie Hammer) marrying some woman and hiding his identity, Sufjan Stevens's "Visions of Gideon" plucking away in the background. The Sundancers were lucky their hearts still worked afterwards.
Fourteen months later, Chalamet is the talk of the town, a Internet heartthrob, an acting paragon, and the kind of giggly rising star that makes for the perfect meme. If the award season has a winner, it's the New York moppet. Except for one minor detail: Chalamet didn't actually win the Academy Award for Best Actor. He came close, but in the end, it wasn't his year. Instead, Gary Oldman took home the award for his performance in The Darkest Hour.
Well, we all make mistakes. Let's break this down.
While the Internet continues to obsess over Chalamet and Hammer's erotic peach scene, the glory of the young actor's performance is scattered throughout the entire film, in moments where Guadagnino captures the eruption of homosexual passion like he's filming Planet Earth. Ellio is a creature of habit in early scenes, and the mundanity of his ritual -- eating breakfast, lounging around the Italian villa, swimming, more eating, reading, more eating, wasting time with his girlfriend, sleeping, possibly more eating -- set the foundation for a prismatic awakening (and are the most overlooked, nuanced parts of Chalamet's performance). The camera is ready to watch him, steady and peering.
Oliver rains down into life like a fallen meteor, melting Ellio at the core. This is when Chalamet really shines, not only navigating what could be a taboo relationship between two men, but the heart-bursting effect of love at first sight. At first, he resists out of respect for his intellect; Ellio is a master pianist, an avid reader, and a student of his father's rigorous academia -- if anything could wake him up from this new feeling in his gut, it'd be logical thought. As we know, that doesn't quite work out. Ellio is in full bloom, and Oliver reciprocates the feeling. The type of lust Chalamet carves out for his character -- a young man's fire with an aging adult's wisdom -- is a special treatment of classic movie romance that has clearly connected with audiences. Come for the buzzy peach scene, but stay for Ellio's longing looks while Oliver dances at the club, the pair's first hook-up, and the week-long trip that gives them a taste of what life together could really look like. In Call Me By Your Name, it's the wistful days spent cycling around Italy and more intimate beats. Every sustained glance is a reason Chalamet deserved the statue.
Of course, that's not how it worked out. Gary Oldman earned his first Oscar for playing Winston Churchill in a clean-cut biopic, and while the movie is totally acceptable, there's little under the surface. Churchill is blustery... and so is Oldman behind 10 tons of latex. And as for the other nominees? Denzel Washington's work in Roman J. Israel, Esq. stands out as one of the most overlooked, odd piece of work of the year; Daniel Day-Lewis announced that Phantom Thread will be his final movie role, giving him an upper-hand in the politics of the Oscar race, but hot take: his work in Paul Thomas Anderson's creative odyssey is all in service of his costar, Vicky Krieps; and while we'd love to see Daniel Kaluuya's wide-eyed Get Out performance earn some love, his work in the movie is more passive than either Chalamet or Armie Hammer (who went totally overlooked by the Academy voting body).
This should have been Chalamet's career-igniting moment, and yet... he'll have plenty more. If we've learned anything from the actor's sensitive performances and camera-ready, Oscar-circuit attitude, it's that the kid's ready to stick around for eons. So Timothée didn't win his first shot at the Best Actor Oscar. Big deal. He'll be back. We know it.
Sign up here for our daily Thrillist email and subscribe here for our YouTube channel to get your fix of the best in food/drink/fun.
Matt Patches is the Executive Entertainment Editor of Thrillist, and a former writer for Grantland, Esquire.com, and Vulture. Find him on Twitter @misterpatches.