Tracking Timothée Chalamet's Gleeful, Wild Oscar Day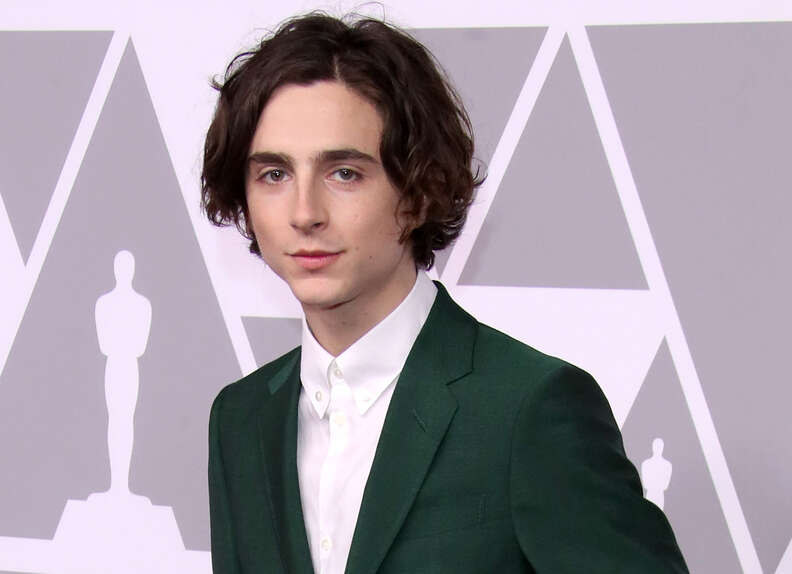 Dan MacMedan/Getty Images
Timothée Chalamet probably won't win Best Actor for his work in Call Me By Your Name. But it really doesn't matter at this point. Because our boy is going to the Academy Awards.
Chalamet, 22, is attending his first Oscars on March 5 as the youngest Best Actor nominee in nearly 80 years, where all signs point to him losing to Gary Oldman for being approximately the 34th person to play Winston Churchill in a movie, Darkest Hour, that approximately no one saw. Oldman, who has already won the Golden Globe, SAG and every other comparable award this year, and whom the Academy has been snubbing for decades, is more than deserving of his first Oscar after a legendary career. But Timothée (Timmy or Tim, as the Chalamaniacs call him), has already won something for more valuable than an Oscar: America's heart.
Yes, Chalamet is having a moment. He's being sexy on the cover of magazines like GQ, he's charming the entire late night talk show circuit, and he has achieved the rare distinction of near-universal adoration on social media (seriously, search his name on Twitter and count the people swooning). And this moment of his, built on his role as Elio, a young man meeting his sexual awakening in the form of a chiseled, all-American Armie Hammer, is probably going to last a very, very long time. Because here's the thing: he's an absolute fucking delight.
Chalamet himself is the Manhattan raised, white, bilingual son of a real estate broker and Broadway dancer who attended a prestigious performing arts high school and, in his young career, has already worked with the likes of Christopher Nolan, Christian Bale, Matthew McConaughey and Steve Carell. You'd be forgiven for assuming he's a pretentious brat. You'd also be forgiven for assuming Call Me By Your Name is all Oscar bait and no heart. But you'd be wrong. The movie is endearing as hell, heartbreakingly so, and though Chalamet's virtuoso talents drive it, he could not be less jaded by his early and sudden success.
I mean, look at him running around the Oscar nominees luncheon like a kid in a candy store meeting Steven Spielberg and Meryl Streep and Laura Dern.
Here he is apologizing to the audience of The Tonight Show with Jimmy Fallon. You see, he "[felt] bad" that they waited in line a long time and were probably wondering, "Who the hell is this guy?"
Here he is getting dapped up by Get Out breakout star Daniel Kaluuya, just one chapter in a budding bromance that is honestly the stuff of social media fan fiction.
He told GQ he pronounces his first name without the accent ("Timothy," not "Tee-mo-tay") because he "[doesn't] want to be totally unrelatable."
Now you might say, "Alex, Timothée knows damn well what he's doing. He's an actor after all. His charm is merely a calculated performance engineered to grow his fame." I would call you an asshole. Timmy has always been this way.
Here he is compulsively tweeting Frank Ocean lyrics, just like us, a full month before the US premiere of Call Me By Your Name in November kicked off Chalamania.
Here he is telling Matthew McConaughey all the way back in June that he feels like "the luckiest kid in the world" and loves learning from the legends he has gotten to work with. And yeah, did you guys realize Matthew Fucking McConaughey interviewed little Timmy?
"I am in total shock right now," Chalamet told the LA Times about his Best Actor nomination. "I could never have expected this in a million years. The other actors in the category are people that I've been studying and admiring for years, so I keep scratching my eyes trying to see what the fifth name is, seeing my name, and then scratching my eyes again."
The charm of Timothée is it seems like he's excited to be here as you are. He is us. So let's go with him to the Oscars. We'll be updating this live blog all night with every move he makes from the Red Carpet to the Oscars stage to accept his award (Just kidding, he's definitely not going to win).
Friday, March 2
So I cheated and started this live blog retroactively on Friday when Timmy posted on Instagram that he was channeling his inner Matthew McConaughey to ready himself for the chaos of Oscar weekend. Captioning a photo of the always-serene McConaughey meditating, Chalamet wrote "Spirit Animal next 3 days."
When McConaughey accepted his Best Actor Oscar for Dallas Buyers Club in 2014 to complete the McConaissance he waxed poetic about his future self being his own hero (or something like that). Chalamet is the hero we all wish we were at 22, so this is appropriate.
Saturday, March 3
The day before the Oscars, Chalamet shows up at the Independent Spirit Awards dressed like a gas station attendant and LITERALLY DABS while walking up to accept the Best Actor award. "I'm trying to savor this moment," he tells the audience. "I have a lot of faith in this industry. I have a lot of faith for our country."
This is the Oscars prologue we needed. He is ready. We are ready.
Will he show up to the Oscars Red Carpet tomorrow in a postal worker uniform? Who knows? One thing is for sure: he would pull it off.
Sunday, March 4 (OSCARS DAY!): 5:45pm EST
Chalamet has not arrived at the red carpet yet, but Call Me By Your Name screenwriter James Ivory has. Notice anything about his tux?
Yup, that's Timmy (or, more accurately, Elio) on his shirt. Amazing. The existence of this live blog is starting to feel validated. Chalamania has arrived at the Oscars before even Timmy himself. And Ivory is expected to take home the Best Adapted Screenplay award so Chalamet's chances at accepting an Oscar are now very high, even if it only comes via Ivory's outfit.
7:30pm: Timmy Arrives
The boy is finally here. Timmy strolls onto the Red Carpet in a glorious all-white suit because he is the purest human at the Oscars. His date is his mom and in photos he is flanked by the only slightly less charming Armie Hammer. Fans note that the combination of Chalamet's white suit and Hammer's velvet suit evoke Red Velvet cake. This is indeed a treat for us all.
"This is crazy to be here," Chalamet tells Michael Strahan on ABC's Red Carpet show. "I have nothing to add." Same, Timmy. Same.
7:37pm: Alright, Alright, Alright
Matthew McConaughey is becoming a major theme in this blog. Mere minutes after Chalamet finishes up with Strahan, McConaughey is there with a message for Strahan about his former Interstellar co-star: "He is here to stay." It has just occurred to me that Chalamet's all-white suit pretty much matches McConaghey's Oscar winning get-up from 2014. Just keep living, Timmy.
7:45pm: Tears of Joy
Timmy is crying. I'm crying. We're all crying.
7:50pm: The Bromance Continues
8:02pm: It Begins
And here we go. We have our first Timmy sighting of the evening. Look at him sitting there with his mom just beaming. Is there anyone in that room having a better time?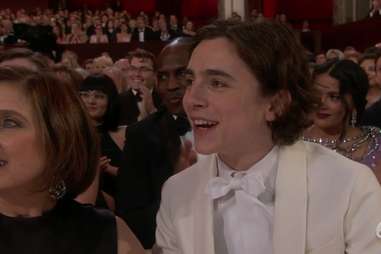 8:10pm: Kimmel is a Chalamaniac
It's monologue time and our host, Jimmy Kimmel, is of course giving Chalamet a hard time about his age. He jokes that Timmy is missing Paw Patrol, which is apparently some Canadian kids show about dogs. Good one, Jimmy.
Kimmel also says the purpose of movies like Call Me By Your Name is not to sell tickets, but to piss off Mike Pence. Timmy is taking these lame jokes in stride and throwing peace signs at the camera. By the end of this show, his laugh will deserve an Oscar on its own.
8:40pm: Red Carpet ICYMI
They are giving out the award for Best Documentary and have not shown Timmy in a really long time. I'm on Twitter now. Confirmed: Lin Manuel Miranda is a Chalamaniac too.
8:48pm: Story Time
Guys, Timmy is updating his Instagram story from the front row. Here he is shining the spotlight on his best friend in the world, Armie Hammer.
9:20pm: Call Me Baby Driver
The Oscars most beautiful baby-faced boys are all hanging out and having the time of their lives.
9:45pm: Blessed Be the Mystery of Love
Sufjan Stevens just performed "Mystery of Love," his nominated song from Call Me By Your Name, and Timmy was absolutely loving it.
Personally, I would have taken Steven's other song from the movie, "Visions of Gideon," and swapped Stevens on stage with Chalamet sitting by a fire crying in front of everyone to recreate the end credits.
10:10pm: Tiffany and Maya
TFW Tiffany Haddish and Maya Rudolph are killing with the room and roasting all white people with the best, funniest, where-is-their-movie presenter bit of the night so far.
10:30pm: James Ivory Wins!
Ivory, 89, just became the oldest Oscar winner ever and that means Timmy's face is up on stage accepting the award for Best Adapted Screenplay. Sure, it's just a picture of his face on Ivory's shirt, but the broadcast keeps cutting back and forth from Ivory and his shirt to a nearly-in-tears Timothée in the front row and, honestly, I can't tell the difference anymore. Timothée Chalamet just won an Oscar. Don't @ me.
How freaking cute is Timmy's excitement for his pal James!
11:30pm: Gary Oldman Wins Best Actor
Timothée was robbed.
We knew it was going to happen. We told ourselves it was fine. The Academy had decided it was time for Gary Oldman's Lifetime Achievement Oscar. That's how it works. That's how it goes.
It still hurts.
11:45pm: Chin Up, Chalamaniacs
Guys, Timothée wouldn't want us to stay down.
Go back and look at our boy Timmy's journey. He is having an absolute ball.
You don't have to win the Oscar to be the night's big winner. You know this; I know this; he knows it. Just look at him.
This was not an Oscars ceremony. This was a celebration, a parade in honor of the Year of Timothée. He conquered Hollywood when he conquered America's heart this winter. The Oscar is merely a footnote.
He's 22. He's learning from legends. He's staying humble. And he's having a ball!
Timmy isn't going anywhere -- Matthew McConaughey promised.
Chalamania has only just begun.
Sign up here for our daily Thrillist email and subscribe here for our YouTube channel to get your fix of the best in food/drink/fun.
Alex Garofalo is the SEO manager at Thrillist. In his free time he likes to write things, like screenplays and stories like about Timothée Chalamet.