'To All the Boys I've Loved Before' Is Netflix's Latest Dreamy, High School Rom-Com
Netflix
Netflix
Voiceover, if done poorly, can doom a movie. So I was a little trepidatious when I heard it being used in the new Netflix rom-com To All the Boys I've Loved Before to describe a fantasy sequence from a romance novel. That's a mouthful of a title, but the film is finely tuned and unfussy, an '80s throwback that trades mostly in sweetness without being cavity-inducing. And that's largely thanks to the soft narration of Lara Jean Covey, played by Lana Condor, that guides us through this tale of high school crushes and faked boyfriends.
Based on the YA novel by Jenny Han, To All the Boys centers on the vivid imagination of Lara Jean that becomes uncomfortably real when the five passionate love letters she has written and addressed to her crushes are somehow found in their hiding spot and mailed out to each boy. She's a girl that is aware of just how vulnerable she is, and so it's easier to be a wallflower and pour her heart out on the page than it is to open herself to potential real-life love and heartbreak.
Once the letters are dispersed, her chances of moving through life unnoticed disappear. A couple of them are, mercifully, moot points: One bounces, another's recipient never reaches out, and a third goes to a boy who comes out to Lara Jean as gay. The most problematic note heads to her next door neighbor, Josh Sanderson (Israel Broussard), her sister's new ex. But a solution to that awkwardness comes in the form of the fifth dude to get a letter: Peter Kavinsky (Noah Centineo). Reeling from his own break-up to a nasty popular girl -- and Lara Jean's former best friend -- Peter comes up with a plan: They will pretend to date, thereby helping both Lara Jean in avoiding the whole Josh situation and Peter in making his ex jealous. What could go wrong? Or maybe the more appropriate question is, what could go right?
Every aspect of To All the Boys is rendered sensitively, down to the way it carefully nods to Lara Jean's half-Korean identity. The movie gurgles with the repressed feelings of young people who can't quite figure out how to express their hearts' desires. It's hard to convey quietude on screen, but Condor shows us Lara Jean's nervous mind whirring even when she isn't saying anything. When we do hear her speak directly to us, Condor doesn't betray her character's innate internality. It truly feels like we're hearing her thoughts, not some overly rehearsed book report of her life. She's paired with Centineo, billed here (and in Netflix's upcoming Sierra Burgess Is a Loser) as the modern equivalent of Sixteen Candles' Jake Ryan. He mixes the natural charisma required for that type of sensitive, hot boy role with a casual, good-natured quality.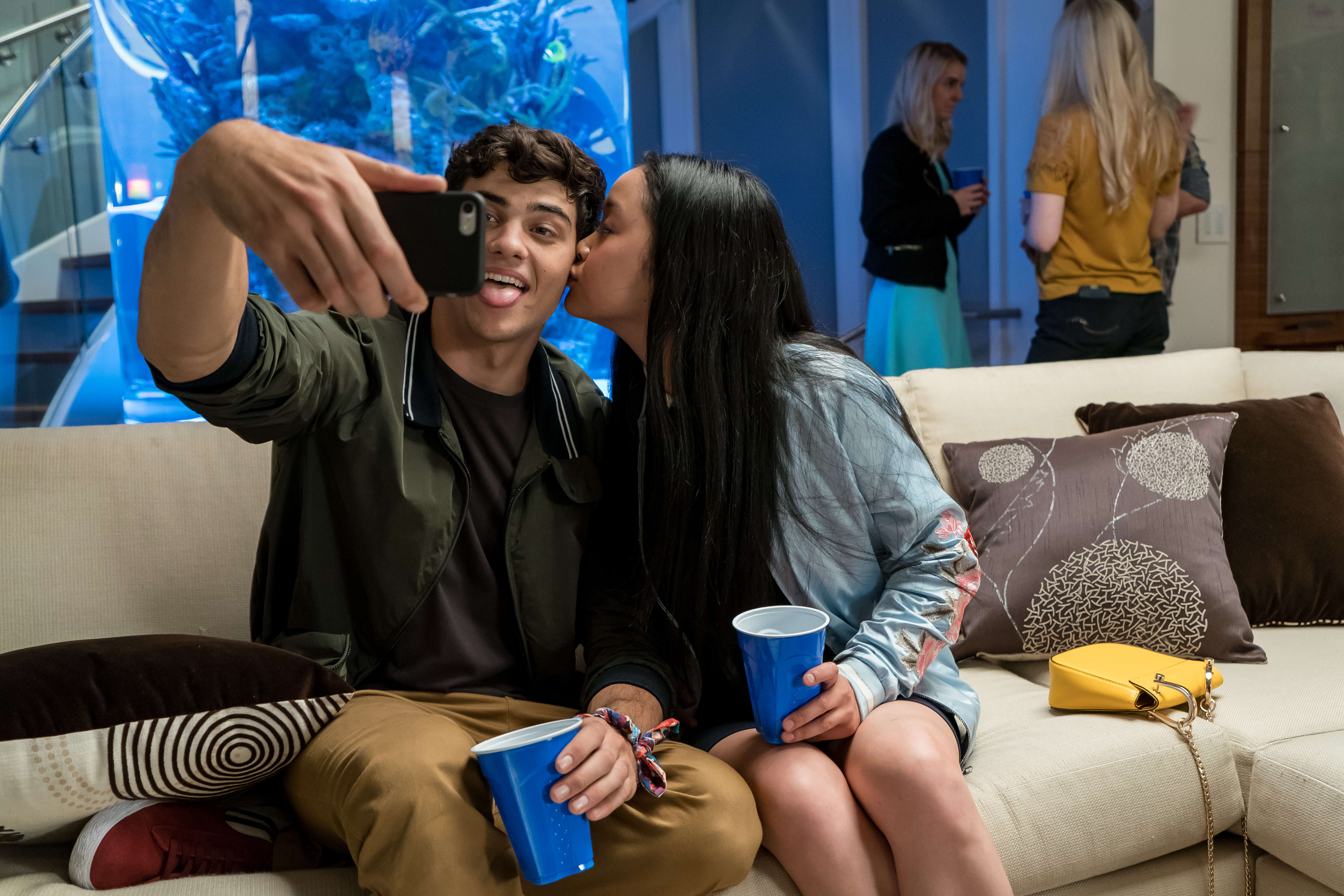 It's credit to director Susan Johnson that To All the Boys has a distinct visual style that could have been easily overlooked. Working in a color palette filled with pinks and teals, she isolates Lara Jean in shots, creating images that are are instantly evocative, speaking to the self-imposed distance our heroine puts between her and the other characters. It's stylish without being overly stylized -- sort of like the combat boots Lara Jean wears.
Like any teen story, To All the Boys has some growing pains. The last act barrels towards its swoon-y conclusion in a way that skips over certain beats, especially any one concerning Lara Jean's relationship with Josh. Still, we'll forgive it. Sure, it hits at core truths about new love. But it's still a fantasy, just not the bodice-ripping one of Lara Jean's teen daydreams.
Sign up here for our daily Thrillist email and subscribe here for our YouTube channel to get your fix of the best in food/drink/fun.