How Aaron Sorkin Turned 'To Kill A Mockingbird' Into His Own Story of Atticus Finch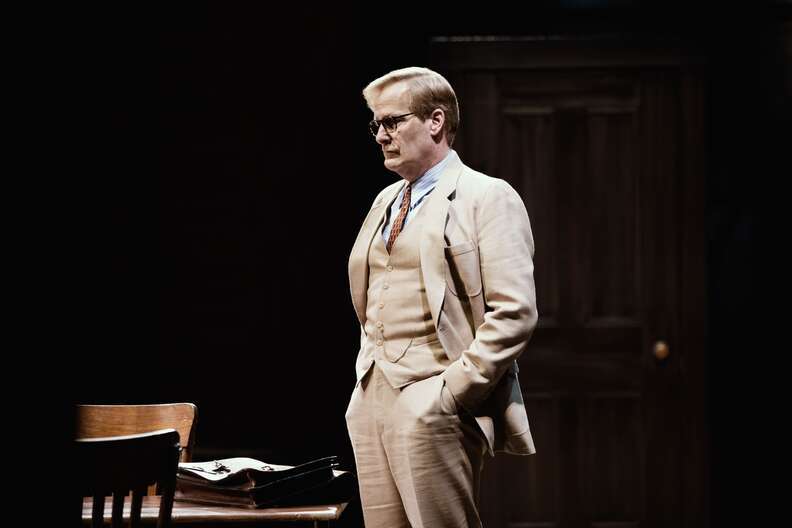 In bringing To Kill a Mockingbird to the stage, West Wing creator Aaron Sorkin and actor Jeff Daniels were not precious with anyone's fond memories of reading and connecting to Harper Lee's seminal novel. "I had a guy that came up to me this summer and said, 'I've taught the book for 35 years.' Period. End of sentence," Daniels tells Thrillist during a press day at New York's famed Theater District restaurant Sardi's. "And I said, 'Well, you're going to hate the nude scenes.' What do you do?"
The version of the story currently running on Broadway, written by Sorkin and starring Daniels as the lawyer Atticus Finch, has already been litigated, quite literally. The estate of the late Lee sued the production, claiming that it strayed too far from the original text.
With that dispute settled in May, Sorkin's retelling began its theatrical run in mid-December to acclaim and sold out houses. The play is still about Atticus, his two children, and the trial of Tom Robinson, a black man wrongly accused of raping a white woman. "It's still the book, but Atticus goes through the change versus Scout," Atticus's daughter and the narrator of Lee's novel, Daniels explains. "So right off the bat, no one's done it this way before. Same story, but different."
Thrillist also sat down with Sorkin, who explained how he approached adapting a canonical work lodged in American consciousness, and how no one but Jeff Daniels could have been his Atticus Finch.
Thrillist: You've adapted a lot of true stories, from Steve Jobs to The Social Network. To Kill a Mockingbird is fiction, but it's sort of an American truth, in a certain way.
Aaron Sorkin: Yeah, because it's in our heads. We think that this is a true story that I've adapted into a play.
Do you tackle those types of stories similarly when you're working on adapting them?
Sorkin: I guess the similarity would be this: With the nonfiction, Steve Jobs, Social Network, Moneyball. At some time, you understand that it's not journalism, it's not a photograph -- it's a painting. So you take the real thing and you set it aside and you try to tackle what it was about the real story that was dramatic to you, that you wanted to write about. And things like Did he eat his spaghetti with his left hand or his right hand? become a lot less important to you. And so there's a similar thing here.
You know about the lawsuit, which ultimately became about words. In the play, for a number of reasons, I wanted to make Atticus a little more human than he is in the book. That's the wrong way of putting it. There's nothing in the book that I wanted to correct. But I was just writing something new. This Atticus that I was writing is not carved out of marble. So that after the trial, when he loses, the lowest, most frustrating, most angering moment in his life, it was very natural writing something like, "Godammit, Cal," or having him drink whiskey. The estate said Atticus would never take the Lord's name in vain, Atticus would never drink, that kind of thing. That was frustrating because they were talking about a fictional character and what that fictional character wouldn't do.
Was it also frustrating because of the recently published sequel, Go Set a Watchman, since the character had already been through this pop cultural reimagining from Harper's own work?
Sorkin: First of all, it should be known I've never read Go Set a Watchman, specifically so I could truthfully say to you, "I've never read Go Set a Watchman." However, I'm obviously aware of Go Set a Watchman and some of the things that happened in it, so it's silly to say that Atticus would or wouldn't do something. It's up to whoever is writing Atticus.
How do you avoid the general anxiety of influence when you are working on something like this? It's cultural memory.
Sorkin: You give yourself a day to worry about that, to be anxious about it. And then you have to stop. You have to say, "can't do this halfway." You can't swallow the book in bubble wrap and try to gently transfer it to the stage. That doesn't make for great theater. You have to fall out of love with the source material, make this your own now. As far as the general zeitgeist of "you ruined my childhood," that kind of thing, you have to forget about it. There will, of course, be people who will only watch it through the lens of, "How closely did the play adhere to the book?" And that's just not a grade I'm interested in getting. It just wasn't something we set out to do.
Julieta Cervantes
Obviously you and Jeff have worked together so much over the years, including on The Newsroom. What made him right for the Atticus you were imagining?
Sorkin: To begin with, he's a phenomenally skilled actor. He is fearless, and I knew that he, too, was not going to be scared of Gregory Peck's shadow. If you ask him, I will bet you five dollars, that he'll say to you: "I'm originating the part of Atticus." There was never a conversation about anyone else playing the part. We never even said, "what about so-and-so?" We never even made a shortlist. It was just Jeff from the beginning. It is a tour-de-force performance that he is giving. I knew he would give one of those performances that I saw as a kid that made me want to write plays.
He also has the perfect sense of humor for what I was writing. Atticus is funny in the play. So, there was never a doubt. With television, I've seen Jeff have two days to prepare for a scene. With Steve Jobs, it was in three acts and we would rehearse 10 days and then shoot the first act, and then stop, rehearse 10 days, shoot the second act. So I've seen him have 10 days to prepare a scene. And with this, I've seen him have a year. And watching him methodically, brick by brick, put this together until the first preview -- he just exploded with it -- has really been a sight to see, that no one else will get to see. You'll just get to see the final product. But for me, sitting on the 50 yard line for that, has been fantastic.
Do you guys have a shorthand at this point? Is there a way that you communicating in terms of him understanding your work in a way that other people don't?
Sorkin: Yes, and Jeff is also good at passing that wisdom onto the other actors. He'll let them know, "With this, learn it first. Once you start learning the words and driving to the end of the line, your intention, your obstacle is going to be very clear to you, once you learn the rhythm of this." He knows that. The cast of The West Wing certainly knows that. Other people do, and so there's that shorthand, sure, but moreover he's a guy who really knows how to play this music. And I know that -- to use a baseball metaphor -- if I get the ball anywhere near the strike zone, he's going to hit it, he's going to get his bat on it. If I get the ball where he likes it -- low and outside, high and inside, and I can put some speed on it, some power on it -- he's going to hit it out of the park.
Sign up here for our daily Thrillist email and subscribe here for our YouTube channel to get your fix of the best in food/drink/fun.