The Greatest Tom Hanks Movie Moment, According to Tom Hanks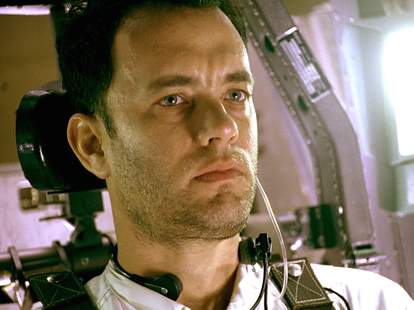 <strong>Apollo 13 |</strong> Universal Pictures
Tom Hanks is a national treasure, Last Week Tonight host John Oliver confirmed during a Tribeca Film Festival conversation with the Academy Award-winning actor.
Moviegoers knew Hanks was one of America's premier thespians thanks to movies like Cast Away, Forrest Gump, Big, Saving Private Ryan, Apollo 13, and Splash, but seeing him in person, he became the room's collective dad -- relentlessly funny, insightful, and tender. The guy who leveraged his acting career to produce an HBO miniseries about the Revolutionary War, created a typewriter app because computer word processing felt a little cold, appeared in Steven Spielberg's Bridge of Spies one minute and danced around in a Carly Rae Jepsen video the next, somehow was still that guy in real life. During Oliver's interview, Hanks waxed poetic on Turner & Hooch, and joked that he "peaked in the '90s." The crowd broke out into roaring laughter. This was the most ridiculous statement of the century.
Was Hanks aware of his own cultural value? C'mon, obviously not -- he's a modest guy. But between spot-on impressions of Forrest Gump director Robert Zemeckis and traumatizing tales from his youth -- Hanks' first moviegoing experience was supposed to be 101 Dalmatians, but wound up being the 1961 haunted house movie Scream of Fear -- Oliver did get Hanks to reflect on his "accomplishments," highlights contextualized by his own ambition. Surprisingly, Hanks' answers skewed more towards storytelling than his own on-screen personas. For instance, the actor remains proud of how he and director Ron Howard brought the Apollo 13 mission to screen, not because of his performance, but because of how faithful they were to the astronauts' accounts. Apollo 13 is big screen entertainment and it holds up under scrutiny.
"I'm a logic policeman," Hanks admitted to Oliver. When weighing a new script, Hanks says he looks for internal coherency. Will the movie play by its own rules? He gravitates towards historical fiction because the logic's more concrete -- stick to the facts, and the moviemaking can add to the thrills. But in movies that defy the truth, Hanks invests in his collaborators.
Hanks could have researched death row prison guards in 1930s Louisiana for The Green Mile, but says he didn't. As soon as the movie departed from the facts -- guards at the time didn't carry weapons out of fear of ambush, but in Stephen King's novella and the adaptation, they did -- Hanks waved off reality and stuck to the script. He'd encounter this throughout his career. The actor recalled sitting on the Forrest Gump bench, worried that this outlandish, history-bending movie would even work. Zemeckis saw it as a gamble, too. As he told Hanks in 1993: "It's a minefield!" Trust paid off -- Forrest Gump took home the Best Picture Oscar.
Hanks indulged his accuracy-hungry mind when he evolved into a producer. Apollo 13 inspired him to tell every astronaut story in HBO's criminally under-discussed From the Earth to the Moon. He documented World War II in intense detail in both Band of Brothers and The Pacific -- and he says a third exploration, Masters of the Air, focused on the 8th American air squadron and is currently gestating at the cable network. After producing a pair of documentaries on the 1970s and '80s, Hanks returned to fictionalization for History Channel's upcoming Lewis and Clark. He can't get enough of the past -- but it's not out of nostalgia. When it comes to telling contemporary stories, Hanks says "documentaries kick fiction's ass." He makes movies and series based on historical events because "you recognize yourself in them."
Surprisingly, the shining moment of Hanks' career, a scene where logic, character, and the blind risk of moviemaking crystalized into perfection, is not based on true events. Close, but still fiction. And he's not even acting in it. It's the scene in That Thing You Do!, Hanks' directorial debut, where The Wonders bandmates hear their single on the radio for the first time. "That transcended," he told Oliver. He knew it worked when none other than Bruce Springsteen expressed his adoration for the scene. The same thing happened to The Boss. Hanks got it right. "That Thing You Do... was really personal, just filled with joy," Hanks said.
Our national treasure, ladies and gentlemen.
Sign up here for our daily Thrillist email, and get your fix of the best in food/drink/fun.
Matt Patches is Thrillist's Entertainment Editor. He previously wrote for Grantland, Esquire.com, Vulture, The Hollywood Reporter, and The Guardian. His favorite Tom Hanks movie is Catch Me If You Can. Find him on Twitter @misterpatches.