The End of 'Tomb Raider' Teases the Beginning of a New Era for Lara Croft
Warner Bros.
Warner Bros.
This post contains spoilers for the end of Tomb Raider (2018).
Before she was a dual handgun-wielding archaeologist of supernatural artifacts, Lara Croft was a bike messenger and hobbyist MMA fighter in London. All iconoclastic, video-game-turned-movie protagonists have to come from somewhere, I guess, and the new Tomb Raider aims to spell out Croft's backstory several steps before she was ever raiding all those tombs. That means loads of exposition about the death of her father, the often disambiguated Lord Richard Croft (Dominic West), and a distinct moment, standing at the precipice of a newly opened sepulcher, where she becomes the Tomb Raider.
The best bit comes just after the end-credit title card, when we learn just exactly how she acquired her default weapons of choice: those two Heckler & Koch USP Match pistols. Of course, they originate from an unlikely place -- fitting for a reboot attempting to overwrite many of the franchise's assumptions of who Lara Croft is. This Lara Croft -- actress Alicia Vikander's version -- gets her guns from a curiously well-stocked pawn shop.
In the franchise-teasing scene, Lara, now an absurdly wealthy 21-year-old, returns to the bulletproof-windowed shop she visited earlier in the movie to buy back a coveted jade pendant she sold off for quick cash. Having not yet the accepted the inheritance of the massive Croft estate under the precept that her missing father was still alive, she used the money to fund an adventure to find his last known location. (Spoiler: She finds him! And then he dies!) On top of getting back the necklace, she sees a glass gun case and directs the shop owner, played by Nick Frost (Shaun of the Dead), to let her at it. She brandishes the weapons and it cuts to credits, putting the final brushstroke on the Lara Croft of the #TimesUp era.
The chatter around the movie reboot has focused on Vikander's body, specifically how her athletic build deviates from previous unrealistic and disproportionate depictions of Lara (even Angelina Jolie had to wear a padded bra for the role in the 2001 and 2003 film adaptations). Recent video-game iterations in 2013 and 2015 were at least starting to move away from the previous models already, putting her in a pair of goddamned pants instead of booty shorts for once, and not making her out to look entirely like the comically oversexualized wet dream of a stereotypical gamer bro living in his parents' basement.
This Tomb Raider also closely resembles 2013's self-titled game in its story, faithfully recreating several moments plucked from the playable adventure and retrofitted for the script. The boat jump? Washing ashore and getting hit in the back of the head by a mysterious figure? The rusty plane climbing and subsequent collapse and manning an old parachute through the forest canopy? When she gets stuck by a metal shank on a nasty fall and yanks it out herself? That's all in the game, albeit in a slightly different sequence but just as brutal. She hunts for the remote Japanese island Yamatai and fends off main evil guy Mathias Vogel (Walton Goggins) and his lackeys out to kick her ass (which happens, like, a lot) as they all fight to find the tomb of the Japanese death goddess Himiko first. But the forces that led her there -- and the once that keep all of the characters from leaving -- is a fresher interpretation.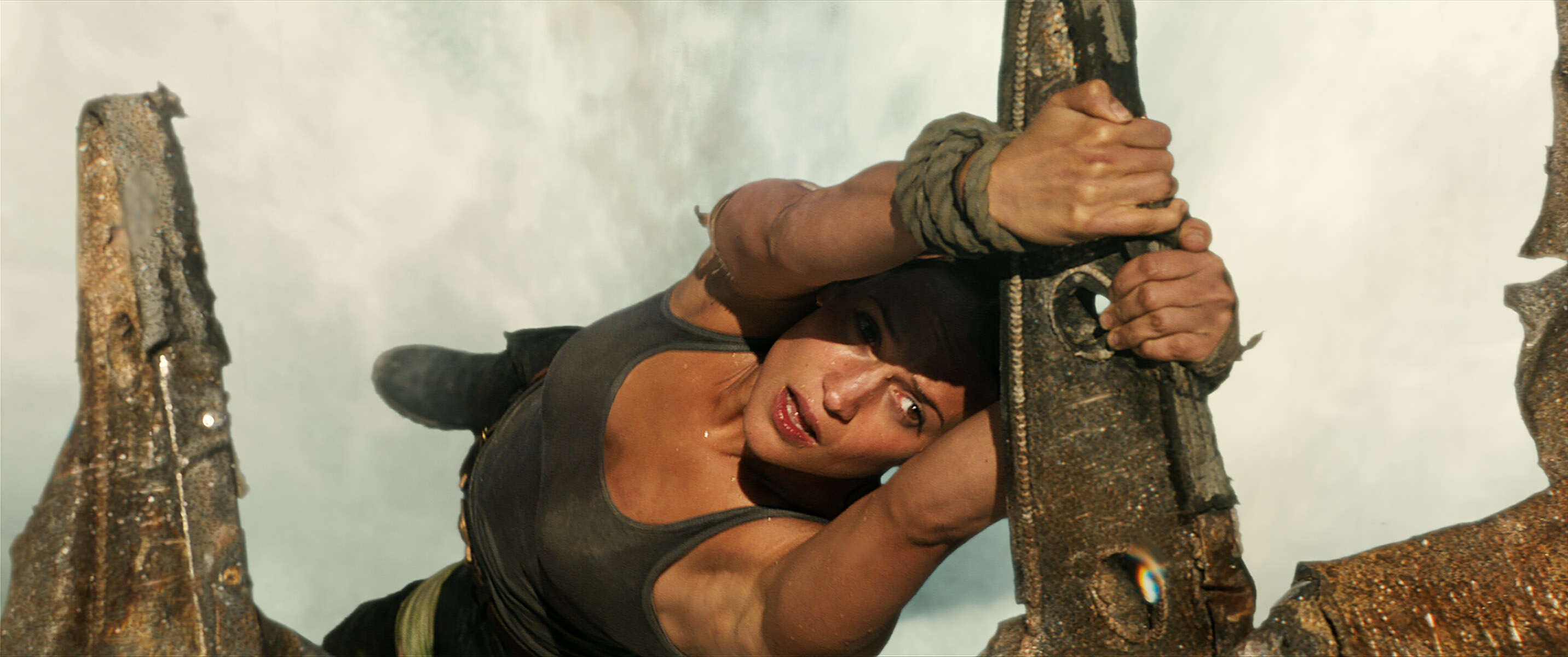 That's largely revealed in her connections to Trinity, the shadowy, pervasive, and villainous corporation that motivates the franchise's antagonists in a faceless, Illuminati-like effort. (In fact, in 2001's Lara Croft: Tomb Raider, one of the bad guys shouts "Illuminati!!!" as he tries to exert his power over time itself.) After Lara escapes Yamatai, she signs the contract that transfers the Croft estate to her. As she flips through a tome of assets her family's business controls, she encounters a few suspicious listings. We see her work through her recent memories, piecing together why her father was always absent, why Vogel kept mentioning his employer's stake in keeping his crew camped on Yamatai for seven years, why Ana Miller (Kristin Scott Thomas) -- a Croft Corporation executive and one of three women with a speaking role -- was gently pushing Lara to accept her inheritance. She runs back to her late father's office, appropriately underneath her family's mausoleum, to reveal the final clues to the truth, that Ana is masterminding Trinity's operations.
This is a slight break from 2015's Rise of the Tomb Raider setup. As the primary antagonist of the game, Ana is an agent for Trinity who woos Richard and becomes his girlfriend to access his research to find immortality -- though she ends up falling in love with him. With a villain established and in Lara's crosshairs, the movie leaves pieces of this storyline open as options for a sequel: If Vikander's Tomb Raider is most like the 2013 video game, the next will more than likely reflect 2015's. And with Square Enix just announcing that Shadow of the Tomb Raider is slated for release in September of this year, there will be plenty of source material to work off of for the foreseeable future. The question is whether moviegoing audiences will care.
Sign up here for our daily Thrillist email and subscribe here for our YouTube channel to get your fix of the best in food/drink/fun.
Leanne Butkovic is an entertainment editor at Thrillist. Follow her @leanbutk.