The Greatest Moments From Last Night's Tony Awards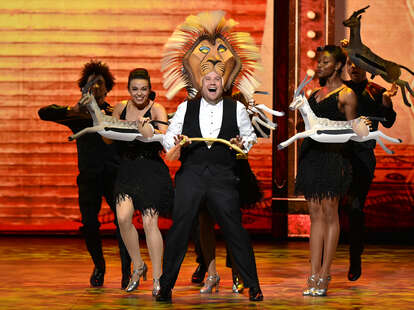 Theo Wargo/Getty Images Entertainment
The outcome of the 2016 Tonys was never really in doubt: at the outset of the evening, host James Corden, singing a parody of Hamilton's opening number, told the cast of the show, "Just you wait," as they lunged after the trophy in his hand. By the end of the night, it won Best Musical and 10 other prizes.
Wins for Hamilton's three stars, plus The Color Purple's Cynthia Erivo's victory for best actress in a musical, marked the first time people of color have swept the musical acting categories. ("Like the Oscars, but with diversity," as Corden described the ceremony.) Amid the celebrations, all who took the stage made a point of respectfully acknowledging the terror attack that unfolded in Orlando early Sunday morning.
Here are the best moments of the three-plus-hour telecast, from the somber to the joyful.
Corden opens with a moving statement on Orlando
Earlier in the day, the Tonys issued a statement that the show would be dedicated to those affected by the mass shooting in Orlando, which claimed the lives of 49 people at a gay nightclub. Before the ceremony began, Corden addressed the camera.
"On behalf of the whole theater community and every person in this room, our hearts go out to all of those affected by this atrocity," he said. "All we can say is you are not on your own right now. Your tragedy is our tragedy. Theater is a place where every race, creed, sexuality, and gender is equal, is embraced, and is loved. Hate will never win. Together we have to make sure of that. Tonight's show stands as a symbol and a celebration of that principle."
That was not the last time Orlando would be mentioned: in his acceptance speech, best actor in a play winner Frank Langella diverged from the standard thank-you spiel in order to speak about the tragedy.
"Alexander Hamilton" becomes "James Corden"
Of course the show kicked off with some Hamilton. Well, sort of. The lyrics of the opening number of Lin-Manuel Miranda's show were amended to be about Corden and the Tonys rather than Alexander Hamilton. For example, Leslie Odom Jr. changed "in the middle of a forgotten spot in the Caribbean" to "in the middle of a forgotten slot on late night." The fact that "James Corden" does not have the same number of syllables as "Alexander Hamilton" made this parody slightly awkward.
Oprah gives Corden a thumbs-up
Corden got to show off his song-and-dance chops, performing a tribute to musical theater geekdom. He cycled through musical theater history with callouts to The Lion King, Les Misérables, The Sound of Music, and Jesus Christ Superstar ("spoiler alert: he dies"). His penchant for the dramatic got the best of him as he trotted out bits of showstoppers like "Don't Rain on My Parade," "And I Am Telling You I'm Not Going," and "Rose's Turn." It got a little emotional, and Corden worried he "ruined the Tonys" -- but Oprah insisted he didn't.
Andrew Lloyd Webber and Steve Martin form a jam band
Throughout the evening, the telecast cut away to a stage outside the Beacon Theatre where casts from the nominated shows performed snippets of classic show tunes. The first group to inaugurate this bit was not an ensemble, but a "jam band" consisting of nominated composers. Basically the Traveling Wilburys of musical theater, the group played "Tomorrow" from Annie, accompanied by Andrew Lloyd Webber on the tambourine.
Titus Andromedon auditions for Hamilton
Everyone wants to be in Hamilton, including Unbreakable Kimmy Schmidt's Titus Andromedon. His "audition tape" -- aka a For Your Consideration ad to boost Kimmy's Emmy chances -- aired during the commercial breaks. Titus is the rare person who loves Hamilton for the wrong reasons. As he says: "I applaud your effort to keep women off the $10 bill. We're not ready, America."
Lin-Manuel Miranda writes a sonnet
Forgoing his traditional acceptance-speech freestyle, Miranda channeled Shakespeare and wrote a sonnet to accept his Best Score award. The poem celebrated Miranda's wife, Vanessa Nadal, and mourned the tragedy in Orlando.
"And love is love is love is love is love is love is love is love, cannot be killed or swept aside / I sing Vanessa's symphony, Eliza tells her story / Now fill the world with music, love, and pride."
We get our first taste of Moana
In case you didn't get enough Lin-Manuel Miranda on Tonys night, Disney debuted the trailer for its upcoming animated feature Moana. Miranda co-wrote music for the movie, which features the voice of The Rock.
Corden humiliates Josh Groban
Josh Groban lived everyone's nightmare: Corden surprised him with footage of his high school production of Fiddler on the Roof and broadcast it on national television. But let's be real, Groban's teenage Tevye was still pretty darn good.
Yep, everybody's been on Law & Order
To bastardize Jane Austen: it's a truth universally acknowledged that every New York theater actor has probably appeared on Law & Order. Case in point: Corden's bit in which he unearthed images of the likes of Claire Danes and Daveed Diggs on Dick Wolf's NBC franchise.
But he saved the punch line for Fiddler on the Roof nominee Danny Burstein, highlighting not one, but six (!) L&O appearances from the actor.
Cynthia Erivo blows everyone away
Cynthia Erivo gave the performance of the night, belting out "I'm Here" from The Color Purple. Maybe that's sacrilege to say, given that it was Hamilton's night, but Erivo was simply extraordinary. Naturally, she won for best actress in a musical.
The Obamas are bigger Hamilton fans than you
Who better to announce the phenomenon than its biggest champs?
"Trump" stars in The Book of Moron
Andrew Rannells got his big break starring in The Book of Mormon. At this year's Tonys, however, he performed some of "The Book of Moron" in full Donald Trump regalia. Glenn Close followed Rannells, singing the "I really need this job" refrain from A Chorus Line -- sorry, "A Clinton Line" -- dressed as Hillary.
The Hamilton cast cheers on Leslie Odom Jr. backstage
Hamilton's Okieriete Onaodowan -- known to fanatics as Hercules Mulligan/James Madison -- posted this backstage shot of the cast watching their Aaron Burr win for best actor in a musical. That, friends, is pure joy right there.
Barbra Streisand doesn't even open the envelope
She didn't even pretend any other show had a chance at winning the Tony this year. She dressed in a Hamilton-inspired outfit, and didn't even open the envelope when announcing the winner for Best Musical. As the Schuyler Sisters and Hamilton producer Jeffrey Seller said, how lucky we are to be alive right now!
Esther Zuckerman is a writer based in New York City. Her work has appeared on
Entertainment Weekly
, The Atlantic Wire, and Refinery29. Find her on Twitter: @ezwrites.