The Most Outrageous Moments from the 2019 Tonys
The 2019 Tonys awards brought denizens of the various theatrical underworlds to its broadcast, as well as some acting legends, a crop of sexy cowboys from Oklahoma, and, well, James Corden. The CBS late night host presided over the festivities, using every opportunity possible to remind the audience that he, too, could sing. But his performance was ultimately, and thankfully, overshadowed by the Broadway musicals and plays the night was honoring.
Hadestown, the musical retelling of the Orpheus and Eurydice myth, walked away with Best Musical and seven other awards at the annual celebration of the best of Broadway. The victor in Best Play was The Ferryman, about the IRA in the 1980s, while Breaking Bad alum Bryan Cranston won Leading Actor in a Play and the brilliant writer-director-actor Elaine May got Leading Actress. (See the full list of winners here.)
But the best moments came from trailblazing women like director Rachel Chavkin and actor Ali Stroker, who used their speeches for advocacy. That -- and all the singing and dancing. Let's revisit some of our favorite parts of the ceremony.
James Corden opens by insulting TV ...sort of
The Tonys thrive on opening numbers about how great theater is, and this year was no different. The show began with host James Corden on a couch singing about being depressed about Peak TV and the problem of too much to watch. It seemed like a classic bit for a different awards show, the Emmys. But a very obvious twist was in the works: Turns out it was actually a song about getting off your ass and going to see a Broadway show with "actual people in an actual space." Cue dancers! Cue cameos! Bryan Cranston got shamed for having to go to the bathroom, and then reworked the catchphrase from Network, the show for which he would eventually win: "I'm bloated as hell and I'm not going to take it anymore." Cast from the nominated musicals joined in on the fun, which then swerved to apologize for badmouthing TV. The whole thing had some of the same energy as the (funnier) sketch from the 2013 telecast in which Broadway stars like Andrew Rannells and Laura Benanti lamented their canceled series. Still! Live theater! It's invigorating, and I'm a sucker, so I had a good time.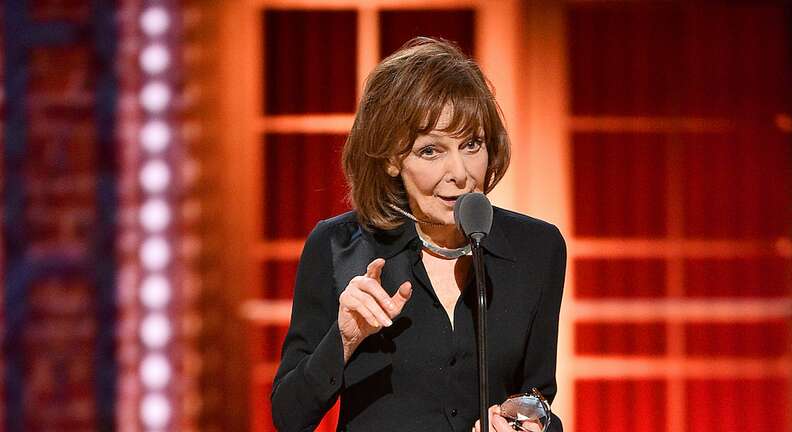 Elaine May wins Leading Actress in a Play
It's rare you get to see an actual legend on live TV, but when Elaine May won Leading Actress in Play for her devastating performance as a woman suffering from dementia in Kenneth Lonergan's The Waverly Gallery, that's exactly what happened. May, who began her career as a comedian, delivered a perfect punchline while praising her co-star Lucas Hedges, who plays her grandson. She spoke about the moment in the production in which Hedges character eulogizes hers: "Watching from the wings I thought, 'I'm going to win this guy's Tony.'"
Sexy Oklahoma! got everyone hot and bothered
Daniel Fish's new production of the Rodgers & Hammerstein classic Oklahoma! has been hailed as groundbreaking, inventive, and, yeah, sexy as fuck. And now the world got a taste of just how hot this take on the story of farmers and cowmen in the Oklahoma Territory is. Ali Stroker started things off by turning Ado Annie's "I Cain't Say No" into a lustful howl, and then everyone got on stage for the title song with an erotic rage. On Twitter, people were metaphorically fanning themselves. Playwright Jeremy O. Harris got explicit in his praise.
Rachel Chavkin and Ali Stroker gave powerful speeches
There were multiple causes for tears of joy during the Tonys and two of them came when Rachel Chavkin and Ali stroker won awards, respectively. Chavkin, winning for directing the musical Hadestown, beat out an all-male nominated category, and used her time to advocate for others in her field: "There are so many women who are ready to go. There are so many artists of color who are ready to go." A short while later Stroker won Featured Actress in a Musical for portraying Ado Annie in Oklahoma!, becoming the first performer in a wheelchair to ever win the prize. She spoke to that: "This award is for every kid who is watching tonight who has a disability, who has a limitation or a challenge, who has been waiting to see themselves represented in this arena. You are."
Beetlejuice roasted the audience
Most teams behind Broadway musicals don't change their lyrics for the Tony stage -- unless some censoring is required for network TV -- but the Beetlejuice crew rewrote its entire opening number to make it Tonys-themed. Alex Brightman, who plays the ghost with the most, started the number, a riff on the show's opening, from the audience. As it went on he ragged on the whole affair, calling out Adam Driver, among others, as he talked about the "whole 'being dead' thing."
Corden and past hosts hung in the bathroom
You'd be forgiven for being a little perplexed at James Corden's bathroom-set number about hosting anxiety. It was actually a parody of the song "Michael in the Bathroom" from the show Be More Chill, which was nominated for a sole Tony, Best Original Score. With zero context, it seemed like just another awards show bit. Last year's hosts Sara Bareilles and Josh Groban joined, and Neil Patrick Harris popped out at the last minute, totally unfazed by all the goings on.
There was karaoke during commercial breaks
Reportedly, Corden led the room in sing-alongs during commercial breaks that were tragically not broadcast. Ben Platt sang "Tomorrow" from Annie, while Pose star Billy Porter did "Everything's Coming Up Roses" from Gypsyand got a standing ovation.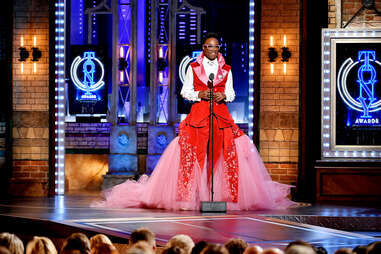 Billy Porter wore the curtain from his Tony-winning show
Before Billy Porter was gaining raves for his performance as Pray Tell in Pose and dominating red carpets from the Met Gala to the Oscars, he won a Tony for playing Lola in the long-running musical Kinky Boots, which recently closed. For his latest sartorial triumph, he and the team from Celestino Couture used the actual curtain from that show to create a magnificent gown. You can read about the entire process in the New York Times and marvel at his magnificence above.
Sign up here for our daily Thrillist email and subscribe here for our YouTube channel to get your fix of the best in food/drink/fun.