The Best Films at the 2021 Toronto International Film Festival
From crazy car sex to Tammy Faye Bakker, here are the movies to look out for this year.
After a year off, the fall film festival season has returned, though it's clear there are still some kinks to work out. Take, for instance, the Toronto International Film Festival, which decided on a hybrid digital and in-person event for 2021 kicked off September 9. While some film fans ventured North, others (i.e., me) stayed put and watched what they could from their couches. That said, some of the lineup's biggest titles—which have premiered elsewhere already—did not appear in an online queue. Those eager to see Denis Villeneuve's take on Dune will have to either be in Canada, attend the upcoming New York Film Festival, or wait until it drops in theaters and on HBO Max October 22. (Full disclosure: I have not yet seen Dune.) So in a complicated situation, here is the best of what I was able to catch at TIFF 2021, including the crazy car sex movie Titane, the Tammy Faye Bakker biopic The Eyes of Tammy Faye, and the play adaptation The Humans.
A Banquet
Release date: TBD
Director: Ruth Paxton
Cast: Sienna Guillory, Jessica Alexander, Ruby Stokes, Lindsay Duncan
Why it's worth seeing: In Ruth Paxton's eerie, visceral debut, a young woman, who walked in on her sickly father just after he committed suicide in a rejection her mother's care, starts having prophetic visions and refusing to eat. Paxton has a knack for beautifully photographing food, part of her overall metaphor about the kind of love we accept and reject from our mothers. Ultimately, the film can be a little too aloof, and the screenplay can be frustratingly vague, but in its best moments it's a potent concoction filled with chiaroscuro imagery.
Bergman Island
Release date: October 15
Director: Mia Hansen-Løve
Cast: Vicky Krieps, Tim Roth, Mia Wasikowska, Anders Danielsen Lie
Why it's worth seeing: The legendary Swedish auteur Ingmar Bergman hangs like a shadow over the latest from Mia Hansen-Løve's film which asks questions about inspiration in the story of a married filmmaker couple on a retreat. Vicky Krieps and Tim Roth play Chris and Tony, both directors and screenwriters themselves, who take a trip to Fårö, the spot where Bergman lived and made some of his most famous films. They are sleeping in the bed where parts of Scenes from a Marriage was filmed, if there weren't enough dread hanging over their coupling. But Bergman Island is not exactly about a marriage falling apart. Rather, it's about what we ask from art and artists and how we choose to utilize that in our own work. While Tony is diligently working on a screenplay, Chris is searching for what her next project will be, looking to establish herself independently of her influences, almost rejecting the darkness that has come to define Bergman's work. About midway through the narrative, a film within a film—Chris' idea—starts to take over, starring Mia Wasikowska as another woman who comes to this gorgeous and strange locale searching.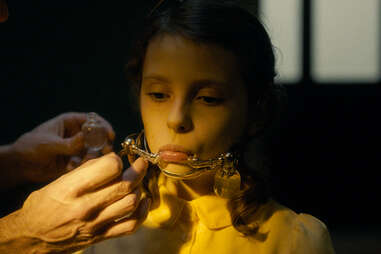 Earwig
Release date: TBD
Director: Lucile Hadzihalilovic
Cast: Paul Hilton, Romola Garai, Alex Lawther
Why it's worth seeing: Can I tell you what actually happens in Earwig, Lucile Hadzihalilovic's hypnotizing film based on a novel by Brian Catling? Absolutely not. I am being deadly serious when I say I had no idea what was going on while screening most of this often silent film that begins with the premise that a little girl has ice cubes for teeth. The film is not really about this child, though, or her strange affliction. It's about her caretaker, an awkward man, portrayed by Paul Hilton, and the way his memories and trauma refract throughout his life. It's deliberately obscure, but often enthralling.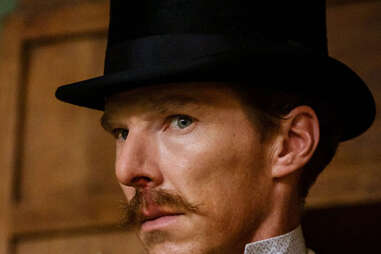 The Electrical Life of Louis Wain
Release date: October 22
Director: Will Sharpe
Cast: Benedict Cumberbatch, Claire Foy, Andrea Riseborough
Why it's worth seeing: This biopic about the artist Louis Wain, best known for his whimsical paintings of cats, is often just as quirky as you might expect given Wain's beloved subject matter. But it's also a tender romance and a portrait of grief. Cumberbatch, having quite the year, plays Louis, an eccentric who is captivated by the concept of electricity—not as a technological phenomenon, but as a philosophy of behavior. He finds love with his family's equally eccentric governess Emily (Claire Foy), and inspiration when they adopt a cat as she is dying of terminal breast cancer. It occasionally falls into all-too familiar tropes and hackneyed dialogue, but it remains charming all the way.
The Eyes of Tammy Faye
Release date: September 17
Director: Michael Showalter
Cast: Jessica Chastain, Andrew Garfield, Cherry Jones, Vincent D'Onofrio
Why it's worth seeing: Jessica Chastain's performance goes beyond the makeup in this Tammy Faye Bakker biopic directed by Michael Showalter of The Big Sick. Sure, the structure is often rote, charting the rise and fall of Tammy and her televangelist husband Jim Bakker (Andrew Garfield), but Chastain brings such heart and warmth to her take on the tabloid icon that the film is ultimately moving exploration of someone whose faith was both inspiring and misguided.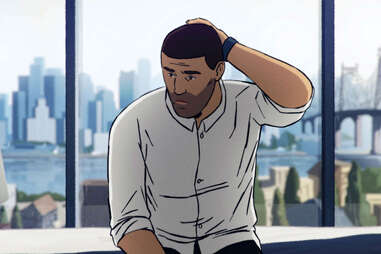 Flee
Release date: December 3
Director: Jonas Poher Rasmussen
Why it's worth seeing: Flee, which was picked up out of Sundance distributor Neon, is truly unique. This largely animated documentary is a memoir come to life that is as much about the story it's telling as it is about what the act telling that story means to the subject. Director Jonas Poher Rasmussen allows Amin Nawabi to narrate his experiences at his own pace. At present, Nawabi is an Afghan refugee living in Copenhagen with his boyfriend and working with an academic, but Flee uses drawing and archival footage to describe the arduous process of escaping the Mujahideen. The documentary appears to be as revelatory for Nawabi as it is for the audience watching it. Flee is not just about what Nawabi endured, but about the psychological tolls of a childhood constantly on the run.
Huda's Salon
Release date: TBD
Director: Hany Abu-Assad
Cast: Manal Awad, Maisa Abd Elhadi, Ali Suliman
Why it's worth seeing: In the early moments of Hany Abu-Assad's film, it looks like a slice-of-life story about a hair salon in the occupied West Bank where women chat about their days while getting primped. But quickly it turns into an intense thriller when the stylist Huda (Manal Awad) drugs and strips her client Reem (Maisa Abd Elhadi), taking photos of her naked passed out body in the arms of a man. This is blackmail because Huda is working for the Israeli secret service, and Reem is now under her control. What follows is a shaggy but unrelenting and morally ambiguous story about two women put in impossible positions by a society where they are oppressed.
The Humans
Release date: TBD
Director: Stephen Karam
Cast: Beanie Feldstein, Amy Schumer, Richard Jenkins, Jayne Houdyshell, Steven Yeun
Why it's worth seeing: Director and writer Stephen Karam adapts the film from his own Tony-winning play, the story of the Blakes, who all convene in one dingy, possibly haunted Chinatown apartment for a sparse Thanksgiving feast. It would be tempting to call The Humans a horror movie, but it's really horror adjacent. There are no ghostly reveals, just the spirits of broken dreams, fractured relationships, and what might have been. The performances are great, especially Houdyshell, who reprises her stage role, but it's the way Karam films the dilapidated duplex that gives the project its unmistakably unnerving mood.
I'm Your Man
Release date: September 24
Director: Maria Schrader
Cast: Maren Eggert, Dan Stevens
Why it's worth seeing: Director Maria Schrader, best known for her work on the Netflix series Unorthodox, has crafted an spiky rom-com about a professor, Alma (Maren Eggert), assigned to evaluate a robot designed as a humanoid romantic companion, Tom (Dan Stevens). Forced to undertake the gig by her boss, Alma resists Tom's algorithmic charms, cynical about the entire enterprise in general. Schrader's film follows some of the tropes that you might expect from the genre, but it's ultimately a deeper enterprise about what it means to love and have your needs met. And, hey, did you know Dan Stevens speaks fluent German? Because he does!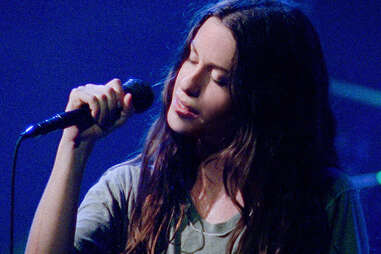 Jagged
Release date: TBD
Director: Alison Klayman
Why it's worth seeing: Look, if you're a diehard Alanis Morisette fan, this documentary, part of the HBO Max Music Box series, is not going to tell you much new. But it will reaffirm your belief that Jagged Little Pill is one of the most rarefied, special pieces of art to ever exist. Klayman's film charts how the album pioneered a space for angry, eloquent young women in rock and pop. It blessedly doesn't really try to explore the rest of Morisette's career, instead focusing on the Jagged tour and songs and how they were shaped by an industry rampant with sexism, even occasionally within Morisette's own orbit.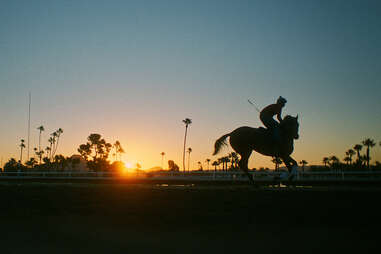 Jockey
Release date: December 29
Director: Clint Bentley
Cast: Clifton Collins Jr., Moises Aria, Molly Parker
Why it's worth seeing: Clifton Collins Jr.'s performance—which already won the Best Actor prize at Sundance earlier this year—anchors this beautifully shot drama about an aging jockey who is tested when an up-and-comer, claiming to be his son, seeks his counsel. Clint Bentley's drama can too often fall into familiar tropes, but it's Collins' work and the gorgeous cinematography that elevates it.
Listening to Kenny G
Release date: TBD
Director: Penny Lane
Why it's worth seeing: Penny Lane's wonderful documentary, which will eventually debut as part of the Music Box series on HBO Max, doesn't try to convince you that Kenny G's music is actually good. If the sax man's soft jazz repels you, you'll probably still be repelled. But it is a fascinating and nuanced look into the Kenny G phenomenon, filled with revealing interviews with the man himself, who is a lot more of a Type-A weirdo than you might expect. Lane is thorough: She offers context for Kenny G's rise and then describes how what he produced is actually contextless. She gives equal voice to his fans as to his critics. But it's Kenny himself who makes this exploration of a deeply uncool subject stranger and more delightful than your average music doc.
Petite Maman
Release date: TBD
Director: Céline Sciamma
Cast: Joséphine Sanz, Gabrielle Sanz, Nina Meurisse
Why it's worth seeing: Director Céline Sciamma, fresh off the success of Portrait of a Lady on Fire, brings us this gorgeous small-scale gem of a movie about the ways parents and children attempt to understand one another. Nelly (Joséphine Sanz) is an 8 year old whose grandmother has just died. With her parents, she goes to her mother's childhood home in the woods to clear out the rest of the deceased's belongings. Nelly's mom abruptly leaves to process her grief, and the girl is left to her own devices while her father finishes the rest of the tasks. Playing in the woods, she encounters another child her age, who she quickly realizes is the younger version of her own mother Marion (Gabrielle Sanz—yes, the actors are sisters). As Nelly and Marion bond, Nelly gains a new respect for her mother's dreams and sorrows. It's a short movie, but one that carries a deep weight.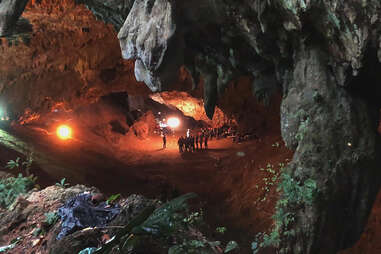 The Rescue
Release date: October 8
Directors: Jimmy Chin and Elizabeth Chai Vasarhelyi
Why it's worth seeing: From Jimmy Chin and Elizabeth Chai Vasarhelyi, the Oscar-winning directors of the climbing documentary Free Solo, comes another incredible film about an extraordinary feat and the type of person who craves this kind of adventure. Chin and Vasarhelyi turn their eyes toward the cave divers that rescued the trapped Thai soccer team and their coach in 2018. Using astounding footage, the directors document the improbability of the task, but The Rescue is also just as much about what drives someone to be a cave diver to begin with, looking into how the only way these boys and their coach could have been saved was by a group of eccentrics who simply love plunging themselves into the deepest reaches of the Earth.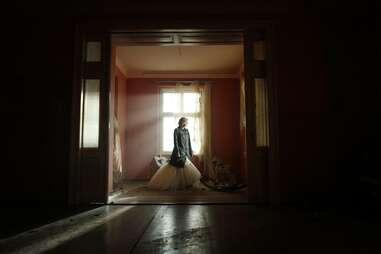 Spencer
Release date: November 5
Director: Pablo Larraín
Cast: Kristen Stewart, Sally Hawkins, Sean Harris, Timothy Spall
Why it's worth seeing: More than anything, Pablo Larraín's portrait of Princess Diana, described as a "fable" in an opening title card, is a ghost story. If you've seen Larraín's interpretation of Jackie Kennedy, Jackie, you don't expect a traditional biopic from the Chilean director, and Spencer follows in that mode. Set entirely in the three-day period between Christmas Eve and Boxing Day on the royals' Sandringham estate, the film is an impressionistic, melancholy, campy, and occasionally wry examination of Diana in spiral, played with precision but also deep sensitivity by Kristen Stewart. But unlike previous interpretations of this period—including The Crown—Spencer is less concerned with what actually happened than the toll it was taking on Diana's spirit. It's a haunted and haunting piece of work as Stewart wrestles with ghosts both figurative and literal, ones that are connected to her personal past and her nation's. Yes, it's gorgeous. Yes, the costumes are sumptuous. But Spencer is also a knowing, special, sometimes even quirky examination of iconography we think we know well.
Titane
Release date: October 1
Director: Julia Ducournau
Cast: Agathe Rousselle, Vincent Lindon
Why it's worth seeing: Let's just say this: Julia Ducournau's Palme d'Or winning film starts with a female serial killer having sex with a car that impregnates her. It gets even wilder from there, and also strangely sweet. Basically, it's the kind of movie you have to see to believe. Ducournau's debut feature was the gruesome cannibal tale Raw, and she once again does not hold back in this fable about Alexia (Rousselle), a woman with a metal plate in her head from a automotive accident as a child who has a taste for murder and an attraction to cars. With the police on her tail, she disguises herself as a long missing boy and is quasi-adopted by the boy's father (Lindon), who will do anything to fill the hole in his heart, even believing that this silent, pregnant woman excreting oil is his son. Titane is visceral and often disgusting, but ultimately a story about familial devotion and the kind of love parents and children seek from one another.