Everything You Need to Know About Forky, the Neurotic Breakout Star of 'Toy Story 4'
"His sole [drive] is to get back to the trash."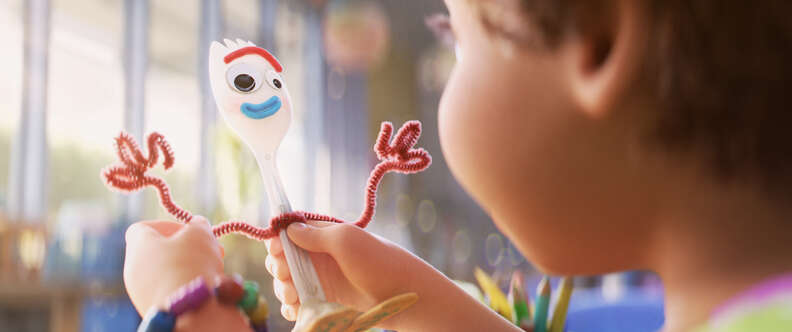 Each Toy Story movie has introduced new plastic or plush friends into the mix, but no character has ever rocked this franchise to its core quite like Forky. As soon as he was introduced, screaming, in first teaser for Toy Story 4, Forky sent minds reeling. Who is he? What is his purpose? Is he a toy? Can a spork with pipe cleaner arms be a toy? Can a spork be named Forky? Will he be an annoying sidekick like Frozen's Olaf? Or will he speak to some core truth about human existence?
Well, the good news is: Forky is the best. Forky brings a touch of the existential yearnings of Waiting for Godot into his movie, while remaining a funny delight. Forky is sad. Forky is silly. Forky is us. Please, read and learn about Forky; you will be better for it.
Who is Forky?
I'm so glad you asked. Forky is a new character in Toy Story 4. He is constructed from a spork, a pipe cleaner, some googly eyes, clay, and a popsicle stick. He is created by Bonnie, the kid now in possession of Woody and the gang, during an especially traumatizing first day of kindergarten. A little boy steals her arts and crafts supplies, so a stowaway Woody fishes out the materials that make Forky from the trash to present to Bonnie, who does him up. Immediately, he is terrified of being alive. He may be plastic, but he is utterly human.
I guess I should have asked "what" is Forky…
Should you have? What is existence anyway? Who gets to define whether a thing is a "who" or a "what?" Who are we? What are we? Forky has as much of a soul as you or I. He just happens to be modeled from trash. He is just like the clones in Kazuo Ishiguro's Never Let Me Go: sentient and seeking purpose.
All right, Big Book Reader. So is Forky a... spork?
Yes.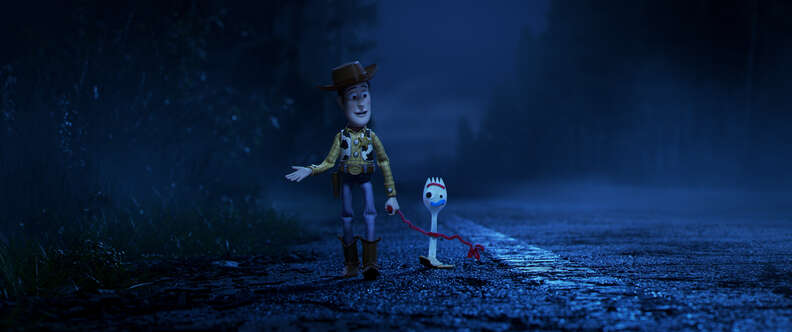 Why isn't he called Sporky then?
OK, fair question. Director Josh Cooley actually has an explanation. He told Collider that when he showed the design of Forky to his 4-year-old son and asked the child to come up with a name, the resulting answer was "Fork Face." That obviously probably wouldn't fly with Pixar, but Cooley reasoned that there was something to the whole "fork" thing. "The fact that he's around the same age as Bonnie and didn't know what a spork was, I thought, 'That feels real to me,'" he said. "So Forky felt like a kid would name him that." Happy now?
What are Forky's likes and dislikes?
Forky loves the trash from whence he came. Forky hates anything that's not the trash. To him, the trash is warmth and safety. As Tony Hale, who voices him, told People magazine: "His sole [drive] is to get back to the trash." Forky does not consider himself a toy; he considers himself garbage and the garbage bin is where he belongs, his home. Sentience is a prison for him. As much as Bonnie loves him, he cannot accept her affection because the only affection he knows is the trash.
So, Forky is suicidal?
Uh, he's not... not. One sequence shows him continually trying to escape Bonnie's clutches for any trash heap in sight. He leaps to her little plastic wastebasket in her bedroom; he aims for a big can outside of a fast food restaurant. He wants the sweet relief of trash. Eventually -- after he leaps out the window of a moving vehicle -- Woody explains to him that he is comforting to Bonnie in the way trash is comforting to him and thus he must be reunited with his person. It's important to note: We do not know if trash equals death for Forky. Perhaps trash is just a home to Fork, and he is the ultimate introvert.
Isn't that heavy for a kid's movie?
Have you ever seen a Pixar movie, bro? That shit gets deep.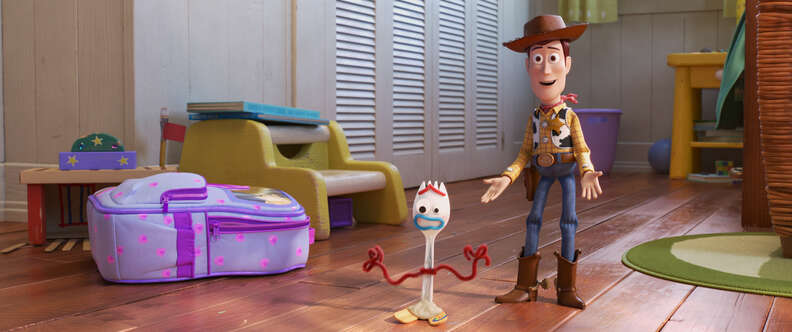 Fine, sure. Well, who voices Forky?
As mentioned above, Forky is voiced by Tony Hale of Arrested Development and Veep fame. In both of his most famous roles, Hale's characters are besotted with a domineering woman -- his mother Lucile Bluth and politico Selina Meyer, respectively. Forky is no different. He and Woody find themselves in an antique store lorded over by the sweetly pernicious Gabby Gabby (Christina Hendricks), a talking doll who has seen better days. Even though Gabby has it out for Woody, Forky becomes entranced by her.
Is Forky trans?
The short answer is: No, not canonically. But that hasn't stopped a fundamentalist panic over the character from cropping up. Ever since the first teaser for the film was released, there has been an aggressively transphobic movement that assumes, because Forky is neither fork nor spoon, that he is trans and is therefore indoctrinating children by being in Toy Story 4. Of course this is ridiculous. Not the notion that Forky could be trans -- that would be great -- but that Forky is somehow an insidious tool of the left meant to corrupt children. Naturally, allies on Twitter have started to reclaim Forky, and just like the Babadook before him, he is starting to gain status as an LGBTQ icon.
Sign up here for our daily Thrillist email and subscribe here for our YouTube channel to get your fix of the best in food/drink/fun.