6 Life Lessons We Picked Up From 'Trainspotting'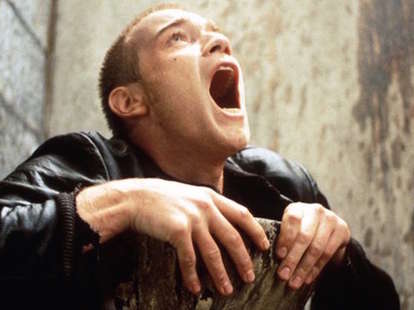 Trainspotting, which hit American soil in July 1996 after being released to widespread acclaim in the UK earlier that year, was an instant classic -- and it remains hugely influential 20 years later. Culled from Irvine Welsh's 1993 debut novel of the same name, the Danny Boyle gem tracks Edinburgh-based heroin enthusiast Mark Renton as he ping-pongs between junkie depravity and ineffectual recovery efforts, while also dealing with his degenerate Scottish pals. It's essentially a dark comedy about heroin addiction.
Unlike other celluloid examinations of drug culture that followed, Trainspotting is neither a heavy-handed cautionary tale (Requiem for a Dream, The Basketball Diaries) nor a stoner comedy (Dude, Where's My Car?, Jay and Silent Bob Strike Back). Filtered through searing sarcasm and magical realism, Trainspotting manages to be pretty honest. As such, its story lacks a moral -- or, at least, an easily identifiable, digestible moral. "Hard drugs are super fun, except sometimes you die" certainly doesn't count.
But that doesn't mean we can't learn anything from Trainspotting, even if no one directly involved with the film intended for it to be educational. And this is a list of those lessons! The reasons? There are no reasons.
Always keep your cat's litter box clean
The Grim Reaper delivers his second-most unsettling blow to the Trainspotting gang via the parasite Toxoplasma gondii, when (spoiler) AIDS cuts the proverbial balls off Tommy's white blood cells. According to the Centers for Disease Control and Prevention, Toxoplasmosis afflicts more than 60 million Americans, meaning there's approximately a 19 percent chance that you, dear reader, are already among the infected.
Toxoplasma develops on undercooked and visibly cyst-ridden meat, which, we're guessing, most of you wouldn't eat. Cats, on the other hand, tend to devour birds and mice without regard for sanitation. Hence, Tommy's adorable yet ignored kitten's feces scattered haplessly around his apartment provides the nudge that topples the once active and promising young man into his grave.
Trainspotting, like the CDC, reminds us to minimize the quantity of cat poop in our residences by scooping litter boxes regularly, preferably while wearing plastic gloves, then giving our hands a rigorous, soapy scrub.
Even if someone's seen your junk, you can still be a Disney Princess
Here in 2016, thanks to smartphones and cloud storage, we will all be naked on the internet at some point. This inevitability may concern those of us with political aspirations, as well as would-be actors dreaming of careers in children's entertainment. Trainspotting offers no solace to the former bunch, and, we should mention, not much nudity overall.
However -- a brief frame of Ewan McGregor's manly bits did not disqualify him from the Obi-Wan gig in the very kid-friendly Star Wars prequels. Or playing the talking candlestick in an upcoming live-action Beauty and the Beast remake. And Kelly Macdonald, despite the lack of garments in her most prominent Trainspotting scene, went on to portray Princess Merida in Pixar's Brave in 2012. Oddly enough, Kevin McKidd, who plays Tommy, is also in Brave, and also pretended to screw in Trainspotting. And Robert Carlyle, while fully clothed as Begbie, crosses far harsher lines of good taste as Trainspotting's de facto villain; nonetheless, Carlyle has played fairy-tale antihero Rumpelstiltskin in Once Upon a Time for five years and counting.
It's okay if Bob Dole hates you
As previously noted, Trainspotting isn't really a pro- or anti-drug movie; it's a movie with a lot of drugs in it. Though that may sound like a simple enough concept in 2016, in its day, it left many individuals frightened and confused, such as senator and then–presidential candidate Bob Dole.
Though eager to report that he would never voluntarily watch such an unclean display himself, Dole condemned Trainspotting for what he assumed was its glorification of hard drug use. Firing back, Capitol Records satirized Dole's stodginess and antiquated knowledge of professional baseball with an amusing ad in L.A. Weekly. Soon after, the Clinton campaign exploited Dole's roundabout -- and in retrospect, baffling -- support of the tobacco industry in its ultimately successful reelection propaganda.
If you're the only girl and your scenes get cut, you'll still be on the posters
For its many attributes, Trainspotting can't claim a roster of proactive female characters. It's got Allison, the criminally negligent mother; Lizzy, the unsympathetic ex-girlfriend; Gail, who accidentally gets poop on her face; and Mrs. Renton, who behaves exactly how you'd expect a well-meaning housewife with a heroin-addicted son to behave.
Then there's Diane -- Renton's adolescent love interest who only shows up in three additional scenes following their first one-night stand, and vanishes before the movie's third act. Despite Diane's limited role, promotional posters feature Kelly Macdonald happily hissing alongside co-stars with substantially more screen time, and that's kind of weird!
Perhaps savvy but not entirely honest marketing experts thought they'd sell more tickets if moviegoers assumed Trainspotting wasn't the bromantic comedy it pretty much is. It's also possible that whoever arranged the posters saw an early cut of the film in which Diane's otherscenes hadn't been edited out, and therefore knew of no reason not to include her on the poster.
Lou Reed's "Perfect Day" makes any situation bearable
Trainspotting's second-act overdose is surely among cinema's most soothing near-death scenes. Astutely, considering the withdrawal-induced waking nightmare soon to follow Renton's episode, the filmmakers shot for low-key irony.
"'Perfect Day' was known as such a sublime, beautiful song, which it clearly is, so there's no point in trying to reemphasize that directly," director Danny Boyle told Rolling Stone back in 2013. "We carry these songs with us. So you try and say: 'I know it's in your head. But try and see your favourite, favorite song used like this. Go on, then…'"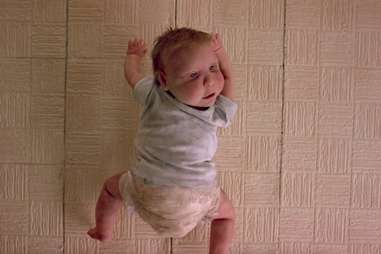 If you have a baby, don't forget to feed the baby
Trainspotting imparts that mothers and fathers with babies must remember to provide those babies with food and water on a daily basis. Otherwise the babies may die, and friends of the grieving parents may hallucinate those babies as soul-devouring zombies on the ceiling while detoxing, and the experience shall prove especially upsetting for everyone involved.
Sign up here for our daily Thrillist email, and get your fix of the best in food/drink/fun.
Barry Thompson's work has also appeared in Paste, Esquire.com, the Boston Phoenix, and several other publications of varying degrees of repute. For a vegetarian, he is a fucking evil shot. He tweets @barelytomson.