The 10 Best Moments from All of Amazon's 'Transparent'
Jill Soloway's groundbreaking Amazon series, Transparent, concluded over the weekend with its musicale finale. (Say it like it's spelled!) From its beginning in 2014, the show received praise and criticism as it carried the burden of being the first major series to ever center on a transgender character. Its greatest creative and political misstep, casting the cisgender Jeffrey Tambor as trans woman Maura Pfefferman, would eventually lead to the show's premature end. Multiple trans women came forward with sexual harassment accusations against Tambor in 2017; Amazon fired him in 2018, and any remaining future for the show seemed uncertain.
 
But after a two-year hiatus, Transparent came back -- with a twist. Instead of a full season backfilling Maura's death and the fallout from it, the end of this risk-taking show opted for a feature-length musical to conclude its five-year run. To send off Transparent, we're reminiscing over the show's best moments, starting with the literally show-stopping final number.
Amazon
10. Ari's Bart Mitzvah/"Joyocaust" 
Finale, "Transparent Musicale Finale"
After discovering their non-binary identity in Season 4, the youngest Pfefferman sibling enters the finale with a new name: Ari. Still living in Israel, Ari has become a priestess ("Judaism is so binary!" they lament) and is considering becoming a rabbi. The only problem is they never got Bat Mitzvahed; Maura allowed them to cancel it so she could go to a cross-dressing camp -- from the beginning of the show, it's one of Ari's deepest-held resentments.
 
The finale concludes with Josh throwing Ari an impromptu Bar/Bat/Bart Mitzvah. Shelly gifts Ari Maura's tallit, a prayer shawl traditionally given to men on their Bar Mitzvah. Ari recites their Torah portion and everything seems touching and respectful, and, maybe, a little solemn. But then Shelly interrupts: Why is Judaism always so serious? She suggests we need an opposite reaction to the Holocaust. She suggests this… in song. "Joyocaust" is the ensuing tongue-in-cheek ensemble number that features lines like "take the concentration out of camp." This song acts as a perfect conclusion to a show that always pushed boundaries and found humor in darkness.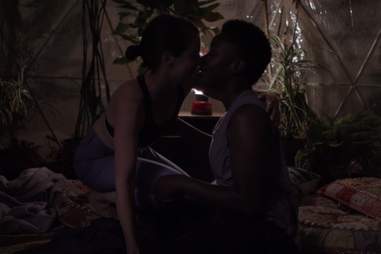 Amazon
9. Ari and Lyfe don't have sex 
Season 4, Ep. 7, "Babar the Borrible"
Knowing their sexual history, it's no surprise when Ari and their honorary tour guide of Palestine, Lyfe, begin to make out. But Ari is thrown off when Lyfe says they don't take off their undershirt during sex. Lyfe asks to take off Ari's binder and they agree, before quickly saying, "Maybe not." Through all of their experiences, Ari never considered that they could have sex without involving their breasts; they're overwhelmed with new feelings, which Lyfe understands and insists they don't have to have sex. Transparent was always a show with fantastic sex scenes, but it's this scene, that doesn't end in sex, that's most revealing.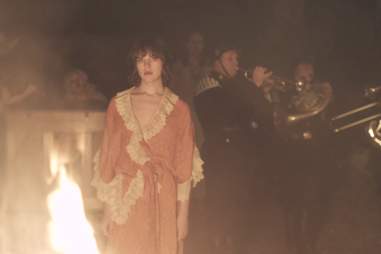 Amazon
8. Book burning at Michfest 
Season 2, Ep. 9, "Man on the Land"
The bold decision in Season 2 to feature flashbacks to 1933 Berlin led to some of the show's very best moments. Throughout the season, Ari had been investigating generational trauma and Magnus Hirschfeld's Institute for Sexual Science, and the past and present collide as Ari searches for Maura at Michfest. Due to the festival's "women born women" policy, Maura leaves and Ari wants to make sure she's okay. Instead, Ari stumbles upon a generational memory: the German Student Union burning the Institute's archives as her grandmother and trans aunt, Gittel, look on. The show draws a parallel between the Nazis erasing trans history and Michfest erasing trans identity in a beautiful sequence set to Alice Boman's "Waiting."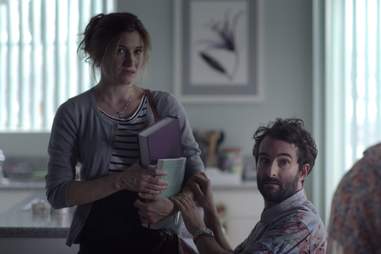 Amazon
7. The Pfeffermans meet Raquel 
Season 1, Ep. 5, "Wedge" 
Rabbi Raquel acts as a calm and logical foil to the chaotic Pfefferman family who is introduced during one of their most intense moments. Shelly's second husband, Ed, is missing. Ali, Josh, and Ari went out looking for him, but took a detour to have bloody marys, and in this moment, Josh finds out about Maura's transition. Back at Shelly's, the siblings are drunk. Ari is panicking about Ed, Josh is panicking about Maura, and Shelly just wants to set the rabbi up with her son. The scene is among the show's funniest moments, undermining Josh's transphobia. Shelly is just so nonchalant, and Raquel is so overwhelmed. It turned out that Josh and Raquel do have a connection, and they share a moment before Ed comes sauntering back inside with cotton candy and a smile.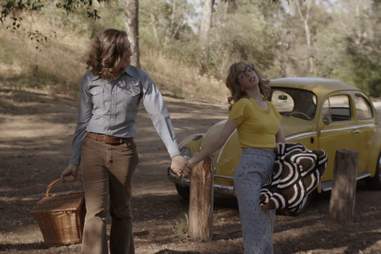 Amazon
6. Maura and Shelly go on a picnic 
Season 4, Ep. 9, "They Is on the Way"
Season 3 introduced a young adult Maura in its flashback episode played by another cis man. The Season 4 flashbacks feature this same actor but also a trans woman, Zoe Van Brunt, alongside him. These are Maura's two sides: how she appears and who she really is. The final flashback lets go of the cis actor. Maura and Shelly are having a picnic; Shelly is singing "Jesus Christ Superstar" and Maura looks on lovingly. After Shelly buries a dead bird, Maura says that she's going to make a great mother. They embrace and joke about the last name Pfefferman and Maura says she could be Mrs. Morton Lipkin. It's a small memory, a moment where Maura lets herself be herself near the safety of a loved one. Any possible weirdness of having a trans woman play a character pre-transition melts away. All that matters is the character and the chemistry. It's a beautiful moment and a compelling case for trans actors to always be cast as trans characters, regardless of the timeline.
Amazon
5. Taking Sarah and Tammy's wedding photo 
Season 2, Ep. 1, "Kina Hora" 
The second season of Transparent opens with a four-minute static take. An exasperated wedding planner is trying to wrangle the Pfeffermans for Sarah and Tammy's wedding photo. The whole family is dressed in white, standing in front of a beautiful California vista. Everyone is talking over each other. Everyone disagrees who should be included. Every character is having their own minor drama. The true nature of the family is captured, if not in the eventual photograph, in this extended moment. Their humor, love, and exhausting narcissism is all on display. And then the photographer addresses Maura as "sir" and the moment comes crashing to its end.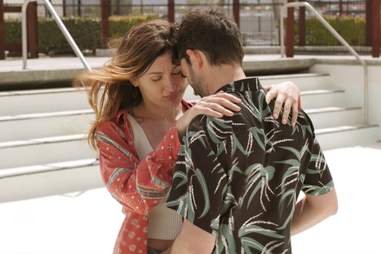 Amazon
 4. Shea calls Josh out
Season 3, Ep. 6, "The Open Road"
Trace Lysette's Shea was one of the standout characters throughout the show's run, but until the third season, she only had small moments of humor and pathos. Season 3 finally showcased just how talented Lysette is as an actor when Shea and Josh go on a road trip together. They laugh and flirt, ignoring that the impetus for their little romcom is delivering Josh's son's mother's ashes to Josh's son, Colton. He shows off by playing a song at an open mic and then by jumping over the fence of an abandoned water park.
 
They run around like adolescents and eventually kiss, but when Josh tries to take it further she stops him. She tells him she's HIV-positive but has a condom in the car. Josh's ignorance around HIV is obvious by the look on his face. She then suggests he go on PrEP when they're back in LA and he tells her he didn't see this as a long-term thing. He gets increasingly cruel before she snaps. She calls him out on his bullshit, defending her personhood. It's a starmaking moment for Lysette and a satisfying meta moment in a show that often had narcissistic cis people using trans people for their narratives.
Amazon
3. Maura and Connie dance 
Season 1, Ep. 8, "Best New Girl"
The entire eighth episode of Season 1 is a flashback to 1994. Ari has canceled their Bat Mitzvah and Maura is off with her friend Marcy at a cross-dressing camp. At the camp, she meets Connie, a cis woman and wife of one of the cross-dressers. Maura is drawn to Connie. She feels isolated from the other attendees who are vocally against medical and full-time transition, and she's intrigued by a wife who wouldn't only accept her partner, but go to this camp with her. Their flirtation escalates after a few martinis and they begin dancing to Mucca Pazza's "Tube Sock Tango." Meanwhile, Ari, left on their own, wanders off to the beach and meets a man. As Maura and Connie dance in a drunken haze, Ari and the man playfully wrestle. Maura only allows herself to be fully present in stolen moments, and her desire to find those has resulted in her failure as a parent. The man bends down and kisses present-day Ari, who has appeared in the memory, looking forlorn from a lost childhood. And then Marcy turns off the radio. Maura's brief happiness is over, and Ari is still alone.
Amazon
2. Shelly sings Alanis Morissette
Season 3, Ep. 10, "Exciting and New"
Judith Light's Shelly was always the show's biggest source of comic relief. Some felt like she was nothing more than a Jewish stereotype, while others -- myself included -- felt like she found truth within that stereotype. The third season flashbacks reveal her childhood sexual abuse and spend more time revealing the depth of her behavior. But still, when she announces that she's performing on the family cruise, which begins with a video of her head-spinning welcome "To Shell and Back," it's easy to keep laughing.
 
Voice shaking, she tells the audience that something happened to her as a child that caused her to stop growing. She says she's been in a cocoon and the lights dim, then she starts singing Alanis Morissette's "Hand in My Pocket." Light makes the song her own, becoming a moving and triumphant performance. Her family seems to really see her for the first time, and we, as an audience, do too. Despite her pain, and that of the whole season, it really does feel like everything is just fine, fine, fine.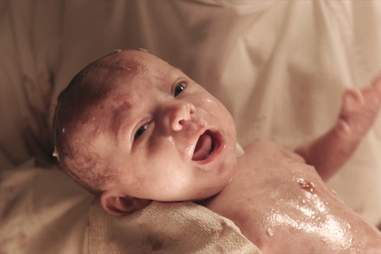 Amazon
1. Maura is born 
Season 2, Ep. 10, "Grey Green Brown & Copper"
When Season 2 begins, Maura's sister tells her that their mother, Rose, deserves to leave the world without ever having to see her son looking like this. But the flashbacks to Rose's time in Berlin reveal a very different story. Their aunt Gittel was trans, and Rose embraced her. By the time Maura does visit her mother, the flashbacks have placed the timeline in Los Angeles. Gittel has been killed by Nazis, some years have passed, and Rose is giving birth. Rose's husband says he knows their child will be a girl. Back in the present, Maura, Ari, Maura's reluctant sister, and Rose, who is no longer speaking, go to the beach. As Maura stands next to her mother, her sister, and her child, she has no idea of her family's past, that her aunt was trans and that her mom would have accepted her. We see Maura being born and the doctor says, "It's a boy." We end back on Maura, looking out at the sea. She's not a boy; she never was.
 
Transparent succeeded in its simpler moments, when characters eat dinner, talking over each other with humor and emotion. But its greatest moments of transcendence were like this, when time periods crossed, formal risks were taken, and a new language to represent queer and trans experiences was invented. As a trans woman, Transparent can be a tough show to revisit. Tambor's performance feels strained, the way even the most accomplished cis male actors always will, and his behavior on the show's set makes it even harder to separate the man from the character. But in this moment, when Maura is born, that all fades away. In this moment, there's just Maura Pfefferman, a woman who was always meant to be.
Drew Gregory is an LA-based writer, filmmaker, and theatremaker. She is currently on staff at Autostraddle and runs social media for I Heart Female Directors. Find her on Twitter and Instagram @draw_gregory.