'True Detective' Season 2 Deserves a Second Look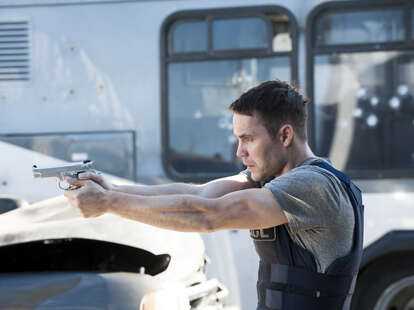 Credit: Lacey Terrell/HBO
At times last summer, the negativity surrounding True Detective's second season and the series' creator/writer Nic Pizzolatto approached a level of hostility typically reserved for cheating exes and George Lucas–directed prequels. But three months after its trippy finale, the show's sophomore session could use a re-assessment, to determine if all the criticism leveled at its way in the heat of the moment was fair and to check on whether Pizzolatto's second go-around might be headed toward cult status. As it happens, today presents just such an opportunity, should you deem the journey worthy, as HBO has officially made True Detective season two available via Digital HD. And we even have a nifty, exclusive clip that dissects the scene that is arguably the season's highlight: the bonkers, broad-daylight street shootout, which echoed the placement and grandiosity of season one's daring single-take action sequence.
We particularly enjoy the way Pizzolatto, wearing shades indoors for his on-camera interview, earnestly says (in reference to the ineptitude shown by the lawmen as they pop off gang members), "The cops aren't busy doing police stuff the way they are in L.A. and other areas." His vaguely philosophical mish-mash of Joel Silver–meets–Joe Eszterhas mayhem doesn't come around with the backing of HBO very often these days, not when everything tends to be either love-it or hate-it, or either prestigious or ponderous. True Detective's second season doesn't neatly scan at either end of either spectrum, and that's what made it so compelling then and certainly worthy of another viewing down the road.
Sign up here for our daily Thrillist email, and get your fix of the best in food/drink/fun.
Kenny Herzog is Thrillist's Senior Entertainment Editor, and he's a lover, not a hater. Find out more about his weird preferences @kennyherzog.