Netflix's New Trump Documentary Reveals Mob Connections That Helped Build an Empire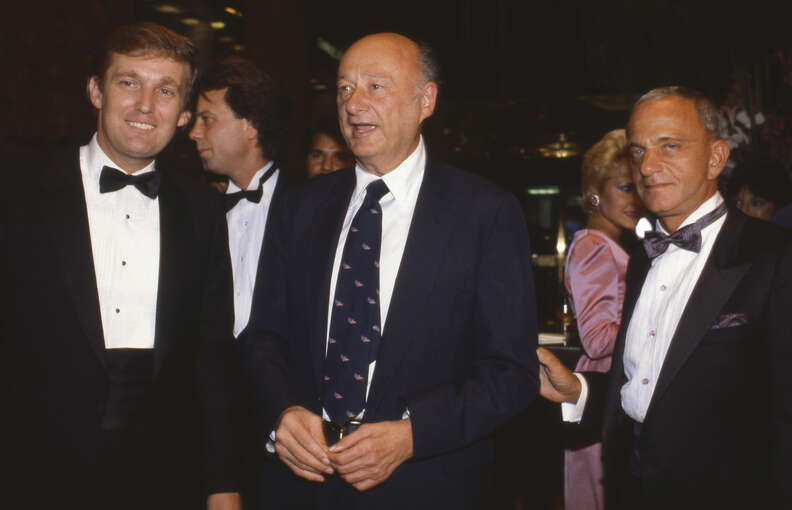 Donald Trump, Mayor Ed Koch, and Roy Cohn at the Trump Tower opening party

| Sonia Moskowitz/Getty Images
Donald Trump, Mayor Ed Koch, and Roy Cohn at the Trump Tower opening party

| Sonia Moskowitz/Getty Images
It has become virtually impossible to produce any revelatory information about President Donald Trump, though it may appear otherwise as scandal upon scandal hit his turbulent foray into politics. Even salacious, tabloid-friendly stories like the Stormy Daniels affair don't tell us much about a man known throughout his adult life to keep company with models, a man who clearly requires the approval of others as a measure of self-worth.
The problem isn't that there's no Trump-related issue worthy of a deep dive, but rather that much of the Trump-related stories, satires, criticisms, and documentaries that have come out in less than two years of his presidency attempt more or less explicitly to make a didactic point: Look at what an awful person you elected. It's the point Netflix and Channel 4's recent collaboration, Trump: An American Dream, wants to make, and, frankly, it's not all that interesting. To paraphrase the late, great Dennis Green, he is who we thought he was. We let him off the hook.
After watching around four hours of An American Dream, a viewer will learn that Donald Trump is a narcissist; a womanizer; a brand-building powerhouse; a master of reinvention; a con man; a product of the freewheeling, deregulated '80s; a moving political target with no core beliefs except in himself; a petty person who keeps only his family close, and attacks anyone who dares offend him; a distractible man who prefers soundbites to nuanced thought; an opportunist with no discretion, someone willing to seize on a race-baiting conspiracy theory to catapult himself into a viable presidential candidate. None of this comes as earth-shattering news, and it's too bad, because the series raises issues that, with the right treatment, could reveal more surprising truths about the machinations of power capable of creating a major player in the real estate world of 1980s Manhattan. But through the obvious rough, there are a few interesting nuggets.
The most intriguing figure in the early Trump orbit was lawyer Roy Cohn, a notorious personality in American politics throughout the post-war years until his death from AIDS-related illness in 1986. According to Wayne Barrett, the late Village Voice journalist among the first of Donald Trump's public enemies, Trump met Cohn at a club when Donald was 27, and the well-connected lawyer quickly became a fixer, sounding board, and mentor for the young, ambitious Trump, who wanted the city to grant him millions of dollars in tax abatements to renovate the Commodore Hotel. The renovation of the Commodore into the Grand Hyatt would grant Trump access to the elite, gilded Manhattan upper crust to which he aspired, and would eventually allow him to construct Trump Tower and secure his status as a brand-name American businessman.
Cohn made his reputation helping secure the death penalty for accused Soviet spies Ethel and Julius Rosenberg (one of his proudest moments, according to his autobiography), which won him a job as counsel for Senator Joseph McCarthy, the infamous politician who shot to national fame during the Communist witch hunts of the 1950s, spawning the eponymous term McCarthyism. Unencumbered by the backlash that effectively ended McCarthy's career, Cohn returned to New York, where he forged a path as the kind of morality-free, dogged powerbroker Trump needed to guide and protect him through the minefield of New York City politics.
Marie Brenner's Vanity Fair feature on the Trump-Cohn connection is far more interesting, and takes far less of your time, than watching even the first (and most compelling) installment of An American Dream. Cohn knew everybody from newscasters to politicians to mob bosses, and could pull strings for anyone he deemed worthy, including Trump, whom he at one point called his best friend. Having helped Trump secure the rights to the Commodore/Grand Hyatt, Cohn also advised him on the construction of the first property Trump built from the ground up: Trump Tower.
What initially seems to be a quirk of Trump Tower's construction -- its all-concrete frame, unique in skyscrapers, but cheaper and faster to build -- becomes the subject of a tantalizing, but almost immediately dropped, thread in An American Dream. Cohn famously defended more than a few mafiosos, and at the time of Trump Tower's construction in 1980, organized crime syndicates controlled the concrete industry; if you wanted to pour concrete, you had to do business with the mob. Cohn was in an ideal position to collect checks from both Trump and his mafia clients if he brokered a deal to build out of concrete the most prominent new skyscraper in New York City. Did Roy Cohn hook up Trump with the mafia?
Perhaps! Like so many of the complex connections, deals, and accusations of misdeeds on which Trump: An American Dream spends time, the question receives no more than a cursory inquiry. This consistent treatment of Trump's history makes An American Dream inessential viewing except for the masochists who need constant reminders that the commander in chief has a decades-long history of incompetence and hucksterism.
One of the lasting impressions An American Dream makes, however, is that even if the insinuations were true, and Donald Trump leveraged mob connections to rise to fame in New York City, it probably wouldn't matter all that much. The series connects Trump's "Make America Great Again" slogan to the same phrase uttered by Ronald Reagan, but Trump resembles Reagan in a more relevant way: Nothing sticks. Instead of Teflon Ron, the 21st century has Teflon Don, and despite the media coverage, the exposés, the former friends and business partners speaking out, Donald Trump can wield his position of extreme power to deflect all comers. Roy Cohn certainly showed him how to do it, though at an extreme cost. Cohn died disbarred and penniless, leaving a trail of enemies, ruined lives, and a rotten legacy in his wake.
Sign up here for our daily Thrillist email and subscribe here for our YouTube channel to get your fix of the best in food/drink/fun.
Anthony Schneck is an entertainment editor at Thrillist. Follow him on Twitter: @AnthonySchneck.