Trump's Ban Bars Iran's Most Important Living Director From Attending the Oscars
The controversial executive order issued by President Trump on Friday has affected Hollywood's annual awards season in an unexpected way -- and not just with the very pointed speeches given by various celebrities at last night's SAG Awards. Much to the surprise of stars and studio executives, the travel ban issued Friday blocking entry into the United States for 90 days for citizens of Iran, Iraq, Libya, Somalia, Sudan, Syria, and Yemen will prevent Oscar nominee Asghar Farhadi from attending next month's Academy Awards.
In response, the Iranian director, who previously won an Oscar for 2011's A Separation, made it clear that he isn't going to shuck and jive in the hopes of getting some sort of studio-sponsored special dispensation to Trump's travel ban. So if his latest movie, The Salesman, wins in the Best Foreign Language Film category (it's got a solid chance), his lack of acceptance speech on February 26 will scream with silence.
With the death of Abbas Kiarostami last summer, most would consider the 45-year-old Farhadi the most important living Persian filmmaker. But Kiarostami's and Farhadi's films don't have that much in common other than the Farsi language; alt-right news junkies might not believe this but the people of Iran have a wide array of struggles and setbacks, just like those of us in the good ol' USA.
A Separation, the first Iranian film to win an Academy Award, is a gripping family drama about a couple tied up in family court. The wife/mother (Leila Hatami) wants to leave the country, the husband/father (Peyman Moaadi, The Night Of) feels obligated to stay and care for an ill parent. Things get complicated after an act of violence, which is then reexamined time and again, each permutation shedding a little more light on a widening and complex drama. It's like if Hitchcock directed Kramer vs. Kramer.
Farhadi's follow-up, 2013's The Past, starring The Artist's Bérénice Bejo, is a one of those rich, enormous stories with a slew of characters all connecting with one another in different ways. There is conflict among them, but each entanglement is bursting with humanity. (Both The Past and A Separation are rentable on Amazon.)
Farhadi's true masterpiece, 2009's About Elly, is currently available on Netflix. The film follows a group of couples from Tehran, led by Paterson's Golshifteh Farahani, who take a quick holiday at a remote beach house on the Caspian Sea. She invites her daughter's slightly "off" schoolteacher, in the hopes that she and her pal, just back from Germany, might hit it off.
At first, About Elly seems like another story of romantic jumbles, a window for us Westerns to recognize differences and similarities in social customs. But an incident crashes up against the storyline, soaking it with the breathlessness of a great thriller. One extended sequence, which features no music or special effects, is among the most intense things you'll ever see.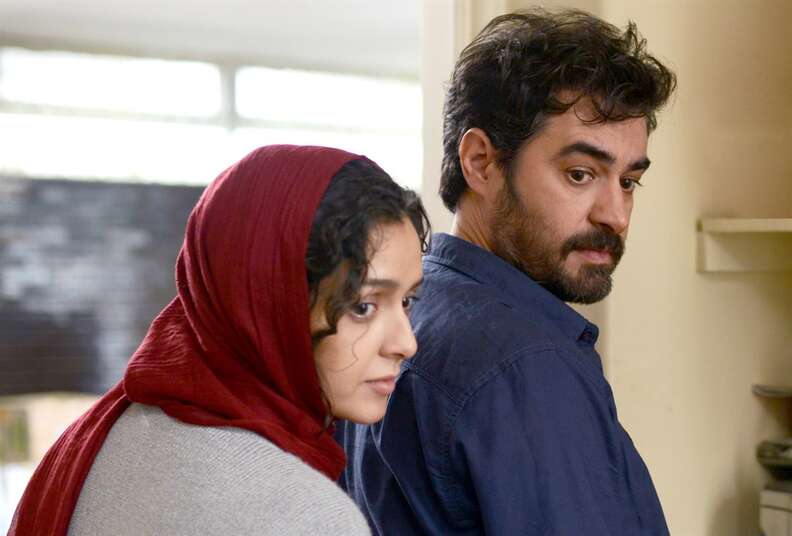 Farhadi's latest, the nominated The Salesman, is slowly rolling into American theaters right now -- it's another domestic drama interrupted by an act of violence, this one involving a pair of actors (who are putting on a production of Arthur Miller's Death of a Salesman), a collapsing building, and finding the line between paranoia and self-defense. Peter Bradshaw of The Guardiancalls it "a well-crafted, valuable drama," the Star-Ledger says "every moment holds a revelation," Dana Stevens of Slate describes it as "masterful," and A.O. Scott of The New York Times commends Farhadi for "astonishing control" that is both "riveting and hard to watch."
Sounds strong, no? Considering that movies are known around the world as the "empathy engine," and that every politician at least pays lip service to wanting to build bridges to a peaceful world, you'd hope that a filmmaker committed to universal storytelling would be welcome anywhere, right?
Farhadi had every intention of attending the Oscars but now he'll be watching from afar. According to a statement released on Sunday, in the aftermath of the so-called "muslim ban" ordered by the Trump administration, the director said, "It now seems that the possibility of [attending] is being accompanied by ifs and buts, which are in no way acceptable to me even if exceptions were to be made for my trip."
He went on to condemn the "us and them mentality" both in the United States and in Iran, and added that "on both sides of the ocean, groups of hardliners have tried to present to their people unrealistic and fearful images of various nations and cultures in order to turn their differences into disagreements, their disagreements into enmities and their enmities into fears. Instilling fear in the people is an important tool used to justify extremist and fanatic behavior by narrow-minded individuals."
If ever there was a guy who needed to spread his message back to Iran from the high-powered signal of the Oscar stage, it's this talented artist. But like many from his part of the world, even those who have been granted visas to continue their studies or regroup with their families, he'd be subject to being detained upon arrival -- and that's assuming his high-profile status could supersede the executive order. That's hardly a given with travel from Iran and elsewhere in such chaos right now.
In Farhardi's About Elly, when things get really topsy-turvy, the vacationers band together to help strategize a search-and-recovery operation. I don't want to lie: It's not like things immediately get better. But waves of hope crash off the screen. Those of us who plan to tune in on Oscar night could do well to take a swim in those waters.
Sign up here for our daily Thrillist email, and get your fix of the best in food/drink/fun.
Jordan Hoffman is a film critic and writer whose work appears in
The Guardian
,
Vanity Fair
, and Mashable. Follow him on Twitter @jhoffman.