The Major TV Premieres You Need to Know About for the Rest of the Year
Looking for the best shows of 2017? We've got 'em right here. And if you're still not caught up on 2016, head here.
With so many new shows to stuff into your eyeballs this year, you might be baffled about when and where the next big TV thing is dropping.
Fear not: Bookmark our ridiculously comprehensive, passionately curated, and always updated guide to see the premiere dates of 2017's new and returning shows.
** denotes new show
She's Gotta Have It

| Netflix
November 23
She's Gotta Have It** (Netflix)
A 10-episode update of Spike Lee's 1986 movie of the same name. The trailer looks absolutely ferocious.
November 29
The Marvelous Mrs. Maisel** (Amazon)
From the creator of Gilmore Girls, the story of a foul-mouthed '50s housewife turned stand-up.

Vikings (History)
The fifth season of the best history class ever.
Dark

| Netflix
December 1
Dark** (Netflix)
The streaming service's first German series, about a missing child and a small town's hidden secrets.
Easy (Netflix)
Finally, a second batch of Joe Swanberg's bingeable anthology, which tackles love, sex, and art in Chicago like a more romantic High Maintenance.
Marvel's Agents of S.H.I.E.L.D. (ABC)
This show isn't going anywhere, which is good news if you're still wondering what the hell S.H.I.E.L.D. stands for -- its fifth season will be kind of like Lost in Space.
December 4
Cash Cab (Discovery)
After a five-year break, Ben Bailey returns to quiz more unsuspecting riders.
The Great Christmas Light Fight (ABC)
That show about families who spend a terrifying amount of money on Christmas decorations.
Vanderpump Rules (Bravo)
Six seasons in, Jax is still everyone's favorite punching bag.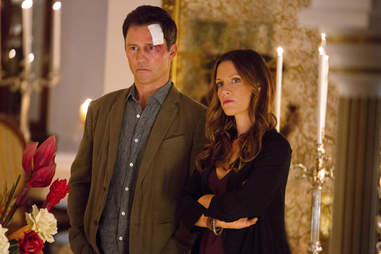 Shut Eye

| Hulu
December 6
Happy!** (Syfy)
Based on Grant Morrison and Darick Robertson's graphic novel, this adaptation has Patton Oswalt voicing the flying blue unicorn alongside Christopher Meloni's cop-turned-hitman.

Knightfall** (History)
Like Vikings, but Knights Templar.

Shut Eye (Hulu)
Aasif Mandvi joins Season 2 to help Jeffrey Donovan's fake-real psychic handle his kooky visions.
December 7
The Great American Baking Show (ABC)
Like The Great British Bake Off, but America.

Top Chef (Bravo)
This cooking show is back for its 15th season, which means it's older than half of your cousins.

The Queen, Season 2

| netflix
December 8
The Crown (Netflix)
The next run of Queen Elizabeth II's saga brings on Michael C. Hall (Dexter) as JFK.

The Grand Tour (Amazon)
The British car-centric talk show will still be very British.
December 13
The Librarians (TNT)
The fourth installment promises lots of love, several freak accidents, and at least one "Oh dear!"
December 15
Jean-Claude Van Johnson** (Amazon)
This spy comedy, starring you-know-who as a self-aware version of himself, looks dumb in a good way.

The Ranch (Netflix)
The biggest Punk'd gag of all time is back for a four-peat.

Ultimate Beastmaster (Netflix)
The Olympics of obstacle courses returns for its second season.

Wormwood** (Netflix)
Errol Morris's documentary-fiction hybrid, about "the CIA, LSD experiments, mind control, and the death of a family man."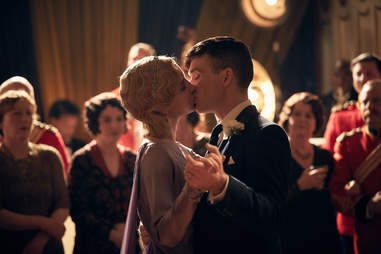 The Indian Detective

| Netflix
December 19
The Indian Detective** (Netflix)
Russell Peters is… the Indian Detective -- i.e., "a Toronto police officer who investigates a murder while visiting his father in India."

Real Housewives of Beverly Hills (Bravo)
Expect MUDSLINGING.
December 21
Peaky Blinders (Netflix)
Season 4, with its promises of peace, gunfire, and bearded Tom Hardy, finally hits the US.
December 22
The Toys That Made Us** (Netflix)
An eight-episode docuseries about the history of Hasbro's Transformers and other popular toy lines.

Fuller House (Netflix)
The second half of the third season of the spin-off of Full House -- woof -- arrives just in time for something wacky to happen over Christmas.
Netflix
December 25
Cable Girls (Netflix)
The second season of this popular Spanish melodrama is already near. Get ready.
December 29
Bill Nye Saves the World (Netflix)
Bill. Bill. Bill! Bill! BILL!! BILL!!
January 1, 2018
The Bachelor (ABC)
Happy New Year.

Looking for this year's holiday specials? Don't forget to check out our Freeform, Hallmark, and other TV special schedules.
Sign up here for our daily Thrillist email, and get your fix of the best in food/drink/fun.
Follow the Thrillist Entertainment editors on Twitter @ThrillistEnt.