We're keeping track of all the new and old TV shows coming out this year and into next. Spoiler: There are a lot! So if you're curious about when your favorite show returns or when that weird Brit hit you keep reading about finally makes its way stateside, bookmark this ridiculously comprehensive, passionately curated, and always updated guide to fill out your own 2018 premiere-date calendar. (And if you're just looking for the best shows of 2018, we have you covered there too.)
**denotes new show
Recommended Video
This Clock Tracks Your Loved Ones Like the Clock in 'Harry Potter'
December 14
Chilling Adventures of Sabrina: A Midwinter's Tale (Netflix)
Even witches get their own Christmas special! For the holidays, Netflix is sharing a special installment of Chilling Adventures of Sabrina in which the Church of Night celebrates the Winter Solstice… with some uninvited supernatural visitors.
Diablero** (Netflix)
When a young girl goes missing in Mexico City, a priest enlists a demon hunter and paranormal expert to assist in his search for her, believing something darker might be responsible for her disappearance. 
Fuller House (Netflix)
The Tanner girls are all grown up in this revival of Full House, which somehow is now on its fourth season. Have mercy!
The Innocent Man** (Netflix)
Another true crime miniseries from the streaming giant that takes on the subject of John Grisham's only nonfiction novel, looking at two disturbing murder cases in rural Oklahoma in the '80s.
Tidelands** (Netflix)
A young woman's Australian home was always humored to be haunted by sirens from the sea, and this fantastical mystery and other murderous secrets become even more real when she returns home after being away for some time. The mermaid renaissance is upon us!
December 21
Marvel's Runaways (Hulu)
These superheroic teens with a dinosaur are on the move for a second season.
December 23
Watership Down** (Netflix)
An animated miniseries based on the classic novel of the same name about a clan of rabbits whose home is threatened. 
December 28
Black Mirror (Netflix)
Although it has yet to be confirmed, there's speculation that the eerie sci-fi anthology series is set to surprise release its fifth season on the last Friday in December. 
Into The Dark: New Year, New You (Hulu)
The Blumhouse anthology horror movie series sees its latest installment taking on the glitter-infused horror of New Year's Eve. 
December 30
The Orville (FOX)
Perhaps to the chagrin of some critics, fans of Seth MacFarlane's dramedic Star Trek homage will get to indulge in a second helping right before the New Year rolls in.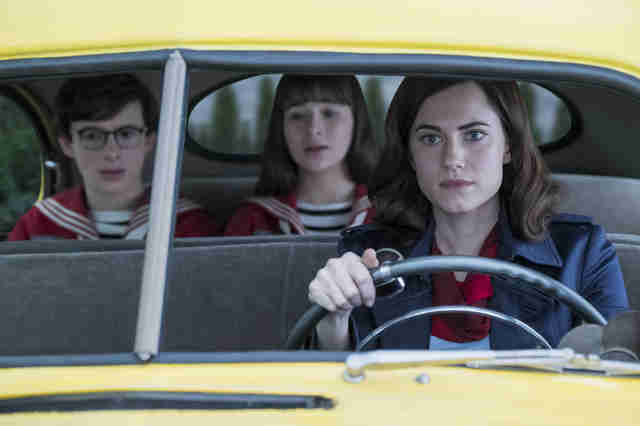 Major 2019 Premieres
January 1
A Series of Unfortunate Events (Netflix)
The third and final season of the star-studded, gothic young adult series tackles the final four Lemony Snicket books. What (unfortunate) fates await the very sad Baudelaire children now?!
January 6
76th Annual Golden Globe Awards (NBC)
See what films and series are going to win big this award season at one of the actually entertaining award shows, this year hosted by Sandra Oh and Andy Samberg. 
January 7
The Bachelor (ABC)
Yet another season of the guilty pleasure dating show full of ridiculous drama, a fair amount of tears, and fights over people being there for the wrong reasons. This season, former professional football player (and virgin) Colton Underwood is the lucky man!
January 10
Brooklyn Nine-Nine (NBC)
When fans were upset by Fox's cancellation of the Andy Samberg-led cop comedy, NBC picked up the series for its sixth season, officially returning this winter.
January 11
Friends From College (Netflix)
Keegan Michael-Key and the gang (who kind of all hate each other) return for more questionable shenanigans and poor decision making in Season 2 of the dramedy.
Sex Education** (Netflix)
In this new series, Asa Butterfield plays a teenager whose mom is a sex therapist, and rather than being uncomfortable with her occupation, he uses her tools and knowledge to his advantage to open an underground sex therapy clinic out of his home to help other students (and meet girls). A win/win for pubescent teens!
January 13
True Detective (HBO)
The long-awaited third season of Nic Pizzolatto's crime anthology series is officially back with a new installment starring Mahershala Ali as a detective in the Ozarks. 
January 14
The Passage** (FOX)
Based on the virus-infected, post-apocalyptic book series from Justin Cronin, this Ridley Scott-produced series adapts the books for the small screen, focusing on a father (Mark-Paul Gosselaar) and his daughter who is the test subject of a government agency plan to eliminate all disease. So many creepy things!
January 18
Carmen Sandiego** (Netflix)
Millennials' favorite geography CD-ROM, board game, and '90s series Where in the World is Carmen Sandiego? is getting a revamp as an animated Netflix series. Starring Gina Rodriguez as the voice of the titular criminal and Finn Wolfhard (Stranger Things, It) as her accomplice, the series is set to give more context into her thieving background. 
Grace and Frankie (Netflix)
Dynamic comedy duo Jane Fonda and Lily Tomlin return as the titular characters in this family comedy about two women who discover late in life their husbands are romantically involved.
Unbreakable Kimmy Schmidt (Netflix)
Gosh darn, it's the final six episodes of Tina Fey's oddball sitcom Kimmy Schmidt! Will Ellie Kemper's endearing former cult member Kimmy finally find love and adjust to the 21st century? We can only hope!
January 20
Black Monday** (Showtime)
This cynical, comedic look at the market crash in 1987 stars Don Cheadle and Andrew Rannells as a group of newbies attempting to take Wall Street by storm during the tumultuous period.
Crashing (HBO)
The Pete Holmes-led comedy about a dude trying to break into comedy after he learns his wife is cheating on him is now onto its third season.
High Maintenance (HBO)
More eclectic NYC clients put in calls for "The Guy" in this weed deliveryman series from Ben Sinclair.
SMILF (Showtime)
Frankie Shaw's comedy about a young, struggling single mother is back for its second season. 
January 24
Broad City (Comedy Central)
Ilana Glazer and Abbi Jacobson's hilarious New York City-based comedy has one final season wrapping up their unconditional love friendship storylines. Yaas, queens! 
January 28
I Am the Night** (TNT)
A miniseries based on writer Fauna Hodel's autobiography, telling the story of a teenage girl who was left at a Nevada casino as a baby and connects with an investigative reporter (Chris Pine) int her young adulthood to uncover the seemingly seedy history of her birth mother's past. Very mysterious!
February 10
61st Annual Grammy Awards (CBS)
The (debatable) biggest night in music honors records across all genres and pays tributes to industry greats.
February 15
The Umbrella Academy** (Netflix)
Based on the comic created by Gerard Way of My Chemical Romance fame, The Umbrella Academy is about 43 babies randomly and miraculously born to unconnected women in 1989, some of which are later taken in by a man who trains them in what he calls the Umbrella Academy, hoping they'll one day save the world from apocalypse. Eventually becoming estranged, the children reunite as adults upon their adoptive father's death, and attempt to discover the mystery of their existence. 
February 19
At Home With Amy Sedaris (TruTV)
Amy Sedaris' wild homemaking show for the unconventional returns with another impressive roster of guests like Susan Sarandon, Justin Theroux, Fred Armisen, Michael Shannon, and many others to join her for offbeat crafts and cooking.
March 15
Shrill** (Hulu)
Aidy Bryant stars in a new series from Lorne Michaels and Elizabeth Banks about a woman whose comfortable in her own skin and navigating single adulthood in every way from her demanding career to a slew of shitty boyfriends.   
April 5
Chilling Adventures of Sabrina (Netflix)
The dark, witchy drama is already back for its second season, just a little over six months after its initial premiere. 
Stay tuned for more updates.
Sign up here for our daily Thrillist email and subscribe here for our YouTube channel to get your fix of the best in food/drink/fun.