We're keeping track of all the new and old TV shows coming out this year. Spoiler: There's a lot! So if you're curious about when your favorite show returns or when that weird Brit hit you keep reading about finally makes its way stateside, bookmark this ridiculously comprehensive, passionately curated, and always updated guide to fill out your own 2018 premiere-date calendar. And if you're just looking for the best shows of 2018, we have you covered there too.
**denotes new show
Recommended Video
The 'Black Mirror' Killer Pizza Truck Is Real Now, Thanks To Pizza Hut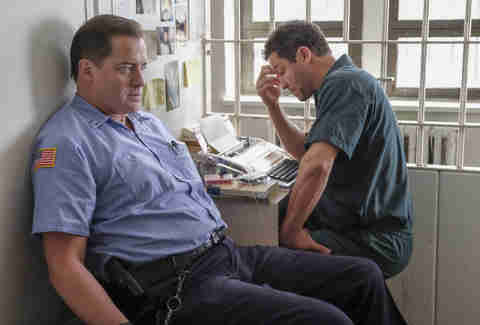 June 1
C.B. Strike** (Cinemax)
A miniseries about the adventures of P.I. Cormoran Strike, the protagonist of Robert Galbraith's (read: J.K. Rowling's) recent crime novels.
June 2
FLCL (Adult Swim)
Two seasons of this weird, beautiful anime are coming -- one in June, one in September -- almost two decades after the original first aired for American audiences on Adult Swim. Though the new episodes look to bring storylines tangential to the original, we'd still advise prepping by watching the OG (available on Hulu). A few times.
June 3
Pose** (FX)
Evan Peters, Kate Mara, and James Van Der Beek star in Ryan Murphy's next big project, a game-changing, '80s-themed dance musical, about "the juxtaposition of several segments of life and society in 1980s New York: the rise of the luxury Trump-era universe, the downtown social and literary scene and the ball culture world."
Succession** (HBO)
From Jesse Armstrong (Peep Show, The Thick of It) and Adam McKay (Anchorman, The Big Short) comes the thorny succession story of the Roys, the highly dysfunctional family behind one of the biggest empires in the media-entertainment sphere. Brian Cox, Kieran Culkin, Hiam Abbass, and Jeremy Strong star in this project, which probably sounds a lot like a Murdoch allegory, and kind of is, though the creators have stressed they took inspiration from other families too. "There's loads of succession stories to draw on," Armstrong has said, citing the Hearsts and the British royal family. "We wanted to draw on all the good, rich stories there are about succession and about media and high politics."
June 4
Dietland** (AMC)
Like Dexter meets The Devil Wears Prada, this series, from the co-creator of UnREAL and based on Sarai Walker's 2015 bestselling book of the same name, depicts what happens when one of New York's fiercest fashion editors (Julianna Margulies), a ghostwriter struggling with self-acceptance (Joy Nash), and a spate of vengeful deaths intersect.
Five Points** (Facebook Watch)
From executive producer Kerry Washington, a show about five Chicago high school students -- one of them being the popstar and actress Hayley Kiyoko -- "who each experience a life-changing event from a different point of view."
Unapologetic With Aisha Tyler** (AMC)
The Archer actress hosts this Dietland companion talk show.
June 5
Humans (AMC)
It's not Westworld, and we mean that in the most loving way. This oft-overlooked sci-fi series, co-produced with the UK's Channel 4, is a more scaled-down, straightforward, but still thought-provoking look at robotic labor. Season 3 comes with the kind of "synth survival" drama that should satisfy techno-philosophy buffs while providing a break from the madcap, no-doubt-dizzying Season 2 finale of its HBO cousin.
Younger (TV Land)
Love triangles, sassy sidekicks, and book publishing -- much to enjoy on this not-really-guilty guilty pleasure, which returns for Season 5 and could literally air every single night and we'd watch it.
June 6
Condor** (AT&T/DirecTV)
An adaptation about a "young CIA analyst who stumbles onto a terrible but brilliant plan that threatens the lives of millions." McDonald's? Kidding. If you've read the show's source material, the novel Six Days of the Condor, by James Grady, you'll probably be all in here.
Impulse** (YouTube Red)
From Lauren LeFranc (Chuck) and Doug Liman (The Bourne Identity), a mystifying show about a 16-year-old girl (Maddie Hasson) who learns she can teleport after surviving a traumatic event.
June 7
American Woman** (Paramount)
Inspired by Real Housewife Kyle Richards' life growing up in the '70s as a child star; Alicia Silverstone stars as her on-screen mom.
Marvel's Cloak & Dagger** (Freeform)
Based on the comics of the same name, the story of two very different teens -- Tyrone and Tandy -- who become inextricably linked because of their powers.
Nashville (CMT)
After six years, the country-music show gears up for its swan song.
June 8
Sense8 (Netflix)
When Sense8 got canceled after Season 2, fans were understandably mad. The ambitious, trippy show had ended on a cliffhanger, and loud calls for a renewal went unanswered for what felt like an eternity. In other words, it was a bit of a clusterfuck. But fortunately, the persistent fans won in the end, making enough noise to encourage Netflix to give the series a proper send-off in the form of this two-hour series finale. GR8!
The Staircase (Netflix)
The popular true crime series -- which more than a decade ago chronicled the story of the crime novelist Michael Peterson, his wife's death, and the ensuing judicial battle -- hits the streaming service with a three-episode update.
June 9
Big Hero 6: The Series** (Disney)
Michelin Man: The Series.
Dodo Heroes** (Animal Planet)
Animal lovers will probably love The Dodo's Dodo Heroes, a show about "animals from across the world, who are in dire need of help, and the courageous men and women who go to unimaginable lengths to help them." (Disclosure: The Dodo is owned by Thrillist's parent company, Group Nine.)
June 10
72nd Annual Tony Awards (CBS)
With co-hosts Josh Groban and Sara Bareilles.
Claws (TNT)
More nails, more drama. If you still haven't given this great TNT original a chance, you're making a big mistake. It's time to bow down to Niecy Nash.
June 12
The Bold Type (Freeform)
When we first saw The Bold Type, it hooked us by pairing the usual doses of romance, making-it hustling, and FML disasters with of-the-moment anxiety. Frankly, it gave us flashbacks to The O.C. As Season 2 finds our three heroines (Katie Stevens, Aisha Dee, and Meghann Fahy) growing, struggling, and making verrrrrrrrrrry dark Sylvia Plath jokes, you can bet we're back in.
June 13
F2 Finding Football** (YouTube Premium)
A sporty reality series in which the F2 (Jeremy Lynch, Billy Wingrove ) travel to Argentina, Brazil, Mexico, Iceland, France, and Thailand, among other places, to document soccer culture and hang with celebrities. First two episodes will be available gratis, here.
Gordon Ramsay's 24 Hours to Hell and Back** (FOX)
A restaurant makeover show starring none other than -- surprise! -- Mr. Yells. (Pope Francis probably won't watch. But maybe.)
June 14
Lip Sync Battle (Paramount)
Jimmy Fallon's popular faux karaoke segment-turned-show begins the back half of its fourth season with performances by Alicia Silverstone and Mena Suvari.
Marlon (NBC)
The sophomore run of Marlon Wayans' family sitcom kicks off with back-to-back episodes -- the first of which is titled "Divorce Counseling."
Strange Angel** (CBS All Access)
Written by Mark Heyman (Black Swan), this bio-series tackles the life of Jack Parsons (Jack Reynor), the pioneering rocket scientist who co-founded Pasadena's famous Jet Propulsion Laboratory and later played a big role in Aleister Crowley's occult society, Ordo Templi Orientis. As Parsons was reaching his professional peak in the 1940s, he was making big strides within the ranks of the OTO, two worlds very much at odds with one another. Basically, this is one those "truth is stranger than fiction" stories that will have you saying, "WTF? Yes please!"
June 15
12 Monkeys (Syfy)
Soon, there will be zero monkeys, because the fourth season of this (drastically different) reboot of the popular Terry Gilliam film marks its last.
Breaking Big** (PBS)
What makes someone successful? This half-hour series hopes to shed some light thanks to personal interviews with such big names as Trevor Noah, Michael Strahan, and Gretchen Carlson.
Goliath (Amazon Prime)
In Season 2 of David E. Kelley's legal drama, Billy McBride (Billy Bob Thornton) takes on a new case that finds him working the streets of LA and trying to get his friend's teenage son off a murder charge. Things don't look great, what with Mark Duplass joining the cast as some menacing weirdo who hits people in the knees with rackets. Ouch!
Queer Eye (Netflix)
The Fab 5 are just getting started with their "make-betters." While the first season already expanded the scope of the show a little (featuring a gay subject -- hence the absence of "for the Straight Guy" in the title), the second will go further (featuring a female and a transgender subject).
Voltron: Legendary Defender (Netflix)
In Season 6, your heroes will keep working with Lotor, Honerva will continue to learn about her past, and there miiiiiight be some more mama drama.
June 17
The Affair (Showtime)
The Brendanaissance is now in full swing, thanks to the much-read Brendan Fraser profile in GQ and the actor's scene-stealing role on FX's Trust, but it kicked off in 2016 on The Affair. While he likely won't return, Dominic West and Ruth Wilson sure do, so you can bank on plenty of melodrama.
Deep State** (Epix)
Mark Strong stars in this espionage thriller as "an ex-spy whose past catches up with him when he's summoned away from his new life."
La Balada de Hugo Sánchez** (Netflix)
A Mexican dramedy, which you might recognize as a Club of Crows spinoff, that has Chava Iglesias' personal assistant trying his best to lead his boss' unruly football club to victory in Nicaragua.
June 18
2018 MTV Movie & TV Awards (MTV)
With everyone's favorite human, Tiffany Haddish, hosting.
The Proposal** (ABC)
If you've ever thought, Wow, I wish there were more shows like The Bachelor, but only a little different, you're so frickin' lucky. Former football guy Jesse Palmer is hosting this thing, which is like a cross between The Bachelor and (!) Miss USA, and hey, this isn't a nightmare. You're awake. Get ready for the... "soulmate pageant."
June 19
Drunk History (Comedy Central)
Prep for the back-end of Season 5 with some of our favorite segments.
Love Is___** (OWN)
From Mara Brock Akil and her husband, Salim Akil, and starring Michele Weaver and Will Catlett, a modern-day love story that draws inspiration from the creators' real-life, power-couple romance: "In the world of Black Hollywood, they navigate a complex set of social codes, and this series will explore it all, from the good to the bad and to the '90s when the love story began."
June 20
Yellowstone** (Paramount)
From the writer of Hell or High Water, Wind River, and Sicario, a Western drama about a ranching family living in Montana and combating with people encroaching on their land. Academy Award-winning actor Kevin Costner gets top-billing as the ranch's bad boy papa who's doin' his best to be good.
June 21
Detroiters (Comedy Central)
Oh no! Still a bit of a wait for Season 2, but this fantastic trailer is here to save the day until then.
Take Two** (ABC)
From the creators of Castle, the story of a disgraced TV detective (Rachel Bilson) who tries to facilitate her Hollywood comeback by shadowing a legit detective (Eddie Cibrian).
June 22
Cooking on High** (Netflix)
I guess this was only a matter of time, but yes, this is a cannabis cooking competition show. YouTube phenom Josh Leyva hosts, and we'd be very surprised (and disappointed) if Seth Rogen didn't guest.
Marvel's Luke Cage (Netflix)
Remember Mike Colter's Marvel show? There's still more punch to be served.
The Great British Baking Show (PBS)
Season 5, with judges Mary Berry and Paul Hollywood, hosts Mel Giedroyc and Sue Perkins, and something like 30 more baking challenges.
June 24
Preacher (AMC)
Season 3 of AMC's irreverent soul-busting romp sends the titular preacher Jesse to Angelville, the Louisiana plantation where he was raised, to reckon with his past before finding God. In the comics, this visit got... ugly. (Imagine the worst Thanksgiving dinner discussion ever, replete with tons of bad memories and even more blood.) We anticipate similar trauma here.
June 25
Double Dare (Nickelodeon)
Remember this? It's getting rebooted with 40 more episodes.
June 29
Glow (Netflix)
The girls are back in town! With the pilot of their show-within-a-show finally done, Season 2 will be all about making the rest of that show-within-a-show. Translation: On top of the personal drama that'll carry over from the Season 1 finale, the women will now begin regularly grappling for glory -- aka "airtime." Also, there are a couple new babies everyone seems really stoked about.
A Very English Scandal** (Amazon)
A dramatized look at British Liberal Party leader Jeremy Thorpe's love affair and the controversy that followed -- one that "threatened the life of one man and the entire British establishment." Yikes! Hugh Grant toplines (sans floppy hair, RIP) as Thorpe.
July 6
Sacred Games** (Netflix)
Netflix's first Indian original, an adaptation of Vikram Chandra's book of the same name.
July 8
Sharp Objects** (HBO)
Based on the book of the same name by Gillian Flynn (Gone Girl! Heard of it?), and directed by Jean-Marc Vallée, a creepy-looking drama about a reporter (Amy Adams) who returns to her hometown to cover the murders of two young girls.
July 10
Heathers** (Paramount)
After major delays, this reboot of the cult classic is finally on its way.
The Outpost** (CW)
Ash vs. Evil Dead's Jessica Green stars as Talon, the last of the Blackbloods, who vows to hunt her family's killers.
July 11
Bobcat Goldthwait's Misfits & Monsters** (truTV)
Black Mirror, but goofier -- OK, kind of. Long ago, comedian Bobcat Goldthwait had an idea for a dream anthology series that would satirize all things sci-fi while giving him the freedom to write self-contained stories, hit different tones, and use a variety of actors. After about seven years and several rejections, it's finally here.
TKO: Total Knock Out** (CBS)
Kevin Hart has decided that the whole ice tubs thing was… unsustainable? Who knows. Anyway, now he's hosting an "us versus them" game show, which will send a runner through an obstacle course while four others shoot projectiles in an attempt to thwart the runner. Unclear if Mike Breen will be on hand to yell "BANG!" -- but one hopes.
July 19
The Grand Hustle** (BET)
A 12-episode series that will pit 16 competitors against each other as they vie for a six-figure salaried position within rapper T.I.'s Grand Hustle business empire. (And then, depending on how this goes, T.I. might be our president in 12 years.)
Snowfall (FX)
Sure, Season 1 of Snowfall might have felt a bit slow, but expect Season 2 to pick up speed. Franklin and his crew have gone all in on their new crack cocaine venture, and trouble's bound to come in every direction. "For the bigger strokes of where these guys go, I don't want to know. Because I know it can't end well," actor Amin Joseph, who plays Franklin's uncle, Jerome, told Thrillist last year. "[Jerome] knows what this brings, and that's where you're gonna see his character really become a lieutenant, a guy who's ready to protect everything that's coming. The young guys he's working with have no idea."
Trial & Error: Lady Killer (NBC)
Season 2 of the true-crime mocku-series stars Kristin Chenoweth as Lavinia Peck-Foster, the eccentric first lady of East Peck who's "known for her flamboyant outfits, large hats, and hairless cat, and who suddenly finds herself accused of the bizarre murder of her beloved husband."
July 25
Castle Rock** (Hulu)
Hulu first teased this as "a psychological-horror series set in the Stephen King multiverse [that] combines the mythological scale and intimate character storytelling of King's best-loved works, weaving an epic saga of darkness and light, played out on a few square miles of Maine woodland." If the name sounds familiar, it's the setting of such novels as Cujo and The Dead Zone -- aka a very scary place. But why should you watch yet another Stephen King adaptation? We're most excited about the insane talent piled in here, including producer J.J. Abrams and the core cast of André Holland, Melanie Lynskey, Jane Levy, Sissy Spacek, Bill Skarsgård, Scott Glenn, Terry O'Quinn, Frank L. Ridley, and at least one big, good dog.
July 27
Orange Is the New Black (Netflix)
The fifth season of Jenji Kohan's OG Netflix drama followed Poussey's tragic death with a fast-crescendoing riot and ended in separation: some inmates boarded buses, some stood tall in their makeshift bunker. Where are those buses going? What's next for those left behind? What TV show is Pennsatucky going to binge first?!
July 31
Casual (Hulu)
Season 4 marks the end for one of Hulu's first originals.
Making It** (NBC)
Amy Poehler and Nick Offerman co-host this crafty DIY competition so you can win your very own Indiana Fine Woodworking Association award.
August 3
Animals (HBO)
One of the best shows you aren't watching is in its third season. Time to catch up!
August 6
Better Call Saul (AMC)
Season 4 will be all about (slight spoiler alert) the impact of Chuck's death, and how it compels those left behind to be better or... worse!
Lodge 49** (AMC)
From Jim Gavin (Middle Men) and Peter Ocko (The Office), a modern fable about a Cali surfer named Dud (Wyatt Russell) trying to recover from the death of his dad and the downfall of the family business. (In other words, not quite the Thomas Pynchon adaptation you were looking for.)
August 12
Ballers (HBO)
Your yearly reminder that The Rock is making lots of money to be in a TV show about people making lots of money. Money.
August 17
Disenchantment** (Netflix)
From Matt Groening, a series that should essentially play like the love child of The Simpsons and Game of Thrones -- or, the fantasy version of Futurama. It stars the oddball trio of Abbi Jacobson, Nat Faxon, and Eric Andre.
August 24
The Innocents** (Netflix)
This British saga has been teased as a sci-fi Romeo & Juliet -- although Romeo & Mystique might be more like it because this Juliet is a freaking shape-shifter.
August 31
Jack Ryan** (Amazon)
From Carlton Cuse (Lost, Colony), a Tom Clancy TV show that puts Jim Halpert back in action mode.
September 9
You** (Lifetime)
Penn Badgley does his best "I'm gonna save your life and then ruin it!" in this fucked-up love story, from the executive producers of Riverdale. Help.
September 17
70th Primetime Emmy Awards (NBC)
Which NBC bros are hosting? SNL's own Colin Jost and Michael Che!?
Stay tuned for more updates.
Sign up here for our daily Thrillist email and subscribe here for our YouTube channel to get your fix of the best in food/drink/fun.