It's 2018, and Roseanne is the most talked about show on television; Twin Peaks has critics breathlessly singing its praise; Will & Grace just wrapped up its ninth season; and Murphy Brown returns later this year. It's enough to make your average television viewer feel like they've stepped into a time travel experiment out of Quantum Leap, a series that could very well get its own revival in the near future. As streaming services continue to gobble up the attention of audiences, networks are clearly so desperate for old properties to dust off and zap full of new life that they'll even bring back Mad About You for ratings. Luckily, we've got some better ideas.
Keep in mind: We're only talking about "revivals" here. That means no reboots, reimaginings, or remakes, so (for the most part) the shows you'll find below are all TV hits and flops from the last 30 years where you could conceivably assemble most of the former cast members to find out what they're up to these days. Obviously, some shows are more revive-able than others -- no one is begging for more episodes of The Drew Carey Show -- but if we have to live in a world where no series ever really dies, these are the ones we want to resurrect. Hollywood, you know where to find us.
Recommended Video
These Tacos Are Made for Dunking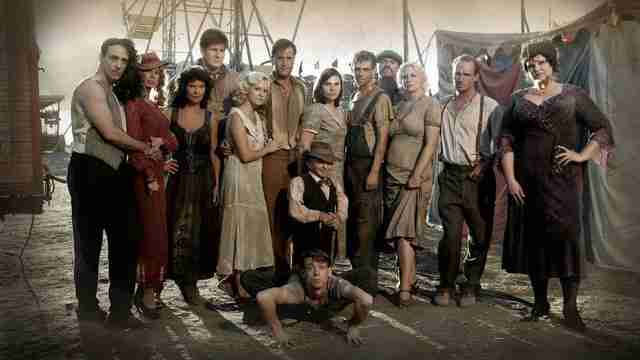 Carnivàle (2003-2005)
Daniel Knauf's Great Depression-era epic was originally intended to span six seasons, but despite initially strong ratings and a handful of Emmys, the audience dropped off hard in the second season, leading to HBO's decision to cancel the show. Which means there are four more seasons floating around the ether, and it shouldn't take too much convincing for Knauf -- whose post-Carnivàle credits are limited -- to revive the series. In a time when straightforward good-vs.-evil allegories are in demand, it's easy to envision a sizable number of viewers interested in riding along with a band of freaks through the Oklahoma Dust Bowl. -- Anthony Schneck
Childrens Hospital (2008-2016)
Over the years, Adult Swim's reliably bizarre late-night programming has slowly been co-opted by blocks of syndicated programming featuring the likes of Family Guy (boo) and Naruto: Shippuden (not real anime!!!). Live-action shows have especially taken a hit: The Eric Andre Show's end is nigh, new Tim & Eric's Bedtime Stories episodes are few and far between, and nothing has ever quite filled the void Delocated left behind. Maybe the greatest loss of all was Childrens Hospital, the truly insane and perpetually horny hospital drama parody created by Rob Corddry, who's been busy palling around with The Rock on Ballers since he's taken off his clown makeup as Dr. Blake Downs. Corddry has teased a new Childrens Hospital spinoff, but we say why not get drive some early publicity, do half a season in the halls of Childrens Hospital that directs its sails in the direction of the new show, and get the ol' gang and some choice cameos back together for one last group makeout sesh? -- Leanne Butkovic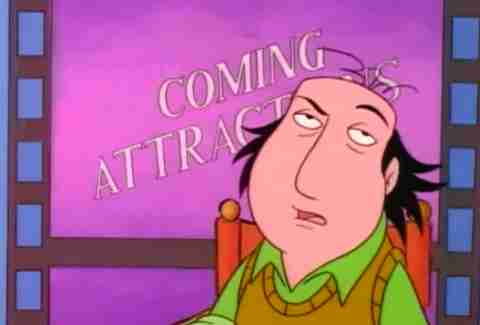 The Critic (1994-1995)
In the age of Rotten Tomatoes wars, DC fanboy anger, Oscar-baiting schlock, Netflix disruption, and $200 million attempts to mine our nostalgia, the time is right for the return of Jon Lovitz's pun-hurling, "It stinks!"-declaring movie critic Jay Sherman. Created by The Simpsons head writers Al Jean and Mike Reiss, the original series followed the New York TV personality as he adapted to the money-grabbing demands of his Ted Turner-esque boss, raised his inquisitive son, searched for love, staved off indulgent eating habits, managed his hyper-WASPy parents, and blasted the latest lame sequel (e.g. Honey, I Ate the Kids, Dudley Moore in Arthur 3: Revenge of the Liver). Stitching together the character arcs with parodies and inside-baseball industry wisecracks, The Critic, unlike, say, Family Guy or even the recent Ready Player One, had the pop knowledge to drop references with wit, lampooning the inanity of Hollywood out of love for the business. We can imagine what might cross Jay's discerning eyeballs in modern times: Avengers: Infinity War, Part 19, 10 Stranger Things I Hate About You, Three Billboards Across From the Jersey City McDonald's... -- Matt Patches
Daria (1997-2001)
First a recurring character on Beavis and Butt-Head, Daria (aka, "Diarrhea" to the guys) won viewers over as the somewhat monotone, very cynical contrast to her idiot peers. Her supporting role proved so refreshing that a few years later, in 1997, she switched schools and landed her own self-titled spin-off. Co-created by Susie Lewis and Glenn Eichler, Daria became the kind of versatile series that could seamlessly move between the light moments of teenhood that dealt with partying and young love, and the deeper ones, like issues around body image and race. We last saw the aspiring writer entering college in Boston, looking to find her voice -- a fitting but heartbreaking farewell. Did she and Jane ever get that talk show? (The one teased at the end of "Is It College Yet?") Hope so. We miss their scorching sarcasm, and two decades later, we'd absolutely tune in to see what they'd have to say about everything from memes and online dating to whatever the hell is going on in the White House. -- Sean Fitz-Gerald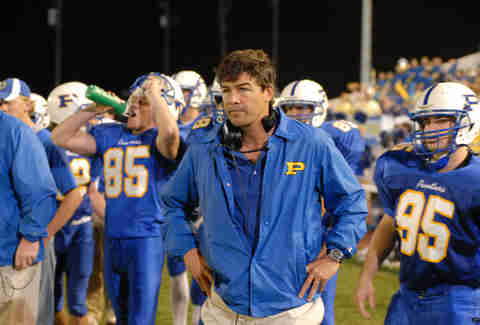 Friday Night Lights (2006-2011)
OK, yes, there's essentially a spiritual Friday Night Lights reboot on TV right now in the form of NBC's Rise. (Created by FNL's very own Jason Katims!) But are any of those high schoolers ever gonna flip houses? Or go to Mexico for shark stem cells? Yeah, right. FNL was a special show that somehow managed to exist within several different tonal worlds at once. You cried when Street got paralyzed, you laughed (???) when Luke prayed for drugs, you scratched your head when Landry, uh, freaking murdered that person! As weird as the show could be, it was always upheld with a relatable sense of heart -- specifically, that idea of "clear eyes, full hearts," which applied off the field as much as it did on. What we wouldn't give to catch up with Coach now, years later, yelling at a bunch of kids and trying to win another championship. Until this inevitably happens, you'll just have to appease yourself with Rise, this pitch-perfect parody, or Game Night, which you can pretend stars Coach and Landry living extra weird lives. -- SFG
Jon Benjamin Has a Van (2011)
In the years since the delightfully strange Jon Benjamin Has a Van went off the air after one season, the cult of H. Jon Benjamin has only grown. Through his work on Archer, Bob's Burgers, and Wet Hot American Summer as a talking can of vegetables, the gravelly-voiced actor has become an oddball comedy icon. Why not bring back his news parody show, which often went off the rails chasing absurd tangents like "Little Little Italy," for a one-off special? The series, which also featured current Comedy Central MVP Nathan Fielder in a supporting role, was always too weird to catch on with the mainstream, but there has to be some network or company willing to let Benjamin chase his strangest ideas again. Get him back in the van and let's see what happens. -- Dan Jackson
Living Single (1993-1998)
We are in a TV revival renaissance and yet there's been little buzz about bringing back classic black sitcoms of the '90s. Will Smith keeps teasing a Fresh Prince reboot; the legacy of Martin, as good a show as we want to remember it being, is tied up in controversial knots; the only hint of a Family Matters redux is the possibility of cameo on Netflix's Fuller House. We'll cross our fingers for the return of Living Single, the day-in-the-life comedy created by A Different World's Yvette Lee Bowser. Centered on four career women (Queen Latifah, Kim Coles, Kim Fields, Erika Alexander) and their two dude neighbors (T.C. Carson and John Henton) making it as singles in Brooklyn, the series ditched the family angle of The Cosby Show, eschewed the snark of Seinfeld, held back on the mania of Will & Grace, and would provide a welcome alternative to Roseanne's politics. Few sitcoms could tackle topics like breast reduction and depression-level self-worth while keeping the audience in stitches (and you can see for yourself -- every episode is now on Hulu). In January 2017, Latifah said she was actively working on a revival. We say: ASAP, please. -- MP
LOST (2004-2010)
"We have to go back." Maybe ABC's one-hour mystery drama was lightning in a bottle. Maybe attempts to replicate the mystery of Carlton Cuse and Damon Lindelof's rumination on life, death, love, friendship, and airplane-travel paranoia would end in more vacuous mythology, wink-wink references, and half-baked "answers." Maybe you hated the way the series wrapped up -- remember "Man in Black" John Locke and the wonders of the donkey wheel? -- and a single second more would be salt in the wound. Well, screw off: With so many wannabe imitators, more LOST would be a godsend. Thanks to J.J. Abrams's Cloverfield series, there's no reason to think L2.0ST would be an extension of the original story or even exist in the same world as Oceanic Flight 815 or the Dharma Initiative. LOST could be a franchise, a subversion of reality and genre that drifts into spine-tingling territory as the puzzle pieces fall into alignment. OK, OK, we do want to know who built the island statue, but other than that, we don't need more LOST -- just new LOST. -- MP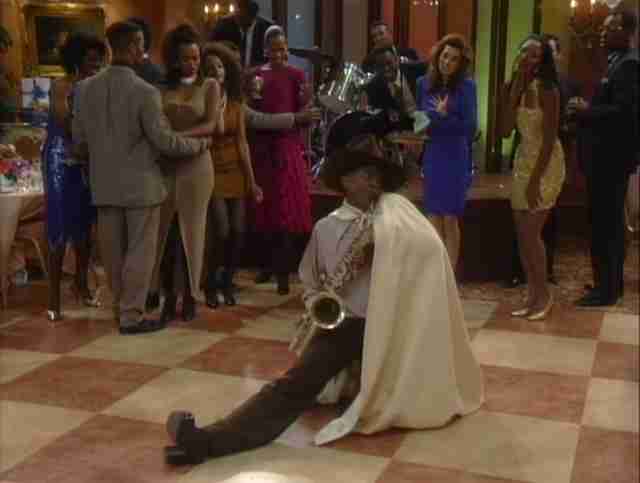 Martin (1992-1997)
Earlier this year Martin Lawrence, Tisha Campbell-Martin, and Tichina Arnold were spotted leaving a Morton's Steakhouse in Burbank together, and they dropped a few hints about a possible revival to a TMZ reporter. "Never say never," said Lawrence, while Campbell-Martin, who played Gina on the show, interjected with a more definitive, "We can't tell y'all shit." A Martin revival makes sense: Lawrence remains a hilarious screen presence, Bad Boys 3 appears to be stuck in development hell, and Martin's reputation as a riotously funny '90s comedy has only grown in the last decade. Plus, it'd be an opportunity to right its own wrongs. It can't be long until Netflix, Amazon, Hulu, or maybe even the show's original home FOX says "Damn, Gina!" and backs up a truck full of money to bring the cast back together. -- DJ
Next (2005-2008)
There has never been a more perfect dating show than Next, the proto-Tinder that allowed young people to indulge their random quirks and superficial preferences in front of a national television audience. It was genius: One person emerged from the Next bus with their first name, age, and some stupid quip about what they're looking for in a date, while three rivals wait back on board, dissing each other with scripted zingers, until the clarion call would signal their own brief moment of MTV fame: "NEXT!!!" There's no reason for MTV, which brought back TRL (???), not to reboot a far superior show which is timeless, ageless, and all the more relevant in our distracted internet age. -- AS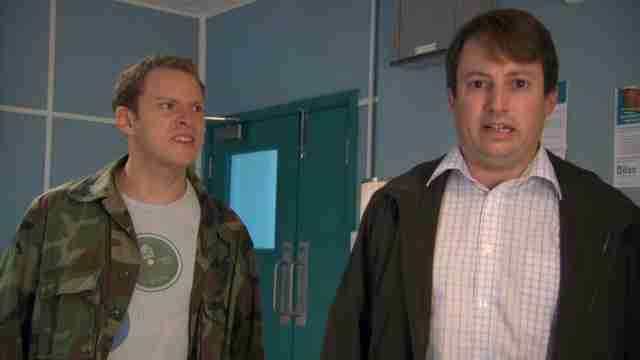 Peep Show (2003-2015)
Last we saw Mark and Jez, they were pretty much right back where they started nine seasons prior: ruining a party, bickering about killing each other, watching tele in their inescapably shared flat -- just now, they were 40. Age was the major cue for David Mitchell and Robert Webb to wrap the 12-year run of the beloved British sitcom, citing the duo's antics becoming less funny misadventures than they were depressing patterns of bad habits. They haven't ruled out a return entirely; Webb has said he'd be up for exploring what kind of nonsense the roommates, bound by fate, might be getting into at 50. It's only been a few years since Peep Show went off the air, but we're of the mind that they could use some TV magic to fudge their ages a bit and keep pandering to the generation notoriously plagued by Peter Pan syndrome. -- LB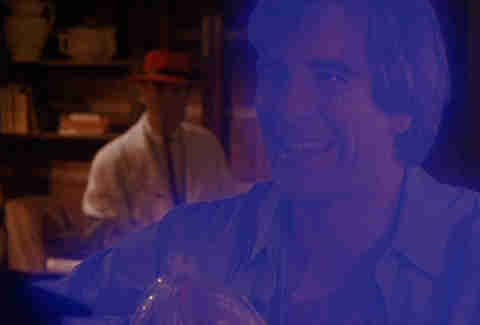 Quantum Leap (1989-1993)
Oh boy! The Best Scott Bakula is Sam Beckett Bakula, the Bakula on Quantum Leap, which like other shows on this list would squeeze seamlessly into a television landscape ripe with reboots and science-fiction. With a quarter century of history on the books since the show's finale, there's never been a better time to bring back the story of a particle physicist pinballing through space-time as he tries to correct and alter past events in an effort to return him to the present day. There's no shortage of cataclysmic events that have happened since 1993, in case you haven't heard, and if the Bakula can't fix them with his mix of wide-eyed innocence and can-do American attitude, no one can. As an added twist, we could revisit the events Sam Beckett altered in the first run to imagine what the longer-term ramifications would be. Now is the time for revisionist history. -- AS
Reno 911! (2003-2009)
In 2003, Lieutenant Jim Dangle and his fellow bungling Reno police officers did their best to not totally fumble the day-to-day tasks of their jobs. This Cops-esque mockumentary was always a joy, primarily because its subjects were too inept to hurt anyone but themselves, and, not unlike Archer, a weird mix of toxic and loving toward each other. Sure, there might be a movie in the works -- a tightrope act given the current political climate -- but we want another series. We wanna be new episode goofin'! -- SFG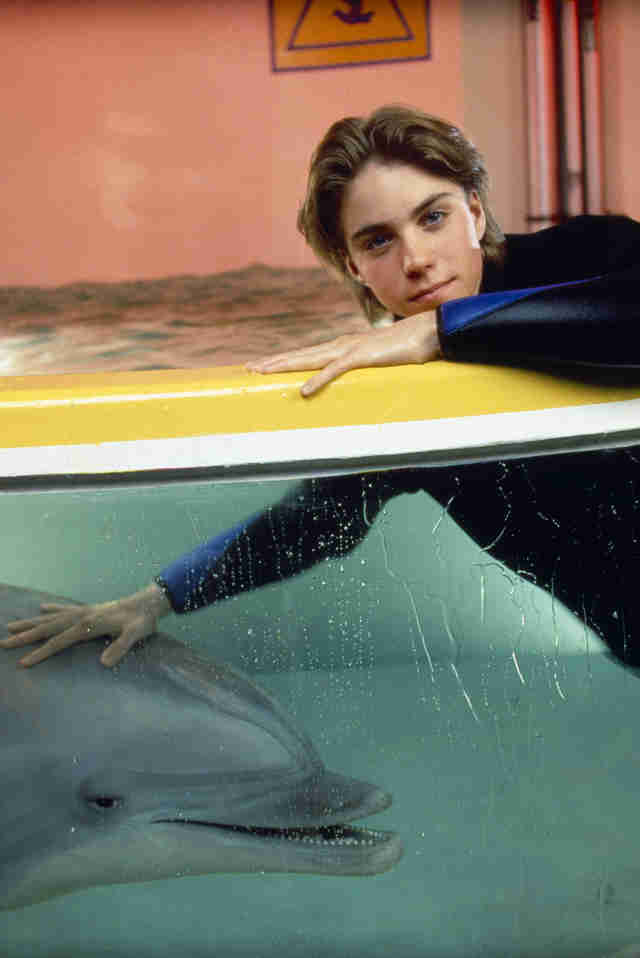 SeaQuest DSV (1993-1996)
SeaQuest DSV was cancelled after three seasons, the same amount of time the original Star Trek spent on the air. But somehow, this science-fiction series about a hi-tech submarine and its resourceful crew hasn't gone on to inspire feature films, animated spin-offs, or next-generation reboots. Though the show's two titans -- Roy Scheider, who starred for two seasons as the titular vessel's captain (and memorably railed against the show in a must-read 1994 interview, calling it "total, total childish trash," "Saturday afternoon 4 o'clock junk for children," and "21 Jump Street meets Star Dreck"), and Jonathan Brandis, who played the resident computer whiz kid -- have passed away, the only character you'd really need to bring back for a revival is Darwin, the dolphin outfitted with a vocoder. Let's get Darwin back and turn this into a combination of Battlestar Galactica meets the "Ocean Deep" episode of Planet Earth. As sea-levels rise and our 2018 resembles the 2018 that creator Rockne S. O'Bannon envisioned with the pilot episode, we're going to need more aquatic sci-fi. Especially if it has a talking dolphin. -- DJ
Taxi (1978-1983)
Many classic '60s and '70s sitcoms aren't candidates for revival because the cast members are no longer with us. But almost all of Taxi's best-known series regulars are still working consistently on television: Judd Hirsch is on CBS's Superior Donuts; Danny DeVito steals scenes on It's Always Sunny in Philadelphia; Marilu Henner showed up on Dancing With the Stars; Tony Danza played Abbi's dad on Broad City; Carol Kane dazzles on Unbreakable Kimmy Schmidt; and Christopher Lloyd is still being Christopher Lloyd. (Andy Kaufman, who played mechanic Latka Gravas, is unavailable, but Jim Carrey would probably stop by for a cameo.) These people are pros! As long as you go easy on the Uber and Lyft jokes, a Taxi reunion could be a funny and poignant way to let get all these brilliant performers together for one more bull session. -- DJ
Xena: Warrior Princess (1995-2001)
In 2015, NBCUniversal announced plans to reboot Xena: Warrior Princess, the Hercules: The Legendary Journeys spinoff that thrived in syndication and inspired a million cosplay outfits and lesbian fan fiction blogs. The project fizzled in development, and we're OK with that solely because it would have meant casting someone other than Lucy Lawless as Xena. In 2015, while promoting her turn in the Evil Dead franchise revival show, Ash vs. Evil Dead, Lawless herself said she'd be interested in donning the leather mail again. With the massive success of Wonder Woman, getting Lawless back in the Thracian warrior garb along with Renee O'Connor as Gabrielle (except they'd be openly dating this time around) seems like something executive producers Sam Raimi and Rob Tapert should make a top priority. We'll give them a deadline of July 19, the first day of this year's Comic-Con. -- John Sellers
Sign up here for our daily Thrillist email and subscribe here for our YouTube channel to get your fix of the best in food/drink/fun.