All the Ways the New 'Twin Peaks' Can Tie Up Loose Ends From the First Two Seasons
"I'll see you again in 25 years."
Laura Palmer made this promise, another vague portent, to Agent Dale Cooper in the 1991 Season 2 finale of Twin Peaks. Had the initial scheduling worked out, Showtime's revival of Twin Peaks would've premiered precisely as Laura Palmer predicted, but squabbles of the contractual and creative kind nudged the series' return to 2017.
Nevertheless, Twin Peaks is back, and now it's time to pick up the numerous plot threads left dangling after the show's abrupt ending (few of which were tangibly answered in Lynch's 1992 feature, Twin Peaks: Fire Walk With Me). But forget about Josie Packard in Season 2, who wound up trapped in a wooden knob in Season 2; Josie's fate is inextricably linked to actress Joan Chen, who was not asked to return for the third season. Perhaps she'll be given a touching wood-chipper sendoff.
As for those who are reconvening for this surprise Season 3, there are many, many unanswered questions. In an attempt to provide clarity for the two-hour premiere, here's a brief recap of where the main characters were left hanging in the Season 2 ending 26 years ago. Please keep in mind that this was a bizarre show. Nothing in the below summary is an exaggeration.
Is FBI Special Agent Dale Cooper (Kyle MacLachlan) under Bob's influence?
The show's quasi-Buddhist conscience was last seen smashing his face into a bathroom mirror at the Great Northern Hotel. He appears to be under the influence of Bob (Frank Silva), the malevolent spirit that possessed attorney Leland Palmer (Ray Wise) to murder his daughter and prostitute Theresa Banks (Pamela Gidley). This all came about after Cooper attempted to rescue his girlfriend, Annie Blackburn (Heather Graham), from the Black Lodge, who had been kidnapped by his arch nemesis, Windom Earle (Kenneth Welsh).
In Twin Peaks: Fire Walk With Me, a bloodied, corpse-like Annie appears in Laura's bed and asks her to write in her diary that the "good Dale" is trapped in the Black Lodge and cannot leave. If Laura did write it down, it must've be on one of the pages Bob ripped from her diary, as it does not appear in the published book, The Secret Diary of Laura Palmer (written by Jennifer Lynch). This will almost certainly come into play in the revival.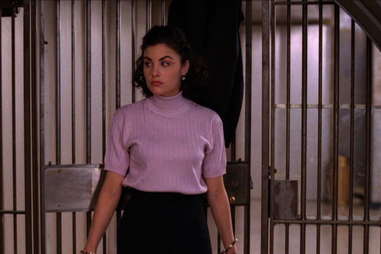 Will Audrey Horne (Sherilyn Fenn) return to her intelligent, charming roots?
No one got more of a bum deal than Audrey in Season 2: her burgeoning romance with Cooper was kiboshed (for reasons you can Google and decide what to believe), she was essentially forced to enter the Miss Twin Peaks Pageant by her father, and she became ludicrously obsessed with saving the endangered pine weasel. Audrey's environmental protest inspired her to chain herself to the door of a bank vault, which proved to be poor timing as a bomb planted by the evil industrialist Thomas Eckhardt (David Warner) blew up the financial institution. It was a substantial explosion... but Audrey somehow survived. Here's hoping Lynch and co-creator Mark Frost atone for the show's mistreatment of Audrey, and do honor to the plucky, intelligent young woman who stole our hearts in the first season.
Do Bobby Briggs and Shelly Johnson (Dana Ashbrook and Mädchen Amick) wind up together?
Bad-boy Bobby spent most of the show's second season trying to become developer Benjamin Horne's protégé, a goal that proved complicated when Horne cast aside his business interests to reenact the Civil War in his office as General Robert E. Lee (again, it's important to note that this is not a joke; this was an actual subplot). After witnessing FBI Chief Gordon Cole (David Lynch) lavish his affections on ex-flame Shelly Johnson, Bobby made amends with Shelly, going so far as to suggest they get married. They wouldn't have Shelly's abusive husband, Leo (Eric Da Re) to worry about, as he was evidently killed by tarantulas.
While it's reasonable to hope Shelly ran off with the adorably hard-of-hearing Cole, the most emotionally satisfying conclusion would be for Bobby to have lived up to his late father's vision of "optimism and confidence" in his future. A true Twin Peaks fan should wish Bobby "nothing but the very best in all things."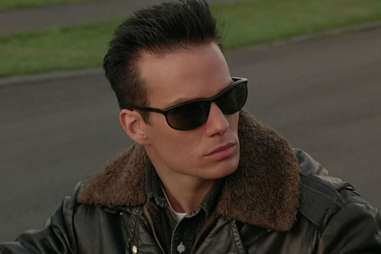 What happened to James Hurley (James Marshall) in Mexico?
Like Audrey, James had a particularly rough Season 2. The sad-eyed motorcycle boy, grieving over the death of Maddy Ferguson (Sheryl Lee), left on-again/off-again girlfriend Donna Hayward (Lara Flynn Boyle) for the open road. He didn't get too far out of town before winding up in a network-safe episode of the Red Shoe Diaries, playing the sexy live-in mechanic to a bored housewife and her wealthy husband.
This subplot was mercifully abandoned, but it left James without much of a purpose in the series. Donna pleaded with him to return to Twin Peaks, but he lit out for Mexico instead. James was never a terribly interesting character, but it'll be fascinating to learn what became of Donna, who was played by Moira Kelly in Twin Peaks: Fire Walk With Me after Boyle abandoned the character.
Who will Albert Rosenfield (Miguel Ferrer) butt heads with?
With the exception of Cooper, no character's return is more eagerly anticipated than the FBI's master of forensics. An avowed pacifist, Albert's best moments were with Sheriff Harry Truman (Michael Ontkean), who went from being his backwoods adversary to trusted friend. Sadly, Ontkean has retired from acting, so the ornery Albert will have to find a new sparring partner. One presumes Albert's return to Twin Peaks will center on Cooper's reemergence from the Black Lodge. Ferrer passed away earlier this year, but it is believed that he completed all of his scenes. It'll be a gift to spend a little more time with him.
Will Laura Palmer, Leland Palmer, and Sarah Palmer (Sheryl Lee, Ray Wise, and Grace Zabriskie) figure in the new plot?
Sarah is the only living member of the Palmer clan, and, if the "Between Two Worlds" segment on the 2015 Twin Peaks Blu-ray is considered canon, she lives an empty existence in the same house where her daughter was molested and her niece murdered.
Laura and Leland were last seen in the Red Room of the Black Lodge at the end of Twin Peaks: Fire Walk With Me, where Leland had seemingly been absolved via Bob's return of Mike's "Garmonbozia" (i.e. "pain and suffering"). Meanwhile, Laura, with Cooper's hand on her shoulder, wept and laughed, suggesting there had been some kind of spiritual reckoning to this whole saga. With Bob no longer in the picture (unless he's been secretly re-cast after actor Frank Silva's death), it is difficult to ascertain how the deceased Palmers will figure into the drama. But, aside from the staggering influx of new characters, this is one of the most exciting mysteries of the upcoming season.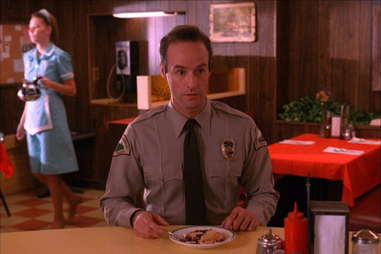 Are Lucy Moran and Deputy Andy Brennan (Kimmy Robertson and Harry Goaz) living in wedded bliss?
If all went according to plan, these two lovable naïfs got married and raised a child. It does not appear that Andy's romantic rival, Dick Tremayne (Ian Buchanan), will return, so what could possibly stand in the way of their happiness? Perhaps a grown-up Little Nicky Needleman, (Joshua Harris), the orphan boy who came under Dick's care, and the absolute nadir of Season 2, will come calling.
Does Deputy Tommy "Hawk" Hill (Michael Horse) set off to find Cooper?
Cooper once said that if he ever got lost, he hoped the capable deputy would be the one sent to find him. If that's how this new season of Twin Peaks opens, it'll be off to the best of all possible starts.
Sign up here for our daily Thrillist email and subscribe here for our YouTube channel to get your fix of the best in food/drink/fun.

Jeremy Smith is the author of
George Clooney: Anatomy of an Actor
and the forthcoming
When It Was Cool
. He lives in Los Angeles, CA, near Bruce Dern.