Everything We Know About the 'Twin Peaks' Revival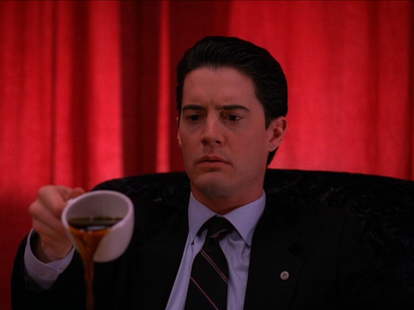 More than a year after Showtime announced that it had tapped David Lynch and Mark Frost to revive their 1990-91 cult drama Twin Peaks, details about the series remain in maddeningly short supply. But that hasn't stopped obsessive fans from Dale Cooper-ing the mysteries in store for them in Season 3.
Is it too early to speculate about what's going on in Twin Peaks? Our log says no. To tide you over until the show debuts in 2017, we've gathered up every official (and unofficial) casting announcement, nearly confirmed rumor, and tantalizing tidbit we could find.
What should we expect?
Lots of episodes. Showtime agreed to run as many as Lynch & co. wanted, which, per one recent report, ballooned from an initial commitment of nine up to 18 installments (hour-long, presumably). And while Lynch has claimed that the episodes were produced as a single long movie, we kind of hope that isn't true, as part of the appeal of classic Peaks was the episodes' abrupt cliffhangers.
Showtime head David Nevins stoked rumors that the episodes will be released simultaneously (which would make it the first such bingeable show for Showtime -- or any pay-cable outlet, for that matter) in a December 2015 interview, when a reporter proposed the idea and Nevins replied, "Maybe." Though he changed his tune recently, on a Bloomberg podcast, saying, "The idea of just throwing it out, having a week [or two] of buzz, and then having it die down, I don't think that makes sense for us."
Lynch/Frost Production
Who's back?
Season 3 has an IMDb page, of course, but it was promptly scrubbed of character names and actors once producers realized they were fodder for conspiracy. Aside from a firm commitment from Kyle MacLachlan, the dashing Agent Dale Cooper, rumors, actors' tweets, and on-set sightings help to flesh out the cast list. Of course, some of these actors' Peaks characters are dead, so it's likely they'll appear in makeup-heavy flashbacks where we try to ignore the passage of two-plus decades.
Sherilyn Fenn announced her return as Audrey Horne, whom we last saw chained up in an exploded bank in the second-season finale. We're guessing she found a way to survive. And while Michael Horse (lawman "Hawk" Hill) hasn't been confirmed to return -- again, practically no one has -- we doubt he'd appear in the show's teaser announcement (above) if he wasn't on board.
An official cast list finally dropped in April, featuring 217 (!) boldface names from the movie and music industries. After confirming appearances from old favorites, we added Matthew Lillard, Michael Cera, Eddie Vedder, Trent Reznor, David Koechner, and dozens more to the town roster.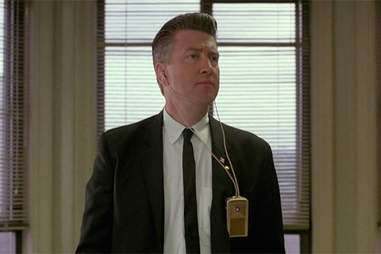 Lynch/Frost Productions
Other confirmed returnees: David Lynch (his shouting Gordon Cole is required) and Wendy Robie (Nadine Hurley). Dana Ashbrook (Bobby Briggs), Gary Hershberger (his pal Mike), James Marshall (James Hurley), and Mädchen Amick (Shelly Johnson) are reportedly showing up to redeem themselves from the soap-opera miseries of the near-Lynchless Season 2. Reuniting with Shelly is her Double R Diner partner Norma Jennings (played by Peggy Lipton), as well as Norma's beloved "Big Ed" Hurley (Everett McGill).
Russ Tamblyn is set to reprise his role as Dr. Lawrence Jacoby, Laura Palmer's psychiatrist and the worst TV doctor this side of Downton Abbey. Also on the medical front, series co-creator Mark Frost's father, Warren Frost, will be returning as Dr. Will Hayward. (The junior Frost will be cameoing in Season 3, as he did in the original series, though it's unknown if he'll be reprising his role as a TV newscaster or playing someone new.) Al Strobel (who played one-armed man Mike) and adorable couple Lucy (Kimmy Robertson) and Deputy Andy (Harry Goaz) will be coming back, too.
Lynch/Frost Productions
Sheryl Lee -- who played both Laura Palmer and her equally doomed twin cousin, Maddie -- and Grace Zabriskie, who played Laura's mother, Sarah, are set to return as well. Whether Lee will be playing yet another identical member of the family or relegated to flashbacks is, of course, uncertain, as is whether anticipated returnee Ray Wise (whose Leland Palmer didn't survive) will be returning as a resident of the Black Lodge -- where he was last seen on the show -- or perhaps, as some have speculated, as a new incarnation of the supernatural "Killer Bob."
Other confirmed returnees include Harry Dean Stanton, Miguel Ferrer (Albert), Andrea Hays, Jan d'Arcy (Sylvia Horne), Charlotte Stewart (Betty Briggs), David Patrick Kelly, and Richard Beymer (whose Ben Horne was last seen suffering a possibly fatal head wound).
And David Duchovny has dropped strong hints that he'll return as transgender DEA agent Denise (né Dennis) Bryson, telling TVLine that he's "been frightened into silence" and can't discuss it, but he's fully prepared to "shave [his] legs" for the part.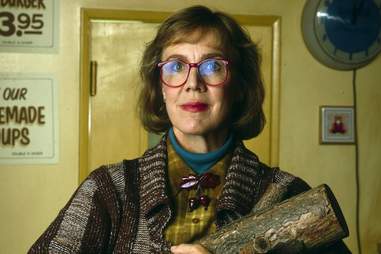 Lynch/Frost Productions
Who's missing?
While many people might not be back, we know for sure that a few familiar names won't be on the call sheet. Peaks regular Catherine E. Coulson (the Log Lady) and Fire Walk With Me's David Bowie (time-traveling FBI Agent Jeffries) have died in the past year. Set dresser Frank Silva (Killer Bob), John Boylan (Mayor Milford), Lynch standby Frances Bay (Mrs. Tremond in Peaks and Fire), Jack Nance (Pete Martell), Don S. Davis (Bobby Briggs' once-estranged dad, Major Garland Briggs), and Dan O'Herlihy (Andrew Packard) are also among the deceased Peaks alumni.
Lara Flynn Boyle -- who turned down the chance to reprise her role of Donna Heyward in Fire Walk With Me -- is expected to skip the Peaks revival; it's unknown whether Moira Kelly, who replaced Boyle in Fire, might return. Michael Ontkean, who played Sheriff Harry S. Truman in Peaks (and in Fire Walk With Me, though his scenes didn't make the final cut), has also avoided any post-Peaks reunions, including special features on DVD releases, and won't be returning for the new series. (Reports vary as to whether or not new cast member Robert Forster is playing Harry or a different, as-yet-unannounced role.)
Uncertain (but likely) is Michael J. Anderson as the backwards-talking Man from Another Place -- though he tweeted that he wouldn't be involved, this clip suggests otherwise. Joan Chen seemed unlikely to return as Josie Packard, as she's been absent from American TV in recent years, but speculation ratcheted up considerably after Showtime PR began following her on Twitter.
Lynch/Frost Productions
Who's new?
Beyond Forster, new cast members include Ashley Judd, Tom Sizemore, Naomi Watts, Amanda Seyfried, Robert Knepper and James Belushi (possibly as brothers), Balthazar Getty, Grant Goodeve, Larry Clarke, and Caleb Landry Jones. Also rumored for the call sheet are Bailey Chase, Patrick Fischler, David Dastmalchian, Ana de la Reguera, Hugh Dillon, and Angela Andrews. There's been no official word yet who any of these actors are playing, though that quickly redacted IMDb report suggested Seyfried is playing a member of the Briggs family.
Jennifer Jason Leighis involved, possibly as "Judy," a much-speculated-about character who may be a relative of Josie Packard, and/or an early victim of Killer Bob or an alias for Laura Palmer -- referenced by Bowie's Agent Jeffries in Fire Walk With Me ("We're not going to talk about Judy").
Frequent Lynch collaborator Laura Dern is joining the cast as well, with rumors circulating that she's playing the previously unseen "Diane" -- the woman to whom all of Coop's tape-recorded memos are addressed. If true, that would put an end to the longtime fan theory that Diane was a figment of Cooper's imagination.
Many music-world luminaries will also take up residence in Twin Peaks, as we've heard word that Eddie Vedder, Sky Ferreira, Sharon Van Etten, Trent Reznor, and Ruth Radelet of the Chromatics are on the cast list.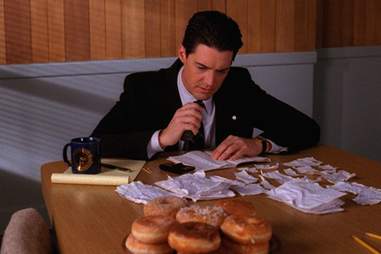 Lynch/Frost Productions
What else do we know?
According to Showtime head David Nevins, shooting was halfway done as of late December. As the Season 3 trailer reminded us, "Location sometimes becomes a character," so our cast must include the original Twin Peaks setting in Snoqualmie, Washington (shooting there wrapped in November), and spots throughout Los Angeles (cast and crew were spotted at the LA Athletic Club, the Langham Apartments, and Los Angeles City Hall, and are likely to be in the area through May) and Las Vegas. Rumors about filming at New York's over-the-top wedding venue Grand Prospect Hall appear to be unfounded, which is a shame, as it would make a hell of a Red Lodge. No matter -- Nevins reportedly screened 24 minutes of footage and attests they are "stupendous."
An array of new merchandise -- joining recent Blu-ray rereleases of the original series and Fire, and a 2011 reprint of The Secret Diary of Laura Palmer -- includes The Secret Lives of Twin Peaks, a novel by Mark Frost, due in October; and the December release of a CD version of Cooper's messages to Diane, which were previously only available on audiotape, now titled Diane: Twin Peaks Tapes of Agent Cooper. There are rumors of a coffee-table book and headier tomes exploring the show's imagery and themes. Also forthcoming: a spring 2017 installment of the 33 ⅓ series devoted to Angelo Badalamenti's soundtrack, and a December cookbook titled Damn Fine Cherry Pie.
Speaking of pie, the Twin Peaks Archive confirmed sightings of pies and coffee at the Double R during filming. The Archive folks also reported a tidbit that, on a project this secretive, practically constitutes a spoiler: some characters were filmed at... a Thai restaurant. No word yet if Agent Cooper is there, or if he declares a traditional beverage as "damn good coffee... and iced!" but here's hoping.
Sign up here for our daily Thrillist email, and get your fix of the best in food/drink/fun.
Ivan Cohen is a freelance pop-culture journalist and TV and comic-book writer who has written for Vulture.com, Playboy.com, Esquire.com, and more. As far as he knows, he has never met anyone who can tie a cherry stem into a knot with their tongue. He's on Twitter: @ivanmcohen.