Why 'Twin Peaks' Was the Least Likely Phenomenon in Television History
ABC
ABC
This post contains spoilers for the first two seasons of Twin Peaks.
Twin Peaks premiered on April 8, 1990, Easter Sunday, and forever altered the landscape of network television. And no one saw it coming, because no one had ever seen anything like it.
"Who killed Laura Palmer?" The pilot episode's irresistible hook served as a point of entry into a strange, small-town world of lovelorn teenagers, dutiful lawmen, treacherous industrialists, and unquantifiable eccentrics like the Log Lady. The Pacific Northwest setting only heightened the show's eeriness, suggesting that some powerful malevolent force was tucked away deep in those lush forests of swaying Douglas firs. It was an intoxicating concoction that, for the better part of a year, placed arthouse darling David Lynch squarely in the mainstream.
The confluence of conditions that allowed for Lynch to connect with viewers who were content with nighttime soap operas like Dynasty and Falcon Crest are myriad, and, in retrospect, somewhat miraculous. Network television had embraced serialized hour-long storytelling (outside of the soap model) in the early 1980s with critically acclaimed shows like Hill Street Blues, St. Elsewhere, and L.A. Law, and even indulged light experimentation (Moonlighting beat Buffy the Vampire Slayer to a musical episode by a solid decade). But they still adhered to the unspoken rules of TV; any show that monkeyed with genre formula was still beholden to it.
Ten years prior to the premiere of Twin Peaks, David Lynch couldn't have been a less-likely candidate for network television success. It was implausible enough to consider that the director of the cult movie smash Eraserhead would be singled out by Mel Brooks to direct a black-and-white film based on the life of Victorian Era circus freak Joseph Merrick. But The Elephant Man was a critical and commercial hit, earning Lynch his first Academy Award nomination for Best Director. For a brief moment, it appeared as if Lynch's aesthetic might appeal to more than just the midnight movie crowd. After turning down George Lucas' offer to direct Return of the Jedi, Lynch put this notion to the test with a perverse, mega-budget adaptation of Frank Herbert's sci-fi novel, Dune. The result was the kind of flop that permanently damages, if not completely ends, careers.
Lynch, however, had signed an overall three-picture deal with Dune's producer, Dino de Laurentiis. One of those projects, Dune Messiah, was dead on the slab once the worldwide box office grosses for the first film were tallied; the other was an untitled murder-mystery set in an idyllic small town where darkness lurks beneath the picture-perfect façade of white picket fences and lovingly maintained lawns.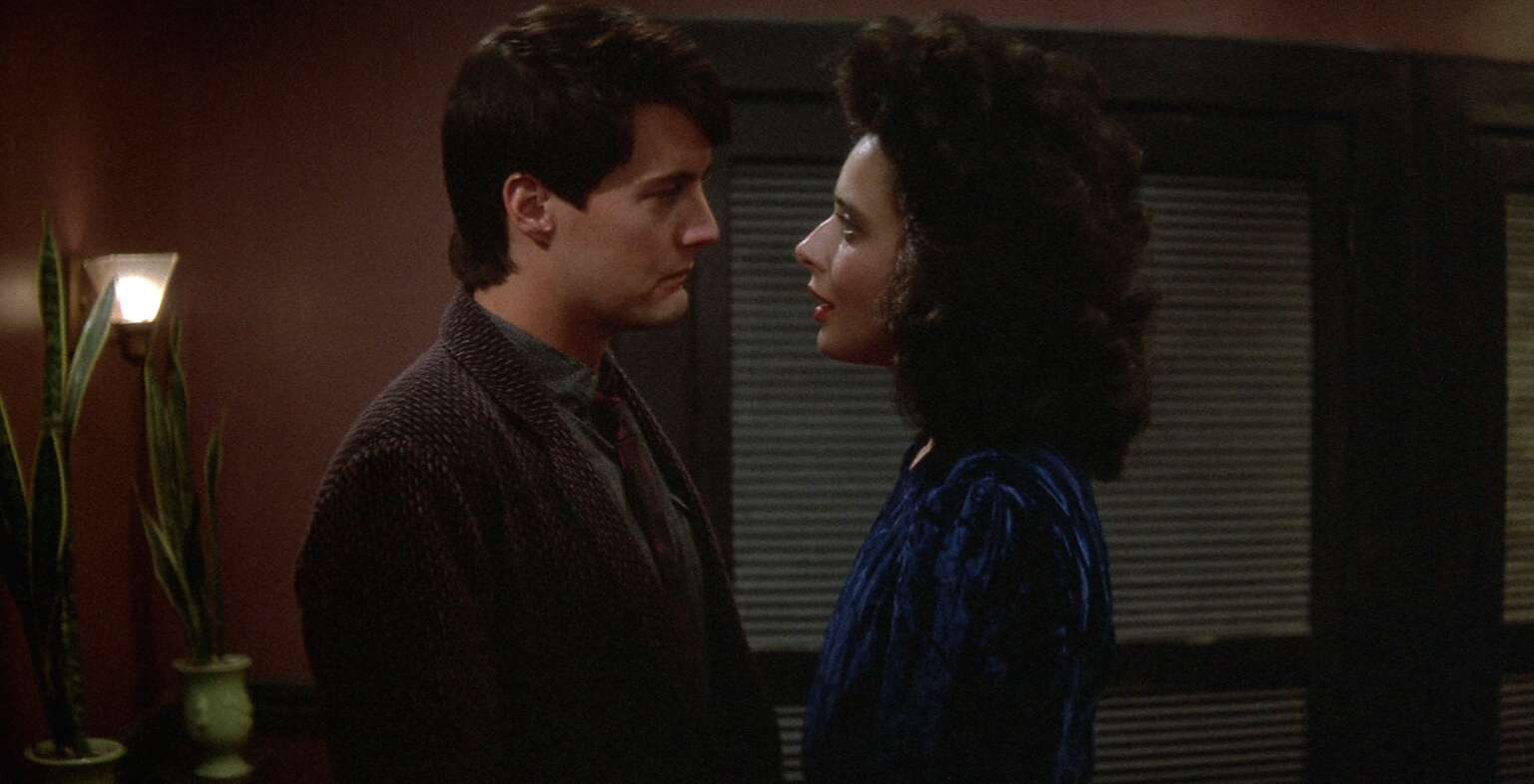 With the budget set at a manageable $6 million, de Laurentiis agreed to give Lynch final cut on Blue Velvet -- even though his distribution company, DEG, considered its commercial prospects dim. But when the film earned rave reviews at the 1986 Toronto Film Festival, DEG committed to a full-fledged art house release, and the film became a word-of-mouth sensation. Writing for the Chicago Tribune, Dave Kehr effused, "Blue Velvet represents something that has never been seen before and in all likelihood will never be seen again: an underground movie made with Hollywood means and Hollywood skill. It's midnight mainstream."
This was Lynch making good on the surreal promise of Eraserhead, but connecting with a slightly broader audience through the sweet, nostalgic veneer of a 1950s melodrama like Peyton Place. It was a brilliant seduction: Tap into the luscious, idealized memory of the postwar boom, and let all manner of repressed kink and sadism spew forth.
It was around this time that Lynch hooked up with Emmy-nominated writer Hill Street Blues writer Mark Frost for a Marilyn Monroe biopic at Warner Bros. The project never went anywhere, but Lynch and Frost continued to work together on a spec screenplay called One Saliva Bubble, an oddball, science-fiction comedy that was set to star Steve Martin and Martin Short. That project stalled out as well, leaving the director without an immediate follow-up to Blue Velvet. Lynch, never an easy sell to the studio or independent financiers, was in danger of losing momentum, which is sometimes just as precarious as flaming out with a box office bomb.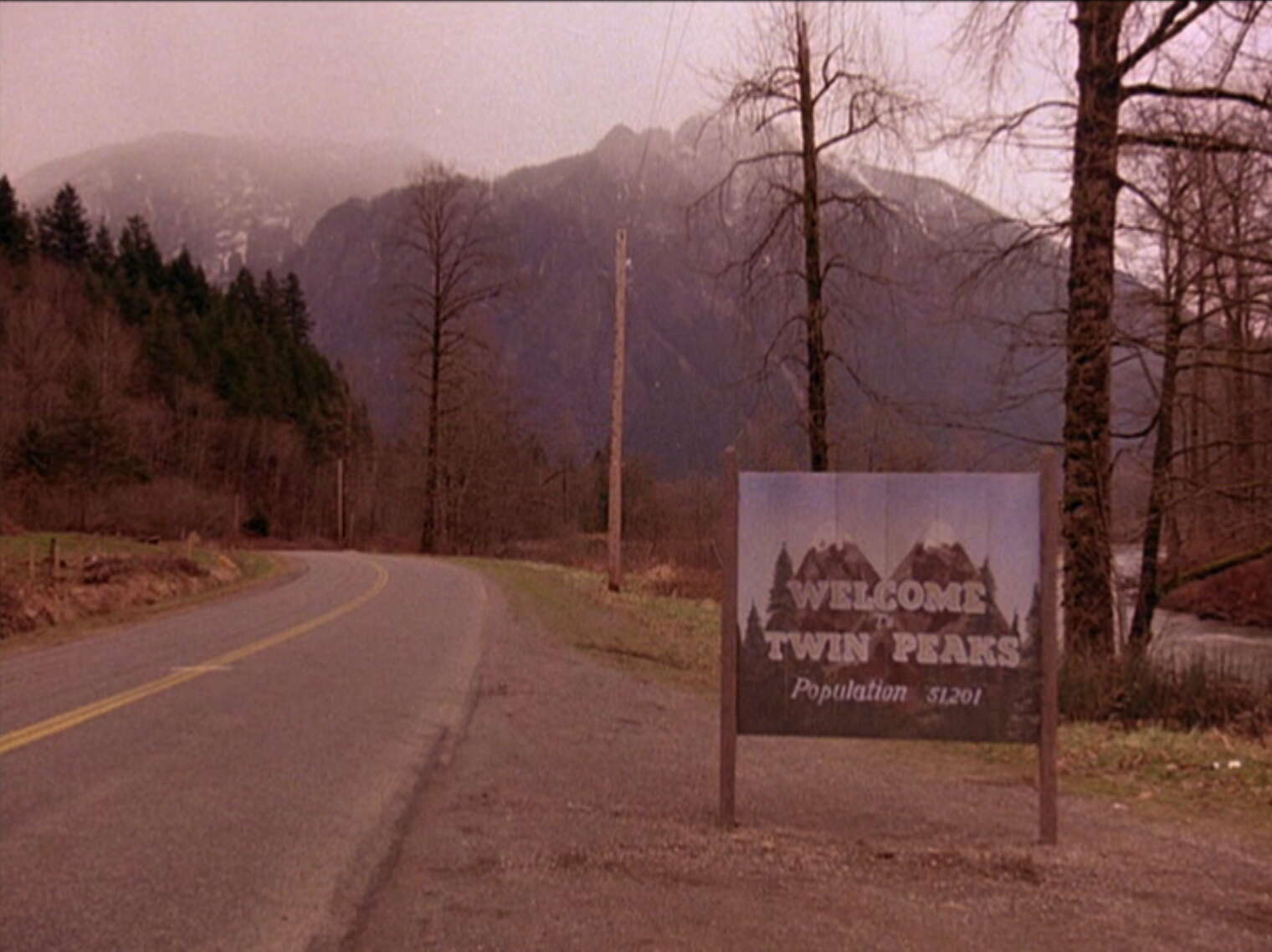 Lynch's unlikely salvation came from his agent, Tony Krantz, suggested the director conceive a television series with Frost. Though initially hesitant, Lynch hunkered down with the writer, and shaped a small-town murder-mystery roughly in the mold of Blue Velvet. Originally titled Northwest Passage, the plan was to hook viewers with the murder of Laura Palmer, the most popular and perfect high school student in town, with the ensuing investigation delving into a community that is at once morally upright and thoroughly corrupt.
The pitch proved irresistible to ABC, which, coming off contract disputes with the Writers Guild of America, which led to the lengthy 1988 strike, was desperate for new programming. (The network previously scraped creative rock bottom by reviving Mission: Impossible, which included shooting old scripts from the original run.) ABC committed to a two-hour pilot with the stipulation that Lynch and Frost film a version that definitively solves Laura Palmer's murder; if the network rejected the pilot, it could at least recoup on the $4 million investment by selling it as a new David Lynch film to international markets. Lynch and Frost took the deal, but, according to the writer in the documentary Secrets from Another Place: Creating Twin Peaks, they had one demand, "If you want us to do it, you have to leave us alone." They did. According to producer David Latt, "[Lynch] was the master of his own work."
This level of creative freedom was unheard of in network television, but thanks to some cajoling by then creative executive Bob Iger (the executive who would later acquire Pixar, Marvel, and Lucasfilm for Walt Disney Company), the series was given a seven-episode order, which Frost likened to "a partial vote of confidence." Lynch's control over the material remained unchallenged, and word quickly got around to other television directors, many of whom visited the set just to soak in the atmosphere. Their enthusiasm was rewarded with a sense of creative ownership when their episodes came around. Director Todd Holland followed his 1989 movie The Wizard with two episodes of Twin Peaks and only had praise for his collaborators. "David would allow directors to stay involved all the way through [post-production]," remembers Holland says in Secrets from Another Place. "If you're going to offer me this sense of ownership, I'm going to come in and do it."
The pilot was greeted with near unanimous praise from the nation's television critics. Writing for Time magazine in April 1990, Richard Zoglin observed that "it may be the most hauntingly original work ever done for American TV." And yet there were significant red flags before the Twin Peaks' Easter premiere -- primarily ABC's decision to slot the show at 9pm on Thursday against ratings juggernaut Cheers. Despite this, Lynch was hopeful, telling Zoglin, "These shows should cast a spell. It's sort of a nutty thing, but I feel a lot of enjoyment watching the show. It pulls me into this other world that I don't know about."
American viewers went along for the ride. The pilot was watched by over 34 million people, making it by far the highest-rated television movie of the 1989-1990 season. Even more impressive, Cheers took a ratings hit during the show's first Thursday broadcast on April 12. Early on, viewers were clearly enchanted by the off-kilter world of Twin Peaks, and obsessed with finding out who killed Laura Palmer.
The real test of Twin Peaks' longevity, however, arrived with the airing of the second hour-long episode on April 19. Titled "Zen, or the Skill to Catch a Killer" (and directed by Lynch), it concludes with Agent Dale Cooper visiting the Black Lodge, where he meets the diminutive Man from Another Place, a one-armed derelict named Mike, and Laura Palmer's murderer, Bob. The dialogue in this scene was recorded phonetically reversed, thus giving it a fever dream vibe that most viewers, whether they liked it or not, took to bed with them that evening.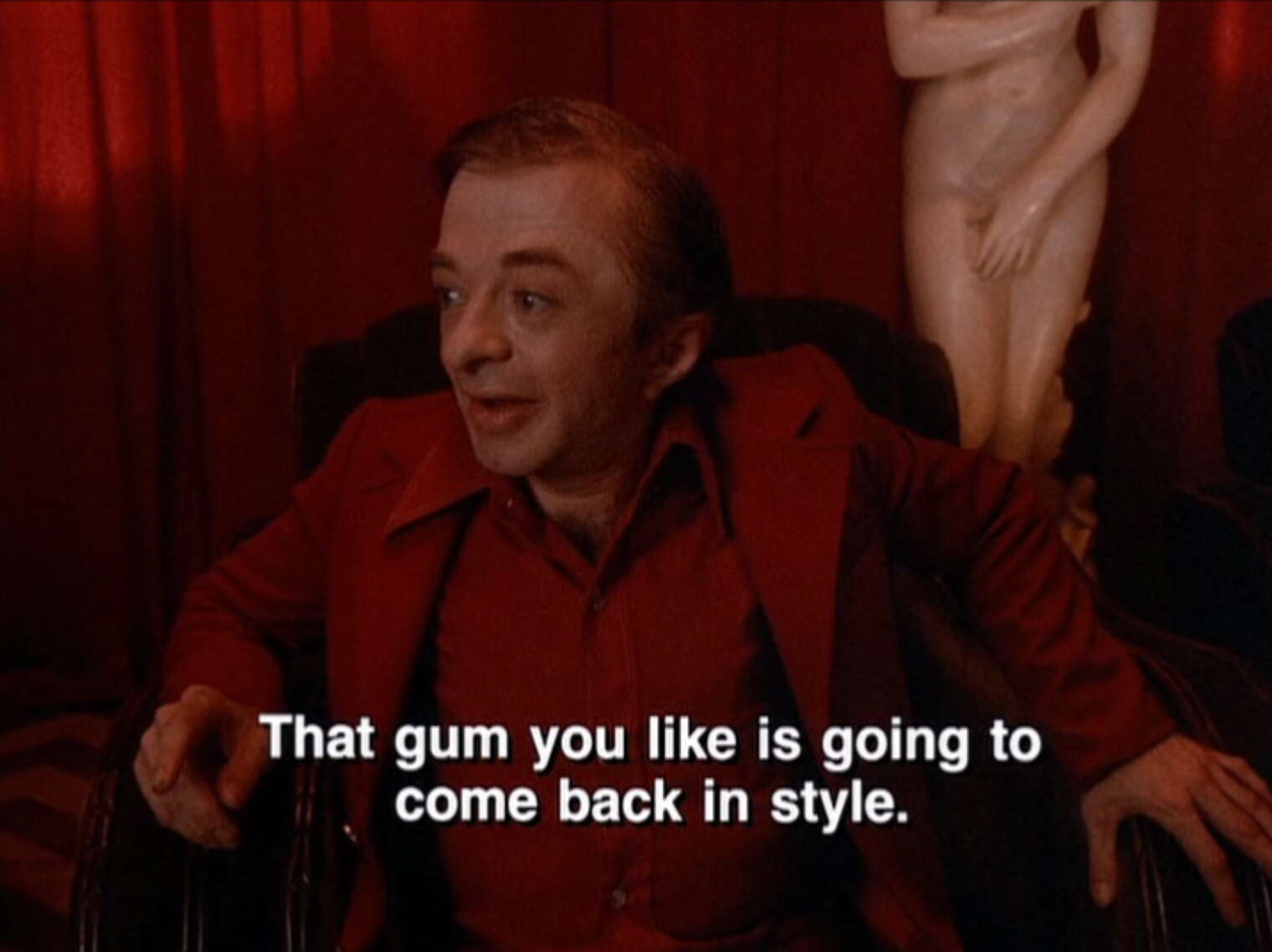 If the show had been subverting the nighttime soap formula up until now, this episode dosed it with LSD. The Lynch of Eraserhead had just crept into America's living rooms, and, judging from the subsequent ratings decline, many people wanted no part of this freak show. While Twin Peaks continued to perform admirably against Cheers, it gradually lost its audience and its grip on the popular culture.
The death knell sounded over the summer when ABC sabotaged the show by moving Twin Peaks to Saturday nights at 10pm. Gone was the "water cooler" status, forcing the mostly Gen-X fans to delay their Saturday night revels, record the show, or abandon it altogether. As the ratings predictably plummeted, the network pressured Lynch and Frost to reveal the identity of Laura Palmer's killer -- which, to the surprise of no one who'd been watching the show closely, was her father, Leland. Two episodes later, Leland killed himself in his prison cell, freeing himself of the demon Bob, and leaving the show without a narrative compass. An attempt to confront Cooper with an enemy from his past, rogue FBI Agent Windom Earle, never caught on, and the show was canceled soon after the Lynch-directed season finale aired on June 10, 1991.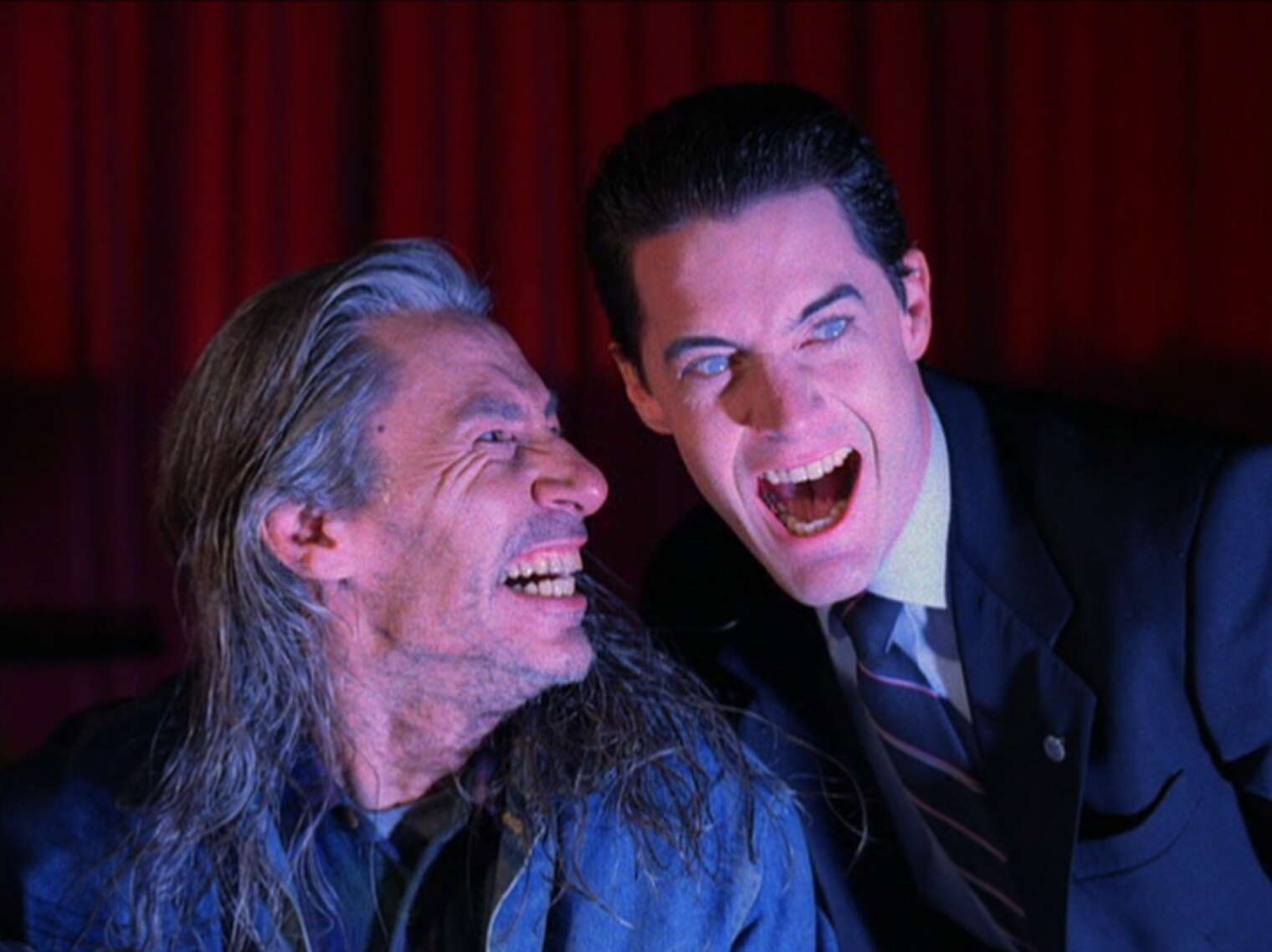 In an interview for the 2016 Blu-ray release, Ray Wise mused, "I've always felt that Twin Peaks was meant to burn very brightly for a short period of time, almost like a comet that goes across the sky. Burn very hot, very intense, very passionate, and then burn out and disappear." He could've been talking about Lynch's career as well. Though the filmmaker has dished out a couple of critically acclaimed classics over the years (The Straight Story and Mulholland Dr. in particular), he's never come close to connecting with a mainstream audience in such a profoundly personal manner.
Lynch is a product of the Midwest and the rural Northwest. His sense of small-town life always rings disturbingly true; that's what attracted 34 million Americans to Twin Peaks in the first place. What many of them could not do, however, is follow him into the dark corners of depravity that exist in every US city. They liked the cheeky, sexy surface, not the spiritual decay.
As for whether Twin Peaks was meant to rise from the ashes 26 years later, that will be determined when the third season premieres on May 21, 2017.
Sign up here for our daily Thrillist email and subscribe here for our YouTube channel to get your fix of the best in food/drink/fun.
Jeremy Smith is the author of
George Clooney: Anatomy of an Actor
and the forthcoming
When It Was Cool
. He lives in Los Angeles, CA near Bruce Dern.