Why All the 'Uncharted' Games Are So Damn Great -- and 'Lost Legacy' Is Too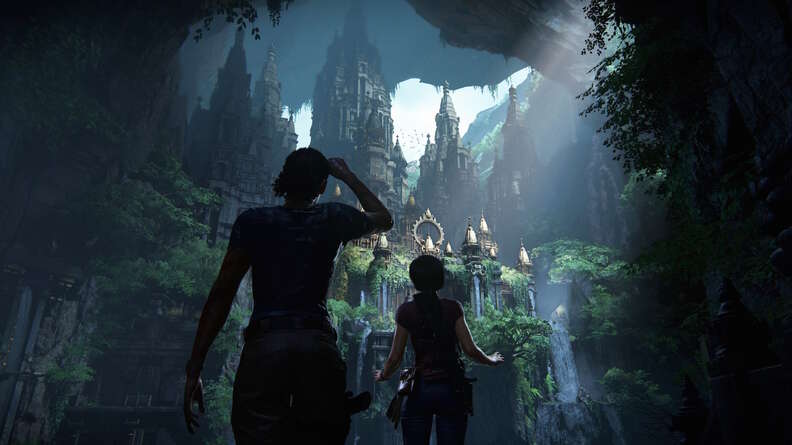 Naughty Dog
Naughty Dog
Uncharted: Drake's Fortune hit PlayStation 3 in 2007, and what a decade it's been since for the adventure franchise. While the initial game, from California-based game developer Naughty Dog, was less polished and less assured than its grander sequels, Drake's Fortune established the exhilarating template that has powered some of the absolute top action experiences of the last 10 years.
Calling it Tomb Raider meets Indiana Jones is simplistic, yet surprisingly apt: the episodic exploits of treasure hunter Nathan Drake marry a modernized version of the Lara Croft's adventuring format with the swagger and cinematic flash of Steven Spielberg's polished pulp. And with today's release Uncharted: The Lost Legacy, the tried-and-true approach is both repeated and renewed, sticking to the familiar fundamentals of past entries while swapping in a new heroine and making some less obvious tweaks along the way.
As the franchise celebrates a decade in gaming, here's a look at what has defined the Uncharted experience along the way, and how The Lost Legacy holds up to its larger predecessors.
Uncharted packs in the jaw-dropping set pieces
Uncharted 2: Among Thieves sticks out as the defining series entry because it ratcheted up the focus on wildly intense, cinematic moments that made you seize up and shout at the television. From the very first moment -- when you regain consciousness, bloodied and sitting in a dangling train car swung over a cliff -- the game's relentless pace continued, from being chased on-foot by an alarmingly large truck to fighting atop a moving train and surviving a building collapse.
That's become the biggest hallmark for the series since. Uncharted 3: Drake's Deception upped the ante from its predecessor's biggest moment, as you hang from (and eventually fall out of) a cargo plane over the desert, while last year's Uncharted 4: A Thief's End's centerpiece mission is a dramatic jeep and motorcycle chase that just gets crazier by the minute.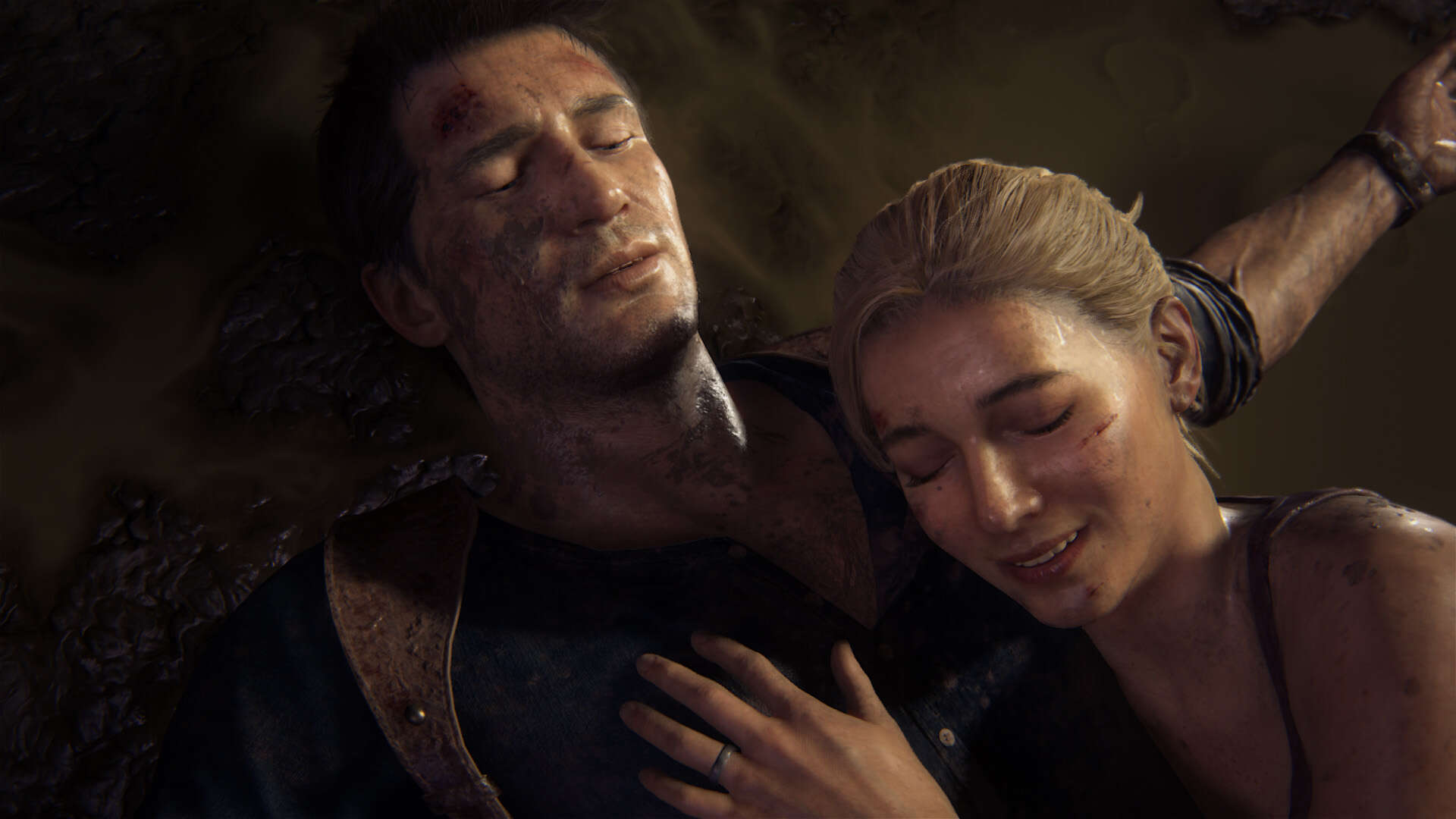 They also nail the little moments
With the power of the PlayStation 4 and a surely-enormous budget, Uncharted 4 might be the best-looking console game of all time, packing in dazzling environments and thrillingly in-your-face action throughout. And yet the most realistic sequence doesn't come with a daring chase or striking vista, but rather an exchange between a married couple on a couch.

Nathan Drake and his wife Elena are having a quiet night in, but it quickly turns to bickering, with a level of tension and disappointment that might seem all too familiar to some players. It's startlingly, uncomfortably on point, and it's hardly the first time that Uncharted has captivated with its dialogue and interactions rather than its boisterous brawls and set pieces.
Each game has a real character at the center
The series earned that moment gradually by establishing its characters from the start as multifaceted people -- not just gung-ho adventurers who you only see seeking treasure and eliminating threats. Drake was originally modeled after Harrison Ford and Johnny Knoxville, which makes perfect sense, and he has an everyman charm that isn't diminished by, say, the seemingly hundreds of people he kills over the course of these games.

He still comes across as human all the while. He'd had marital strain, in part because he can't shake the thirst for adventure. And when he finally gives up that life early in Uncharted 4, he's burdened by the loss, distracted and unfulfilled by his begrudging new normal. Drake seems real in a way that big-budget video game action stars rarely are, and Nolan North's irreplaceable voice acting and motion capture work really sell the hero.
Uncharted does cinematic gaming better than anyone
That kind of holistic performance capture is just one way in which the Uncharted series attains a level of polish unmatched in gaming. From thrilling camera angles to a focus on fluid animation throughout, the Uncharted games rarely break the illusion of realism. Each mission often feels like it could be a climax from a Hollywood action flick, even early in the course of a campaign.
Uncharted's blend of gunplay, exploration, and puzzle-solving certainly wasn't unique; Tomb Raider laid down the bones of that premise more than a decade prior. But Uncharted revamped and enhanced that formula in such a dramatic way that even Tomb Raider had to take notice: Lara Croft's latest rebooted adventures are so similar to Naughty Dog's that they can only seemingly exist in a post-Uncharted world. That debt now goes both ways.
How does The Lost Legacy compare?
Uncharted has only gotten better over time, at least as far as the mainline, numbered adventures are concerned (we can safely overlook PlayStation Vita side game, Golden Abyss). While Uncharted 2 landed with a bigger impact, Uncharted 3 made strides in storytelling and dialogue, while last year's Uncharted 4 felt like it took everything to another level: graphics, character development, and death-defying scenarios alike.
This month's The Lost Legacy builds from the foundation of Drake's finale, and as such, it's immediately impressive: the combat, exploration, and visuals are all expectedly superb. It also gets off to a strong start with an early rooftop chase through India that showcases the series' knack for delivering huge, exciting moments without skimping on the little details. And Chloe Frazer, previously a companion in Uncharted 2, subs in well as the new lead. She is charismatic and just as capable as Drake, and is flanked by Nadine Ross, another past series supporting character.
That dynamic duo proves compelling, and while the game often feels strongly familiar, it's still another slice of heaven for anyone who loves a big, beautiful adventure game. The Lost Legacy doesn't feel as critical to the series as Uncharted 4 and retreads familiar ground, but truly, it does nothing to diminish Uncharted's own legacy in the slightest. It's another immaculately polished, massively entertaining, top-of-class blockbuster in an increasingly long line of them.
Sign up here for our daily Thrillist email and subscribe here for our YouTube channel to get your fix of the best in food/drink/fun.
Andrew Hayward is a freelance writer who was underwhelmed by Uncharted: Drake's Fortune and then (happily) overwhelmed by Uncharted 2. Follow him on Twitter @ahaywa.