How Adam Sandler and the Safdie Brothers Made 'Uncut Gems' the Best Movie of the Year
Adam Sandler issues a self-deprecating apology as he rolls into the tiny studio reserved for a joint interview with some of his fellow cast members from the new film Uncut Gems. He's really not that late, and, after all, he had a big night. The movie premiered at the 2019 Toronto International Film Festival, and then was feted with a blowout worthy of the decadence depicted on screen at a nearby club, which morphed into a birthday party for the Sandman himself. Music blared, booze flowed, and The Weeknd sang "Happy Birthday." There was even a cake adorned with a fake diamond Furby, just like the one in the movie. In the bright light of day, Sandler joked to his co-star LaKeith Stanfield that they had both decided to don sunglasses.
Uncut Gems, directed by brothers Josh and Benny Safdie, offers a buzz like no other you'll find at the movies this year. It's the picaresque tale of Howard Ratner, a dealer in New York's Diamond District with a sports-gambling addiction, that plays out during the spring of 2012. Howard's associate Demany (LaKeith Stanfield) brings Celtics star Kevin Garnett (playing himself) into the store, and Howard, star struck, tries to win KG over with his new prized possession: a black opal from Ethiopia. The player takes one look at it and decides that he needs this opal; it's his good-luck charm. The twin obsessions of KG and Howard set the unrelenting action in motion, but the Safdies take countless detours into a scuzzy underworld as Howard tries to outrun the heavies to whom he owes money and navigates his fractious relationship with his wife (Idina Menzel) and mistress (Julia Fox).
After talking with Sandler, Stanfield, Menzel, and Fox at TIFF, I hopped on the phone with the Safdies to hear the stories behind the wild film's most interesting elements.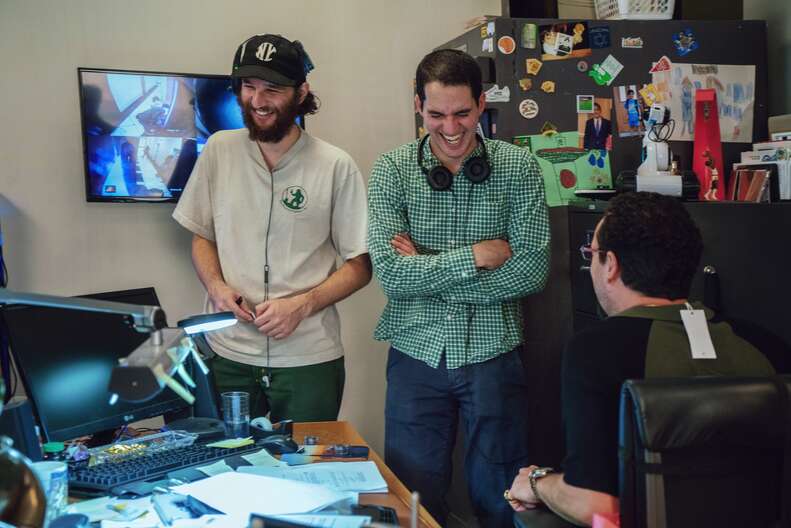 The Diamond District
Sandler admits that when he first read the script he pictured the action happening at street level. Sure, if you walk down 47th Street in Manhattan you see plenty of jewelry stores, but that's not what the Safdies depicted for Howard's domain. They were getting at the unseen universe that only a privileged few are allowed to enter. "A lot of the guys on the block are letting us see their stuff, so many were upstairs and then hidden places and everybody had locked doors," Sandler says. "Some shops have guys with a gun out front. Some guys take it really serious. Nobody's just buzzing anybody in randomly."
The first draft of the script -- a movie nearly a decade in the works, the Safdies had about 163 edited versions when all was said and done -- was more nostalgic, based on memories of the stories the brothers had heard from their father when he was working in the area. To get more detail, Josh started hanging around to try to infiltrate that world. "It was tough because the Diamond District is a place where you can't even take a cell phone picture without getting your face smashed in," he says. "I had to kind of work my way in, so I just had to constantly just be around, and the people on the streets saw me, the more they started to talk to me." He would walk around with press clips about his movies to prove that he was for real and offer just a hint of the glitziness the proprietors crave.
The stories Josh tell about this period are almost more outlandish than the fiction he ultimately invented. "[A friend of ours] who passed away about three, four years ago, was buying a big encrusted tuna," he recalls. "His name was Tuna. It was a nickname. And he was getting a pendant made that was a like a sapphire-encrusted tuna. And he took me to a place." Eventually he fell in with Greg Yuna, otherwise known as Mr. Flawless, who appears in the film. Yuna was interested in entertainment and film and gave the brothers the access they needed.
Meanwhile, as Instagram grew in popularity, they were offered more of a window into the lives of the District denizens, catching a Super Bowl party in a backroom or a Rosh Hashanah celebration. The internet also gave the Safdies a kind of cache among the crowd: The documentary they made about a basketball player, Lenny Cooke, blew up on WorldStarHipHop, which acted as another calling card to get them in the door.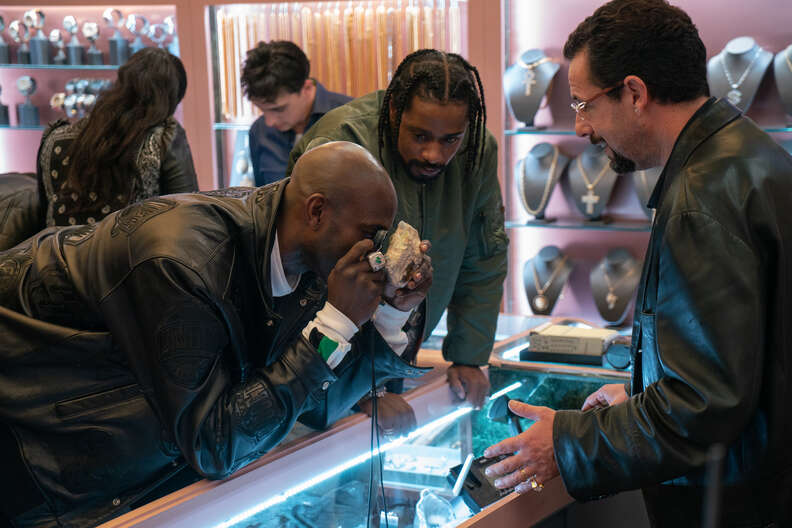 The Sandman
Sandler was the brothers' first choice to play Howard Ratner, but it took years for them to reach him. They first attempted in 2011 after they were nominated for an Independent Spirit Award for Daddy Longlegs. No luck. They tried again three years later. "We were told 'he's unavailable during the dates that you need,'" Josh explains. "And we gave a pretty wide window -- it was, like, six months. What about the other six months? And then it was made clear to us that he's just quote 'unavailable.'"
When it seemed like Sandler was indeed impossible to land, the Safdies reached out to other actors. Harvey Keitel was once an option, and they even organized a seder for the Pulp Fiction star and basketball player Amar'e Stoudemire. Then Sacha Baron Cohen became attached, and then Jonah Hill. But it circled back to Sandler after he saw their excellent 2017 heist film Good Time, starring Robert Pattinson.
It does feel like Sandler is the only option for Howard. Not only is he one of the most famous Jewish actors alive, he's also a giant basketball fan, as evidenced by his frequent presence at Knicks games. It wasn't the basketball element that initially drew his attention, however. "I heard more about the diamond stuff. And then I heard about gambling and then I heard about the NBA," he says. "That was great because I do watch the NBA a lot. I love it. When it ended up being Kevin Garnett in the part that was exciting because I knew a lot about Kevin. I watched his whole career."
Sandler, per the Safdies, did have a bit of hesitation. "When Sandler read the character of Howard, there were certain parts of him that he didn't necessarily attach to, or subscribe to. And he was very nervous," Benny says. But the brothers assured him that the process of finding Howard would be a collaboration. Sandler's involvement opened more doors in the Diamond District. The filmmakers started throwing him into "insane scenarios," surrounding him with "with jewelers, bookies, degenerate gamblers" during an early screen test for Fox, who would go on to play Ratner's mistress. The crowd was interested in seeing Sandler, but Sandler wanted to observe the crowd.
"He's kind of doing this hybrid of Sandler and Howard and absorbing [everything] like a sponge," Josh says. Howard is, to put it bluntly, an asshole who tests the limits and patience of everyone around him. "When we would do scenes together and I was being the guy, I could tell in their faces these guys were a little disgusted in me, in their eyes," Sandler says. "They don't say anything. But I was just like, 'Stay committed.'"
Menzel reassures him, "We weren't disgusted." To which Sandler retorts, "You sure?" Stanfield volleys back, "I was."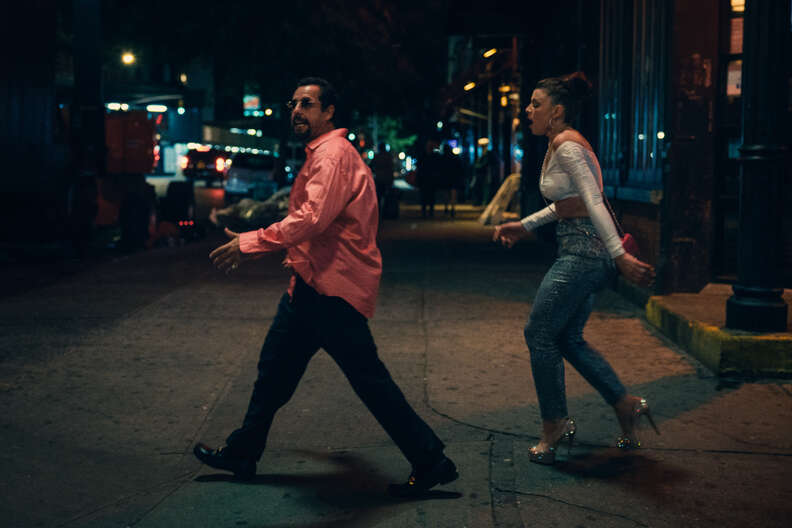 The Weeknd
The Safdies assembled a wild cast of actors like Sandler and Menzel, celebrities who are newcomers to this type of work like Garnett and New York sports-radio personality Mike Francesa, and people they found wandering the streets of New York. "A lot of people were just regular people," says Fox, a downtown New York fixture who makes her acting debut here. "There were a lot of different characters on set. Some were just so intense and unbearable to be around. But it was great on camera, though. They were just being themselves so well."
Perhaps the starriest person that the Safdies recruited, aside from Garnett, is Abel Tesfaye, better known as The Weeknd. Tesfaye plays himself, but in 2012. In the context of the film, he makes a connection with Julia, who invites Howard to see him give an intimate concert at the nightclub 1 OAK. Julia and The Weeknd disappear into the bathroom where he encourages her to hook up, but Howard finds them and shit hits the fan. Next thing you know, Adam Sandler and The Weeknd are brawling on the floor. "He was stronger than I wanted him to be," Sandler says. "It wasn't [choreographed] beat for beat. There was a little 'and then you fall onto the ground and then you roll around and then The Weeknd will spit on you.' But I didn't know when it was coming. I didn't know when we falling exactly. But he was great to me every time. He was such a nice guy."
After Howard is escorted out of the club, the verbal fight between Howard and Julia spills out onto the street. The whole sequence was an intense one for Fox. "At that point I was just so exhausted," Fox says. "I kind of just went into a weird altered state. It really took over my whole being. Even after it, I was so emotionally drained. It felt like it was real. It was crazy."
The Seder
Uncut Gems is a holiday movie, but not the holiday you are thinking of. It's a Passover movie, and it recreates a tension-filled seder at the apartment of Howard's in-laws. The Safdies' designs for this seder didn't line up with the expectations of some of the bit players they had hired to fill out the scene.
"Remember the woman that played your mom? She kept criticizing the directors on how Passover should be," Menzel says to Sandler. "What they were not getting right." Sandler replies, "They were all Jews who celebrate Passover and everyone did it a different way."
The Safdies know the incident well. The woman in question was Bukharian, a sect of Judaism originating in Central Asia, and was hoping to add some of her traditions to the film. The Safdies had specific notions of how this was going to go down. "When we were talking to our props master who wasn't Jewish, we were telling her, 'Listen, it needs to be stapled, Xeroxed Haggadahs,'" Josh says. "This family's ties to the ancient rituals of Judaism are ours are a facsimile of what it once was." If you've never been to a seder, it's hard to relay the perfect accuracy of photocopied versions of the text that tells the story of the Jews' exodus from Egypt shared around the table.
The Furby
If there's one visual gag that makes Uncut Gems, it's the blinged-out Furby that Howard proudly shows KG at the movie's beginning. So, with mere moments left on the phone with the Safdies, I blurted out: "Diamond Furby! Explain the diamond Furby!"
They wanted something that would have been popular when Howard was on the rise in the 1990s, and when they settled on the Furby, it just seemed right. "I just looked into the eyes," Josh says. "And first of all, Furby is so stupid. Look at it. But there's something really sad. They look like they are trapped in the consumerist world. The thought of decking one out with diamonds and gold just felt so apt to the world of this thing, trapped frightening so inside the materialist world of jewelry."
The gloriously tacky creation was built from scratch. The coup de grace, Benny adds, was at the last minute when Josh ran up to the prop and made the thing have crossed eyes.
Need help finding something to watch? Sign up here for our weekly Streamail newsletter to get streaming recommendations delivered straight to your inbox.